Tally Training in Chennai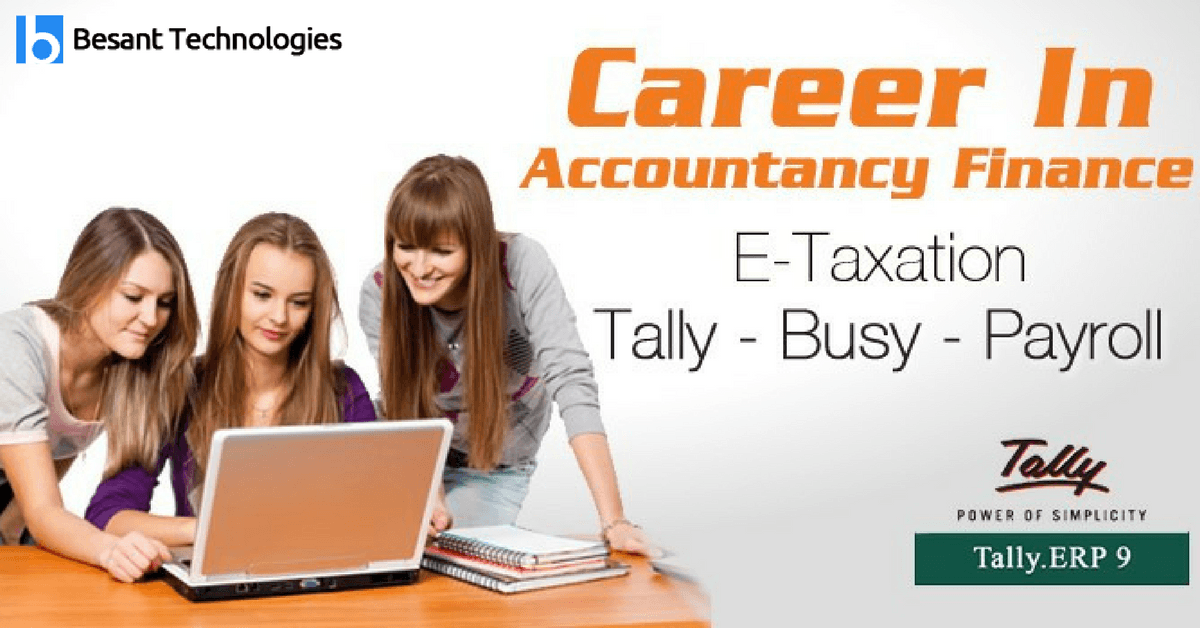 Learn how to use Tally from beginner level to advanced techniques which is taught by experienced working professionals. With our Tally Training in Chennai, you'll learn concepts in expert level with practical manner.
Besant Technologies offers an inclusive Tally Training in Chennai. The extensive practical training provided by Tally Training in Chennai equips live projects and simulations. Such detailed Tally ERP 9 Training has helped our students secure job in various MNCs. The trainers at Besant Technologies are subject specialist corporate professionals providing in-depth study in Tally ERP 9 course in Chennai. Participants completing the Tally ERP 9 certification have the plethora of job opportunities in the industry.
Further, we have kept the Tally ERP 9 course in Chennai duration flexible. From online classroom to fast-track & one-to-one classroom Tally ERP 9 Training is provided during weekdays and weekends to the attendees. Our modern lab is equipped with latest technologies helping students avail a successful Tally ERP 9 training and certification from the institute.
Besant Technologies, recognized among the top ten Tally ERP 9 Training Institute in Chennai, has training module for beginners, intermediates, and experts. Whether you are a college student, I.T professional or a project manager; the best Tally ERP 9 training institute in Chennai offers best training environment, veteran Tally ERP 9 trainers, and flexible training schedules for entire modules. Also, the best training institute for Tally ERP 9 training in Chennai asks for a value to money fee from the students. The pocket-friendly Tally ERP 9 course fee structure can be afforded by students coming from all walks of life.
After Tally ERP 9 Training in Chennai, learning the interview skills indeed becomes mandatory. Along with Tally ERP 9 classes in Chennai, we have sessions for personality development, spoken English, and presentation. At our Tally ERP 9 training centre in Chennai, Placement team schedules recruitment drives where the technology-driven branded companies hand-pick our students. Tally ERP 9 training in Chennai with placement assistance is the key feature which rated us 'star five' in the reviews by our aspirants. Reviews and honest feedback is mentioned on our official website. Besant Technologies is one of the best Tally ERP 9 training centres in Chennai delivering out-of-box thinking professionals to the industry.
Besant Technologies has a modern lab equipped with latest devices that facilitate participants in having a thorough hands-on experience through live projects. Such training in Chennai boosts the confidence level in participants to face the real-time challenges successfully in a job. The Tally ERP 9 syllabus includes for Tally ERP 9 course module on real-time projects along with placement assistance. Tally ERP 9 topics covered are Introduction to Tally ERP 9, Tally ERP 9 Architecture, Type of Accounts, Accounting Principle, Accounting Features, Creating Single, Purchase, Sales, Expenses, Income and Party Ledger & Many more.
Batch Shedule for Tally Training in Chennai
Besant Technologies provides flexible timings to all our students. Here are the TALLY Training in Chennai Shedule for our branch. If this schedule doesn't match please let us know. We will try to arrange appropriate timings based on your flexible timings.
Tally ERP 9 Training Syllabus
BASIC OF ACCOUNTING   (Duration: 2 hr)
Introduction
Types of Accounts
Accounting Principles or concepts
Mode of Accounting
Rules of Accounting
Double entry system of bookkeeping
FUNDAMENTALS OF TALLY.ERP 9   (Duration: 2 hr)
 Introduction to Tally.ERP 9
History of tally
Versions of tally
Company Features
Configuration
Getting functions with Tally.ERP9
Creation / setting up of Company in Tally.ERP9
ACCOUNTING MASTERS IN TALLY.ERP9   (Duration: 1 hr)
Chart of Groups
Groups
Multiple Groups
Ledgers
Multiple Ledgers
INVENTORY MASTERS IN TALLY.ERP9   (Duration: 1 hr)
Stock Groups
Multiple Stock Groups
Stock Categories
Multiple Stock Categories
Units of Measure
Godowns
Stock Items
VOUCHERS ENTRIES IN TALLY.ERP9   (Duration: 2 hr)
Introduction
Types of Vouchers
Chart of Vouchers
Accounting Vouchers
Inventory Vouchers
Invoicing
 ADVANCE ACCOUNTING IN TALLY.ERP9
Bill-wise details (Duration: 2 hr)
Cost centers and Cost Categories (Duration: 2 hr)
Multiple currencies (Duration: 2 hr)
Interest calculations (Duration: 2 hr)
Budget and controls (Duration: 2 hr)
Scenario management (Duration: 2 hr)
Bank Reconciliation (Duration: 2 hr)
ADVANCE INVENTORY IN TALLY.ERP9
Order Processing  (Duration: 2 hr)
Recorder Levels  (Duration: 2 hr)
Batch-wise details  (Duration: 2 hr)
Bill of Materials  (Duration:4 hr)
Batch-Wise Details  (Duration: 2 hr)
Different Actual and Billed Quantities  (Duration: 2 hr)
Price Lists (Duration: 2 hr)
Zero-Valued Entries  (Duration: 2 hr)
Additional cost details  (Duration: 2 hr)
POS (Duration: 1 hr)
TAXES IN TALLY.ERP9
VAT (Duration: 2 hr)
Vat Reports
CST (Duration: 2 hr)
Vat Reports
TDS (Duration: 2 hr)
TDS Repots
TCS (Duration: 2 hr)
TCS Repots
EXCISE (Duration: 2 hr)
Excise Repots
SERVICE TAX   (Duration: 2 hr)
TECHNOLOGICAL ADVANTAGES IN TALLY.ERP9   (Duration: 2 hr)
Tally vault
Security controls
Tally Audit
Backup and restore
Split company data
Import and export of data
Printing Reports and Cheques
Create Company Logo
PAYROLL ACCOUNTING IN TALLY.ERP9 (Duration: 4 hr)
GENERATING REPORTS IN TALLY.ERP9 (Duration: 2 hr)
Financial Statements
Trading Account
Profit & Loss Account
Balance Sheet
Accounts Books and Reports
Inventory Books and Reports
Exception Reports
Statutory Reports
Payroll Reports
Trail balance
Day Book
List of Accounts
Stock Summary
FAQs