AWS Certification Training Course in Bangalore Overview
AWS training in Bangalore from Besant Technologies, one of the top-notch AWS training institute in Bangalore help you acquire complete knowledge and skills on AWS with real-world projects and case studies. IN BANGALORE, the AWS course enables aspirants to learn essential concepts, including DevOps engineering, advanced developing, advanced architecting, cloud practitioning, and system operations. The trainers of AWS training in Bangalore have a decade of experience in AWS. They are working professionals as AWS professionals in top-notch MNC and IT companies across the world. After completing the AWS training in Bangalore from Besant Technologies, every aspirant acquires a course completion certificate on AWS, which is valid across top enterprises in the globe. The trainers of Besant Technologies help aspirants to understand the Amazon Web Services concept in an easy way and crack different job opportunities in the cloud computing world. Enrol today at the best AWS training in Bangalore!
AWS training and certification program – An Overview
AWS training in Bangalore from Besant Technologies is catered to include every advanced and industry trend AWS concept. Therefore, aspirants learn the best practices, upcoming trends, and core concepts in the AWS architecture and easily crack any interviews and exams. The AWS course training and certification is outlined to include top AWS elements, namely VPC, EBS, CDN, EIP, KMS, RDS, Snowball, Dynamo DB, Auto Scaling, Elastic Cache, Security, IAM, EC2, ELB, S3, Route 53, Glacier, CloudFront, Redshift, CloudWatch, CloudTrail, and many more.
AWS Certifications available from AWS training and certification course in Bangalore are Associate and professional AWS certified solutions architect, Associate AWS certified developer, Professional AWS Certified DevOps engineer, and Associate AWS certified SysOps administrator. When it comes to job opportunities, there is a promising scope for AWS aspirants as the world is moving to the cloud in every way. AWS professionals fall under the highly paid sector, and many researchers have stated that cloud computing to be the trending platform in the IT industry.
Top companies that use the cloud platform for their growth include Facebook, Netflix, Twitch, LinkedIn, Amazon, and many more. AWS training course in Bangalore from Besant Technologies help in advancing your career path. The trainers make the aspirants crack the AWS certified solution architect associate exam and get placed in top MNC companies globally. Some of the leading job roles for the AWS aspirants include clouds operations engineer, Linux system engineer MySQL, senior cloud engineer, senior server-side engineer, and many more. According to Glassdoor.co.in, the average salary received by AWS professionals in Bangalore is about S$78,190per annum.
AWS Training in Bangalore will help you to become an AWS Certified Solution Architect with Real-Time Projects. This AWS Certification Course will make you a Master in Amazon Web Services for deploying reliable and Scalable Web Applications with Classroom and Online Training Options. This AWS Course is designed to Improve AWS Skills like Compute, Analytics, Storage, Networking, Database, and Security with Hands-on Classes. Get in-depth Practical exposure on 50+ AWS Services with Project works to optimize your application at a Low Budget. Enroll for the AWS Certification Course to Pass the AWS Certified Solution Architect Associate exam (SAA-C02) in the first attempt.
This AWS Certification training will teach you the Basic to Advanced level techniques Such as EC2, S3, Route 53, SNS, and EBS with Professional Certified Trainers. Get in-depth Knowledge on Amazon Linux which is essential to host, Migrate, and Monitoring Applications in an efficient manner. Learn DevOps Tools to deploy containerized applications using Docker and Kubernetes with Practical Sessions. Become an expert in Design, Develop and Deploy Applications in a Cloud environment and Implementing AI & Machine Learning in AWS from our Online AWS Certification Training Courses in Bangalore.
A dynamic AWS Course to learn the most reliable, Secure, and Productive AWS Cloud Infrastructure with 100% lab Practice Classes delivered by Industry Experts. Build your Cloud Skills to the Next level with our Best AWS Certification Training Course online in Bangalore.
Key highlights of our course
Practical assignments for all modules.
Learn from top IT experts having 10+ years of experience.
Access recorded training sessions from anywhere, anytime, FOREVER!
Round the clock support.
Live e- training.
Compete lab support.
Affordable enrollment.
Flexibility in timings.
Full placement support.
Live demos on working of DevOps tools.
Globally recognized course completion certificate.
Training Option
This AWS Certification Course is available in Online Live Instructor-Led Classes and Classroom Courses in our 9+ Branches BTM Layout, Marathahalli, Jayanagar, Kalyan Nagar, Indira Nagar, Rajajinagar, HSR Layout, and Electronic City with Placements and Certifications.
Choose you're training Options from Self-Paced Video and 1:1 Course with Personal trainers. We also offer Corporate AWS training for Potential employers with a good discount.
Eligibility
This Recommended AWS Training will Suitable for DevOps Engineers, IT infrastructure operations, Cloud Engineers, Linux Admin, Networking & Cloud Professionals, Software Programmers and Individuals who wish to Learn AWS for hosting high availability and Scalable web Applications in Cloud without any Prior Coding Knowledge. There are no prerequisites for taking this AWS Certification Course and Exams.
However, the AWS Solution Architect Course will Covers the Basic Hardware & Networking, AWS Linux fundamentals, and DevOps Concepts to Become a Complete Cloud & DevOps Professional.
What is AWS? What learning outcomes can you expect from your training at Besant Technologies?
Amazon Web Services or AWS is a globally popular cloud computing platform offered by Amazon. Its most important service offerings include packaged software as a service (SaaS), platform as a service (PaaS) and infrastructure as a service (IaaS). It's an evolving and comprehensive platform.
Learning outcomes to expect:-
Our AWS course will help you receive hands- on experience in cloud computing.
Our meticulously designed and professionally developed curriculum will prepare you for amazing internship opportunities and full time job placements.
The learning resources are designed to help you develop valuable skills linked to AWS cloud.
The skills learnt and the certification received could turn you into an in-demand member of the global cloud workforce.
You will be able to optimize, architect and automate cloud environments.
You will have a deeper understanding of AWS core services, cloud concepts, security, pricing, architecture and support.
Advantages of AWS Certification Training
AWS training will expose you to job opportunities that are fulfilling and diverse in nature.
A large number of enterprises are transferring their workload to the cloud. Your AWS skills will turn you into a desirable asset for such enterprises.
AWS job salaries are attractive. With proper certification, you will make yourself eligible for any such high paying job.
AWS certified professionals get badges. These badges give access to AWS sponsored certification events.
Who can enroll for a AWS Certification Course in Bangalore?
Although you need no IT background to be eligible for a AWS certification course, there are different AWS certifications available that support people from IT backgrounds. For instance, if you are a data professional, then you can opt for the AWS Data Analytics certification. In case, you are a Machine Learning professional, you can go for the AWS Machine Learning certification to take your career up a notch. Hehe, these certifications are useful even for IT practitioners.
About AWS Course
Why Amazon Web Services Training?
We all are aware of the fact that all forms of technology in the entire world is moving cloud computing. In the coming years, it is for sure that all major companies will move their applications to the cloud because of its high-security standards. Keeping this in mind, with the current technology trends of India where a number of startups are more, there is a lot of scope for cloud engineers. This should motivate a lot of people to take AWS training in Bangalore quite enthusiastically. AWS training in Bangalore is better than many of its competitors because of the following reasons:
AWS does not try to try to recreate legacy data center environments
AWS focuses on simplicity, security, robustness, and scalability
It works on the principle of building simple and primitive services
These robust and scalable services are later composed into higher-order services
It's engineered based on long-term thinking and roadmaps
The breadth of work allows velocity of unmatchable feature releases
The business model works on cost + pricing and has a fixed margin
Why AWS training in Bangalore at Besant Technologies?
One of the main reasons as to why AWS dominating today's world with its hundreds of services is because of its very cheap cost. AWS Certification is one of the most demanded certifications in the IT industry. It is not only the most in-demand but also one of the highest-paid jobs as per various surveys. Having an AWS certification with good knowledge about AWS will land you in a very good job for sure. If you too want to make yourself competent enough to join such companies, it would be advisable that you take AWS Training in Bangalore. The good news is that you don't need any special educational qualifications to be eligible for AWS classes. So, why waste time? Join Besant Technologies right away.
Benefits of AWS Training in Bangalore
100% Placement Support in Top MNC Companies Like TCS, CTS, Wipro, Google, Flipkart, Amazon
Trainers will help you to prepare a resume according to your Skill Set & Experience
We will Provide Top 200+ Latest AWS Interview Questions & Answers
Middle of this AWS Course we will Conduct Mock Tests on AWS Concepts
Our Expert Team will Conduct Mock Interviews
Lifetime Access for BEMS (Internal JOB Portal)
Our HR Team will Keep Update AWS jobs via mails, message, and WhatsApp
AWS Course Duration 60 hrs with Hands-on Training Classes
From this Class, you will get basic and Advance techniques on AWS Tool
Weekdays Classes will be Daily 1.5 hrs Starting from 7.30 am to 9 am, Flexible Timings available
AWS Weekend Classes Start from every Sat Morning 9 am to 11.30 am and different slot available for working Professionals
Separate Batch for Fresher's and Experience Candidates
Training Venue: Courses are available in our Besant technologies Bangalore Training Centers( BTM Layout, Marathahalli, Jayanagar, Kalyan Nagar, Indira Nagar, Rajajinagar, HSR Layout, and Electronic City)
Fast Track Classes also Available
100% Job Oriented Training Program
In-Depth AWS Syllabus
Sample Projects to work out
Project Support after the Course Completion
Besant technologies Course Completion Certification
World Class Infra with Free Wi-Fi and 24/7 Lab Facility
Two Demo Classes Available as free
Low Cost for AWS Course in Bangalore
Live Project with AWS visualization Tool
Interview Preparations
Mock Interviews
Resume Preparations
Internship Certification
Interview Tips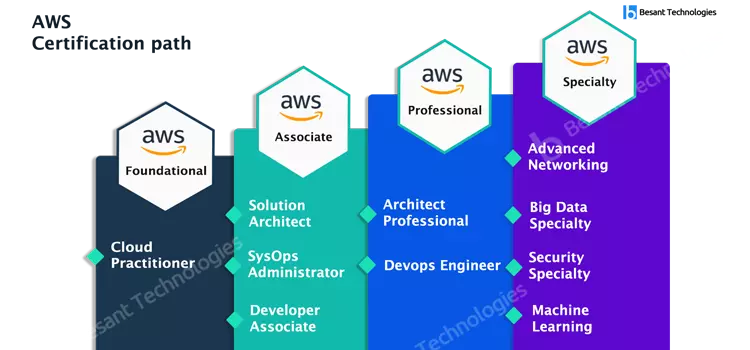 AWS Training and Certification Course Content
Answer 3 Simple Questions
Get upto 30%* Discount in all courses. Limited Offer. T&c Apply.
Take Part
Looking for Master your Skills? Enroll Now on Triple Course Offer & Start Learning at 24,999!
Explore Now
Upcoming Batch Schedule for AWS Training in Bangalore
Besant Technologies provides flexible timings to all our students. Here is the AWS Training in Bangalore Schedule in our branches. If this schedule doesn't match please let us know. We will try to arrange appropriate timings based on your flexible timings.
24-01-2022

Mon (Mon - Fri)Weekdays Batch 08:00 AM (IST)(Class 1Hr - 1:30Hrs) / Per Session Get Fees

20-01-2022

Thu (Mon - Fri)Weekdays Batch 08:00 AM (IST)(Class 1Hr - 1:30Hrs) / Per Session Get Fees

22-01-2022

Sat (Sat - Sun)Weekend Batch 11:00 AM (IST) (Class 3Hrs) / Per Session Get Fees

Can't find a batch you were looking for?
Corporate Training
If you want to give the Trending technology experience to your esteemed employees, we are here to help you!
Trainer Profile of AWS Training in Bangalore
About Our AWS Trainer
Overall 7+ years of Software (IT) industry experience with 8+ Years in AWS.
Strong Practical Knowledge of data warehousing, Cloud Computing, DevOps, and In-depth Knowledge in AWS.
Up to Date on Latest Technologies like Cloud, Big Data Analytics, etc.
Trained More than 12340+ Students in Bangalore City.
Having 3+ Years of Corporate Training Experience
Very Good Communication Skills and friendly teaching Tutor who understand the need of the Student.
100% Success rate on Batch Completion
AWS Specialist, AWS Qualified Associate, and AWS Certified Expert.
Referred 350+ Students in MNC Companies
Expert in Preparing Skill and Experienced based Resume
Having Strong Experienced in Banking, Telecom, E-Commerce Sectors
Meet Our Best AWS Trainer at Our Besant technologies Branches
To Talk to Our Classroom Instructor Please call us +91 8767 260 270
IT Professional offering 7+ years of hands-on experience in Network and Server Administration including 4+ years of experience on Amazon Web Services, 2+ Years on Microsoft Azure, and 1 year on Google Cloud Platform.
Developing architecture and solution design for RFPs / RFIs, present AWS/Azure/GCP Cloud services offerings and solutions to clients, mentor team on AWS cloud services
Designed and Implemented SAP and Oracle Workloads on AWS for customers like Cepheid Inc, Ultra Clean Holdings Inc, JDA Software, Toshiba and Sonic Drive-In
Technical Skills of Our Trainer:
Cloud Technologies:
Amazon Web Services
AZURE and Google Cloud Platforms.
Platforms:
Linux/Unix/Windows and centos
Data Warehouse
Version Control:
Git, Git Hub, and SVN, Azure Repos.
Automation:
CloudFormation, Jenkins Build, MS Build, Azure Pipeline, JNLP Nodes.
Databases:
Monitoring tools and services
CloudWatch, Wazuh, OSSEC, SignalFx.
Languages:
Yaml, Json, limited Python
Cloud Services
Amazon Web Services, Azure and GCP Cost and TCO calculations
Hands-on Knowledge of Amazon EC2, S3, VPC, EBS, Cloudwatch, Cloudtrail, Config, Inspector,
Guard Duty, WAF, Shield, ACM, Route 53, Elastic Load Balancers, Cloudformation,
AWS Well-Architected Framework, CIS Benchmarking, and Compliance on Cloud.
Microsoft Azure Virtual Network, Virtual Machines, Blob Storage, etc.
GCP VPC, Compute Engine, Cloud Storage, Stackdriver, Cloud Console, Cloud Shell, etc.
Cloud Governance using various tools like PRTG, Site24x7, CloudCheckr, AlertLogic, etc.
Gaining knowledge on DevOps Methodologies and tools like terraform, Ansible, Git.
Certification
Amazon Web Services Certified Solution Architect Associate
Amazon Web Services Certified SysOps Administrator Associate
Amazon Web Service Certified Solution Architect Professional
Google Cloud Platform Professional Cloud Architect.
Microsoft Certified Azure Administrator Associate
Project 1: Job Responsibility
Worked as Solution Architect from the RFP Phase till Go-Live for the project.
Developed AWS Architecture for the whole SAP Migration Project for SAP ECC, BW, MII, PO, EP, BO Solution Manager modules from On-Premise to AWS.
Ensuring GxP Validation of Production workload and meeting compliance for SQA.
Designed 6 VPC (Sandbox/Development, Quality, Production, Shared Services, Disaster Recovery, and Transit VPC) architecture to provide the secure and scalable landscape with the segregated
Migrated 70+ SAP Server to this AWS Landscape,
Designed and Implemented Transit VPC to provide highly available and Scalable network connectivity to the landscape from Cepheid HQ to AWS.
Successfully completed the GxP Validation process for Quality and Production Servers.
Successfully Setup 24x7x365 AMS Support Services after the Go Live for 99.95% of application uptime.
Ensuring Overall Cloud Governance and providing SME support as required.
Project 2: Job Responsibility
Maintain (Architect and Design) and support the BIG data and IoT applications in AWS CLOUD from On-Prem Infrastructure using AWS Services
Automation of AWS infrastructure services to keep the application performance high and stable in a cost-effective way.
Expertise in DevOps configurations – CI/CD set up in AWS using code pipeline, code deploy, code commit, and code star services.
Expertise in building the AWS infrastructure with CloudFormation templates to reduce infrastructure set up time and cost.
EMR cluster set up and configuration with a custom image of required set up to process the big data from various IoT sensor devices
Configuration of IoT services to get continuous data from the Datacenters and store in an S3 using Kinesis Streams for Real-time Data processing
Configuration of Custom AMI for EMR with required latest Libraries and monitoring CloudWatch agent api scripts
Kinesis stream configurations from Datacenter IoT sensor devices to EMR clusters for analysis (Data, Event, Aggregation)
Configuration of WAF for the application security to block the access from unauthorized IP addresses and SQL injections scripts
DynamoDB scale-up based on Application requests and migrate the DynamoDB tables in between different environments (dev, Uat, prod) and for Tableau activities.
Architect the applications over AWS cloud to reduce the infra cost and maintain high availability of the environment 24*7.
Redshift configurations and planning for infrequent accessing Data archive from the tables
Configuration of Tableau servers over AWS cloud to process various data from Redshift, EMR and DynamoDB.
EMR automation for checking cluster metrics before submission of the applications.
Automation of DATA processing (COPY) across various AWS accounts (DEV, UAT, PROD) for DynamoDB, Elastic search and Redshift data using AWS Glue and API scripts
AWS Infrastructure builds and configurations with various services in a cost-effective manner.
Project 3: Job Responsibility
Act in the Solution Architect Role in both Pre-Sales & Delivery phases of customer engagement.
Create customized solutions and migration proposals in the cloud engagement team and spur the ability to innovate close to customer.
Leading the solution analysis, solution design (and where required) leading technical teams.
Fulfill the role of Technical Account Manager in AIM Practice and drive the program to fulfill the technical targets, with vision of the future trends and creativity.
Lead and contribute with presentations and discussions in customer workshops, providing solution and technical expertise.
Share and transfer knowledge, presenting to others on customer solutions and new releases
Developing competence in existing and upcoming cloud technologies from AWS, Azure or GCP.
Demonstrated advanced skills in communicating, leading, influencing, presenting, coordinating, planning and delivering results.
Project:
Security automation using AWS WAF
Problem Statement:
Design an architecture that can automatically secure the Website from the hacking techniques(hackers) SQL Injection, Content Scraping, Bad bot, Http Flood etc and notify when unexpected activity happened.
Skills:
EC2, Load Balancer, WAF, SNS, Kinesis Firehouse, VPC, Cloudwatch, S3, Cloudformation, Athena.
Highlights:
Deploy VPC(Virtual Private Cloud) with public subnet and private subnet.
Deploy Ec2 instance inside the Public subnet with Any platform.(Windows, linux,ubuntu.. etc)
Deploy Sample website inside the EC2 instance to attach honeypot link.
Deploy Application loadbalancer and Target group with Ec2 instance which contains Website.
Configuring WAF Security Automation Rules and conditions under WAF Web ACL..
Deploy AWS WAF Cloudformation template for security Automation.
Configuring Custom conditions and rules for while listing and black listing
Configuring SNS notifications for security alerts using cloudwatch metrics.
Creating S3 bucket for WAF logs with private access using Bucket policy.
Configuring Kinesis Firehouse to push WAF logs to S3.
Creating Athena Table to Query over WAF Logs for Detailed report.
Problem Statement:
Create a unique and customized VPC with its associated subnets along with route table configurations.
Skills:
VPC, subnets, Internet gateway, Nat Gateway, Route table, EC2 instances, key pair.
Highlights:
1)Creating Customized VPC along with route config via both public and private VPC.
2)Subnets will be linked with its associated vpc and route to send traffic to customer/vendor.
1)Create a VPC name it as chennai -VPC with IP range -10.50.0.0/16.Enable DNS hostname on VPC.
2)Create Subnets as follows by enabling auto assign IP setting
Web – 10.50.1.0/24 – ap-south-1a
App – 10.50.2.0/24 – ap-south-1b
3)Create Internet gateway and attach to VPC.
4)Use default routing table and add subnets to it.
5)Configure route towards IGW so that VM's can send the traffic outside VPC.
6)Deploy VM's one in ap-south-1a and other in ap-soth-1b and check communication.
7)Create a new subnet and name it as Chennai – NAT subnet -10.50.5.0/24 and create nat gateway and add public subnet. Create a new route table and add route towards it.
8)Try to connect private subnet it should fail and try to connect it from public subnet it will ask you to provide public and private key, once done it will allow you inside the server.
9)Ping www.google.com from server 1 and it should work.
10)Prove the data is going through NAT gateway.
Build your resume to the latest trend, and get a chance to know our Tie-Up Companies
Placed Student's list
AWS Certification
Besant Technologies Certification is Accredited by all major Global Companies around the world. We provide after completion of the theoretical and practical sessions to fresher's as well as corporate trainees.
Our certification at Besant Technologies is accredited worldwide. It increases the value of your resume and you can attain leading job posts with the help of this certification in leading MNC's of the world. The certification is only provided after successful completion of our training and practical based projects.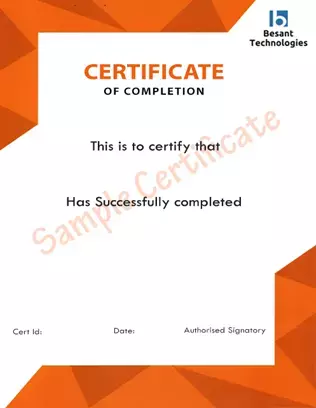 Get AWS certified
Looking to build a career in AWS? We asked AWS professionals what essential skills you need on your resume to supercharge your cloud career. With an industry-recognized credential from AWS, you can showcase your cloud fluency. Earning the AWS Certified Cloud Practitioner certification.
An Amazon cloud certification can act as a power-up for your resume, helping you get your foot in the door to a cloud career or take the next step from your current role. Take a deep dive into our Best AWS certification training Course in Bangalore today!
This AWS Certification Course will guide you to become an AWS Certified Solution Architect Associate by clearing the 80 Minutes exam Conducted by Amazon. You can take up this exam through our PSI Authorized Training Center or Online with our Support.  AWS Certification Exam Cost is $150 Paid to Amazon Corporation.
To unlock your AWS Course Completion Certificate on Besant technologies you must complete the Course and the Project works on Deploying and Maintaining tasks.
You Can Share this AWS Certifications in Social Media Networks and Shareable in Job Sites and LinkedIn Group to explore your Cover Skills on AWS.
Become an AWS certified professional in 40-50 hours/ 1 month.
Take our AWS Certification Course in Bangalore and learn from certified and experienced teachers. Experts in the field, having 10+ years of experience help you learn basic to advanced-level concepts, fast. All important topics are covered to prepare you adequately.
Enroll for Training and Certification AWS in Bangalore at Besant Technologies. AWS solution architect certificate exam Preparation with Mock answered questions and dumps to clear both associate and Professional level.
AWS solution architect certificate exam cost is 150usd and you can take the exam through Online or PSI authorized Testing Center like Besant technologies Bangalore Branches. Overall 130 minutes it will take to complete this exam for each module.
Register for AWS Training and Certification and get money back guaranteed for your Amazon Certifications in Bangalore.
Whether you are a fresher, a working professional, a job seeker, or a business owner, you can join us for both online and offline classes.
The instructor-led online classes run by Besant Technologies are as effective as offline classes. So, no matter where you live, and which time of the day you remain free for learning, our online classes have been designed to suit your convenience.
We train you for the following AWS certifications
Foundational Certification
AWS Certified Cloud Practitioner.
Associate Certifications
AWS Certified Solutions Architect- Associate.
AWS Certified Developer- Associate.
AWS Certified SysOps Administrator- Associate.
Professional Certifications
AWS Certified Solutions Architect- Professional.
AWS Certified DevOps Engineer- Professional.
Specialty Certifications
AWS Certified Advanced Networking- Specialty.
AWS Certified Data Analytics- Specialty.
AWS Certified Security- Specialty.
AWS Certified Machine- Learning- Specialty
AWS Certified Alexa Skill Builder- Specialty.
AWS Certified Database- Specialty.
Further, we are a PSI authorized training center. And, you can take PSI exams at these 9 Besant Technologies branches- Marathahalli, Rajaji Nagar, Jaya Nagar, Kalyan Nagar, Electronic City, Indira Nagar, HSR Layout, BTM Layout, and Hebbal. With great infrastructure and instructor support, these Besant Technologies branches are the best places to take these exams.
How do we help?
Besant Technologies offers job- oriented AWS Certification Training in Bangalore. And offers 100% assurance to students of clearing all AWS certification exams. What else? We offer freelancing and internship support. In addition, we offer you a course completion certificate at the end of the session. So, what makes you wait? Hurry and grab your seat now!
Group Discount
If you have Three or more people in your training we will be delighted to offer you a group discount.
Key Features of AWS Training in Bangalore
30+ Hours Course Duration
100% Job Oriented Training
Industry Expert Faculties
Free Demo Class Available
Training Courses Reviews
After attending Besant Technologies, AWS classes, I feel more confident in AWS. Such is the learning curve that gives you great confidence. Thanks for everything you guys did and doing. Well trained system to make our life easy. Thanks, Besant Technologies!
sharma
Hi All, I am glad to share my feedback for the course "AWS " which I have undergone in Besant Technologies., at Bangalore was excellent. The trainer "jayabal" has adequate subject knowledge with hands-on experience made me to explore my knowledge and understanding. He has also refreshed the basic content which is necessary to understand the concept was added gain. I am happy to recommend to my friends and colleagues. Thank you! All the best.
Ajitha
I completed the AWS course in Besant technologies. My trainer is Mr.Karthi. I sure Besant Technologies is one of the best institutes. It full fills your expectations in your course. and more than that for working professionals you have the great advantage of flexible timing without losing flow in your course. Chat like a friend to clear your doubt from home… a friendly relationship with my trainer. Thank you, Karthi really I feel confident after the course.
Preetha
Enrolled for AWS training Courses online with Besant technologies last month. My trainer's name is Karthick. He is currently working as AWS & DevOps Engineer at Bangalore. The way he helped me to learn AWS with Practical Sessions and Recorded Demo Videos on every session is Really well. He explained Kubernetes and Docker Containers Concepts for deploying applications in AWS Cloud which is very helpful like us who are coming from Infra Background. My Rating for this AWS training Course is 4.5/5. Thanks to the Besant Team for Providing the Valid Dumps and Study Materials to Clear the exams with Confidence.
Arjun
 I took an AWS Course in Marathahalli Branch last month, the course was really nice and fulfilled our expectations with Real-time Industry Projects. I will refer my friends for this AWS Certification Courses at Besant technologies Bangalore Happily.  The Main added advantage of this Course is you will gain Linux, DevOps, and Kubernetes Overview Knowledge from their Updated Syllabus. My Rating 4.5/5 Thanks to everyone.
Ramesh
Student's Testimonials
Frequently Asked Questions
Additional FAQs for AWS Certification and Training