DevOps Online Training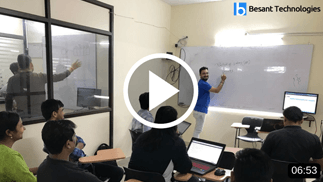 This DevOps Online Training course is designed to make an individual expert in all DevOps Concepts starting from the Basics to advanced. Learn DevOps- the latest field that links software developers and operations. DevOps is a collaboration between developments & operations that enhance productivity for both teams, results in quicker deploys, and inserts automation into the lifecycle of an application. The ideal DevOps expert has multidisciplinary knowledge about infrastructure, development and configuration management. DevOps Certification Training has been designed keeping in mind the latest market trend and to understand the importance of DevOps. This training would allow you to grasp the concepts of how DevOps transformation can assist focus on value and streamline delivery and also learn about the common infrastructure servers, availability, and scalability which will be another feature of this training program.  This DevOps Online Training is curated by industry professionals to make you understand the Real-Time IT Problems and Scenarios.
Best DevOps Online Training Institute
This DevOps Course will make you master in the various aspects of the principles of continuous development and deployment, software development operations, continuous integration, Continuous Monitoring, inter-team collaboration,  IT service agility,  Source Code Management, Building CI / CD pipelines, automation of configuration management and learn the various  DevOps tools like Git, Docker, Jenkins, Nagios, Puppet, Ansible, Chef, Maven, GitHub and Kubernetes. DevOps jobs are among the most sought-after and high paying jobs in the industry. Besant Technologies certifies- you as a "DevOps Engineer" on successful submission of the DevOps project. This certification equips you to secure a good job in an MNC. So, what are you waiting for? Start on your path today.
Best DevOps Online Training
Get enrolled for the most demanding skill in the world. DevOps Online Training will make your career a new height. We at Besant technologies provide you an excellent platform to learn and explore the subject from industry experts. We help students to dream high and achieve it.
Online Classroom
$350.00 worth
Attend our Instructor-Led Online Virtual Classroom
Syllabus Based on Companies
Experienced MNC Professionals
Own Prepared Materials
100% Practical Training
Live Projects
One To One Training
$600 worth
Get 1-to-1 Live Instructor Led Online Training in flexible timings
Personalized Training Syllabus
Experienced MNC Professionals
Own Prepared Materials
100% Practical Training
HandsOn Training
More Time and Attention
Live Projects
Help with Homework and Test Practice
More Interesting Study Materials
Flexible and Convenient
180 days of access to Online Recorded  Training Sessions
Corporate Training
$3000 worth
Enhanced Training for individuals and teams
Customized Syllabus
Personalized Training Syllabus
Experienced MNC Professionals
Own Prepared Materials
100% Practical Training
HandsOn Training
More Time and Attention
Live Projects
Efficiencies in processes, resulting in financial gain
 Innovation in strategies and new ideas
24*7 Support
Upcoming Live DevOps Online Training
Besant Technologies provides flexible timings to all our students. Here are the DevOps Online Training Schedule in our branches. If this schedule doesn't match please let us know. We will try to arrange appropriate timings based on your flexible timings.
Why To Choose Besant Technologies?
Instructor LED Training Sessions
It involves an individual leading a class of learners, delivering the content directly to them in real time. It will create a fantastic experience for the students. to get more intraction towards trainer.
Flexibele Timings
Being flexible when it comes to training is worth a lot. Students who approach their job with a flexible mindset are typically more highly valued. We will schedule according to you calender.
10+ Years Exp Trainers
We will provide you Certified Trainers with Experience. Our faculty are experienced trainers, assessors and coaches who are totally dedicated to making sure you get the best results possible.
HandsOn Training
Our Experiential training offers various techniques such as live project coaching, which focuses on the individual needs of students and is less formal than other techniques.
Batch Schedule for Devops Online Training
Besant Technologies provides flexible timings to all our students. Here are the Devops Online Training. If this schedule doesn't match please let us know. We will try to arrange appropriate timings based on your flexible timings.
What is DevOps?
DevOps is an emerging set of methods, principles, and practices for collaboration, communication, and integration between software development and IT operations professionals. It has developed because of the emerging understanding of the importance and interdependence of both the development and operations disciplines in meeting an enterprise goal of rapidly producing software products and services. It mainly decreases the complexity of problems and gives a quicker solution and the more stable operating environment. It mainly helps in alignment of goals and improving the code quality that allows for rapid delivery. Most of the companies are investing in this technology to get the practices done in a reliable and simple way. This course is structured in such a way to provide quality subject knowledge to the desired candidates to become an expert developer in DevOps technology. There are huge opportunities for the certified DevOps individuals after the completion of this course.
What will you learn from this DevOps Online Course?
After completing this DevOps Online Training, you should be able to:
Understand the DevOps Tools and DevOps Concepts
Implement DevOps lifecycle and automated system update
Software version control and Build management
Understand virtualization & performance fine-tuning
How to configure and install infrastructure servers
Providing the perfect security for the complete infrastructure
Communication, workflow, & feedback loop optimization
DevOps performance metrics monitoring
Get the experience of working on an industry standard live Project
Who Should do this DevOps Online Course?
This DevOps Online training course will be of benefit the following professional roles:
Software Developers
System Admin
Technical Project Managers
Architects
Operations Support
Security Engineer
Deployment engineers
IT managers
Integration Specialist
Development managers
What are Real Time Projects including in this DevOps Certification Training?
Besant Technologies is offering you the most relevant, updated and high-value real-world projects as part of the DevOps Online Training program. So that you can implement the learning that you have obtained in a real-world industry setup. In-Depth knowledge of DevOps project, which focuses on all the essential components of DevOps will be provided by our instructor. As a result, you can boost your efficiency and visibility and draw real connections between different concepts of DevOps. You will also get the complete course material covering all the aspects of this project. All training comes with several projects that completely test your skills, practical and theoretical knowledge, thus making you entirely industry-ready. You will work on highly exciting projects in the domains of e-commerce, high technology, marketing, networking,  sales, insurance, banking, etc. Upon successful completion of the projects, your skills will be considered equal to 6 months of rigorous industry experience.
DevOps Job Opportunites?
There is high demand for professionals who understand both the development and operational side of the software development and deployment process, making this DevOps course best fit for those who want to improve their marketability for these high-income roles. DevOps career opportunities are thriving globally.  DevOps professionals are highly paid and in great demand in a wide range of MNCs. Today DevOps help businesses to improve their software security and quality. The high performance of DevOps offers improved business results as measured by productivity, profitability and market share. As DevOps came into existence, the number of people working on DevOps increases rapidly. In the year 2014, only 16% worked on DevOps teams, and now it has risen to more than 27%. You will grab the best jobs in top MNCs after completing this DevOps Online Training.
DevOps was considered as one of the 11 best jobs in the USA for 2017, according to CBS News.
DevOps experts are among the highest paid IT professionals today with salaries ranging till $110K and the market demand for them is growing rapidly- indeed job portal
DevOps jobs are the 3rd highest tech role ranked by employer demand on Indeed.com but have the 2nd highest talent deficit.
An average salary of DevOps Managers is $122,234 per year, and that of DevOps engineers is $151,461- Payscale.com.
Devops Online Certification
Besant Technologies provides a certificate to all those eminent aspirants who have successfully completed our course program of DevOps certification training and passed the examination. This certificate is globally recognized and helps you get the best jobs in the top Multi-National Companies around the world at high salaries. We offer the most in-depth and comprehensive DevOps Online training that is in line with the industry requirements. With our smartly designed course material, it is very much convenient for you to prepare well for the DevOps certification exam and pass it with flying colors. We guarantee you that the educational experience you gain will deliver value even after you complete the course with its course completion certificate. This certification will add strength to your career profile. You can achieve this after successful completion of your project work and can get your CV noticed.
Frequently Asked Questions
All of our highly qualified Instructors are DevOps certified, well trained in their domain and have industry relevant experience of more than ten years. They are selected through a rigorous profile screening process, examination of technical expertise and a training demo before they get associated with us. Our Instructors have relevant experience in implementing real-time solutions on different queries related to various topics.
Complete installation instructions of required software will be displayed in your LMS. Our team will assist you to set up software if you require help. The Instructor will provide the Environment/Server Access to the participants, and we ensure practical real-time experience and training by providing all the utilities needed for the in-depth understanding of the course. Hardware requirements need to be fulfilled by students.
In the event of missing out of attending any class, the student can Attend the same class in another batch of DevOps online training (or) Can view the available recorded sessions in the LMS.
At Besant Technologies you can enroll either for the instructor-led online training or self-paced training provided by Industry experienced professionals. Apart from this we also offer Classroom training and corporate training is designed especially for business organizations to upskill their workforce. Go through the sample videos to check the quality of the trainers that will make your vision clear for the subject and motivate you to opt the newer technologies in the industry.
The below are the suggested pre-requisites for taking up our DevOps Certification Training:
Fundamentals of Linux and Java
The system requirements to attend DevOps Online Training are
Mac/ Windows / Linux PC, minimum 4GB RAM, 20 GB HDD Storage and processor, i3 or above.
Internet speed: Preferably 512 Kbps or higher
Speakers, Headset and microphone
Besant Technologies offers the self-paced training to those individuals who want to learn at their own pace. This training also affords you the benefit of one-on-one sessions with instructors, query resolution through email, 24/7 live support and access to the LMS. If you face any difficulty or get any doubt while learning, we can always arrange a virtual live class with the instructors as well.
It is a live online training conducted by a certified and experienced instructor and attended by one student. You can interact with the instructor on the spot and get your queries answered almost instantly. A major advantage of a one on one DevOps Online Training at Besant Technologies is that it can be tailored to your specific requirements. Our one on one tutor will be able to give you a set of objectives suited to your needs. This is specially designed for those people who do not take well to a group training environment, so a one on one session could be just what they need to ensure they are learning what they wanted to. You can get 24/7 live support and access to the LMS.
There are some Offers and discounts available if the participants are more than 2. Get in touch with our team through "Live Chat", "Quick Enquiry" or "Request Call-back" channels to know more.
If you are enrolled in any course and/or have paid fees but want to cancel the registration for some reason, it can be attained within 48 hours of initial enrollment. We will provide you with a complete refund after deducting the administration fee. Kindly make a note that refunds will be processed within one month of a prior request. To know more, please refer to our refund policy.
You can check out the sample class recording, and it would give you a clear idea about how the classes get conducted, the quality of trainers and the level of interaction in a class.
You can make the payments using any of the following options, and a receipt of the same will be delivered to you automatically via email.
American Express
Visa Debit Card / Credit Card
Master Card, Or
PayPal
Yes, We do offer Classroom Training. We have 16+ Branches spread across in Chennai & Bangalore states. Students who are put up near to Chennai areas like- T-Nagar, Porur, Thiruvanmiyur, Anna Nagar, Siruseri, and Maraimalai Nagar and students near to Bangalore areas like- Domlur, Indira Nagar, Egipur, Kalyan Nagar, Jeevan Bhima Nagar,  Kammanahalli, RT Nagar, and Banaswadi can easily reach us. We understand the need of our students and offer our valuable service to help them in getting the right knowledge near to their place. If you are staying or looking training in any of these areas, Please get in touch with our support team to find your nearest branch. Our classroom training provides you with an opportunity to interact with trainers and benefit from face-to-face instruction.
As we are one of the leading providers of DevOps online training, One-to-One training with the help of experts. Our learners and trainers are frequently coming from different countries like USA, UK, Canada, Australia, Germany, France, Switzerland, Japan, South Korea, India and other parts of the world.
You can get connected with us through email (info@besanttech.com), phone or live web chat feature on our website. Make a call to +91-9791440888 to get further details. Estimated turnabout time will be 24 hours for emails.
Related Courses
Related Posts
What are the best resources for learning about DevOps?
There is a considerable measure of discussing "DevOps" in the specialized group, and for all the discussion presently can't seem to see a solitary definition settled upon. One potential purpose behind the absence of an unmistakable definition could be that no single arrangement will fit each Read More…
What do I wish Everyone knew about DevOps?
Everyone now comes a time in IT industry when a new trend, product or a programming language gets everyone excited. It creates a great buzz around it and changes the way things are done. Yes, this is what Read More…
Top 100+ Interview Questions and Answers
Besant Technologies supports the students by providing DevOps Interview Questions and answers for the job placements and job purposes. DevOps is the leading important course in the present situation because of Read More…
DevOps Online Training
December 5, 2018