AWS Training Course Overview
What will you learn in this Online AWS Training Certification Course?
1. A good AWS cloud architecture design with High availability
2. Build Optimize Applications on AWS Cloud
3. Amazon CloudFront for fast data delivery
4. Developer Tools CodeStar for Best User Interface
5. Data Analytics using Athena, Amazon Redshift and CloudSearch
6. Develop Games using Amazon Gamelift
7. Amazon Elastic Load Balancing for Stable Applications with Zero Downtime
8. Cost-Efficient Techniques on Choosing AWS Services Including EC2, S3 and More
9. Secure your Applications with Amazon Cloud Security to Protect Your Data
10. Best Practice on Migration & Transfer

From this Comprehensive AWS Course you will gain Practical exposure on load balancing, auto Scaling Techniques to deploy a Stable web apps with Zero down time. Get In-depth knowledge on AWS Identity and Access Management (IAM) Concepts for Security measures with lab Sessions.
Become expertise in Fundamental Cloud Servers Such as Amazon Elastic Cloud Compute (EC2), Amazon Virtual Private Cloud (VPC), Amazon Simple Storage Service (S3), and Amazon Elastic Block Store (EBS) with AWS Free Trial Services.  This AWS Training updated Syllabus will give a brief Introduction on Comparing Infrastructure as a Service (IaaS), Platform as a Service (PaaS) and Software as a Service (SaaS) for Better Understanding.
Master in Deploying Java Full Stack Applications to AWS with Elastic Beanstalk and S3 with demo Instructor led Projects. Learn how to migrate existing web applications and Email Server to AWS Cloud Computing from Real time Certified Professionals. Learn Docker and Kubernetes along with this AWS Certification Online training to deploy, manage and automate applications with Containers.
 Training Options
Online Live Instructor led Classes and Self-paced Recorded Video Options available for the Students.  We are offering both Weekend and Weekdays AWS Certification Courses with multiple batches and timings. Pick a Personal trainer for your one-to-one training for better experience.
 If you are looking for corporate training or Group training more than 5 members you can contact us for more discounts Price and individual Batch.
This Online AWS Certification Training Course is available in 10+ Countries Such as USA, India, UK, Singapore, UAE, Dubai, Canada, Australia and Japan.  You can choose your Preferred Language to learn AWS Such as English and Spanish.
We do Offer Live Classroom AWS Courses in Major Cities in India like Chennai, Bangalore, Pune, Mumbai, Hyderabad, Kochi, Noida and Delhi with Certified Experts.
In case of IT companies one software product or project requires multiple services from AWS like for networking VPC, Route53, Cloudfront, and API Gateway, for computing EC2, ECS, EMR, ELBs, Lambda, and auto-scaling, for storage RDS, S3, Redshift, Dynamo dB, for automation and deployment services are cloud formation, code deploys, for integration SNS, SQS, SWF, and Kafka. To handle a single product or project multiple demands of services from AWS are wanted. The use cases from the AWS Training path comprises using the different services of AWS through different applications.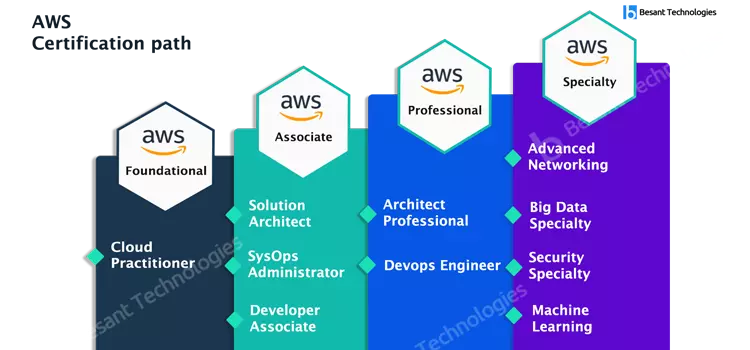 After the successful completion of the AWS Training online, we guide the learners to apply for the different AWS Certifications which are listed below. AWS training for developers is suitable for Professionals who possess programming experience and they can change their career as a cloud specialist or SySops admin. The certification process for Developer is an essentials certificate, developer associate certificate, systems operations associate, and professional level AWS certified DevOps engineer certificate.
About Amazon AWS Certification Training Course
Being the top demanded Certification, AWS Training and Certifications will impart the knowledge to handle the concepts like Mapping web servers, firewalls, caches and load balancers to AWS services, understand the core concept of loose coupling in cloud computing, learn about the AWS RDS such as MySQL, SQL Server, Oracle, PostgreSQL, and Aurora, compare the different models of AWS services, use the security features of AWS, design large operations distributed systems, implement Access control, NAT, firewalls, DNS and route tables, understand elasticity, network concepts, scalability concepts, EC2 fundamentals, Lambda features, Route 53, S3, DevOps tools, VPC, Cloudwatch for Amazon DynamoDB, AWS IoT Core, EC2 support towards Microsoft SQL server 2019,  and procure knowledge about deployment tools such as ops works, CloudFormation and Elastic Beanstalk. AWS Training cost depends upon the basic level or advanced level course which the learners prefer.
AWS Training and Certification Course Content
Answer 3 Simple Questions
Get upto 30%* Discount in all courses. Limited Offer. T&c Apply.
Register now
Syllabus of AWS Solutions Architect Certification
Cloud Basics
This session deals with the basics of cloud computing. Significant features of the cloud when compared with on-premises. You will get a good understanding of the difference between public, private and hybrid cloud environments. Discuss various cloud services like
IAAS(Infrastructure As A Service)
PAAS(Platform As A Service)
SAAS(Software As A Service)
Introduction to AWS
Learning Objective:
Amazon web service is one of the leading cloud providers available in the market. AWS provides a variety of services for your business and helps you get through digital transformation for the future. You will be learning the AWS global infrastructure like Regions, Availability Zones and Edge Locations. Overview of services provided by AWS such as,
Compute
Storage
Database
Networking
Security
Applications
End of this session you will be having a good understanding of cloud concepts and its services and the Impact of AWS in a cloud environment.
Hands-on:
Open AWS free tier account.
Setup payment methods and billing preferences.
Set alarm for free tier usage
Virtual Private Cloud
Learning Objective:
Logically isolated network devices (instances) from other AWS resources called VPC. You can provide your own private IPs for your instances. Your instances inside VPC will be interconnected together through VPC. Basic components of VPC to create a basic infrastructure is follows
VPC
Subnets
Route Tables
Internet gateway
End of this session you will have clarity of AWS regions, Availability Zones, and Edge locations. Also, you will learn CIDR concepts to get a better understanding of IP ranges.
Hands-on:
Create and configure VPC, Subnets, Internet gateway, and Route Tables.
Create NAT Gateway, NAT instances, VPC Peering, Endpoints.
Different between NACL and Security groups
EC2
Learning Objective: EC2 provides a scalable computing capacity for your business. AWS has a wide range of instance family (type) include Memory-optimized, CPU optimized, Networking, etc. You can create instances using Amazon Machine Images, which is preconfigured by Amazon. AWS lets you create your own AMI and you can choose from any AMI available in Amazon Marketplace as well. Instances are available in many options,
On-demand
Reserved
Spot Instance
Scheduled instance
As a solution Architect, you will be able to give a solution for your client to choose the perfect compute service for their business needs.
Hands-on:
Create and launch different types of operating systems like Linux, Windows and connect them.
Create AMIs and Snapshots and launch instances using them.
Create additional Volume and attach it with your instance.
Storage
Learning Objective:
There are many storage options available in AWS as per your needs from short term to long term. In Amazon S3 you can store an unlimited amount of data. S3, EBS, EFS, FSx, Glacier, and DeepGlacier are some major storage options available in AWS. In this session, you will be learning storage classes available in S3 and its features, cost, etc. You will get a brief knowledge of storage classes so that you can suggest your client more cost-effective. Storage classes are,
Standard
Standard Infrequent Access
Standard Intelligent Tier
S3 Glacier
S3 Glacier Deep
Hands-on:
Create and attach EFS with instances
Create S3 and apply lifecycle policy and replicate the bucket into another bucket.
Create static Webhosting
Load balancing and Autoscaling
Learning Objective:
Load balancing and Autoscaling are the significant features available in a cloud environment. A load balancer is to split the traffic between servers and trigger the auto-scaling when needed.  The load balancer keeps checking the server's health in a proper time interval and takes the action according to it. There are three types of load balancers available,
Classic Load balancer
Application Load balancer
Network Load balancer
End of this session you will understand the load balancer concept. You will have an idea to use a suited load balancer for your application.
Hands-on:
Create a Load balancer and attach targeted instances into it.
Create an auto-scaling group and increase the instances when CPU utilization is high, and decrease the instances when CPU utilization is low.
Route 53
Learning Objective:
Route 53 is a DNS service available in AWS. You can register your domain here. Create a recordset to host your website or application. Understand the routing policies available in AWS and apply which is suitable for your environment. Routing policies are
Simple
Weighted
Geological
Latency
Failover
Hands-on:
Register your Domain name
Create recordset and apply a routing policy
Configure Health check for your Load balancer or instance.
Cloud Front
Learning Objective:
Cloud front is also called Content Delivery Network. Cloud front creates a distribution (cache) for your website or Application at your nearest edge location. So the latency would be less for the next time user. You can block a particular country people to view your website. Analyze your website views from which OS, Browser, and users.in this session you will be engaged into the following topics,
Origins and Origin groups
Behaviors
Restrictions
Invalidations
Hands-on:
Create distribution for your website. Block a few country users viewing your website. Invalidate the previous cache and create a new one.
IAM
Learning Objective: IAM is to control your AWS resources most securely by limiting AWS users and other Services. You will be learning policies and the role and their major impact on the resources. Configure password policies and activate MFA. In this session, you will have knowledge on,
Users
Groups
Roles
Polices
Hands-on:
Create users and add a user to the group. Attach the customized policy to that group.
Perform cross-account access using STS
Relational Database Service
Learning Objective:
RDS is a SQL based fully managed Database service. Users don't need to worry about storage scaling, patching, backups, and maintenance. Replication costs you less and implementation is simple. RDS supports the following database engine,
Aurora
MySQL
MsSQL
MariaDB
PostgreSQL
Oracle
Hands-on:
Create a database with replication on another Availability zone. Configure auto-scaling, daily backup, and auto-upgrade.
Connect your database through database client and insert tables and contents into it. Apply some quires to retrieve data.
DynamoDB
Learning Objective:
DynamoDB is a NoSQL database service available in AWS. It is a replacement for MongoDB. It can handle 20 million requests per second and also can handle over 10 trillion requests per day. In-memory caching, Backup and restore are the significant features of DynamoDB. They are mainly used for gaming applications and IoT Applications. You will be learning the following topics,
Scaling through performance
Server less environment
Microservices
Hands-on:
Create and insert contents into the DynamoDB table. Configure and manage multi-region replication.
Monitoring (Cloud Trail & Cloud Watch)
Learning Objective:
Cloud trail keeps the logs for every activity happening into your AWS account. It does have the last 90 days activity by default. In this session, you will be learning the different types of events available in the cloud trail and its example.
Management event
Data event
Insight event
Cloud Watch
Cloud Watch is monitoring to fetch the logs and perform some action accordingly. There are two types of monitoring optionss available. Basic and detailed monitoring. You will learn to create logs and metrics and events. It triggers some action when event occurs. Topics involved in cloud watch are,
Events
Logs
Metrics
Alarms
Hands on:
Create a cloud watch event to start a new instance when CPU utilization is high.
Set alarm for the events and send notifivation
Application Services
Learning Objective : There are many application services available in AWS. SNS is the most commonly used application service. Simple Notification Services is to generate email notification and send it to the subscribers. Another application service we use is SQS. It is a replacement for the Microsoft queuing service. Application services covered in this session are as follows,
Simple E-mail Service
Simple Queue Services
Simple Notification Service
Hands on:
Create and send notification to the users
Create and send messages using standard and FIFO messaging queue
Design and Architecture
Learning Objective:
As a solution Architect you will be able to give a solution for your client to create, implement and improve your cloud infrastructure by using the five pillars of well architect tools.
Operational excellence
Reliability
Security
Cost optimization
Performance efficiency
Looking for Master your Skills? Enroll Now on Triple Course Offer & Start Learning at 24,999!
Explore Now
Upcoming Batch Schedule for AWS Online Training
Besant Technologies provides flexible timings to all our students. Here are the AWS Online Training Schedule in our branches. If this schedule doesn't match please let us know. We will try to arrange appropriate timings based on your flexible timings.
04-12-2023

Mon (Mon - Fri)Weekdays Batch 08:00 AM (IST)(Class 1Hr - 1:30Hrs) / Per Session Get Fees

07-12-2023

Thu (Mon - Fri)Weekdays Batch 08:00 AM (IST)(Class 1Hr - 1:30Hrs) / Per Session Get Fees

09-12-2023

Sat (Sat - Sun)Weekend Batch 11:00 AM (IST) (Class 3Hrs) / Per Session Get Fees

Can't find a batch you were looking for?
Corporate Training
If you want to give the Trending technology experience to your esteemed employees, we are here to help you!
Trainer Profile of AWS Training Online Course
AWS Certification Training Course Advisor
Manoj:
I have been working as a developer and architect with AWS developer certification and AWS solution architect certification. I am good at the administration of windows and Linux platforms with 10 years of administration experience. I love to be a trainer and on-line trainer for AWS Training Certification. I sponsor AWS training material and AWS training videos to engage the beginners and professionals. I am reachable through my WhatsApp and phone call to help the students at any cost for educational advancement.
Pooja:
I am an AWS Trainer to keep up the IT skills towards the fast pace of organizational objectives. I have handled global and domestic customers with multi-skills through AWS Services. I have experience with development and architecture models of AWS services. I have 15 years of experience in AWS VPC design, API Microservices, CI/CD patterns, automation, Lambda environment, AWS code commit, AWS cloud9, AWS code star, Code pipeline, and Code Deploy. I have been rendering my AWS training as a passion for my job and my knowledge. I offer my insight into training as self-paced videos at AWS training and certification portal and also handle instructor-led training.
Sathish Kumar:
I am an AWS Trainer giving AWS Training at Besant Technologies and I have experience with EC2 and handled auto-scaling groups, experienced with Docker and Kubernetes, handled security issues with IAM roles and KMS, handled monitoring services of AWS like cloudwatch, ELK stack, and Prometheus, and have designed large distribution systems. I love to be part of AWS training and found energetic to meet the young minds with lots of innovative ideas. I transform the knowledge to practical knowledge which brings the best learning path to the learners through AWS Training Certification. I always advise my students to refer my AWS materials and AWS videos for continuity available with AWS training and certification portal after completing the AWS Course. I take each student as my project and give my best to make them intellectual.
Build your resume to the latest trend, and get a chance to know our Tie-Up Companies
Placed Student's list
AWS Certification Training Course
Besant Technologies Certification is Accredited by all major Global Companies around the world. We provide after completion of the theoretical and practical sessions to fresher's as well as corporate trainees.
Our certification at Besant Technologies is accredited worldwide. It increases the value of your resume and you can attain leading job posts with the help of this certification in leading MNC's of the world. The certification is only provided after successful completion of our training and practical based projects.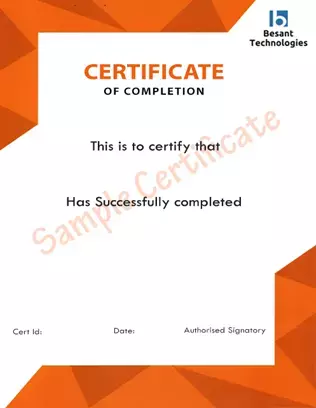 AWS Certification
Pass the Clear new version of AWS Certified Solutions Architect Associate Exam (SAA-C02) in the first attempt with our AWS Certification Training and Practice Test. Earn a Valid and Shareable Course Completion AWS Certificate to boost your Skills and Career.
Since we are the Authorized PSI Exam Centers you can take Certification exams in our Centers through Online or In-person Options.
Register your name for Next upcoming Batches Delivered by Experts. Enroll for Best AWS Training and Certification Course from India with Placements at Very Low Course Fees.
The AWS online certification will allow you to plan, design and scale AWS implementations and pave the way for an exciting career path in the cloud computing domain. Besant Technologies offer certification programs for AWS Amazon technology. Certificates get issued after the successful completion of the course and the assessment examination. The AWS online certification will boost your technical understanding and skills in working with AWS principles.
AWS Online Certification Includes:
 AWS Certified Cloud Practitioner
AWS certified security-specialty
AWS certified advanced networking-specialty
AWS certified machine learning-specialty
AWS Certified Solutions Architect – Associate.
AWS Certified Solutions Architect – Professional.
AWS Certified Developer – Associate.
AWS Certified SysOps Administrator – Associate.
AWS Certified DevOps Engineer – Professional
AWS certified big data-specialty
All these AWS certifications help you to get a better position and advancement in your career.
AWS Certified cloud practitioner
AWS Training online will help the learners to clear the cloud practitioner foundation level exam which not confined to the role. It gives basic knowledge about the cloud.
AWS certified security-specialty
AWS certified security for security specialists is for the learners who wish to secure the AWS applications during designing, operations, and development. AWS Online Training from Besant Technologies will give concepts like identity and access management, infrastructure security, logging and monitoring, and incident response.
AWS certified solutions architect-associate
AWS Training Solutions Architect is suitable for those who perform solutions architect jobs in the companies. Besant Technologies AWS Online Training provides all the updated information and services for solution architect job and certification.
AWS certified solutions architect-professional
AWS Training solution Architect professional level is suitable for learners with two or more years of experience in an architecture job.
AWS Certified advanced networking-specialty
AWS Online Training for specialty certificate is designed for learners who perform complex tasks related to networking with AWS.
AWS certified machine learning-specialty
AWS certified machine learning is the specialty certificate offered through AWS online training to gauge the skills required for development or data scientist profession.
AWS Certified Developer-Associate
AWS certified developer- associate exam is for the learners with programming experience with AWS application. Knowledge about any one of the programming language is mandatory for AWS Training online for the developer.
AWS Certified DevOps Engineer
AWS online training offers DevOps specialty certificate to validate the skills for automation, integration and deployment process using AWS.
AWS Certified SysOps administrator
AWS SysOps certificate is one of the must-have certificates to handle the life cycle of AWS project, deployment, and management of costs. In this AWS Training online our institute provides coverage of elements such as Opsworks, data management, provisioning, deployment, and networking.
AWS certified big data-specialty
Big data is one of service of AWS and AWS Online training for AWS certified big data specialist will prepare the learner for getting insights into the resources.
Group Discount
If you have Three or more people in your training we will be delighted to offer you a group discount.
Key Features of AWS Course
AWS Training Key Features
AWS Training online provides advanced-level concepts such as deconstructing on-premises, cloud environment, handling legacy applications, remodel legacy applications as per the architecture of the cloud and apply the twelve methodologies of application.
AWS Certification Course from Besant Technologies consists of five sample projects with trainer guidance to get an immediate answer to the questions from the learners. As a pioneer AWS training Certification institute, we believe that learning with immediate answers will provoke the starvation to learn intensively.
Trainers have authorized certification of AWS and in-line with the market happenings as they have more than 10 years of experience. AWS Training Certification is conducted as per the convenience of the learner as an online, classroom, and one to one classes and reviewed as one of the popular AWS Courses.
We operate at multiple locations and available for the online mode to bring comfort to the learners searching for AWS training near me.
The fundamental knowledge to understand the infrastructure and understand the cloud-based solutions requires examples of best designs and best practices which are known through the AWS Course. Our AWS training material consists of vast syllabus coverage with the latest topics like the latest security measures for a self-managed active directory with LDAP, machine learning with Amazon Aurora, and AWS IOT core support for the voice-based search integration with new Alexa for any type of devices.
The projects are given to build the infrastructure as required for different types of businesses and the AWS Certification Course provides the sample through our tested applications to make the learners understand the real-time challenges.
Network concepts like computer name, active directory and network commands and automation tools like Jenkins are covered with this AWS Course. DevOps requires automation tools and to learn AWS comprehensively required automation tools are covered with the syllabus of AWS at Besant Technologies.
AWS Training and Certification from Besant Technologies will impart the knowledge to understand the built-in features of AWS such as VPC, IAM, and Cloud trial of AWS, direct connect to manage on-premise and Amazon virtual private cloud, data encryption, and Amazon virtual private cloud.
After completing the AWS Course, the learners get complete knowledge about handling the failures and troubleshoot the deployment problems and find a solution to connectivity issues as a pro.
As per one report, the annual salary of the AWS solution architect is comparatively high to the administrator job and developer job. The demand for AWs Market is anticipated at $236B by the year 2020. To become an AWS architect or developer or administrator join AWS Training from Besant technologies.
10+ Years Certified Trainers
12000+ Students learning on Besant technologies
20+ Live Demos on AWS Services
5+ Real time industry Projects with Hands-on labs
Basic to Advanced level Topics Covered on AWS Cloud
3+ Practice Test to Gain Confidence
100+ Answered Interview Questions Book
Unique Course Syllabus and Materials
Project of AWS Course Online
Title:
Create and implement Payment Gateway for the online gaming website.
Objectives:
To provide a highly secure payment option uses some well Architect framework best practice guidance.
Utilize the maximum capacity of the resources all the time. Enable auto-scaling and load balancing.
Create IAM policies to limit user and resource access.
Set some best firewalls on both NACL and Security Group.
Deploy the application and create a failover routing policy for the website using Route 53.
Create distribution for better performance.
Besant Technologies AWS Training provides Projects for understanding the architecture, migration process, build workflows, deploy systems, redesign the existing system with AWS, and handle AWS customer service content. Small projects will not help and cover all the aspects as AWS is a vast subject. Hence we take immense care to provide projects which explain all the services of AWS. AWS Training for developers, administrators and architects are divided as per the learning requirement and project requirement.
Mention the projects of the AWS Certification Course?
AWS Course path provides the following projects to understand the functions related to AWS with technical support and trainer guidance.
Deploy dot net application using AWS elastic beanstalk for developers using the AWS tool kit with a visual studio.
Using node.js application with S3 or DynamoDB for solution architect.
Use EC2, EFS for distributed file systems for administrators.
Use Route 53 for hosting a website, manage hosted zones and domain names for developers.
Using S3 for hosting the static website along with CloudFront for database administrators.
Training Courses Reviews
I am a Customer at Besant Technologies. I attended the AWS solutions architect certification online Training, and I found the training to be very informative. The course content was superb, just what I was after. The trainer was very knowledgeable. He is very patient, he listened and cleared all my doubts. I particularly liked the way he repeated and summarised the previous day's learnings at the beginning of each new day. I also liked his interactive way of training. Besant Technologies proved the highest standard of professionalism in delivering the course content and their support to me in assisting complete the project has been exceptional. Thanks, Besant Technologies!
Benjamin
Besant Technologies. One-stop for all the courses you want to learn with ease and by the experts. The trainer is excellent, the pace was perfect, efficiently cleared all my doubts with proper examples… I'm very much impressed with the sessions and timings. I am pleased to be part of this AWS Certification Online Training session. I thank Besant Technologies for providing excellent course content and such expert trainers.
Aditya
My friend and I have completed AWS Certification Online Training, and it was fun learning online, the sessions were interactive that keeps the spirit of learning alive. Besant Technologies, helps you gain knowledge and skill set for whatever the course you opt. Thank You, Trainers.
Andriana
I have done AWS Certification Online Training from Besant Technologies. I am very happy and satisfied with the training and help they are providing. The sessions were very informative. The trainers are highly experienced and knowledgeable. They provide a set of videos from a previous session, so you can watch, practice and can get the most out of the course. They offered outstanding Customer Service starting from signing up of the course. I really appreciate the Besant Technologies Support team. They are doing a fantastic job. All my queries were answered quickly and adequately. You get LMS access in which you can have the recording of the classes, presentations, course materials and labs. So you can refer, revise any topic whenever you want. I can safely say Besant Technologies is one of the best training companies.
Danial
Student's Testimonials
Frequently Asked Questions
Besant Technologies offers 250+ IT training courses in more than 20+ branches all over India with 10+ years of Experienced Expert level Trainers.
Fully hands-on training
30+ hours course duration
Industry expert faculties
Completed 1500+ batches
100% job oriented training
Certification guidance
Own course materials
Resume editing
Interview preparation
Affordable fees structure
Besant Technologies is the Legend in offering placement to the students. Please visit our Placed Students List on our website.
More than 2000+ students placed in last year.
We have a dedicated placement portal which caters to the needs of the students during placements.
Besant Technologies conducts development sessions including mock interviews, presentation skills to prepare students to face a challenging interview situation with ease.
92% percent placement record
1000+ interviews organized
Our trainers are more than 10+ years of experience in course relavent technologies.
Trainers are expert level and fully up-to-date in the subjects they teach because they continue to spend time working on real-world industry applications.
Trainers have experienced on multiple real-time projects in their industries.
Are working professionals working in multinational companies such as CTS, TCS, HCL Technologies, ZOHO, Birlasoft, IBM, Microsoft, HP, Scope, Philips Technologies, etc…
Trained more than 2000+ students in a year.
Strong theoretical & practical knowledge.
Are certified professionals with high grade.
Are well connected with hiring HRs in multinational companies.
No worries. Besant technologies assure that no one misses single lectures topics. We will reschedule the classes as per your convenience within the stipulated course duration with all such possibilities. If required you can even attend that topic with any other batches.
Besant Technologies provides many suitable modes of training to the students like
Classroom training
One to One training
Fast track training
Live Instructor LED Online training
Customized training
You will receive Besant Technologies globally recognized course completion certification.
Yes, Besant Technologies provides group discounts for its training programs. To get more details, visit our website and contact our support team via Call, Email, Live Chat option or drop a Quick Enquiry. Depending on the group size, we offer discounts as per the terms and conditions.
We accept all major kinds of payment options. Cash, Card (Master, Visa, and Maestro, etc), Net Banking and etc.
Please Contact our course advisor+91-9677 266 800. Or you can share your queries through info@besanttechnologies.com