Python Training Course Overview
This Comprehensive Online Python Training will make you a Professional Python Coder for Build Customized web apps and automate the day-to-day manual tasks.  You will gain knowledge on Creating Machine Learning Algorithms using Python to become a good ML engineer or Data Scientist.  Python Training will enable you to work on Python with MySQL/PostgreSQL database Projects to generate Reports and Charts with filters.
The Complete Python Course Online for finance & Accounts field to automate the office works with the Powerful python Programming to increase the Productivity.  Basic to advanced level techniques on web Scraping and data Visualization with Python on windows, Linux and Mac environments taught by the Industry experts with Placements through Online Classes with Real time assignments.
In this Python Certification training Course you will learn the Python libraries Such as Numpy, Pandas, Matplotlib, and Scikit-learn for Solving Complex Calculations or Problems in an efficient manner. Master in Python for Data Analysis, Data Structure and Visualization to Boost your Career. Become Python Full Stack Developer by learning Python with MongoDb and Node.js from this Live Instructor Led Classes from India.
This Python Online Training Course will teach you how to use Python Programming in an efficient manner to Build & Analysis Applications using the latest Python Techniques. From this Python Course, you will get great Practical exposure on Python for Machine Learning & AI Concepts to improve your Application & Business Performance.
Training Options
Online Live Instructor led Classes and Self-paced Recorded Video Options available for the Students.  We are offering both Weekend and Weekdays Python Certification Courses with multiple batches and timings. Pick a Personal trainer for your one-to-one training for better experience.
 If you are looking for corporate training or Group training more than 5 members you can contact us for more discounts Price and individual Batch.
This Online Python Certification Training Course is available in 10+ Countries Such as USA, India, UK, Singapore, UAE, Dubai, Canada, Australia and Japan. We do Offer Live Classroom Python Courses in Major Cities in India like Chennai, Bangalore, Pune, Mumbai, Hyderabad, Kochi, Noida and Delhi with Certified Experts.
Online Python Training Course
Besant Technologies' Python Training Online is designed to make you Master in Python Programming Concepts like Program flow/ Data flow of Python, Control Statements, Loops, Functions, File Handling, Exception Handling, and API Access. This Python Programming Course will focus on Practical Classes with Real-Time Projects & Test Cases. Since Python is leading the Technology world to enroll for Besant technologies Python Online Course and Grab top Paid Jobs in IT Industry.
Learn Python from Basic to advanced level from Python Certified Developers. Our Live Online Course for Python will help you to become a Python Certified Developer with experienced Trainers. This Instructor-Led Online Python Practical Course will give you an exclusive Knowledge on building a complete Web development.
Our Unique Course Content will make it easy to learn Python for freshers and working professionals in the Short Period of Time. We Offering Back-up Classes with Individual Trainers who are lacking in Coding Knowledge and also Providing Recording Python Videos to develop their Coding ability.
Benefits of Python Online Training Course
100% Placement Support in Top MNC Companies like TCS, CTS, Wipro, Google, Flipkart, Amazon and Microsoft
Trainers will help you to prepare a resume according to your Skill Set & Experience
We will Provide Top 150+ Latest Python Interview Questions & Answers with Answers.
Besant technologies Sample Python Programming Guide for Students
Middle of this Python Course we will conduct Mock Tests on Python Concepts Like Using the Python Shell, List Comprehension, Slicing, Dictionaries and Sets, Memory Management and Python 3.3
Our Expert Team will Conduct Mock Interviews
Lifetime Access for BEMS (Besant Technologies Internal JOB Portal)
Our HR Team will Keep Update Python jobs via mails, message, and WhatsApp
Python Online Course Duration 60 hrs with Hands-on Training Classes.
Having 5+ years of experience in software development with strong skills in Java, Python, and Object-Oriented Programming.
Flexible to adopt new technologies and work on new streams.
Avail Both Live Instructor-Led Online Class for Python Course & Self-Paced Online Python Class
From this Class, you will get basic and Advance techniques on Python Programming like using ML & AI with Python
Weekdays Classes will be Daily 1.5 hrs starting from 7.30 am to 9 am, Flexible Timings available
You Can Choose 1:1 Online Classes for Python Certification Training Course at your flex timing
Python Weekend Classes Start from every Sat Morning 9 am to 11.30 am and different slot available for working Professionals
Separate Batch for Fresher's and Experience Candidates
Training Venue for Mixed Online & Classroom Course: Courses are available in our Besant technologies Bangalore & Chennai Training Centers (BTM Layout, Marathahalli, Jayanagar, Kalyan Nagar, Indira Nagar, Rajajinagar, HSR Layout, and Electronic City,Velachery, OMR, Tambaram, TNagar, Porur, Siruseri,AnnaNagar, Thiruvanmiyur,Maraimalai Nagar)
Python Online Course Will Available around the world (USA,INDIA,UK,Canada, Australia,  Dubai,UAE,Singapore & 20+ Countries)
Fast Track Classes also Available
100% Job Oriented Training Program
In-Depth Python Syllabus
Get Free Python Software for Practice
Python Online Courses in India with Low Cost & Better Trainers
Placement Oriented Python Online Training by Experts
Boost Your Career & Get 100% Hike from Top Employers
Become a Master in Python Certified Professionals
Top Training Institute & Online Courses for Python in India
20000+ Students Completed & 2000+ Batches
Register for Best Online Python Training and Start your dream Python Developer Career in Just 2 Months.
Learn 75+ Hrs Live Online Python Classes from your Home
Sample Projects to work out on Various Domain
Project Support after the Course Completion
Besant technologies Course Completion Certification
World Class Infra with Free Wi-Fi and 24/7 Lab Facility
Two Demo Classes Available as free
Low Cost for Python Certification Training Course Online
Live Machine Learning & AI Project with Python
Live Project to Build a Website using Python
Interview Preparations
Mock Interviews
Resume Preparations
Internship Certification
Interview Tips
Besant Technologies is one of the top-notch Python Online Certification Course Training with professional and talented Python trainers. Our Python online Course will cover main topics in Python like SciPy, Pandas, NumPy, Lambda functions, Matplotlib, Scikit-Learn, Web scraping libraries, design philosophy, the basic packages, applications, scripts, Python architecture, and third-party software packages. The Python Online Certification Training Course offers the immersive, hands-on training, and app-based learning for the attendees so that learning is made easier and fun. Get the Python online course completion certification once you successfully finish the Python online course training from Besant Technologies.
According to Indeed.co.in, the average salary of the Python Developer is about Rs. 4,94,179 per year. Our Python online course trainers are certified consultants who have more than a decade of experience in the Python field.
Python Certification Course
To make a lucrative career in this field, you need to upskill your Python language skills. It's best to sign up for our Python certification program. Further, our Python online courses give you hands-on project experience and prepare you to become an experienced Python programmer. So, don't wait. Sign up now!
Program USP:
Flexible pricing
12+ years experienced trainers
Instructor-led online sessions
Immersive course curriculum designed by SMEs
Practice tests and project work
Mock interview sessions
Job assistance
Python course completion certificate
24*7 learner support
Besant Technologies Python online course helps in understanding about applying the scripting techniques and object-oriented programming for different commercials. Being the versatile language, our Python certification training also acts as the foundation to learn web development, scientific programming, & system administration in Python.
Apart from this, the Python Online Course also covers the programming language needed for making data analysis, how to work with data, and how to apply them on data for visualizing and analyzing them. The Python certification training also exposes to advanced concepts like Deep Learning, MapReduce, Hadoop streaming, Machine learning, work with Python packages like Scipy, Scikit, and more.
The best in the industry syllabus covers all the major topics necessary to learn this language. The online training course gives flexibility to candidates to get knowledge from wherever they are. In this course, you will have live sessions, video training, cases and projects to work on which will help in learning this language better. Moreover, you will also get placement assistance that allows you to begin your career in the field of Python.
About Python Certification Online Course
This end-to-end Python course will make you a proficient Python programmer. As an ambitious learner, you will easily cover the core concepts of Python from scratch and then master Python's web development, Hadoop streaming, Machine Learning, Deep Learning, etc. Further, you can establish your knowledge and skills by executing industry-specific factual projects.
Django Python
Django is the most popular Python-based web framework that enables engineers to build powerful, scalable, flexible, robust and amazing web applications quickly. It has a vast community, offering a wide range of free and open-source tools and packages that helps engineers to build interactive front-end applications.
Django provides 3 layers:
Model layer: It is the abstraction layer used for manipulating and structuring the data of your website apps.
View layer: It encapsulates the implementation details for the process where the user's sends requests and gets back the response.
Template layer: It is the designer-friendly syntax that is used to render information in order to be displayed to the users.
In addition to this, Django offers multiple protection mechanisms and tools, including SQL injection, SSL/HTTPS, cross-site scripting protection and more. This, in turn, makes Django a most secure Python web framework.
According to trusted job sites, various industry leaders are looking for Django Python developers. Our Python online training will train you in the Django framework. In our Python certification course / Python online course, you will gain in-depth knowledge about Django packages and modules. Choose our Python online course/ Python certification, which comes with a 24/7 support system, specially designed for IT professionals and IT graduates. Our Python online course will lead you to the way to success in this digital era.
What is Python DevOps?
Python is transforming the DevOps landscape. Using Python in a DevOps environment enables engineers to develop web apps and data visualization quickly. Unlike other languages, Python has a direct approach to programming, meaning, a clean and easily understandable syntax, making itself a great fit for DevOps. Python is an amazing scripting language, used to automate manual tasks. The majority of configuration management tools are written with Python underscores, such as Ansible and SaltStack. Python is the most preferred language when it comes to infrastructure automation and orchestration. If you are working in a DevOps environment, Python's simplicity, directness, and agility are invaluable when you are working in a DevOps environment.
Our Python online training will make you an expert in Python programming, required in DevOps methodology. our Python certification course / Python online course provides you deep insight into the essential Python concepts. Our Python online course, with 24/7 support, is created for IT professionals and fresh graduates. Choose our Python online course / Python certification course to grab new career opportunities in the modern DevOps era.
Python for Big Data: Why Python Course is essential for big data?
Commonly, Python's gradual learning curve and simple syntax make it popular in the big data field. In addition to this:
Python is a powerpack for scientific data and library packages (NumPy, Pandas, SymPy, sci-kit-learn and more) used in Big data applications.
It is also compatible with Hadoop and consists of Pydoop packages, enabling you to write Hadoop MapReduce programming and access HDFS API.
It allows big data professionals to resolve many complex issues with minimal programming efforts. For example, integration of Scikit-learn and Spark with Python library helps data scientists to write and test code with a small chunk of data sets, prior to the implementation on a spark clusters. After the verification of code, they can implement these codes on spark clusters with huge data sets. This, in turn, helps them to eliminate the repetitive code cycles, making their work easy.
According to Indeed.com, many tech-giants are looking for big data professionals, hence, learning Python is essential to grab new opportunities in the big data field. Our Python online training will help you to qualify for prestigious jobs in this marketplace. In our Python certification course / Python online course, you will learn about essential Python concepts used in big data such as Python APIs, PyDoop, etc. Our Python online course with a 24/7 support system, is designed by our world-class mentors.  IT graduates and software professionals can choose our Python online course /Python certification course to establish their skills in the big data field.
Python for Data Science: Why Python Training is Essential for Data Science?
Data science involves extracting meaningful data from a huge set of unstructured and unprocessed data. Machine learning is used to make connections between dissimilar data sets but these data sets also require computational power and sophistry. This is where Python helps data scientists. It enables them to create CSV output, making easier to read and extract data in the spreadsheet.
Python is the most popular language for data science as it offers a wide range of data science and data analysis libraries, including:
PyBrain and ScilKit- A machine learning library that offers modules for the preprocessing of data.
Statsmodels- Popular tool, required for the analysis of statistics.
SciPy- It offers various tools that are used by data scientists to analyze scientific data.
Also, python is an "easy to learn and use" language, it also comes with various visualization packages (including Matplotlib, Seaborn, Altair and more), used to create web-ready interactive plots and charts. Our Python online training will head you towards success in the data analytics and data science field. In our Python certification course / Python online course, you will gain knowledge in machine learning, data analytics, natural language processing, etc. Our Python online course is for IT professionals (software engineers, data scientists). Enhance your career with our Python online course / Python certification course.
Selenium with Python: Why Python Course is Essential for Selenium?
Python is the most preferred language for Selenium because it is easy to read and code, enabling selenium tests to be written quickly with less code. Python also has a big community that offers a good support system for Selenium. With Python APIs, connecting with the browser through Selenium is amazing and fun. Selenium uses WebDriver (a web automation framework) that has strong bindings with Python.
Selenium Python bindings offer a simple API, enabling the testers to build acceptance/functional tests using Selenium WebDriver. Functionalities of Selenium WebDriver can easily be accessed with Selenium Python API.
This Python online training will establish your career as a successful Selenium tester. In this Python certification course / Python online course, you will learn about essential Python concepts used in Selenium. This Python online course can be opted by software testers and engineers. Transform your career to another level with our Python online course / Python certification course.
Answer 3 Simple Questions
Get upto 30%* Discount in all courses. Limited Offer. T&c Apply.
Register now
Python Course Content
Introduction to Python:
Objective: 
In this module, you will get a basic understanding of python programming, Virtual environment, Package manager, version differences of python programming and detailed knowledge about the python installation and environment setup for working with python.
Topic:
Python programming history & features
Python compiler and IDE installation
Virtual Environment
Pip – Package Manager
Hands-on: 
How to set up an environment for python development.
Basics of Python:
Objective: 
In this module, you will get a basic understanding of python Syntax and a detailed understanding of Input/Output [I/O] operations, Variables, Operators Datatypes and Data structure.
Topic:
Python Syntax Overview, Indentation, comments
Variable declaration
Datatypes and data structure
Operators in python
Hands-on:
How to write a basic Python code, variable declaration datatypes, and operators usage.
Program flow/ Data flow of Python:
Objective: 
In this module, you will get a detailed understanding of conditional statements, looping, control statements of python.
Topics:
Conditional Statements

if statement
if … else statement
if … elif… else statement

Looping

for loop
for with else statement
while loop
while with else statement

Control Statements
Assert Statement
Hands-on: 
How to use conditional, looping and control statements in python.
Function in Python:
Objective: 
In this module, you will get a detailed understanding of writing function, the scope of variables, function with arguments, keyword arguments, lambda functions and Modules in python.
Topics:
Syntax of Function
Function with *args & **kwargs
Scope of variables
Lambda function with map, filter, reduce method
DocString
Modules and standard Modules
Hands-on: 
How to create and use functions and different types of argument, lambda function, and modules in python.
File Handling in Python:
Objective: 
In this module, you will get a detailed understanding of file concepts like create, read, write, update, delete operation of file with python.
Topic:
File Opening modes
Context Manager in python
File Operations

Open
Create
Read
Write
Update
Delete
Hands-on: 
How to create and use file operation in python.
Exception Handling in Python:
Objective: 
In this module, you will get a detailed understanding of exception handling and creating your own exception classes in python.
Topic:
Types of Errors in python
Exception handling with

try … except
try … except… finally
try … except… else

Multiple Exception
Raising Exception
User-defined Exception
Hands-on: 
How to create and use built-in and user-defined exception handling in python.
Oops in Python:
Objective: 
In this module, you will get a detailed understanding of Object-Oriented Programming Concepts in python.
Topics:
Oops Concepts with programming syntax

Class
Object
Polymorphism
Encapsulation
Inheritance

Types of Methods in python
Hands-on: 
How to use Object-oriented programming concepts in python.
Core Concepts in Python:
Objective: 
In this module, you will get a detailed understanding of iterators, generators, decorators, in python.
Topics:
Iterator
Generator
Decorator
Hands-on: 
How to use core concepts and application of core concepts in python.
Comprehension in Python:
Objective: 
In this module, you will get a detailed understanding of List, Dictionary comprehension and specialized sorts in python.
Topics:
Comprehensions

List
Nested List

 if statement
 if … else statement
 Nested if … else statement

Dictionary
Sorting
Hands-on: 
How to use comprehensions and sorting in python.
Thread and DateTime in Python:
Objective: 
In this module, you will get a detailed understanding of multi-threading concepts, datetime module alone with sleep and execution of code in python.
Topics:
Terms in threading

process
thread
multithreading
Time complexity

Thread Life cycle
Programming with Threading & Multithreading
Synchronization
Sleep and execution time of code
DateTime module
Hands-on: 
How to use threading and data time concepts in python.
Advanced data Structure/ collections in Python:
Objective: 
In this module, you will get a detailed understanding of advanced data structures in python.
Topics:
Deque
namedtuple
ChainMap
Counter
Ordered Dictionary
Default Dictionary
Hands-on: 
How to use advanced data structure in python.
MySQL with Python:
Objective:
In this module, you will get a detailed understanding of SQL statements and database connection along with CRUD operation using python.
Topics:
SQL statements & Operations

Create
Read
Update
Delete

Python – SQL connector package installation
Python with CRUD Operations
Commit & Rollback
SQL Related Exception Handling
Hands-on:
How to use and manipulate data in a database using python.
Network programming with Python:
Objective: 
In this module, you will get a detailed understanding of Network programming, Client & server concepts with python.
Topics:
Terms and Basics of network programming
The architecture of data transmission between sender and receiver using python
Getting data from the remote server
Client & Server-side programming
Hands-on: 
How to use and networking module of python, data transmission between client to server and server to client python.
Regular Expression with Python:
Objective: 
In this module, you will get a detailed understanding of writing Regex with python.
Topics:
Regex Syntax

Quantifiers
Metacharacters
Special Sequences
Sets

Python re module
Methods with regex usage
Hands-on: 
How to use and write regex in python.
GUI programming with Python:
Objective: 
In this module, you will get a detailed understanding of developing the GUI application using the PyQt5 module with python.
Topics:
Introduction
Components and Events
An Example GUI
Widgets
Layout Management
Signals & Slots
QMessagesBox, QDialog
Database Handling
Hands-on: 
How to develop a GUI application with PyQt5 and python.
API access with Python:
Objective: 
In this module, you will get a detailed understanding of accessing open APIs using python.
Topics:
Google Text to Speech
Google Speech to Text
OpenWeatherMap
Hands-on: 
How to use open APIs using python.
DataScience with Python:
Objective: 
In this module, you will get a Basic understanding of data science modules in python.
Topics:
Pandas – Series and Dataframe
Numpy
Matplotlib
Hands-on: 
How to use data science modules of python.
The project with Python:
Objective: 
In this module, you are going to develop an application for own scenario.
Topics:
Creating own application with any one of the frameworks

Django App
PyQt5 App
Console oriented Core app
Looking for Master your Skills? Enroll Now on Triple Course Offer & Start Learning at 24,999!
Explore Now
Upcoming Batch Schedule
Besant Technologies provides flexible timings to all our students. Here is the Python Online Training Schedule in our branches. If this schedule doesn't match please let us know. We will try to arrange appropriate timings based on your flexible timings.
02-10-2023

Mon (Mon - Fri)Weekdays Batch 08:00 AM (IST)(Class 1Hr - 1:30Hrs) / Per Session Get Fees

28-09-2023

Thu (Mon - Fri)Weekdays Batch 08:00 AM (IST)(Class 1Hr - 1:30Hrs) / Per Session Get Fees

30-09-2023

Sat (Sat - Sun)Weekend Batch 11:00 AM (IST) (Class 3Hrs) / Per Session Get Fees

Can't find a batch you were looking for?
Corporate Training
If you want to give the Trending technology experience to your esteemed employees, we are here to help you!
About Trainer
Having 9+ years of IT training experience in Python and Django Applications
Python Certified Professional with unique teaching Skills
Conducted Classroom, Online & Corporate training on Python 3.3 to 3.8.5 documentation released on 20 July 2020
Currently Working as Senior Python Programming Developer in Top MNC
In-depth experience in Providing Practical training for Fresher's & experienced
Java SE 11 Developer Certified
Completed 33+ Batches & Trained 1000+ Students in India, USA, UK, Australia, Canada, Singapore, Dubai and Kuwait.
Worked as a Python Web and Gaming Developer & Java Freelancer Developer for Small & Medium Companies
Having Very Good Communication & Teaching Skills. Fluent in English, Tamil, Telugu and Hindi Languages.
Having Very Good Experienced in Machine Learning, AI and Data Science Concepts Using Python.
Experienced in Handling Live Instructor-Led Online Python and Django Classes & Self-Paced Course according to the Students Convince.
Having Very Good Exposure on Real-Time Project Support during this Python Certification Online Training Courses
Developed Multiple Applications for Retail Shops to Maintain & Analysis the Data Set to improve their Business.
Very Good in-depth Practical Knowledge on Both Python 2 and Python 3 Versions
Currently, our Trainer is working as a Data Scientist Role in Retail Projects.
You can take 2 Demo Classes on Python Course through a live Zoom Meeting before Enrollment.
Having Very good Experience in Solving Machine Learning and Artificial Intelligence using Python.
Excellent Skill in Solving Mathematics Problems using Python Programming
Strong integration Knowledge of Latest Angular versions 7, 8 and 9 to improve the Speed of web Application
Having Very Good Big Data Analytics Skills on Various Domains using Python Tool
Get Best Python Live Online Course & Certificate from the world's best Trainers offered by Besant technologies.
Build your resume to the latest trend, and get a chance to know our Tie-Up Companies
Placed Student's list
Python Certification Training Course
Besant Technologies Certification is Accredited by all major Global Companies around the world. We provide after completion of the theoretical and practical sessions to fresher's as well as corporate trainees.
Our certification at Besant Technologies is accredited worldwide. It increases the value of your resume and you can attain leading job posts with the help of this certification in leading MNC's of the world. The certification is only provided after successful completion of our training and practical based projects.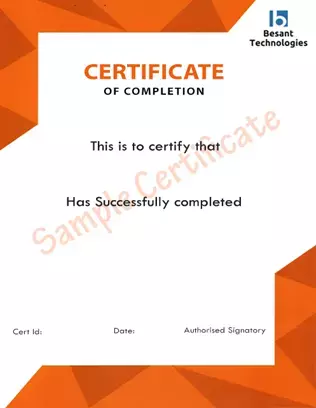 Pass the Python Certification Exam (PCPP1-32-101) in the first attempt with our Python Certification Training and Practice Test. Earn a Valid and Shareable Course Completion Python Certificate to boost your Skills and Career.  Start your Career as Python Developer with us.
At the end of our Python Online course, you will be assigned to work a real-time project. Once you complete the assigned project with expected results we (Experts Team from Besant Technologies) will verify and issue Python Certificate. If you are not able to deliver the expected results in the project we will support you by clarifying doubts and help you to re-attempt the project.
Python 2.0 was used previously, whereas now Python 3.0 is currently being used. 3.x has periodic releases with various advancements and newer updates. Extended support and standard library enhancements have been brought forth. Depending on your requirement, you can choose either 2.0 or the 3.0 version.
Group Discount
If you have Three or more people in your training we will be delighted to offer you a group discount.
Python Training Course Key Features
Python Online Course and Certification Training Key Features
Besant Technologies' best Python certification course offers many advanced features that make us unique from other Python Online training centers. Here are some of the best key features that show us as the best Python online course.
24/7 Support
Highly qualified and professional Python experts
Data Science online training curriculum with the latest industry standards
100% hands-on Online Python training.
Lifetime access to self-paced learning.
Weekend Mentoring Sessions
Flexible Schedule to choose their preferred classes
100% job assistance and Python certification
Real-time projects with exercises and project work.
Self paces videos & Instructor-Led Training
12+ Years Certified Trainers
13000+ Students learning on Besant technologies
18+ Live Demo Projects
5+ Real time industry Projects with Hands-on labs
Basic to Advanced level Topics Covered on Python 3
3+ Practice Test to Gain Confidence
100+ Answered Interview Questions Book
Unique Course Syllabus and Materials
Python Real-Time Projects
Write a small web application to create and retrieve invoices. I have attached the SQL file for setting up the database. Install MySQL in your machine and import the SQL file. It has three tables,
product_master – It has 10 products for testing. You can add more if you want.
Invoices – It should store the invoices you create. InvoiceID is an auto-increment number.
invoice_items – It should store the items that belong to an invoice. It has a foreign key relation with the
above tables via prod_id and invoice_id. invoice_item_id is the primary key and it should be populated through your program. It should be an auto-increment number for a particular invoice. i.e., For each invoice, it should start from number 1 and keeps increasing.
The web app should have two pages
Create Invoice – Create a form to get the invoice-related info and store them in the corresponding tables.
Retrieve Invoice – Create a search box and get InvoiceID as input. Use it to retrieve the details about that invoice and display it on the screen.
Use Python for backend and HTML/JavaScript for frontend. If possible, use frameworks to simplify the development process. For example, you can use Flask/Django/any other framework in Python to develop backend APIs, Bootstrap for HTML UI and Ember/React/any other framework in JavaScript.
Student's Testimonials
Frequently Asked Questions
Besant Technologies offers 250+ IT training courses in more than 20+ branches all over India with 10+ years of Experienced Expert level Trainers.
Fully hands-on training
30+ hours course duration
Industry expert faculties
Completed 1500+ batches
100% job oriented training
Certification guidance
Own course materials
Resume editing
Interview preparation
Affordable fees structure
Besant Technologies is the Legend in offering placement to the students. Please visit our Placed Students List on our website.
More than 2000+ students placed in last year.
We have a dedicated placement portal which caters to the needs of the students during placements.
Besant Technologies conducts development sessions including mock interviews, presentation skills to prepare students to face a challenging interview situation with ease.
92% percent placement record
1000+ interviews organized
Our trainers are more than 10+ years of experience in course relavent technologies.
Trainers are expert level and fully up-to-date in the subjects they teach because they continue to spend time working on real-world industry applications.
Trainers have experienced on multiple real-time projects in their industries.
Are working professionals working in multinational companies such as CTS, TCS, HCL Technologies, ZOHO, Birlasoft, IBM, Microsoft, HP, Scope, Philips Technologies, etc…
Trained more than 2000+ students in a year.
Strong theoretical & practical knowledge.
Are certified professionals with high grade.
Are well connected with hiring HRs in multinational companies.
No worries. Besant technologies assure that no one misses single lectures topics. We will reschedule the classes as per your convenience within the stipulated course duration with all such possibilities. If required you can even attend that topic with any other batches.
Besant Technologies provides many suitable modes of training to the students like
Classroom training
One to One training
Fast track training
Live Instructor LED Online training
Customized training
You will receive Besant Technologies globally recognized course completion certification.
Yes, Besant Technologies provides group discounts for its training programs. To get more details, visit our website and contact our support team via Call, Email, Live Chat option or drop a Quick Enquiry. Depending on the group size, we offer discounts as per the terms and conditions.
We accept all major kinds of payment options. Cash, Card (Master, Visa, and Maestro, etc), Net Banking and etc.
Please Contact our course advisor+91-9677 266 800. Or you can share your queries through info@besanttechnologies.com