Power BI Training Course Overview
What is Power BI?
Microsoft Power BI is one of the world's most popular business intelligence and data analytics platforms. Power BI is a cloud-based application that is supplied via the Azure Cloud. On-premises capabilities are also available for individual users or when power users create complicated data mashups with in-house data sources. Power BI is unusual in that it allows users to accomplish data preparation, data discovery, and dashboard creation all in the same design tool. The platform interacts with Excel and Office 365, and it has a thriving user community that helps to expand the tool's features.
This Power BI Course will help you to understand the Advanced Power BI Techniques Such as Query Editor, DAX Calculations, DAX Aggregate Functions, DAX Logic and Filter Functions, Chart Design and Graphing for Data Visualization with Live Industry Projects. Get In-depth Knowledge on Power BI Mobile Apps to Build a Quick Dashboard and view reports from Smart mobile phone.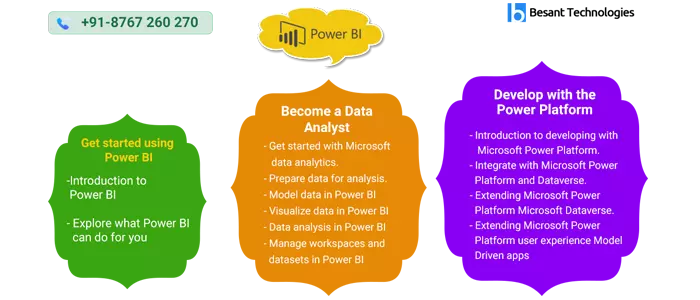 Topics Covered under Microsoft power bi course
Business Intelligence
Self Service Business Intelligence
SSBI Tools
Power BI vs Tableau vs QlikView
What is Power BI
Why Power BI?
Key Benefits of Power BI
The flow of Power BI
Components of Power BI
The architecture of Power BI
Building Blocks of Power BI
What Are The Course Objectives?
Learning power bi online course will give you the knowledge to produce usable data visualizations that will boost your business intelligence and capacity to make data-driven choices. By the end of this course, you will be able to gather:
Navigate between several Power BI tools and their features
Discover how to build dynamic dashboards with dig-throughs and relative date filters.
create, edit, and format interactive graphics
Learn how to create reports using various aggregations and filters.
design and use the custom slicers
By learning power bi course certification, you will understand the process of utilizing Power BI, from connecting to different data sources to importing them into Power BI, processing the data, and finally successfully displaying it.
Discover how to utilize Power BI Desktop, Power BI Query Editor, and the Power BI Service.
Discover how to link similar data sources together.
Learn how to make dashboards available via the web and mobile app.
Discover how to take advantage of themes and custom visualizations.
Discover DAX and how to use it to create measurements.
Advantages of Microsoft Power BI
Using Microsoft Power BI you can empower your teams, find insights buried in your data, and make confident business choices with data. What else?
Learn about your team's strengths and shortcomings.
Utilize Immersive Learning (with Cloud Labs)
With the correct data, you can track the progression of your talents.
Customized training solutions can help you upskill your personnel for modern jobs.
Who Can Pursue This Power BI course?
Aspiring Data Analysts
Excel users
Tableau users seeking to migrate to Power BI
Business Intelligence developers and users
Professionals looking to automate Excel-intensive work
Professionals seeking to enhance their skills beyond Excel
Benefits of Hiring Our Power BI training Experts
Immersive Learning: Our certified trainers provide hands-on classroom training. They will help you learn, practice, analyze, and gain insights into your learning while acquiring instantly practical data analysis abilities.
Practical Experimentation: We will provide you course handbook with step-by-step instructions; with guided hands-on activities, you will gain confidence and become more productive from the start.
Enhanced Learning Experience: Self-learning films that are engaging, smart flashcards, interactive e-books, recall quizzes, and more.
Regular Assessments and Revisions: We know that every learner has a unique learning experience, we will give you proper guidance on diagnostic evaluations, module-end exams, and a final assessment at the end of the program are all part of the curriculum.
Insights for Advanced Learners: You will gain in-depth insights about your development and uncover areas where you excel in your performance.
What will you learn in this Online Power BI Certification Training Course?
Create and Build Analytics Reports with Microsoft Power BI
Data Analysis Expressions (DAX) for Data analysis and Calculations
Build Power BI Dashboard for Data analyze and Visualization
Connect Excel with Power BI for modern accurate Reports
Big data Analysis with Power BI to discover Insights using Virtual Charts
Integration with Microsoft Azure Cloud for Real time data Analysis
R integration will allows users to Run Scripts in Power BI
Advanced Analytical algorithms for Quick insights with Drag and Drop Options
Create DAX Reports  in Power BI easily
Microsoft Clustering Algorithm for Exploring Data and Creating Predictions
Get Power BI Desktop Installed and learn how to automate your reporting Process easily with live examples.  From our updated Course Syllabus you will get Practical exposure on fetching data from Azure DevOps using the Microsoft Power BI Tool with Professional Certified experts.  We give Introduction to Basic SQL and Excel formula refresher Classes for better understanding the Power BI DAX Functions and Power Query.
This Comprehensive Course will provide basic to advanced level training on Power BI Desktop, Power BI Service and Power BI mobile with Live Instructor Led Courses from India.
Eligibility
This Power BI Certification Course is suitable for Data Analysis, SQL Developers, MSBI (SSIS, SSRS, SSAS) Developers, Microsoft Excel Professionals, BI and Reporting Professionals and Individuals who wish to create digital Reports with Advanced Calculations and Charts using Power BI Tool without any Prior Coding Knowledge.  There are no Prerequisites for taking Power BI Course and Certification exams.
Training Options
Online Live Instructor led Classes and Self-paced Recorded Video Options available for the Students.  We are offering both Weekend and Weekdays Power BI Certification Courses with multiple batches and timings. Pick a Personal trainer for your one-to-one training for better experience.
If you are looking for corporate training or Group training more than 5 members you can contact us for more discounts Price and individual Batch.
This Online Power BI Certification Training Course is available in 10+ Countries Such as USA, India, UK, Singapore, UAE, Dubai, Canada, Australia and Japan.  You can choose your Preferred Language to learn Power BI Such as English and Spanish.
We do Offer Live Classroom Microsoft Power BI Courses in Major Cities in India like Chennai, Bangalore, Pune, Mumbai, Hyderabad, Kochi, Noida and Delhi with Certified Experts.
Eligibility and Pre-requisites
This Power BI Course is Suitable for BI Analysis, SQL Developers, MSBI (SSIS, SSRS, SSAS) experts, Tableau Associates, Excel Specialist and others who want to learn Power BI without any Coding Knowledge.  Our Syllabus will Cover Basic SQL before Starting Microsoft Power BI Tools to become a Best Power BI Developer.  Learn Power Bi in Just 20 Classes with Drag and Drop Options to Create Customized Dashboards with Real-time data from this Power BI Online Training.
This entire Course is designed to help you to clear the exam 70-778: Analysis and Visualization Data with Microsoft Power BI. Get exam dumps and Mock Questions which will help you to face this exam very easily and give Confident to Pass.
This Power BI Course will make you Expert in data visualization, data analysis, data transformation and Creating Interactive Reports Charts techniques in Just 50 days. Get Trained on Power BI Desktop, Mobile and BI Report Services with Experts and enhance your Microsoft Power BI Skills for your future.
It's the right Time to learn Power Bi Tool and generate analysis & Reports Tasks easily. Our Online Power Bi Courses with Videos and Back up classes make you simple to learn Step by Step. Join with us for Power BI Training and get highly paid BI Jobs in the Industry.
The Microsoft Power BI Training and Certification covers essential concepts in Power BI, namely Power BI Desktop, Power BI Q&A, Power BI Custom Visuals, Power Pivot, Power Query, Power BI DAX, Power BI Content Packs, Power BI Integrations with SQL services and Azure Machine learning services. The Power BI Classroom Training also covers Power Bi architecture, mobile apps, reports, desktop, service, visualizations, and derive business insights.
Exploring the above concepts in the Power BI Certification Course will help you to know the information in-depth, experiment with them, fix the issues, prepare, and present the information easily and quickly. The Microsoft Power BI Training is aligned to exam 70-778 named Aligning and Visualizing Data with Microsoft Power BI.
Once the candidate completes the Power BI Certification Course from Besant Technologies, they will be awarded a Microsoft Power BI Training course completion certificate at the end of the course. According to PayScale.com, the average salary of entry-level Microsoft Power BI Developer in India is about 445,000, whereas an experienced Microsoft Power BI professional gets approximately 2,000,000. Both Power BI Classroom Training and online training are trained by instructors who are highly skilled and experienced in their respective sectors.
About Microsoft Power BI Training Course
The Power BI Certification Training course syllabuses from Besant Technologies are developed by professionals who stay updated about the latest trends and technologies in the Power BI industry. It means our Power BI Training Course syllabus helps to make the candidates clear the Microsoft Power BI Training and Certification interviews quickly and get placed in top MNC and IT companies. Apart from that, the Power BI Certification Training contains real-time scenarios and projects to make the candidates understand the concepts easily and quickly.
The Power Bi Online Course helps the candidates to learn everything from the first graph to the advanced Power BI techniques. The candidates will get in-depth knowledge about transforming data, creating interactive reports, data visualization, data modeling, and deriving real-time insights with the help of Power BI tools and technologies with practical executions and case studies.
The Microsoft Power BI Training and Certification incorporates you to the Power BI desktop, how they are used for Data Modeling, learn about Data visualization with Power BI Desktop, Power Map and Power View, Data Analysis Expressions, and more. The Power BI Certification Training will enable the candidate in exploring, discovering, and visualizing the data with the help of Natural languages.
The Power Bi Online Training from Besant Technologies also enables the candidate to master the dashboard development from already published reports, explore the data insights, and create recipes practically on diverse tasks that you will be able to perform with Power BI tools and methodologies. The candidates also work with real-time and industry-based projects during the Power BI Certification Training.
Answer 3 Simple Questions
Get upto 30%* Discount in all courses. Limited Offer. T&c Apply.
Register now
Power BI Online Training Syllabus
Introduction to Power BI
Learning Objectives: In this module, you will be introduced to what Power BI is, why to choose power BI, its building blocks, other various fundamental concepts of Power BI
Topics Covered:
What is Power BI?
Why Power BI?
Benefits of Power BI
Building Blocks of Power BI
Fundamental Concepts of Power BI
Power BI Desktop
Learning Objectives:
In this module you will be introduced to Power BI Desktop, software installation and overview of software
Topics Covered:
Software Installation Procedures and Guidelines
Overview of Software
Power BI Sign UP
Introduction to Tools and Terminologies
Refreshing Power BI Service Data
What is a Dashboard?
What is a Report?
How to share Dashboard and Report?
Data Source Connection and Data Transforming
Learning Objective: In this module you will be introduced to how to connect to a data source, perform cleaning and transformation of data
Topics Covered:
Connecting to a Data Source
Upload a local CSV File
Connect to Excel Data
What is a Query Editor?
Import Data vs Direct Query
Data Cleaning and Data Transformation
Merging and Appending
Hands-on:
Datasets will be provided for practicing how to load and perform cleaning and data transformation.
Modelling using Power BI
Learning Objective:  In this module you will be introduced to data modelling, how to manage relationships, creating calculated columns, measures and quick measures
Topics Covered:
Modelling of Data
Manage Data Relationship
Cardinality, Cross Filtering
Default Summarization and Sort By
Creating Calculated Columns
Creating Quick Measures and Measures
Hands-on:
In this you will be given hands-on to work on datasets, create calculated columns, manage relationships etc.,
Learning Objective:
In this module you will be introduced to DAX
Topics Covered:
What is DAX?
Why is DAX Important?
DAX Syntax
Data Types in DAX
Functions in DAX
Measures in DAX
Operators in DAX
Tables and Filtering in DAX
Queries in DAX
Parameter Naming in DAX
Hands-on:
In this module hands-on will be given on various DAX functions
Data Visualization
Learning Objective: In this module you will be introduced to what is data visualization, importance of data visualization, creating charts using Power BI
Topics Covered:
Creating Visualizations
Colour Formatting
Sort Order
Scatter plot and Bubble Charts
Tooltips
Slicers
Cross Filtering, Highlighting
Report Level Filters
Drill Down and Drill Up
Hierarchies
Conditional Formatting, Tables, and Matrices
KPI's
Cards and Gauges
Map Visualizations
Custom Visuals
Grouping and Binning
Selection Pane, Bookmarks & Buttons
Z-Order
Hands-on:
In this module hands-on will be given on visualization, colour formatting, slicers, filters, grouping, selection pane etc., 
Reports and Dashboards
Learning Objective: In this module you will be introduced to modify reports and dashboards, ask questions to Power BI Q&A
Topics Covered:
Modify and Print a Report
Rename and delete report pages
Add a filter to a page or report
Set visualization interactions
Print a report page
Send a report to PowerPoint
Create a Dashboard
Create and manage dashboards
Pin a report tile to a dashboard
Pin a live report page to a dashboard
Pin a tile from another dashboard
Pin an Excel element to a dashboard
Manage pinned elements in Excel
Add a tile to a dashboard
Build a dashboard with Quick Insights
Set a Featured (default) dashboard
Ask Questions about Your Data
Ask a question with Power BI Q&A
Tweak your dataset for Q&A
Enable Cortana for Power BI
Hands-on:
In this module hands-on will be given on how to add filters to reports, set interactions, create dashboards etc., 
Publishing and Sharing Reports
Learning Objective: In this module you will be introduced to how to publish and share your dashboards and reports, saving options. 
Topics Covered:
Introduction to Sharing Options
How to Publish Report From Power BI Desktop?
How to Publish Report to Web?
How to Share Dashboards Using Power BI Service?
What is Content Pack?
How to Save as PDF?
What is Row Level Security?
How to Export Data from Visualization?
Hands-on:
In this module hands-on will be given on how to share dashboard with Power BI service, how to save as PDF and exporting data from visualization
 
Looking for Master your Skills? Enroll Now on Triple Course Offer & Start Learning at 24,999!
Explore Now
Upcoming Batch Schedule for Power BI Online Training
Besant Technologies provides flexible timings to all our students. Here is the Power BI Online Training Schedule in our branches. If this schedule doesn't match please let us know. We will try to arrange appropriate timings based on your flexible timings.
04-12-2023

Mon (Mon - Fri)Weekdays Batch 08:00 AM (IST)(Class 1Hr - 1:30Hrs) / Per Session Get Fees

07-12-2023

Thu (Mon - Fri)Weekdays Batch 08:00 AM (IST)(Class 1Hr - 1:30Hrs) / Per Session Get Fees

09-12-2023

Sat (Sat - Sun)Weekend Batch 11:00 AM (IST) (Class 3Hrs) / Per Session Get Fees

Can't find a batch you were looking for?
Corporate Training
If you want to give the Trending technology experience to your esteemed employees, we are here to help you!
Trainer Profile of Power BI Online Training
Power BI Trainer Profile
Nisha
I have been working as a Power BI developer. I am having 10+ years of working experience as a Power BI developer and a Trainer. I have extensive experience in setting up the Power Bi environment from scratch. I even have in-depth knowledge about Power BI Service, Power BI Desktop, SSAS tabular Model, DAX language, and many more. I can provide assurance for my students that they will master skills in Ower BI within a month after the Power BI course completion. I will not be stick to one point like only Power BI desktop, I will be cover all the concepts related to Power BI as per the industry needs. Furthermore, I will also provide a License account to get hands-on expertise in Power BI services and real-time scenarios. The course will also be provided online and I will be sharing all the files and materials that are required for the students to clear the interview. I will be available 24/7 for my students to clarify doubts.
Manoj Kumar
From the start of my career, I am passionate about training more students on Power BI. I am having 12+ years of experience in training and I have trained more than 100+ batches across the globe. I will cover all the core elements of Power BI that include Power BI desktop, report server, Power BI services, pivot charts, and tables, etc. I will each and every concept of Power BI by taking real-time examples to make students understand more clearly. Trainers' main target is to make students satisfied with the training. I make all the preparation material and then distribute them among all my students for their future reference. I am very happy that I am part of besant technologies for providing POwer BI training to many students. All my students feel free to contact me if they have any doubts at any time.
Bharath
I am working as a Power BI business intelligence analyst. I am an MCSA certified and having more than 15+ years of experience in the IT field and also having 10+ years of experience in providing expert-level Power BI training on various fields such as POwer BI services, POwe BI Desktop, and many more. As a trainer, I always think about the students' satisfaction in my mind and want to deliver the best to my students to reach their dreams. I have trained so many freshers and professionals at besant technologies through both classroom and online training. Moreover, I help my students in giving suggestions about their careers and motivate them to reach peaks in their careers. I will be available all the time for my students and they can reach me out through WhatsApp also.
Build your resume to the latest trend, and get a chance to know our Tie-Up Companies
Placed Student's list
Power BI Certification Training Course
Besant Technologies Certification is Accredited by all major Global Companies around the world. We provide after completion of the theoretical and practical sessions to fresher's as well as corporate trainees.
Our certification at Besant Technologies is accredited worldwide. It increases the value of your resume and you can attain leading job posts with the help of this certification in leading MNC's of the world. The certification is only provided after successful completion of our training and practical based projects.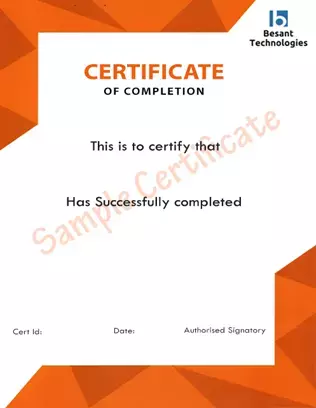 This Power BI training Online will help you to earn a Valid Microsoft Power BI Certification (70-778) for Analyzing and Visualizing Data with Power BI to boost your career.  This Certificate is lifetime valid one and you can Share to potential employers to prove your Core Analytics Skills.
The Cost of this Exam is $165 USD or INR4800 plus tax to pay for Microsoft Company when registering the Certification exam through Online.
Power BI Online Training will help you to learn the entire Microsoft Power BI Tool to generate visualization Reports according to the Business requirements. This Course helps you to understand Simple and Complex data Visualization using Stacked bar Chart, Clustered bar Chart, Pie Chart, Tree Chart, Map, Waterfall Chart and Ribbon Chart with Hands-on Classes. Get exposure on all the Microsoft Power BI Platforms Such as Power BI Desktop for building desktop Applications, Power BI Service (SaaS) and Power BI Mobile for Mobile applications for both IOS & Android.
Besant Technologies Power BI Training will teach you how to Integrate Office 365 reports, Data Sets to Power BI Dashboards helping to Share Cloud based analysis Report to improve the Business Process. This Online Course will train you on real time analytics Process using Power BI from various data Sources Such as Oracle, Excel, Microsoft SQL Server, DB2 and Social Media feeds to generate live Reports through Charts and make instant decisions.
Become Specialist in discovering better Insights from raw data using Microsoft Power BI Apps and automate regular workflow and repeated tasks in efficient Manner. Share accurate Report to management with colorful Charts and filter Options to make business decisions.
Get a Valid Microsoft Power BI Certification from this online Course and Course Completion Certification by Besant technologies. This Shareable Certificate will Bring you better Opportunities in this BI Industry with Average Salary $100000.
Pass-Guaranteed on Microsoft Power BI Certification Exam 70-778 in 90 days for more details you can call us at +91-9707-250260 or drop an email at info@besanttechnologies.com.
Besant Technologies offers Power BI Training Course Certification, which is recognized by top MNC and IT companies across the globe. Our Power Bi Online Training covers topics that are needed for passing the Microsoft Power BI Training and Certification.
Once the candidates complete the Power BI Certification Training with all assignments, quizzes, etc., they will be awarded a Power Bi Online Course completion certificate. The real-time industry projects will help the candidate to pass the Power Bi Online interview.
MCSA certification plays a crucial role to build one's career in the IT sector. Data visualization and business analytics are driving the demand for the use of Microsoft Power BI in many organizations all over the world. This, in turn, raises the demand for the Power BI certification, to prove that an individual is having excellent skills in data visualization. To get certified in Power BI you need to focus on the exams that they conduct. To prove our skill in the most demanding platform called Business Intelligence you need to give your best in the Power BI certification exams and must clear those exams to get certified.
Is there a Power BI certification
As of now, there is no specific certification for the Power BI certification course. Microsoft only provides the resources to learn and gain in-depth knowledge about Power BI but not the certification after your course completion. In spite of this, you will have an edX course which offers financial assistance after the course completion of the learners, who are mainly worried about verified certificates. But, now all the learners are having the opportunity of getting beta certification which includes some important concepts of Power BI in the exam. Moreover, you will get MCSA BI reporting if you clear the 778 and 779 exams.
What is BI Certification?
Business intelligence is one of the most demanding professional certifications in the emerging tech world. This Business Intelligence certification is the secret sauce for data professionals and certified data professionals in the field of data management. The professionals with this certification will have added value to their position and also get frequent salary increments and significant promotions. BI acts as an Umbrella by covering all the tools and applications used for analyzing the information under it. To get the CBIP (Certified Business Intelligence Professional) certification each individual should pass TDWI's (Transforming data with Intelligence) exam.
How do I get SQL certification
You can earn a credit for SQL certification by learning the courses of SQL Server which are related to clear the certification exams. You will get certified with MCSA and MCSE for the course called Querying Microsoft SQL Server 2012/2014. The cost of all the SQL Server certification courses ranges from $1,785 to $2975. The certification exam which tests our skills in SQL Server is around $165. Most database administrators, system engineers, developers, and who are seeking to improve their knowledge in writing queries prefer to take this SQL server courses and become Microsoft certified professionals.
How much does MCSA certification cost?
MCSA is abbreviated as Microsoft Certified Solutions Associate, it is a certification program and considered as a prerequisite for the more Microsoft advanced certifications. For all the MCSA test-takers in the United States, the cost of the certification exams ranges from $55 to $165 (USD). To clear the MCSA certification each individual must have to clear two to three exams. Moreover, the cost to achieve the MCSA ranges from $330 to $495 USD in the United States. MCSA certification plays an important role in one's career who would try to build their path in IT core areas.
Group Discount
If you have Three or more people in your training we will be delighted to offer you a group discount.
Power BI Key Features
30+ Hours Course Duration
100% Job Oriented Training
Industry Expert Faculties
Free Demo Class Available
Completed 800+ Batches
Certification Guidance
Power BI Live Projects
Live Power BI projects are conducted by Besant Technologies to help you gain hands-on expertise on all the core concepts of Power BI in a defined manner. These live projects will help in understanding all the concepts of Power BI very easily within no time and also they will get in-depth knowledge about each concept in a detailed manner.
Training Courses Reviews
I am impressed by the videos and Power BI Certification Training provided online. They were clear, and the trainers who trained were so professional in explaining the concepts. I want to thank everyone at Besant Technologies who helped me to achieve a successful career in Power BI.
Sathish Kumar
The support team at Besant Technologies helped to solve every queries and doubt. The trainers were supportive and helped to understand the concepts easily. I would recommend the Besant Technologies Power BI Training Course to everyone.
Vimal
Besant Technologies is one of the best online training institutes that hold every software program with the latest trends and technologies. The Power BI course I learned from them had good trainers who are well structured and provided training in an easy understanding way. Thanks to the Besant Technologies Power BI trainers.
Reena
There is a plethora of online training material present for Microsoft Power BI. The comprehensive course material and experienced instructors were the important reason why I am now placed in IBM. Thanks to all trainers at Besant technologies who helped me to attain this position.
Yamini
It was a fantastic experience to learn Microsoft Power BI online training from the Besant Technologies. The trainer trained every concept in Power BI with real-life projects and scenarios, which helped me to get an excellent job in the IT industry. Thank you to Besant Technologies!
Karthik
Student's Testimonials
Frequently Asked Questions
Besant Technologies offers 250+ IT training courses in more than 20+ branches all over India with 10+ years of Experienced Expert level Trainers.
Fully hands-on training
30+ hours course duration
Industry expert faculties
Completed 1500+ batches
100% job oriented training
Certification guidance
Own course materials
Resume editing
Interview preparation
Affordable fees structure
Besant Technologies is the Legend in offering placement to the students. Please visit our Placed Students List on our website.
More than 2000+ students placed in last year.
We have a dedicated placement portal which caters to the needs of the students during placements.
Besant Technologies conducts development sessions including mock interviews, presentation skills to prepare students to face a challenging interview situation with ease.
92% percent placement record
1000+ interviews organized
Our trainers are more than 10+ years of experience in course relavent technologies.
Trainers are expert level and fully up-to-date in the subjects they teach because they continue to spend time working on real-world industry applications.
Trainers have experienced on multiple real-time projects in their industries.
Are working professionals working in multinational companies such as CTS, TCS, HCL Technologies, ZOHO, Birlasoft, IBM, Microsoft, HP, Scope, Philips Technologies, etc…
Trained more than 2000+ students in a year.
Strong theoretical & practical knowledge.
Are certified professionals with high grade.
Are well connected with hiring HRs in multinational companies.
No worries. Besant technologies assure that no one misses single lectures topics. We will reschedule the classes as per your convenience within the stipulated course duration with all such possibilities. If required you can even attend that topic with any other batches.
Besant Technologies provides many suitable modes of training to the students like
Classroom training
One to One training
Fast track training
Live Instructor LED Online training
Customized training
You will receive Besant Technologies globally recognized course completion certification.
Yes, Besant Technologies provides group discounts for its training programs. To get more details, visit our website and contact our support team via Call, Email, Live Chat option or drop a Quick Enquiry. Depending on the group size, we offer discounts as per the terms and conditions.
We accept all major kinds of payment options. Cash, Card (Master, Visa, and Maestro, etc), Net Banking and etc.
Please Contact our course advisor+91-9677 266 800. Or you can share your queries through info@besanttechnologies.com