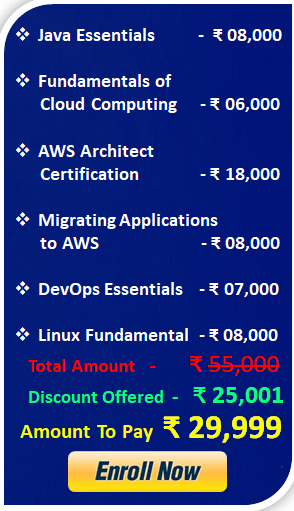 Cloud Masters Program makes you proficient in designing, planning, and scaling cloud implementation. It includes training on Java, Cloud Computing, AWS Architectural Principles, Linux, and DevOps.You'll learn to master the architectural principles and services of two of the top cloud platforms, design and deploy highly scalable, fault-tolerant applications and develop skills to transform yourself into a cloud architect.
The Cloud Architect program is designed to make you an expert in cloud applications and architecture. It will enable you to master the core skill sets required for designing and deploying dynamically scalable, highly available, fault-tolerant, and reliable applications on two of the top Cloud platform providers — Amazon Web Services (AWS) and Microsoft Azure. The program will give you an in-depth understanding of cloud services such as AWS Cloud formation, Azure resource manager, EC2, S3, Route53, VPC, Azure App Services and more. You'll acquire the knowledge and skills for passing cloud architect certifications such as AWS Architect and Azure Architect.
Our CLoud Masters Learning Paths provide a guided learning experience for all cloud certifications. Learn how to master, manage and architect all cloud features and services using video courses, dedicated quizzes, and hands-on labs.
Fundamentals of Cloud Computing
What is Cloud Computing?
Why Cloud Computing?
Characteristics of Cloud Computing
Cloud Computing – Technologies
Cloud Deployment Model – Public Cloud, Private Cloud, Hybrid Cloud
Cloud Service Model – IAAS, PAAS, SAAS
Cloud Services – Users
Cloud Virtualization
Cloud – UseCase
Java Essential
Introduction to Java
Data Handling and Functions
Object-Oriented Programming in Java
Packages and Multi-Threading
Collections
This Linux course will cover the entire red hat certification contents and this will cover more practical sessions rather than theory. Since we have separate troubleshoot sessions as part of this course will make you good expertise in Linux® administration. This troubleshooting session will make your life easier when working at an office.
RHCE Linux
Introduction to Red Hat Enterprise Linux
Introduction to GNU/Linux
Installing Red Hat Enterprise Linux
Booting Red Hat Enterprise Linux
Automating Programs
Login Options
Building a Custom Linux Kernel
The GNU/Linux Filesystem
Key Filesystem Locations
The /proc Pseudo Filesystem
User Management
Software Management
Hardware Management
Network Management
Linux Fundamentals
Installation and Initialization
Boot and Package Management
User Administration
Run levels
Overview of the Service Protocols
AWS Solutions Architect
EC2 Instance
Load Balancing
Auto-scaling
EBS (Elastic Block Storage)
Storage in Cloud
AWS Architecture and Design
Backup and Disaster Recovery
Troubleshooting and Price Calculator
An understanding of DevOps and the modern DevOps toolsets
Source code management tools – CVS, Git
Build tools – Apache Ant, Maven
Test automation tools – JUnit
Continuous Integration Tools – Jenkins, Team city
Configuration management tools – Chef, Puppet, Ansible
Monitoring tools – Nagios
The median salary for IT professionals with cloud computing experience is $90,950. Currently, there are 18,239,258 cloud computing jobs worldwide. There is an explosion in both cloud computing use and demand for people who can help with cloud migrations.
Frequently Asked Questions
Public cloud services are breaking down into three broad categories: software-as-a-service, infrastructure-as-a-service, and platform-as-a-service. SaaS is well known and consists of software applications delivered over the Web. Infrastructure-as-a-service refers to the remotely accessible server and storage capacity, while platform-as-a-service is a compute-and-software platform that lets developers build and deploy Web applications on a hosted infrastructure.

You don't need to do anything on our website; you just need a username and password to activate your Public Cloud servers right away. You will be billed at a later date for your usage.

Cloud credit is available to users who want to pay only for a specific cloud project. Ideal for projects with a foreseeable lifespan, or for companies who are concerned with planning ahead for their expenses.
Just like an instance or a container, buying cloud credit generates an invoice. Once your project has been credited, all invoices associated to it will be collected on a priority basis using the available cloud credit.

Service Cloud is built on the Salesforce Customer Success Platform, giving you a 360-degree view of your customers and enabling you to deliver smarter, faster, and more personalized service.
In addition to being a pioneer in cloud-based sales force automation, Salesforce is the recognized leader in CRM customer engagement. With Service Cloud, you can automate service processes, streamline workflows, and surface key articles, topics, and experts to transform the agent experience. Connecting one-to-one with every customer, across multiple channels, and on any device, was never easier.

A self-service community is a customer portal that allows you to help customers help themselves. Delivering self-service means showcasing your knowledge base and offering case management to customers, so they can get answers to their questions anytime, on any device, from community content or peers. This allows your agents to focus on solving the most complex issues. And you can even create an internal self-service community for your employees to collaborate on content and business processes.
With Service Cloud and Community Cloud, you can deliver a self-service community or customer portal that is an extension of your brand, while enabling agents to jump on the case when needed, so no question goes unanswered. Extend your support via a fully branded experience where customers — and employees — can tap into articles, discussions, and ask questions of their other community members or agents with Service Cloud and Community Cloud.