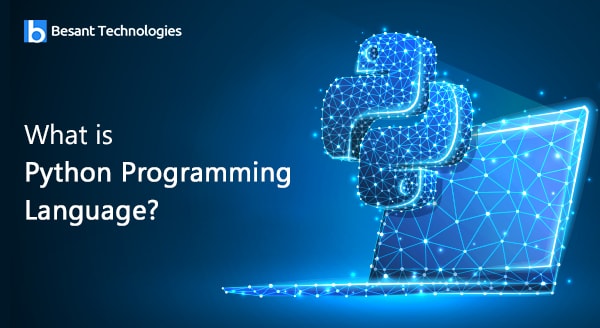 Python Programming Language
What is Python programming language?
Want a reliable place to learn Python, the programming language everyone's been talking about and which is used by many giants like Instagram, Spotify, Pinterest, Quora and Google? Want to create apps easily but like a pro? Want to have a solid career? Want to earn big? Don't go anywhere! Let Besant Technologies help you become a successful Python professional with our certificate-oriented Python Training course. Get training from our expert Python developers.
Like Java, Python is also a favorite among the programmers. In TIOBE Programming Community Index, Python was among the top 10 popular programming languages of 2017. With Python, you can easily create and maintain applications.
Our Python Online Training will help you become a Certified Python professional with training given mostly by our Senior Python developers with 10+ years of experience. We provide practical learning and placement support.
Click Here! → Get Python 100% Practical Training!
Which software is used for Python?
The course will teach you Python programming language which has created a buzz in the tech world for being easy to code as to compared to C++ and Java. Python is a general purpose, high programming language that is simple to code, read and maintain. With Python, you can easily create an app or upgrade one. Python works across all technology and is popular in fields like web development, data analysis, data science, computer graphics, machine learning, AI and big data among others.
Our course will extensively cover all the fundamentals of Python like Basic Python Syntax, Language components, Collections, Functions, Modules, Exceptions, Input Output, Classes, Regular expressions, In-Built libraries, Third party modules and advanced concepts. We have kept up with the prevailing industry standards while designing this course. You will get exposure to practical learning so it is most suitable for the participants in terms of career prospects.
Click Here! → To Get Python Certification Training!
Is Python easy to learn for beginners?
Our aim is to help you –
Understand all about Python with our market relevant course.
Learn Python coding.
Understand its components from basic to complex like OOPS, inbuilt libraries, etc.
Understand how to use Python in application across domains of web developments, graphics, data science etc.
Become a Python professional so you can build your own apps.
Give placement support so you can fully exploit enormous job opportunities that Python brings and earn big.
Click Here! → Get Prepared for Interviews!
What are the prerequisites for learning Python?
Our course is not restricted to programming pros. Whether you are a newbie to the programming world or have been writing codes for years, you can take this course. Our Python course is open to everyone with only perquisites being, you should be –
Able to understand English
Know Mathematics
Have some knowledge of the software programmes.
Job Opportunities in Python & what about payscale?
Python provides enormous job opportunities in the fields of web development, data analysis, data science, computer graphics, machine learning, AI and big data among others.
Job profiles include – Python developer, software engineer, software developer, data analyst, research analyst, data scientist etc.
As per Payscale, average salary of a Python Software developer in India is 488,948 while in the US, the average salary of a Python Developer is $76,014.
As per ZipRecruiter, a Freelance Python Developer in the US makes $105,213 a year.
Can you get certified in Python?
A certificate will be awarded to you after you successfully complete our Python Online Training course and submit your project. The project is a real-time project which we will assign to you. Once you submit the project, out team will examine it. Students whose projects are satisfactory will be awarded the certificate while others will be helped by our team in getting their projects right and submitting them again.
Click Here! → Enroll now !
Related Blogs