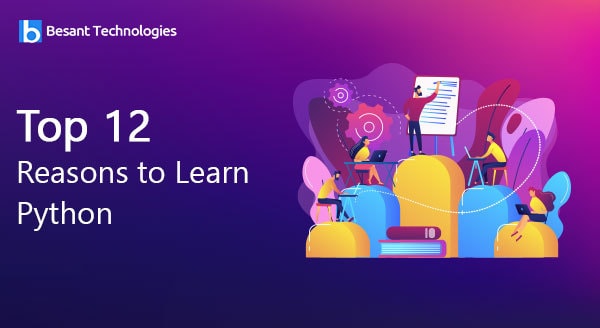 Top 12 Reasons to Learn Python
This is the era of Technology and it is really good if you see your career in IT. But have you heard about the word Python Programming? No? Then you should seriously give a try to Python Training in Chennai. Python is a language of high-level programming having dynamic semantics. The edit-test-debug cycle is really very fast in python as there is not even a single compilation step. It is used for general-purpose programming. Python carries a design philosophy which allows programmers to depict the concept in a few lines of codes, rather than big codes of C or Java. So, it is really a high time to learn Python Online Training. Here we are giving you the Top 12 Reasons to Learn Python Training.
You will grasp that easily
It is always a difficult task to learn a new language, but this is not with Python. Python is designed to be easily grasped by a novice programmer. The python codes are easily readable by the developer who has little bit knowledge about codes. The standard library opens a lot of functionalities which will help you execute complex functionalities without any problem.
You will get many opportunities
Yes, you will be able to peek out through the window of programming through python. Python has a different object oriented approach which is preferred by a lot of the leading languages like Ruby, JavaScript, C#, etc.
First choice for Web Development
Python has an array of frameworks which provides a lot of flexibility in case of web development with python. There are many web frameworks offered by python like TurboGears, Pylons, Zope2, etc.
A special choice for start-up
It doesn't matter which language you choose to create a product. But if it is meant to put less time and resources, then you can always go for Python. It is very easy and time efficient that you can use it instead of Java, C, etc.
Click Here! → Get Free Python Tutorial!
Big companies go for Python
There are many big companies like Nokia, Yahoo, NASA, which only rely on Python. They always search a person who is so active with this language and handle everything. There is always a big demand of python developers and companies offer good packages too.
Huge standard library having unlimited resources
It will be a rare chance that any python developer will get stuck in any code as there are plenty of resources available which get updated every time. Many applications are also built on python just because of the reason that it has a big standard library which provide inbuilt functionality.
It can run on any platform
It is very difficult to run any language like C or Java on different platforms. Unlike any other language, you can easily run Python on any platform, whether it be small Raspberry Pi or even smaller Micro:Bit
Do computer science research remotely
There is no doubt in the statement that if you are interested in remotely doing computer science research, then Python is must for you. The fact that this language is more flexible and high in speed, it will make your research easy.
Click Here! → Get Prepared for Interviews!
See the future of AI and Machine Learning with Python
It has been said that you can see python as the future of Artificial Intelligence. We can see the python to dominate Machine Learning by considering the flexibility of this language and the functionality delivered by the library.
Development of games
Python literally has many different libraries, modules and platforms, which support the development of the games. There are many games which have been built using python, like Vega Strike, Civilization-IV, etc.
Easily processing of scientific data
The higher availability of tools and speed have resulted in becoming python as an integral part of processing scientific data. It is really one of the brightest opportunity you can get after having an idea of python.
It is improving gradually
You can get to know a new change every day in python. As it is new, there is a lot of scope in computer science research and applications.
Click Here! → Enroll now !