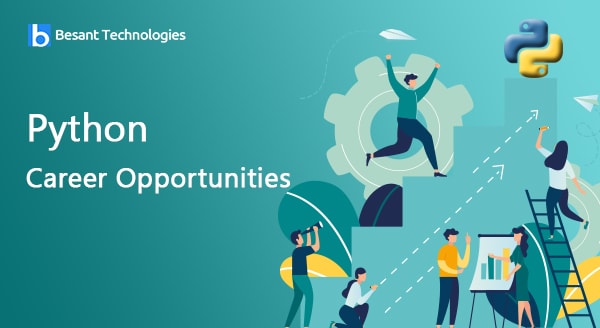 Python Career Opportunities
Python Career Opportunities
In this digital world where each thing changes quickly, the Python programming language is popular day by day. Does you really think that you want to learn this programming language then you will be happy to know that learning the Python programming language offers various benefits. By learning this language, you can take your career to new heights. Python supports various protocols.
What careers use Python?
As a popular language of programming, Python is simple and easy to learn. It reduces the time of developing an application with its features of easy compilation and simple syntaxes. It has various libraries which support visualization, manipulation and analysis of data. Therefore, it is highly popular programming language and is considered as a must and important language for IT professionals.
Here, we are discussing a wide variety of career opportunities which are available for a programmer of Python.
Why there is a huge demand for professionals trained in Python?
Inclination towards being hands-on and curious is desirable as Python requires that we need to learn this language and want to play around the PC for various issues and errors. In a third-party independent survey, it is discovered that for the Data scientists across the globe, Python is a highly popular language of programming. IEEE substantiate this claim which keeps a track of the languages of programming as per their popularity.
According to it, Python is the no. 1 language of programming in the year 2018. Apart from that Python programming language has various applications in different domains.
How much do entry level Python programmers make?
In the India and many countries across the world, there is a skill-gap which is prevalent. Due to this many big companies hire employees from various developed countries. According to a latest article in the newspaper Times of India, a top-notch software company in India faces a difficult situation. It acquires a contract of around $200 million for the development of an application store for a prominent bank in the USA.
The main issue is that this software company has shortage of trained Python programmers who can do coding in the Python. For this job, Python language is best. After some time, this big software company pays a huge amount to some freelance Python developers in US for write code in Python. This company also realize the importance of Python programming language.
Now the time is changing and computer programmers realize the importance of learning Python programming language for wonderful global careers and quick programming.
Click Here! → To Get Python Certification Training !
Job Profiles in Python
There are various types of jobs available to a person who is trained in Python. These are:
Software Developer
Data Scientist
Data Analyst
Research Analyst
Python Developer
Software Engineer
At the 2018 end, some impressive numbers are delivered by the Python. According to an inquiry by popular job site indeed.com, more than 55,000 jobs are available in the USA for professionals who are having expertise in the Python.
Click Here! → Get Prepared for Interviews !
The popularity of Python is rising with each passing day and it offers numerous career opportunities.
As per the index of TIOBE Community of Programming, which keeps a track of the popular languages of programming, four places are leaped by the Python in the past one year and it is ranked four in this index.
You will be happy to know that around 41 big companies across the globe have deployed Python as their main language of programming in a short span of time. Big companies such as Netflix, Reddit, Pinterest, Dropbox, SlideShare, YouTube, Facebook and Quora have adopted Python and do most of their coding in the Python.
In the world of developers, the open secret is that Google also uses Python as its second language of coding and also plan to use this language in the near future for the offerings of its new products.
Besant Technologies has specially designed and developed a new course in Python which helps IT professionals and aspiring software professionals to learn this language. The interactive and live course in Python is beneficial for the students who want to learn this programming language and want to explore career opportunities in Python.
To learn this programming language, it is beneficial for you if you are having a background in C++ and C. Python is highly useful for the development of software like custom application development and desktop-based GUIs, internet & web development, numeric & scientific computing.
Click Here! → Get Python 100% Practical Training !
Related Blogs