Microsoft Azure Certification Training Course Overview
From this Comprehensive Azure Training you will learn to deploy Full Stack Java & Python web applications to Azure Cloud Platform without anyone's help. You will gain additional Knowledge on Azure Data Engineer Concepts like Azure SQL Database, Data Lake, Data Factory, Databricks and Cosmos Db for Azure SQL Server Deployment.  Get In-depth Practical exposure on Virtual Networks and Network & Application Security techniques to ensure your Organization data Security with our Online Azure Training Course.
This Azure Certification Course will enable you to work on Azure DevOps CI/CD Pipelines for real time Container, web and mobile applications. Learn the entire Azure Server less Functions to Build, Deploy and Operate for Cloud apps to improve your productivity.
By enrolling in this Azure Training you will gain expertise on entire Microsoft Azure Services Such as Compute, Storage, Workflows and integration, DevOps Tools, Analytics, ML and AI and Database with Real life Industry Projects.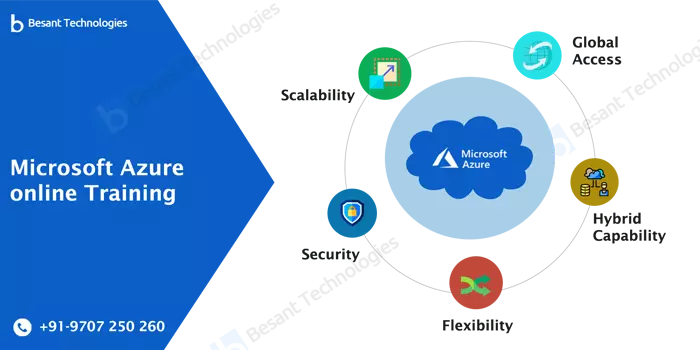 Benefits
This Course will add advantages for IT Professionals, Project Managers, Linux Admins, IT Operation Associates, Database Developer & Admin and DevOps Professionals to Advance their Career in Cloud Computing.
Eligibility
This Course is well suitable for networking engineers, System Admin, IT Operation Professionals and Individuals who wish to kick start their Career in Microsoft Azure Cloud Environment.
Pre-requisites
Our Azure Certification Training Course is recommended for CCNA & CCNP Certified Candidates and whoever has the Basic Knowledge of Hardware & networking   can take this Azure Administrator Course and Certification Exams.
Learn Microsoft online Training Course from the Cloud Experts with Real-Time Projects. Become an expert in Azure Topics Azure Storage, Securing and Managing Azure Storage, Azure Storage Implementation, Managing Traffic, Azure Compute Services, Active Directory, Virtual Networks in Azure, High Availability, Hybrid Identities and Architect Azure Solutions. Enroll for Azure Course and Become a Cloud Engineer in Just 90 days Enroll Now!
Get Exposure on Azure Cloud Services with Multiple various application deployments and build your azure skills to advance your career. Work on 3+ Real-Time Projects to Practice your azure Cloud Services along with this Azure Training Online Course.
Microsoft Azure is one of the emerging platforms adopted by most of the organizations, so speeding up your skills and capabilities in this field will get you more career opportunities. Our Microsoft Azure Course will cover almost every topic and concept that is associated with Azure, thus making you an expert in Azure infrastructure. We conduct online courses and training sessions too so that you can continue learning at your own pace. From initiation of Azure till deployment aspirants will be trained by our professional faculties. We will also train our candidates to implement real-time projects in the Microsoft Azure platform.
Answer 3 Simple Questions
Get upto 30%* Discount in all courses. Limited Offer. T&c Apply.
Register now
Microsoft Azure Training Syllabus
Introduction to Cloud Computing
Objective: In this module, you will get a basic understanding of Cloud Services and introduction to Azure
What is Cloud Computing
Need for Cloud
Characteristics of Cloud
Categories of Services
Providers
Azure

Architecture
Services
Regions
Subscriptions management
Hands-On: Create an Azure Free Trial Account
Azure VMs and Storage Accounts
Objective: In this module, you will get a deep understanding of Virtual Machines & Storage Accounts in Azure
VM Architecture
Deploy VMs
Create Storage Accounts for VMs
Create a VM with Unmanaged Storage
Manage VM Disks
Configure Shared Storage
Clean Up
Supported Workloads
Hands-On: Create a VM and Storage Account in Azure
Configuration Management, Automation, and Debugging
Objective: In this module, you will get a deep understanding of working in Azure using Commands
Azure CLI
Azure PowerShell
Azure Cloud Shell
VM Agent and Extensions
ARM Templates
PowerShell DSC
Deploy and Enable Debugging for VM in Dev
Hands-On: Create VMs using PowerShell and ARM Templates
Networking in Azure
Objective: In this module, you will get a deep understanding of Networking Concepts, IPs and Firewall in Azure
Virtual Network Architecture
Create a Virtual Network
Create a Network Security Group
Deploy VM to the Virtual Network
Configure DNS
Configure Static IP
User-Defined Routing
VNet Peering
Express Route and Site-to-Site VPN
Hands-On: Create a Virtual network, configure firewall and deploy a VM to the network
Scaling in Azure
Objective: In this module, you will get a deep understanding of Scaling and how to enable Scaling in Azure.
What is Scaling in Cloud
Vertical Scaling
Horizontal Scaling
Scale Set
Auto Scaling
Horizontal Scaling
Hands-On: Create VM Scale Set and Enable Auto Scale for VM Scale Set
Monitoring in Azure
Objective: In this module, you will get a deep understanding of Monitoring in Azure
Azure Monitor
What is Log Storage Account and Why it is needed?
Boot Diagnostics
Guest OS Diagnostics
Host Metrics
Creating Alerts
Activity Logs
Hands-On: Enable Logging and Alerts for VMs
High Availability
Objective: In this module, you will get a deep understanding of Availability in the Cloud.
What is Availability and how it is achieved?
High Availability Architecture
Availability Zones
Availability Sets
Create and Configure a Load Balancer
Application Gateways
Create VMs to work with Load Balancer
Understanding N-Tier Application Architecture
Hands-On: Create VMs and manage the traffic via Load Balancer
Storage in Azure
Objective: In this module, you will get an understanding of Storage Options and Services offered by Azure.
Blob Storage
Queue Storage
Table Storage
Azure Storage Explorer
Content Delivery Network
Azure SQL
Redis Caching
Cosmos DB
Hands-On: Create and manage Blob, Queue and Table Storage
Azure AD
Objective: In this module, you will get an understanding of Active Directory Services of Azure
Users
Groups
RBAC
App Registration and Service Principal
Azure AD Connect
Azure B2B
Azure B2C
Conditional Access Policies
Multi-Factor Authentication
Hands-On: Add users and configure MFA
Azure Service Bus Messaging
Objective: In this module, you will get an understanding of the Service Bus of Azure
What is a Service Bus?
What are Queues?
What are Topics?
Event Grid and Event Hubs
Push Notification Services
Hands-On: Create a Service Bus and Configure Queues and Topics
Azure Key Vaults
Objective: In this module, you will learn about Key Vaults in Azure
What is a managed identity?
Key Vaults
App Secret
App Password
Hands-On: Enable managed identity for a VM and create Key Vault
Web & Mobile Services
Objective: In this module, you will learn about Web Services in Azure
PaaS and Azure Web App
Functions
Web-hooks
Web Jobs
Logic Apps
Mobile Apps
Microservices architecture
Hands-On: Create a Web site and configure it.
Projects
Create a Highly Available Web Server Architecture

Create a Virtual Network
Create a Web Server Subnet
Create a Load Balancer
Create 3 Web Servers and configure them with Load Balancer

Build a Logic App to Read any Twitter handle and email the tweets
Looking for Master your Skills? Enroll Now on Triple Course Offer & Start Learning at 24,999!
Explore Now
Upcoming Batch Schedule for Microsoft Azure Online Training
Besant Technologies provides flexible timings to all our students. Here is the Microsoft Azure Online Training Schedule in our branches. If this schedule doesn't match please let us know. We will try to arrange appropriate timings based on your flexible timings.
02-10-2023

Mon (Mon - Fri)Weekdays Batch 08:00 AM (IST)(Class 1Hr - 1:30Hrs) / Per Session Get Fees

28-09-2023

Thu (Mon - Fri)Weekdays Batch 08:00 AM (IST)(Class 1Hr - 1:30Hrs) / Per Session Get Fees

30-09-2023

Sat (Sat - Sun)Weekend Batch 11:00 AM (IST) (Class 3Hrs) / Per Session Get Fees

Can't find a batch you were looking for?
Corporate Training
If you want to give the Trending technology experience to your esteemed employees, we are here to help you!
Trainer Profile of Microsoft Azure
Arjun:
He is a 5 year experienced in Azure and has got global IT certifications. He started his journey as an Azure Support Engineer and now conducting sessions to aspirants and develop them to succeed in the Azure technology.
Sneha:
She is fanatical in helping businesses to achieve improved ROI through cloud-based technologies and certified with various Microsoft services. She has about 10 years of experience in this field.
Karthick:
He is a certified cloud architect experienced in dealing with various cloud platforms, he is passionate about training candidates and in this field for about 4 years.
Build your resume to the latest trend, and get a chance to know our Tie-Up Companies
Placed Student's list
Azure Certification Training Course
Besant Technologies Certification is Accredited by all major Global Companies around the world. We provide after completion of the theoretical and practical sessions to fresher's as well as corporate trainees.
Our certification at Besant Technologies is accredited worldwide. It increases the value of your resume and you can attain leading job posts with the help of this certification in leading MNC's of the world. The certification is only provided after successful completion of our training and practical based projects.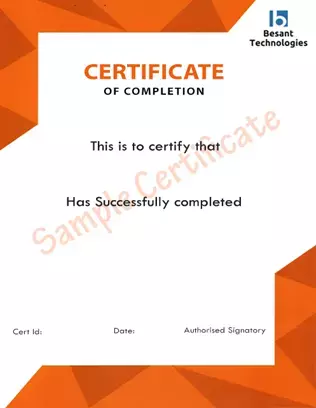 Our Course Syllabus is aligned with Microsoft Azure with AZ (104) & AZ (304) exams to earn a Valid Microsoft Certificate and Subject matter expert.  Upon the Course & lab Sessions you will get a Shareable Course Completion from Besant technologies which you can Share to Potential employers.
Exam & Certification Details
After completing this Course you can take Azure AZ (104 & 304) Exams Conducted by Microsoft to validate your Core Skills. You can take these Exams from the Pearsonvue exam Centers or through Online Apps Options.  Per exam Cost is $165 USD Plus tax or INR 4800 Plus GST. This fee is paid to Microsoft Company while registering for the exams. Overall 40 to 60 Questions & 700/1000 is the Pass mark.
Register for next upcoming Batches for Certification Courses Delivered by 10+ Years experienced experts and get placed in top Companies with very good Salary.
Azure Certifications are the most valuable and highest paid in the Industry Now. This is a good time to invest your time to purchase a career in Azure Cloud Services and get placed in the Top MNC. The Average Salary for Azure Certified Professionals is $120000. Register Your Name for Next Azure Online Certification Training!
Advance your career opportunities and get more reputed job roles and designation in the top organizations with knowledge in Microsoft Azure. There are various certification courses and exams for candidates to excel in Azure. These certificates will be a highlight to your profile and will get you more job opportunities.
Group Discount
If you have Three or more people in your training we will be delighted to offer you a group discount.
Key Features Of  Microsoft Azure  Training
Microsoft Azure Key Features
| Feature | Description |
| --- | --- |
| Region | Azure is available across several regions and so it is termed as a global cloud platform. Initially, while you request a service, application, or a VM in Azure, you will be notified to select the region, the region that you select is referred to as the datacenter where your application operates. |
| Datacenter | With Azure, you can easily deploy the applications into several datacenters worldwide, and so choosing a region that is closer to most of your patrons is essential to neglect or avoid latency in the network requests that arise. |
| Azure Portal | The Azure portal is referred to as a web-based application with which a user can create, manage, or remove resources or services that are related to Azure. |
| Resources | Some of the resources that are associated with Azure include user computer, networking data or hosting services that are depicted to an individual user, virtual machines (VM), some of the secure storage accounts, and SQL databases. |
| Resource Groups | An Azure resource group is a set of resources that are required to maintain a reliable Azure solution, the resource may be of several fields or that linked with the service or solution that you manage. |
| Resource Manager Templates | It's a JSON which defines several resources that can be deployed to a resource group. It also specifies the correlation between different deployed resources. |
| Automation | With the help of PowerShell and Azure Command-line Interface (CLI), you can easily automate the operations associated with creating, managing and deleting the resources of Azure at ease. |
| Azure PowerShell | PowerShell is a module that presents cmdlets to manage Azure. You can also use cmdlets to perform various tasks in the Azure Portal. |
| Azure Command-line Interface (CLI) | By using this tool, you can create, manage, and remove Azure resources easily through a command line. |
| Rest APIs | With Rest APIs you can perform the same operations as that of Azure Portal UI. This allows your Azure resources and app to be handled through any third party software application. |
Why Should I Learn Microsoft Azure From Besant Technologies?
Taking Microsoft Azure Online Course Training from Besant Technologies is beneficial because we provide placement assistance until you get placed in your desired company.
We provide hands-on sessions to improve your intelligence and skills.
After course completion, you can get any type of technical assistance from our team.
We also provide back up sessions in case you missed a class and want to learn it again.
You get an authorized course completion certificate on-time with us.
We motivate aspirants to apply the concepts in real-time projects.
Candidates will be provided with the latest and updated course materials to learn and excel.
Placement regarding training will be provided.
Interview question and answer samples will be given for aspirants to attend interview proficiently.
Affordable fee structure so that people can take up the course within budget.
Learn Microsoft Azure from the Basic to Advanced Level with Placement Assistance
Delivered by 12+ Years Azure Certified Expert with Live Cloud Projects
Great Time to Take Azure Certification Courses Now!
Huge Demand for Certified Talents & More Job opportunities in Cloud Computing Services
Next Azure Online Training Course Batch to commence on this Week- Register Your Name Now!
Get Hands-On with Microsoft Azure. 2334+ Students Trained & 150+ Tie up Companies
Start Your Career with an Online Azure Course that leads you to a better job with an average salary of 7 Lacs in Just 2 Months!
Overall 1750+ Azure Services and features available
Live Instructor-Led Online Training from India & Free Self-Paced Video Content
Top Azure Courses: -Cloud computing, Introduction to Azure, AZ-900 Microsoft Azure Fundamentals, AZ-300 Microsoft Azure Architect, AZ-103 Microsoft Azure Administrator 2020, AZ-500 Microsoft Azure Security and Azure Cosmos Db
Overall 75+ Hours In-Depth Hands-On Learning. 27/4 Technical Support
This Course helps you to clear Azure Administrator Associate (AZ-103), and Azure Solutions Architect Expert (AZ-300 and AZ-301) Certification in JUST 90 Days!
Get 20+ Hours Hands-on experienced working with Azure Cloud Services.
40 Hours of Projects works will make you expert in multiple Azure Cloud Services
Enroll for Azure Certification Training Courses and Get Placed in Top Companies as "Azure Solution Architect" & "Azure Administrator"
Start Learning with 1 Hour Free Trial Demo Class Enroll Now!
Live Microsoft Azure Projects
What Are The System Requirements To Attend Microsoft Azure Training?
Hardware Requirements – 8GB RAM, Intel Core i3 CPU, storage of 250 GB HDD/SDD or above.
Software Requirement – Operating system should be Windows 7 or above or Ubuntu 14 or its updated version, Visual Studio 2017 community edition which includes Azure packages, Windows PowerShell 4.0 or its updated version and Microsoft Azure SDK.
How Will I Execute Practical During Microsoft Azure Training?
The entire Microsoft Azure Certification Training course is related to hands-on training and you will get experienced with implementing and deploying real-time projects, industrial projects, and you will have more Azure lab sessions to develop your skills, and your projects will be shared with recruiters for easy recruitment and placement opportunities.
What Projects Will I Complete As Part Of The Course?
During the course period of Microsoft Azure training, aspirants will be asked to complete two Azure-based industrial projects that showcase some of the real-time requirements. These projects have to be completed in the course period so that they will be certified, so students have to put their effort in developing real-time projects.
Training Courses Reviews
I would like to highlight a few points about my association with Besant Technologies. The faculty members out here are super supportive. They make you understand a concept till they are convinced you have gotten a good grip over it. The second upside is definitely the amount of friendliness in their approach. I and my fellow mates always felt welcome whenever we had doubts. Thirdly, Besant offers extra support to students with a weaker understanding of the field of IT.
Siva Kumar
When I joined Besant Technologies, I didn't really expect a lot from it, to be extremely honest. But as time went by, I realised I got from Besant Technologies exactly what I wanted- a healthy environment for learning. Cordial teachers and their valuable lectures make understanding things so much easy. I thank Besant for having been so supportive throughout the course.
Daniel
Frequently Asked Questions
Besant Technologies offers 250+ IT training courses in more than 20+ branches all over India with 10+ years of Experienced Expert level Trainers.
Fully hands-on training
30+ hours course duration
Industry expert faculties
Completed 1500+ batches
100% job oriented training
Certification guidance
Own course materials
Resume editing
Interview preparation
Affordable fees structure
Besant Technologies is the Legend in offering placement to the students. Please visit our Placed Students List on our website.
More than 2000+ students placed in last year.
We have a dedicated placement portal which caters to the needs of the students during placements.
Besant Technologies conducts development sessions including mock interviews, presentation skills to prepare students to face a challenging interview situation with ease.
92% percent placement record
1000+ interviews organized
Our trainers are more than 10+ years of experience in course relavent technologies.
Trainers are expert level and fully up-to-date in the subjects they teach because they continue to spend time working on real-world industry applications.
Trainers have experienced on multiple real-time projects in their industries.
Are working professionals working in multinational companies such as CTS, TCS, HCL Technologies, ZOHO, Birlasoft, IBM, Microsoft, HP, Scope, Philips Technologies, etc…
Trained more than 2000+ students in a year.
Strong theoretical & practical knowledge.
Are certified professionals with high grade.
Are well connected with hiring HRs in multinational companies.
No worries. Besant technologies assure that no one misses single lectures topics. We will reschedule the classes as per your convenience within the stipulated course duration with all such possibilities. If required you can even attend that topic with any other batches.
Besant Technologies provides many suitable modes of training to the students like
Classroom training
One to One training
Fast track training
Live Instructor LED Online training
Customized training
You will receive Besant Technologies globally recognized course completion certification.
Yes, Besant Technologies provides group discounts for its training programs. To get more details, visit our website and contact our support team via Call, Email, Live Chat option or drop a Quick Enquiry. Depending on the group size, we offer discounts as per the terms and conditions.
We accept all major kinds of payment options. Cash, Card (Master, Visa, and Maestro, etc), Net Banking and etc.
Please Contact our course advisor+91-9677 266 800. Or you can share your queries through info@besanttechnologies.com