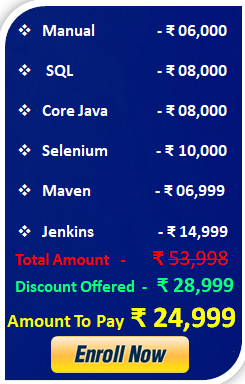 Master Program in Software Testing is the process of executing an application with an intent to identify the bugs present in the application. The key objective of Software Testing is to ensure that the application meets the requirements specified in the requirements document. The software testing course at Besant Technologies is aimed at mastering you in both Manual Testing and Automation Testing. We also offer customized training to suit your learning needs.
Our Software Testing Training Besant Technologies is recognized for its Software Testing Training in both retail and corporate market.All our training focuses on practical than theory model. We provide hands-on training experience which helps you test web applications easily at the end of the training program.
Job Oriented best Software Testing Training? Besant Technologies is the best software testing training with certification and job placements on both manual, automation testing training like Selenium, QTP/UFT and Performance Testing Training Courses like LoadRunner and JMeter.
Introduction to testing
Verification vs validation
Types of Applications
Probabilities of getting an error in an application
SDLC – Software Development Life Cycle
Advantages and Disadvantages of each software development life cycle
Principles of Testing
STLC –Software Testing Life Cycle
Difference between Test case, Use case and Scenarios.
How to prepare test plan and strategy
How to Prepare test case template?
Difference between Error, bug, defect, and failure
Test Case Design Technique
Bug Lifecycle
How to Prepare Bug template?
Bug Tracking tool
Types of Testing
Difference between static and Dynamic testing
Difference between Functional and Non-functional testing
Black box testing and its types
White box testing and its types
System Integration Testing vs User Acceptance Testing
Entry Criteria and Exit Criteria
Test Environment and Test data preparation
Flow graph notations
Integration testing
Requirement traceability matrix
Theory, Terminology, and Concepts
Client/Server Concepts
Database and Database Objects
Data Definition using SQL
Databases
Data Types
Tables
Constraints and Indexes
Views
Basic Data Manipulation using SQL
Recurring SQL Constructs
Adding data
Modifying data
Removing data
Searching data
Advanced Data Manipulation using SQL
Expressions
Grouping and Aggregate Functions
Joining Tables
Transactions
Transaction Concepts
SQL for working with Transaction
Import/Export
Tools for Import/Export
SQL for Import/Export
Java Essential
Introduction to Java
Data Handling and Functions
Object-Oriented Programming in Java
Packages and Multi-Threading
Collections
Introduction
OOPs concepts and Core Java Introduction
Selenium IDE and RC Introduction
Installations
 Selenium WebDriver 2.0 and 3.0 Introduction
Testing Framework and Tools
Develop Hybrid Framework
Configuration Management
Introduction to MAVEN
Maven Installation
MAVEN Terminology
How to build sample standalone application using MAVEN
What is dependency
 How to configure application dependencies using MAVEN
 How to build sample web application using MAVEN
How to add tomcat plugins to MAVEN
How to configure custom repositories
Introduction to Jenkins
CI/CD Concepts
Continuous Integration and Continuous Delivery
Quiz: CI/CD Concepts
Installing and Configuring Jenkins
Prerequisites
Jenkins Install
The Dashboard
User Management and Security
Adding a Jenkins Slave
Setting Up GitHub
Plugin Manager
Exercise: Install a Jenkins Master and Prerequisites
Exercise: Configuring Matrix-Based Security
Exercise: Add a Jenkins Slave
Exercise: Working with the Plugin Manager
Quiz: Installing and Configuring Jenkins
Projects
Freestyle Project Configuration
Source Code Management and the Git Plugin
Git Hooks and Other Build Triggers
Workspace Environment Variables
Parameterized Projects
Upstream/Downstream Projects and the Parameterized Trigger Plugin
Folders
Views
Exercise: Configure a Parameterized Freestyle Project?
Hands-on Labs: Configure a Jenkins Freestyle Project
Hands-on Labs: Jenkins Upstream and Downstream Projects with the Parameterized Trigger Plugin
Quiz: Projects
Pipelines
Our Java Pipeline Project
Docker Install
Installing and Configuring Ant
The Jenkins file
Configuring and Running a Pipeline
Artifacts and Fingerprints
Exercise: Build a Simple Pipeline Without SCM
Hands-on Labs: Configure a Jenkins Pipeline
Quiz: Pipelines
Testing With Jenkins
About Testing
Unit Testing with JUnit and Ant
Deploying to Apache
Functional Testing
Quiz: Testing With Jenkins
Pipeline Enhancements
Multi-branch Pipelines and Code Promotion
Tagging
Notifications
Shared Pipeline Libraries
Exercise: Configure Notifications in a Pipeline
Hands-on Labs: Configure a Jenkins Multibranch Pipeline
Quiz: Pipeline Enhancements
Advanced Jenkins Administration
The Jenkins CLI
The Jenkins REST API
Setting Up a Jenkins Master with Docker
Exercise: Using the Jenkins CLI
Exercise: Using the Jenkins REST API
Quiz: Advanced Jenkins Administration
Software Testing Jobs Out Look
The job-growth outlook indicates favorable job security. In the age of information technology, software development for mobile devices, cloud computing, and business management will remain in high demand for many years to come, and part of that demand will include the need for quality assurance testing.

Frequently Asked Questions
It helps prevent defects from being introduced into the code.

Decision table testing is used for testing systems for which the specification takes the form of rules or cause-effect combinations. In a decision table, the inputs are listed in a column, with the outputs in the same column but below the inputs. The remainder of the table explores combinations of inputs to define the outputs produced.

Testing technique: – Is a process for ensuring that some aspects of the application system or unit functions properly there may be few techniques but many tools.
Testing Tools: – Is a vehicle for performing a test process. The tool is a resource to the tester, but itself is insufficient to conduct testing

Component testing, also known as unit, module, and program testing, searches for defects in and verifies the functioning of software (e.g. modules, programs, objects, classes, etc.) that are separately testable. Component testing may be done in isolation from the rest of the system depending on the context of the development life cycle and the system. Most often stubs and drivers are used to replace the missing software and simulate the interface between the software components in a simple manner. A stub is called from the software component to be tested; a driver calls a component to be tested.

The moderator (or review leader) leads the review process. He or she determines, in co-operation with the author, the type of review, approach and the composition of the review team. The moderator performs the entry check and the follow-up on the rework, in order to control the quality of the input and output of the review process. The moderator also schedules the meeting, disseminates documents before the meeting, coaches other team members, paces the meeting, leads possible discussions and stores the data that is collected.