Best Devops Training in Pune
With proper hands-on experience, you will be able to handle devops related projects in a seamless manner later in your professional life.
Best DevOps Training in Pune:
At Besant, we make sure you are acquainted with all the important and latest IT trends. With so much of course knowledge and relevant IT-related wisdom, you sure will be able to shine as an IT professional, ready to be reined in by any competent or top-notch IT firm. As mentioned earlier, there is simply no shortage of a Devops Course in Pune. But for satisfactory results, trust only Besant. Besant makes sure you are groomed and trained in an impeccable way so that you end up being a well-rounded IT expert. Although you can join any Devops Training Center, you shouldn't make a random choice in this regard. If you do so, you might get taken advantage of. Besant builds your career by training you keeping the needs and demands of the market in mind.
What is DevOps?
Both web-native organizations and big enterprises are adopting devops quite enthusiastically, these days. But a lot of people don't know what devops actually is. Is it a philosophy, an approach, a revolution, culture or the culmination of these things? Or is it simply that it doesn't have any specific definition and different people understand it differently?
Well, we will try to understand that here. Patrick Debois coined the term 'DevOps' in the year 2009. He also became a devops guru. The term Devops is actually an amalgamation of two words, one being 'development' and the other 'operations'. This is where you can start understanding the meaning of this concept. In reality, devops is neither a standard nor a technology. It is also not a process. It's basically a 'culture'- a work culture, to be precise. Technology is used for the implementation of devops. The most common technology used is automation tools that could help leverage an infrastructure that is both programmable and dynamic when viewed from a life cycle perspective.
Before the concept of devops arose, the developer folk was always focused on pushing software into the system faster. After all, that's what they are supposed to do. On the other hand, operations experts knew that fast changes in the absence of necessary safeguards could make the system less stable. This was sure a dilemma that got sorted out after the concept of devops came into being.
So, devops aims at integrating people from the area of software development and deployment into an automated workflow in such a manner that all share a common focus. Devops, however, is not a new concept. It arose long back and got nurtured by extremely forward IT experts from different fields.
Why Should I take Devops Training?
Besant leaves no stone unturned to cater to the needs of people willing to take the Best Devops Training in Pune. But what is it that makes people so interested in a Devops Certification Training Pune or any other place for that matter? Actually, devops is a highly relevant and on-demand course, considering the present-day scenario. So many companies across the world are on a serious lookout for people having genuine knowledge in this field. And that is probably the reason why a good chunk of people is showing interest in a good Practical Devops Training in Pune. With training in this course from Besant Technologies, you will feel more confident of yourself and will be able to make it to any top-notch company with the power of your true merit. Here are some other amazing reasons as to why you should take a devops course from Besant-
The best thing about this course is that anyone can learn it. Yes, you won't have to have any expertise in any field to be a DevOps trainee.
If you are looking for a fat paycheck, you sure can take up a devops job. With Real-time Training in devops, you will be able to scale dizzy heights in this field.
It's easy to find a job with a devops training certification.
Career growth in this field is fast.
Software failure is limited under devops.
With a devops training, you can be of higher value to your company.
A training in devops definitely sets you apart from the crowd.
Because of devops, you get exposure to many current age technologies and tools.
Both beginner and advanced level IT aspirants can take up this course. Hence, no matter how much of IT knowledge you boast of, you can always get certified in a Devops course.
Why go for Devops Training in Pune at Besant technologies?
Devops training Pune at Besant Technologies can help you build an enviable career. We have incessantly been putting in efforts to pinpoint the possibilities of devops in the IT world. And that is probably the reason why we have been able to earn a good name for ourselves in the market. We are an experienced institute with a lot of desire to see our students scale great heights in the field of IT. And we leave no stone unturned to make sure our students get trained in a way that they can bring name and fame not just to themselves and their families but also us.
We boast of some of the most experienced and knowledgeable trainers in Pune, having a great proficiency in theories and immense empirical knowledge. And guess what, they train students by applying a student-centric approach of teaching. As a result, they have always been successful in ensuring satisfactory learning outcomes in trainees.
Our courses are another reason why people render us the best Devops training institute in Pune. They are suited to all kinds of learners and have been designed keeping in mind the needs, standards, and expectations of the industry from devops-trained people. We leave no stone unturned to keep you at the forefront of technology and see to it that every tiny bit of information you receive from us is correct and relevant to the present-day world.
Answer 3 Simple Questions
Get upto 30%* Discount in all courses. Limited Offer. T&c Apply.
Register now
Syllabus of Devops Training in Pune
Introduction to DevOps   (Duration: 02:00:00 hrs)
Define Devops
What is Devops
SDLC models, Lean, Agile
Why Devops?
History of Devops
Devops Stakeholders
Devops Goals
Important terminology
Devops perspective
Devops and Agile
Devops Tools
Configuration management
Continuous Integration, Continuous Deployment, and Continuous Delivery
Introduction to Cloud computing   (Duration: 00:30:00 min)
What is cloud computing
Characteristics of cloud computing
Cloud implementation models
Cloud service models
Advantages of cloud computing
Concerns of cloud computing
Introduction to Virtualization   (Duration: 00:30:00 min)
What is Virtualization?
History of Virtualization
What is Hypervisor?
Types of Server Virtualization
Benefits of Virtualization
Important Virtualization products
Linux Administration   (Duration: 06:00:00 hrs)
A Linux Introduction
Open Source Philosophy
Distributions
Embedded Systems
Command Line Basics
Basic Shell
Command Line Syntax – ls
Command Line Syntax – $PATH, Case Sensitivity
Command Line Syntax – Basic Commands
Command Line Syntax – uname
Command Line Syntax – Command History, Command Completion
Command Line Syntax – cd and PWD
Shell Configuration Files
Variables – Environment / System Variables
Variables – User Defined
Globbing
Quoting
Formatting Commands
Working with Options
Using the Command Line to Get Help
Man
Info
locate, find, where is, and using /usr/share/doc/
Exercise: Man Page Walkthrough
Exercise: Basic Command Line
Using Directories and Listing Files
The Linux File System
Files, Directories
Hidden Files and Directories
Home
Absolute and Relative Paths
Exercise: Maneuvering the Linux File System
Creating, Moving and Deleting Files
Files and Directories
Case Sensitivity
Simple Globbing and Quoting
The Power of the Command Line
Archiving Files on the Command Line
Files, Directories
Archives, Compression
Searching and Extracting Data from Files
Commands (Revisited)
Command Line Pipes
I/O Redirection
Regular Expressions
Exercise: Practicing with Pipes and Grep
Turning Commands into a Script
Basic Text Editing
Basic Shell Scripting
Basic Shell Scripting, Continued
Exercise: Using the vi Text Editor
Available
The Linux Operating System
Choosing an Operating System
Windows, Mac, and Linux Differences
Distribution Life Cycle Management
Understanding Computer Hardware
Hardware
Where Data is Stored
Kernel
Processes
syslog, klog, dmesg
/lib, /usr/lib, /etc, /var/log
Your Computer on the Network
Internet, Network, Routers
Domain Name Service and the Default Gateway (Network Router)
Network Configuration
Security and File Permissions
Basic Security and Identifying User Types
Root and Standard Users
System Users
Creating Users and Groups
User IDs
User Commands
Group Commands
Exercise: Managing User Accounts
Exercise: Creating User Groups
Managing File Permissions and Ownership
File/Directory Permissions and Owners
Special Directories and Files
Symbolic Links
System files, Special Files, and Sticky Bits
GIT: Version Control   (Duration: 02:00:00 hrs)
Introduction
Version control systems
Local, Centralized and distributed
Installing Git
Installing on Linux
Installing on Windows
Initial setup
Git Essentials
Creating repository
Cloning, check-in and committing
Fetch pull and remote
Branching
Jenkins – Continuous Integration   (Duration: 15:00:00 hrs)
Introduction to Jenkins
CI/CD Concepts
Continuous Integration and Continuous Delivery
Quiz: CI/CD Concepts
Installing and Configuring Jenkins
Prerequisites
Jenkins Install
The Dashboard
User Management and Security
Adding a Jenkins Slave
Setting Up GitHub
Plugin Manager
Exercise: Install a Jenkins Master and Prerequisites
Exercise: Configuring Matrix-Based Security
Exercise: Add a Jenkins Slave
Exercise: Working with the Plugin Manager
Quiz: Installing and Configuring Jenkins
Projects
Freestyle Project Configuration
Source Code Management and the Git Plugin
Git Hooks and Other Build Triggers
Workspace Environment Variables
Parameterized Projects
Upstream/Downstream Projects and the Parameterized Trigger Plugin
Folders
Views
Exercise: Configure a Parameterized Freestyle Project?
Hands-on Labs: Configure a Jenkins Freestyle Project
Hands-on Labs: Jenkins Upstream and Downstream Projects with the Parameterized Trigger Plugin
Quiz: Projects
Pipelines
Our Java Pipeline Project
Docker Install
Installing and Configuring Ant
The Jenkins file
Configuring and Running a Pipeline
Artifacts and Fingerprints
Exercise: Build a Simple Pipeline Without SCM
Hands-on Labs: Configure a Jenkins Pipeline
Quiz: Pipelines
Testing With Jenkins
About Testing
Unit Testing with JUnit and Ant
Deploying to Apache
Functional Testing
Quiz: Testing With Jenkins
Pipeline Enhancements
Multi-branch Pipelines and Code Promotion
Tagging
Notifications
Shared Pipeline Libraries
Exercise: Configure Notifications in a Pipeline
Hands-on Labs: Configure a Jenkins Multibranch Pipeline
Quiz: Pipeline Enhancements
Advanced Jenkins Administration
The Jenkins CLI
The Jenkins REST API
Setting Up a Jenkins Master with Docker
Exercise: Using the Jenkins CLI
Exercise: Using the Jenkins REST API
Quiz: Advanced Jenkins Administration
Ansible   (Duration: 10:00:00 hrs)
Introduction to Ansible
Ansible Agentless Architecture
Installation
Ansible Inventories
Ansible Modules
Ansible Playbooks
Docker– Containers   (Duration: 02:00:00 hrs)
Introduction
What is a Docker
Use case of Docker
Platforms for Docker
Dockers vs Virtualization
Architecture
Docker Architecture.
Important Docker components
Understanding the Docker components
Installation
Installing Docker on Linux.
Understanding Installation of Docker on Windows.
Some Docker commands.
Provisioning
Docker Hub.
Downloading Docker images.
Running Docker images
Running commands in a container.
Running multiple containers.
Custom images
Creating a custom image.
Running a container from the custom image.
Publishing the custom image.
Docker Networking
Accessing containers
Linking containers
Exposing container ports
Container Routing
Looking for Master your Skills? Enroll Now on Triple Course Offer & Start Learning at 24,999!
Explore Now
Upcoming Batch Schedule for Devops Training in Pune
Besant Technologies provides flexible timings to all our students. Here are the Devops Training Classes in Pune Schedule in our branches. If this schedule doesn't match please let us know. We will try to arrange appropriate timings based on your flexible timings.
04-12-2023

Mon (Mon - Fri)Weekdays Batch 08:00 AM (IST)(Class 1Hr - 1:30Hrs) / Per Session Get Fees

07-12-2023

Thu (Mon - Fri)Weekdays Batch 08:00 AM (IST)(Class 1Hr - 1:30Hrs) / Per Session Get Fees

09-12-2023

Sat (Sat - Sun)Weekend Batch 11:00 AM (IST) (Class 3Hrs) / Per Session Get Fees

Can't find a batch you were looking for?
Corporate Training
If you want to give the Trending technology experience to your esteemed employees, we are here to help you!
Trainer Profile of Devops Training in Pune
Our Trainers provide complete freedom to the students, to explore the subject and learn based on real-time examples. Our trainers help the candidates in completing their projects and even prepare them for interview questions and answers. Candidates are free to ask any questions at any time.
More than 7+ Years of Experience.
Trained more than 2000+ students in a year.
Strong Theoretical & Practical Knowledge.
Certified Professionals with High Grade.
Well connected with Hiring HRs in multinational companies.
Expert level Subject Knowledge and fully up-to-date on real-world industry applications.
Trainers have Experienced on multiple real-time projects in their Industries.
Our Trainers are working in multinational companies such as CTS, TCS, HCL Technologies, ZOHO, Birlasoft, IBM, Microsoft, HP, Scope, Philips Technologies etc
Build your resume to the latest trend, and get a chance to know our Tie-Up Companies
Placed Student's list
Devops Training Exams & Certification
Besant Technologies Certification is Accredited by all major Global Companies around the world. We provide after completion of the theoretical and practical sessions to fresher's as well as corporate trainees.
Our certification at Besant Technologies is accredited worldwide. It increases the value of your resume and you can attain leading job posts with the help of this certification in leading MNC's of the world. The certification is only provided after successful completion of our training and practical based projects.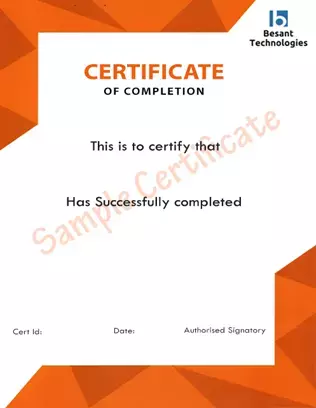 Group Discount
If you have Three or more people in your training we will be delighted to offer you a group discount.
Key Features of Devops Training in Pune
30+ Hours Course Duration
100% Job Oriented Training
Industry Expert Faculties
Free Demo Class Available
Completed 800+ Batches
Certification Guidance
Training Courses Reviews
How many times does it so happen that you blindly trust a coaching center and it turns out to be unbelievably good? Well, very rarely, I believe! This rare thing happened to me when I trusted Besant Technologies for a DevOps training in Pune, and then as time passed by, I realized how good a decision I had taken. Yes, Besant has been a game-changer for my career!
Kajol
As an ex-student of Besant Technologies, I would like to say that I am proud of this institute for what it is and what it has given me during my training session. The lessons imparted during the devops training in Pune have a deep connection with the real-world scenario and through practicals, the trainers really enhance your learning outcomes. If you want an all-round development for yourself in the field of devops, then learning it here at Besant Technologies is advisable.
Raj Kamal
I am not from an IT background. But many of my friends are. They always keep talking about how devops can help build a great career. At that time, I didn't know I too could take this course. But later, when I came to know this, I started looking for the best institute to receive this training from. I somehow found Besant Technologies trustable and enrolled myself with the devops training in Pune it offers. The training they provided was so good that I have never looked back into my professional life ever since.
Karishma
Everything about Besant Technologies is worth talking about. But I will highlight an important aspect- the faculty members. They are so friendly, you will never feel apprehensive about asking them your doubts. And they clear your doubts and queries pretty well. That is probably the reason why I am through with all the concepts I learned during the devops training in Pune.
Arun Kumar
I always dreamt of working at some top-notch MNC. Thankfully, Besant Technologies has helped me realize this dream. The Devops training in Pune offered by Besant Technologies was so amazing that you will never feel lacking in any area of this subject. I capitalized on this really well- got a great job and now I am getting pretty good paychecks.
Mounika
Frequently Asked Questions
Besant Technologies offers 250+ IT training courses in more than 20+ branches all over India with 10+ years of Experienced Expert level Trainers.
Fully hands-on training
30+ hours course duration
Industry expert faculties
Completed 1500+ batches
100% job oriented training
Certification guidance
Own course materials
Resume editing
Interview preparation
Affordable fees structure
Besant Technologies is the Legend in offering placement to the students. Please visit our Placed Students List on our website.
More than 2000+ students placed in last year.
We have a dedicated placement portal which caters to the needs of the students during placements.
Besant Technologies conducts development sessions including mock interviews, presentation skills to prepare students to face a challenging interview situation with ease.
92% percent placement record
1000+ interviews organized
Our trainers are more than 10+ years of experience in course relavent technologies.
Trainers are expert level and fully up-to-date in the subjects they teach because they continue to spend time working on real-world industry applications.
Trainers have experienced on multiple real-time projects in their industries.
Are working professionals working in multinational companies such as CTS, TCS, HCL Technologies, ZOHO, Birlasoft, IBM, Microsoft, HP, Scope, Philips Technologies, etc…
Trained more than 2000+ students in a year.
Strong theoretical & practical knowledge.
Are certified professionals with high grade.
Are well connected with hiring HRs in multinational companies.
No worries. Besant technologies assure that no one misses single lectures topics. We will reschedule the classes as per your convenience within the stipulated course duration with all such possibilities. If required you can even attend that topic with any other batches.
Besant Technologies provides many suitable modes of training to the students like
Classroom training
One to One training
Fast track training
Live Instructor LED Online training
Customized training
You will receive Besant Technologies globally recognized course completion certification.
Yes, Besant Technologies provides group discounts for its training programs. To get more details, visit our website and contact our support team via Call, Email, Live Chat option or drop a Quick Enquiry. Depending on the group size, we offer discounts as per the terms and conditions.
We accept all major kinds of payment options. Cash, Card (Master, Visa, and Maestro, etc), Net Banking and etc.
Please Contact our course advisor+91-9677 266 800. Or you can share your queries through info@besanttechnologies.com