AWS Certification Training Course in Hyderabad Overview
This AWS Certification Course will teach you how to use AWS Services Such as EC2, S3, EBS, EFS, Elastic Load balancer with 10+ Project Implementations.  Learn how to optimize your applications at low cost and deploy through DevOps Tools.  You will gain Amazon Linux and Cloud Computing Knowledge from this AWS Course to become Best AWS Solution Provider with Certifications.
From this AWS training Course you will be enabled to work on Real time Migration Projects to gain confidence with technical assistance. Learn how to maintain applications with Zero down time by using AWS Elastic Beanstalk by Swapping the CNAMEs for your environment.
The Complete AWS Course which covers the Basic of Docker and Kubernetes for deploying container applications with lab Sessions and Practical assignments. Register for AWS training and Certification Course in Hyderabad with Placements delivered by 10+ Years trainers.
Training Option
This AWS Certification Course is available in Online Live Instructor Led Classes with Quality Video and audio Content. Choose you're training Options from Self-Paced Video and 1:1 Course with Personal trainers. We also offer Corporate AWS training for Potential employers with a good discount.
Eligibility
This Recommended AWS Training in Hyderabad will Suitable for DevOps Engineers , IT infrastructure operations, Cloud Engineers, Linux Admin, Networking & Cloud Professionals, Software Programmers  and Individuals who wish to Learn AWS for  hosting a high availability and Scalable web Applications in Cloud without any Prior Coding Knowledge. There are no Prerequisites for taking this AWS Certification Course and Exams.
However, the AWS Solution Architect Course will Covers the Basic Hardware & Networking, AWS Linux fundamentals and DevOps Concepts to Become a Complete Cloud & DevOps Professional.
Get enrolled for the most demanding skill in the world. AWS Training in Hyderabad will make your career a new height. We at Besant Technologies provide you with an excellent platform to learn and explore the subject from industry experts. We help students to dream high and achieve it. Amazon Web Services Certificates are always in demand in this evolving IT industry. You want to make sure that you are well qualified and knowledgeable enough to clear all these exams comfortably. Besant Technologies understand this need and have come up with one of the best AWS courses in Hyderabad. The AWS course in Hyderabad is designed to suit candidates from all backgrounds and it certainly has helped a good number of IT professionals to gain this renowned certificate
Hence, anyone looking for AWS Training in Hyderabad with certification can call us right away or meet us at our office. The AWS Course in Hyderabad that we provide is one of the most relevant and comprehensive. We have AWS Certified Experts who boast of more than a decade of experience and will make your learning enjoyable and fruitful.
AWS Course in Hyderabad
Do not worry about the course curriculum as the AWS training in Hyderabad is on par with the official updated version of Amazon certification course. Given below are the three job role-based AWS certification and AWS course in Hyderabad available at Besant Technologies.
Cloud Practitioner
You will have an overall understanding of AWS Cloud Platform and all the AWS core security and services and pricing. Just going through this part of the AWS training in Hyderabad course you are sure to gain a good overview of Amazon Web Services.
Architect
AWS Architect certificate has always been an in-demand certificate in this evolving IT industry. You don't even have to have any pre-requisites. Route53, S3 and Cloud Front during this part of the AWS courses in Hyderabad.
Developer
AWS developer course will allow you to make use of AWS services such as AWS CLI and APIs and write applications.
What do you learn from this Course?
With an AWS Training in Hyderabad at Besant Technologies, you will learn myriad things that will help you grow into a fine software expert. Amazon S3 (Simple Storage Service), Databases such as AWS DynamoDB or RDB and Amazon AWS EC2 (Elastic Cloud Computer) are a few of the numerous things you get to learn from our experts. With hands-on training in crucial AWS areas like these, you will definitely do better than many others in this field.
Amazon Web services Training in Hyderabad
The AWS Training Institute in Hyderabad is well known among seasoned IT professionals to provide the best training in this particular field. Our trainers themselves are industry hardened professionals who share a vast amount of experience working in various job roles. This broadens the range of knowledge available to the candidates and it is something that has always set the AWS Training in Hyderabad apart from other training institutes.
The experts take an active interest in the field of cloud computing and are well versed with all the latest advancements and new technologies included. This proves crucial to the training as the AWS certification keeps on updating its database hence its a win-win situation for all.
The AWS courses in Hyderabad include tests at regular intervals to keep in check the progress of the participating candidates. This will help them to have increased confidence during the actual certification examination.
Answer 3 Simple Questions
Get upto 30%* Discount in all courses. Limited Offer. T&c Apply.
Register now
Syllabus of AWS Course in Hyderabad
AWS Solution Architect Certification Training Syllabus
Module 1: Basics of Computer and Networking
Introduce Computers and Components
Introduce Networking Models and Concepts
IPv4, LAN, WAN, Subnets, Switches, and Routers
Module 2: Fundamentals of Linux
Introduction to Operating System
Distributions of Linux OS
Linux Vs. Windows
Shell Environments
Linux Booting and Process
The directory structure of Linux
Files, Files types and permissions
Basic Linux commands and Administration
User Management
Networking
Storage – Disks and partitions
Package management
Authentication – passwords, SSH Keys
Understanding of Linux troubleshooting protocols
Services: Apache, Mysql, NFS, and FTP
Basic Monitoring Tools and Log.
Module 3: Basics of virtualization
Virtualization and cloud computing
Virtualization terminologies
What is Hypervisor
Different approaches to Virtualization
Virtual Machine Concepts
Benefits of Virtualization
Different types of Virtualization
Datacenter Virtualization, Network Virtualization, Desktop Virtualization
Module 4: Cloud Computing
Introduction to Cloud Computing
Why Cloud Computing?
Benefits of Cloud Computing
Types of Cloud Computing
Public Cloud
Private Cloud
Hybrid Cloud
Community Cloud
Differences between Public, Private and Hybrid Cloud Platforms
Delivery or Service models of Cloud Computing
Infrastructure as a Service
Software as a Service
Platform as a Service
Horizontal Vs vertical scaling
Security
Costing Model
Module 5: Introduction to Amazon Web Services
History and Evolution of AWS
Overview of AWS data centers across the globe
Regions and Availability Zones
Overview of AWS products and Services
AWS account plans and split-ups
AWS Free tier limits and Quotas
Accessing AWS Management Console, Command Line Interfaces
Hands-on Lab
Setup or Signup AWS free tier account
Exploring products & services of AWS in the Management Console
Module 6: Compute Services
Amazon Machine Images
Working with AMI – Public Images and Private Images
CPU and Processors of AWS Cloud Platform
Machine type classification in EC2 and use cases of each machine type
EC2 Instance storage, network
The configuration of EC2 Instances – Placement Groups, Capacity reservation, Tenancy, Shutdown behavior, Metadata
Security groups
Private IP, Public IP, Elastic IP
Elastic Network Interfaces
Key pairs
Resource Tags
Hands-on Lab
Creation of a Linux EC2 Instance and accessing it
Creation of a Windows EC2 Instance and accessing it
Build a Private/Custom AMI
Launch an EC2 Instance from the Private/Custom AMI
Cleanup
Module 7: Pricing Models & Billing
Introduction to Pricing Models of EC2 Instances
On-demand Instances Model
Reserved Instances Model
Spot Instances Model
On-demand Vs. Reserved Vs. Spot Instances
Dedicated Hosts & Dedicated Hardware's
AWS Marketplace
Overview of AWS Pricing Calculator
Billing accounts
Budgets
Quotas and limits
Module 8: Elastic Block Store (EBS)
Introduction to Elastic Block Store
EBS Volume Types
Differentiation of EBS Volume Types – IOPS, Throughput, Performance Factors
Use cases of EBS Volumes
Encryption
Snapshots – Root Volumes and Data Volumes
Creating Volumes and AMI's from Snapshots
Life Cycle Manager
RAID 0,1
Hands-on Lab
Create and attach volumes to a Windows/Linux Instances
Create partitions from the attached volume in the Windows/Linux Instances
Create Snapshots from the attached volume(Windows/Linux)
Restore and Test the snapshots(Windows/Linux)
Create AMI from the Snapshots
Cleanup
Module 9: EFS
What is EFS
Use cases of EFS
Hands-on Lab
Creation of EFS
Launching 2 EC2 Linux servers and mounting EFS volume in it
Module 10: Simple Storage Service (S3)
Introduction to Simple Storage Service (S3)
The architecture of Simple Storage Service (S3)
S3 buckets and Objects
Features of S3 Buckets
Versioning, Logging, Access control
Encryption
S3 bucket permissions
Static Website Hosting
S3 Transfer Acceleration
Backup and Archiving using Glacier Storage
Life cycle management of Objects
Hands-on Lab
Create S3 buckets, upload objects, download objects with restricted permissions
Test and Try Object versioning by uploading objects with different versions
Deploy and host a static website in S3
Set object lifecycle policy to move the objects to Glacier Archive
Cleanup
Module 11: Virtual Private Cloud (VPC)
Introduction to Software-defined networking
Internet Protocols
IP Addressing Classes, Schema, IP Ranges
Overview of AWS VPC
Default Vs. Custom VPC
Components of VPC – Subnets, Route Tables, Gateways, Routes
Security Groups, Network ACL's
Public and Private Subnets
Network Address Translation
DHCP options sets and DNS
Introduction to VPC Peering
Hands-on Lab
Create a Custom VPC with private and public subnet
Deploy an EC2 Instance in the public subnet and try to access it from the internet
Deploy an EC2 Instance in the private subnet and try to access it from the internet
Cleanup
Module 12: Virtual Private Network (VPN) & Direct Connect
Introduction to Virtual Private Network
Overview of Direct Connect and Its Advantages
Setup and Architecture of Direct Connect
Module 13: Elastic Load Balancer
Overview of Elastic Load Balancer
The necessity of Elastic Load Balancer
Internet Facing Load balancer, Internal Facing Load balancer, Cross-Zonal Load Balancer
Application Load balancer (https/http)
Network Load Balancer (TCP/UDP)
Choosing the right Load Balancer
Components of a Load Balancer
Listener and Target group configurations
Health checks
DNS setup for ELB
Hands-on Lab
Create two EC2 instances with web servers installed in it.
Configure the web servers with unique html page in each web servers
Create an application load balancer with listeners and Target groups.
Attach EC2 instances in the Target group and test the application load balancer
Cleanup
Module 14: Auto Scaling
Getting started with Auto Scaling
Entities of Auto Scaling
Auto Scaling groups
Launch Configurations
Launch Templates
Auto Scaling policies
Manual Vs. Dynamic Autoscaling
Hands-on Lab
Create Auto scaling Launch Configurations
Create the Autoscaling groups using the launch configurations
Test Auto-scaling groups against the Autoscaling policies defined
Cleanup
Module 15: Route53
What is Amazon Route 53?
Features of Route53
Explain with demo Domain Name registration process
Types or classification of Domains
Domain registration, Domain Hosting and Domain transfer
Public and Private hosted zones
Traffic Routing and policies
Recordsets
Health check of Resources
Hands-on Lab
Deploy a static website in AWS
Configure the DNS name of the website using Amazon Route 53
Cleanup
Module 16: Relational Database Services (RDS)
Introduction to databases
Overview of structured and unstructured data
Introduction to database services of AWS
Introduction to Amazon RDS
Concepts of Amazon RDS services
Different types of database engines supported in AWS
Database machine types, Storage, security groups
Database replica's
Database Encryption
Snapshot backups – automatic and manual snapshots
Manage RDS Database access using IAM
Database maintenance and upgrades
Hands-on Lab
Install database client in the local machine
Create an RDS instance with the required database engine
Connect RDS using the database client
Cleanup
Module 17: Identity and Access Management
Introduction to IAM
Users and Groups
Permissions and Policies
IAM Roles, Role-based access
User access – Programmatic access, Management console access
Access keys and Secret keys
AWS Organizations
Single-Sign-on
Multi-Factor Authentication
Hands-on Lab
Create groups and users
Assign permissions and policies to the groups or users
Log in as a user using IAM link and test the user's permissions
Enable MFA and testing it
Cleanup
Module 18: Cloud Front
Introduction to Cloud Front distributions
Cloud Front Edge locations
Working with Cloud Front Distributions
Access control and Security
Content Caching
Hands-on Lab
Create a cloud front distribution
Test the cloud front distribution
Cleanup
Module 19: Simple Notification Services
Introduction to Simple Notification Services
Components of SNS
Topics
Publishers
Subscriptions
Hands-on Lab
Create a topic and register a subscriber to that topic
Publish a message to the Topic and check the subscribers are receiving the same
Cleanup
Module 20: Simple Queue Services
Introduction to Simple Queue Services
Standard Queues and FIFO Queues
Queue features and limits
Queue encryption
Message retention policies
Hands-on Lab
Create a Queue and subscribe to an SNS topic
Publish a message to SNS topic
Review or Purge the messages from the Queue
Cleanup
Module 21: AWS Cloud Watch Monitoring and Logging
Introduction to Cloud watch
Cloud watch Monitoring
Dashboards
Metrics, data points, widgets
Cloud watch alarms
Notifications
Cloud watch Events and Logs
Creating Billing Alert
Hands-on Lab
Create a dashboard to monitor AWS resources and explore the metrics
Add a resource metric to the dashboard and monitor it.
Create Cloud watch Alarms and set a trigger to send SNS notifications via email
Cleanup
Module 22: Cloudtrail
Introduction to Cloudtrail
Use Cases
Module 23: Lambda
What is AWS Lambda function?
How to use the lambda function
Use case of the lambda function
Hands-on Lab
Lambda function creation
Lambda triggers and demo
Lambda with API Gateway
Module 24: CloudFormation
How to create an environment using CloudFormation
What is cloud formation stake?
Module 24: Hands-on Lab
demo using sample CloudFormation task with the creation of VPC subnets and launching EC2 instance using it
Module 25: Trusted advisor
Use cases of Trusted Advisor
Cost Optimization example
Security example
Fault tolerance example
Module 26: Migration Service: SNOWBALL
Overview of Migration services
Use case of SNOWBALL
Module 27: Storage Gateway
File gateway
Volume gateway
Tape gateway
Use cases
Module 28: CERTIFICATE MANAGER
creating SSL certificate
the use case of AWS Certificate manager
Module 29: Elastic Cache, DynamoDB and Redshift
Overview of Elastic Cache
Overview of DynamoDB
Overview of Redshift
Overview of Kinesis
Module 30: Well-Architected Framework: The 5 Pillars of the AWS
Operational Excellence
Security
Reliability
Performance Efficiency
Cost Optimization
Looking for Master your Skills? Enroll Now on Triple Course Offer & Start Learning at 24,999!
Explore Now
Upcoming Batch Schedule for AWS Training in Hyderabad
Besant Technologies provides flexible timings to all our students. Here are the AWS Training Classes in Hyderabad Schedule in our branches. If this schedule doesn't match please let us know. We will try to arrange appropriate timings based on your flexible timings.
04-12-2023

Mon (Mon - Fri)Weekdays Batch 08:00 AM (IST)(Class 1Hr - 1:30Hrs) / Per Session Get Fees

07-12-2023

Thu (Mon - Fri)Weekdays Batch 08:00 AM (IST)(Class 1Hr - 1:30Hrs) / Per Session Get Fees

09-12-2023

Sat (Sat - Sun)Weekend Batch 11:00 AM (IST) (Class 3Hrs) / Per Session Get Fees

Can't find a batch you were looking for?
Corporate Training
If you want to give the Trending technology experience to your esteemed employees, we are here to help you!
Trainer Profile of AWS Training in Hyderabad
About Trainer
I work as a Cloud architect at one of the most renowned IT companies here in Hyderabad. I am an AWS certified and I look to renew the certification every three years so that I am up to date with the recent developments in the cloud infrastructure. I actively take part in teaching students at Besant Technologies as it is my belief to share the knowledge that I have gained.
Know About Your AWS Expert Trainer
15+ years of experience in several AWS certified job profiles in the IT industry.
Trainers are urged to keep themselves updated with all the new updates in the AWS course in Hyderabad.
The instructors are known to communicate all the AWS concepts without any trouble.
Both corporate candidates and student candidates benefit from the AWS courses in Hyderabad.
Several candidates have already passed the certification exams after passing our AWS course in Hyderabad.
Build your resume to the latest trend, and get a chance to know our Tie-Up Companies
Placed Student's list
AWS Certification
Besant Technologies Certification is Accredited by all major Global Companies around the world. We provide after completion of the theoretical and practical sessions to fresher's as well as corporate trainees.
Our certification at Besant Technologies is accredited worldwide. It increases the value of your resume and you can attain leading job posts with the help of this certification in leading MNC's of the world. The certification is only provided after successful completion of our training and practical based projects.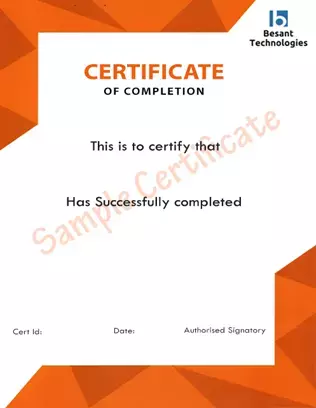 This AWS Certification Course will guide you to become an AWS Certified Solution Architect Associate by clearing the 80 Minutes exam Conducted by Amazon. You can take up this exam through our PSI Authorized Training Center or Online with our Support.  AWS Certification Exam Cost is $150 Paid to Amazon Corporation.
To unlock your AWS Course Completion Certificate on Besant technologies you must complete the Course and the Project works on Deploying and Maintaining tasks.
You Can Share this AWS Certifications in Social Media Networks and Shareable in Job Sites and LinkedIn Group to explore your Cover Skills on AWS.
The main purpose of taking an AWS Training Course in Hyderabad, for anyone, is to build a career with the knowledge earned. But to be able to show your mettle, you will have to prove your credibility. But how do you do that? You do that by clearing all certification tests and then receiving certificates of merit in return. Some of the most important certifications to consider in this field are AWS Solutions Architect, AWS Developer (associate) and AWS SysOps Admin.
After the AWS Training in Hyderabad, you will be able to attend almost all of the certification exam from Amazon. A list of the certificate programs is listed below for you to choose from. Choose the certification exam that will suit you the most.
AWS Certified Cloud Practitioner
AWS Certified Developer (Associate)
AWS Certified Sysops Administrator (Associate)
AWS Certified Solutions Architect (Associate)
AWS Certified DevOps Engineer (Professional)
AWS Certified Solutions Architect (Professional)
AWS Certified Big Data (Specialty)
AWS Certified Advanced Networking (Specialty)
AWS Certified Security (Specialty)
Group Discount
If you have Three or more people in your training we will be delighted to offer you a group discount.
Key Features of AWS Training in Hyderabad
30+ Hours Course Duration
100% Job Oriented Training
Industry Expert Faculties
Free Demo Class Available
Completed 800+ Batches
Certification Guidance
Training Courses Reviews
I love the way how the trainers love attending to our doubts. Even if you don't understand a concept and ask about it twenty times, the teachers explain it to you with patience.
Pallavi
Excellent teachers and the classroom environment. I am totally in love with what I am learning here.
Santhosh
I wanted a good training center for AWS Training. Thank god, I ran into Besant Technologies! Its value for money.
Rajesh
I worked in the IT field, earning peanuts. With this course, I am definitely doing better professionally.
Siva
What is it that you want from a good IT training center? Good trainers, a comprehensive course, and great teaching- isn't it? You have it all at Besant Technologies!
Riya
Frequently Asked Questions
Besant Technologies offers 250+ IT training courses in more than 20+ branches all over India with 10+ years of Experienced Expert level Trainers.
Fully hands-on training
30+ hours course duration
Industry expert faculties
Completed 1500+ batches
100% job oriented training
Certification guidance
Own course materials
Resume editing
Interview preparation
Affordable fees structure
Besant Technologies is the Legend in offering placement to the students. Please visit our Placed Students List on our website.
More than 2000+ students placed in last year.
We have a dedicated placement portal which caters to the needs of the students during placements.
Besant Technologies conducts development sessions including mock interviews, presentation skills to prepare students to face a challenging interview situation with ease.
92% percent placement record
1000+ interviews organized
Our trainers are more than 10+ years of experience in course relavent technologies.
Trainers are expert level and fully up-to-date in the subjects they teach because they continue to spend time working on real-world industry applications.
Trainers have experienced on multiple real-time projects in their industries.
Are working professionals working in multinational companies such as CTS, TCS, HCL Technologies, ZOHO, Birlasoft, IBM, Microsoft, HP, Scope, Philips Technologies, etc…
Trained more than 2000+ students in a year.
Strong theoretical & practical knowledge.
Are certified professionals with high grade.
Are well connected with hiring HRs in multinational companies.
No worries. Besant technologies assure that no one misses single lectures topics. We will reschedule the classes as per your convenience within the stipulated course duration with all such possibilities. If required you can even attend that topic with any other batches.
Besant Technologies provides many suitable modes of training to the students like
Classroom training
One to One training
Fast track training
Live Instructor LED Online training
Customized training
You will receive Besant Technologies globally recognized course completion certification.
Yes, Besant Technologies provides group discounts for its training programs. To get more details, visit our website and contact our support team via Call, Email, Live Chat option or drop a Quick Enquiry. Depending on the group size, we offer discounts as per the terms and conditions.
We accept all major kinds of payment options. Cash, Card (Master, Visa, and Maestro, etc), Net Banking and etc.
Please Contact our course advisor+91-9677 266 800. Or you can share your queries through info@besanttechnologies.com