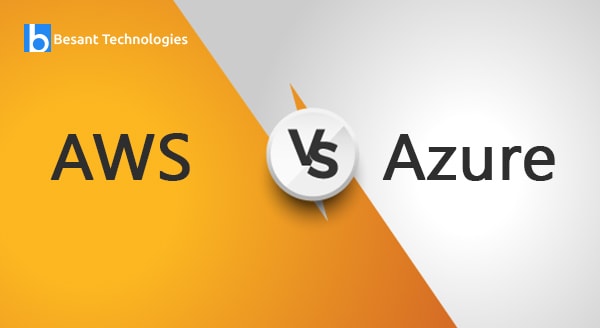 AWS Vs Azure
Cloud Computing – A Magical Spell in the World of Digital Technology
In today's fast-moving pace it is very important at the same time difficult too, to have a track of each and every document when it comes to maintaining vast spread business confidential. Thus, the current digital world of technology has introduced the concept of cloud computing. Well, this concept is still recognized by many as a magical spell when comes to their business security. Yes! you must be surprised when you will know that the concept of cloud computing is all about storing billions and billions of data over the internet that can eventually offer great innovation and resource flexibility in the current economical scale.
We can name this concept of cloud computing as ubiquitous as it is all around us. This concept communicates with us through the internet as a starting point. Cloud computing is one of on-demand IT resources over the internet that allows big organizations to have their confidential data safe and secure. All this is possible with backup storage that can prevent the data from many issues that include disaster recovery, email, data analytics, software development, and testing, virtual desktop, web applications, and much more.
With all about cloud computing, this process offers an in-house infrastructure. These services are majorly appreciated and accepted by the fastly moving market. The modern technologies such as artificial intelligence, mobile app hosting, web hosting, IoT, all demand this heavily. Since it has the power to save the organization from the need to invest as well as maintain costly infrastructure, it is the most popular solution for the current business trend.
Most Popular Cloud Platforms
With the growing market needs, today there are many companies that offer cloud platforms to maintain the overall business strategies that include development, management and even the deployment of applications too. Let's have a look at the most preferred cloud platforms that can be used effectively to manage the IT needs of an organization.
Amazon Web Services (AWS):
Amazon! The most familiar word in the world of e-commerce has its own product that has been named as Amazon Web Services (AWS). They provide an on-demand cloud computing platform that involves storage, data analysis, and much more. It is with a massive 35% of today's market share. They provide their service to individuals, big as well as small companies, government boards, etc. AWS allows its customers to enjoy the complete essence of a virtual cluster of computers at their convenience as per their needs. All this is possible just with an internet connection.
This AWS is mostly in demand mainly for being flexible solutions throughout the process. AWS's platform comes with the attributes of an actual computer that involves both CPU(s) and GPU(s) when it comes to processing, hard-desk for storage purpose and RAM for memory. All this is an operating system to choose from and also with the pre-loaded apps like CRM, web servers, etc.
Azure:
Azure the cloud service that talks about Microsoft. Being the product of Microsoft it has primarily enabled the Microsoft data center which has later proven to be the most reliable solution, that too mostly for Microsoft evangelists. Unlike other cloud service providers, it supports the development, testing, deployment as well as management process. With regards to web development, it offers support for PHP, Node.js, and ASP.net.
When it is about the Microsoft server, the Azure window is used to deploy codes. This code holds wide access to the data that have been stored in local. The SQL Azure can be integrated with the SQL server. Azure AppFabric supports security features such as authentication, security, and much more. On the whole, Microsoft Azure can be considered as a complete supportive package concerning development, management, and security.
What should I learn in 2021? Is it AWS or Azure?

For the question "what should I learn in 2021? Is it AWS or Azure?", though the question is tricky, we can have a simple discussion. Technology is continually developing, carrying out many fresh trends every day! Those who are into technical process and domain, it is not quite easy to decide on the one tool or software and for sure it is crucial to stay updated with all the newest technology tools.
For a techie person, it would be great to grow in a similar field and hold a career in cloud computing. Organizations are experiencing a planned digital transformation for sustained achievement in current contemporary technology environments. Cloud computing is making a bright life for many people and augmented cloud computing jobs.
In the current market, there are numerous cloud computing technologies in the market, and you can see two public clouds seized the mainstream of the market, which are Amazon AWS and Microsoft Azure. If you are ready to grow your career in terms of cloud computing, you can choose any one of these two amazing providers. Microsoft Azure and Amazon AWS afford alike competences spinning around security, storage, and networking. Let us discuss what is AWS and Azure, its advantages & disadvantages, the difference between AWS & Azure, etc.
Difference Between AWS Vs Azure
When is comes to AWS vs Azure, well to be polite enough they both have been relentless and even honored to be on the top of all others? But when it is about choosing the best one, i have to say that all that depends upon an individual business needs. Both of them are the certified one that holds immense value in the current cloud service market. But still, we can certainly have some insight into their key features to have a comparison.
When it is about the general features, AWS was initiated in the year 2006 with the market share of up to 40% whereas, Azure was in the year 2010 holding a market share of up to 30%. AWS is widely open to the open-source community which is not the case with Azure. With regards to the hybrid-cloud market, Azure can be considered as an excel comparatively.
AWS licensing offers more flexibility and provides extensive support to the Linux ecosystem which is not the case with Azure, it is still catching up with AWS licensing and still building up to support Linux. AWS pricing model is based on an hourly basis whereas Azure pricing is charged on a per-minute basis.
Even if we want to compare, I have to say that they both difference very slightly as both deserve the same point at a certain level and it is too difficult to choose them clearly. Azure is great when we talk about hybrid cloud whereas AWS is awsome when it is about flexibility and extra features. Well, to have more indepth knowledge on either of these platforms, I suggest having a glance at the certified training program as they provide an immense and wide view on the domain subject.
I hope, this blog has given you some idea about the cloud concept with respect to AWS and Azure to proceed further with your research towards the cloud services. Thank You!

Why AWS in 2021?
Amazon Web Service (AWS) is the one that affords the best consistent, stretchy, profitable cloud computing solutions. AWS platform is developed by combining PaaS, SaaS, and IaaS. The products produced by AWS services are networking, storage, analytics, development tools, databases along with a pay-as-you-go pricing model. EC2, EKS, Lambda, LightSail, and Elastic Beanstalk are the five major clouds compute services provided by Amazon. As there are many options available for the users in AWS, sometimes the traditional users are not able to make a steady decision, leading to great confusion. At times, migration time varies based on the organization type. A number of job opportunities are available on completing the AWS certifications.
AWS Certification Level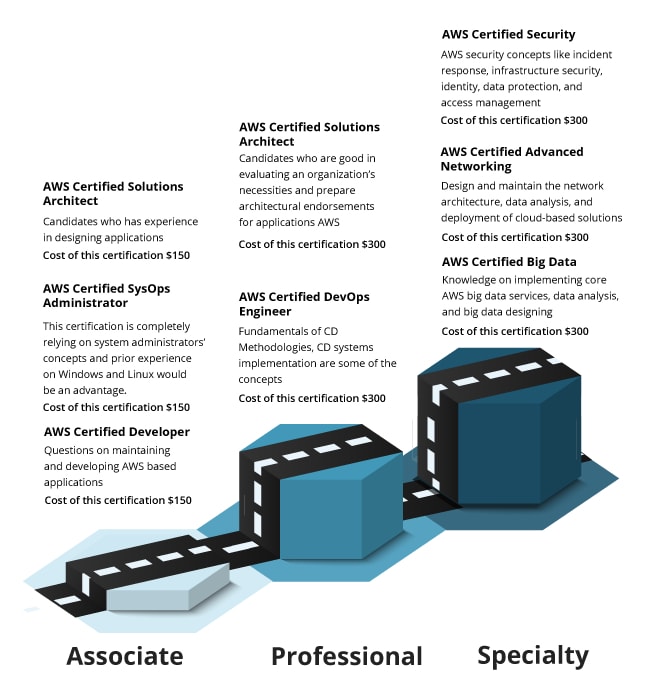 AWS Certification and Pricing Details
| S.NO | Certification category | AWS Certification name | Certification Details |
| --- | --- | --- | --- |
| 1.         | Associate | AWS Certified Developer | Questions on maintaining and developing AWS based applications. You will get the knowledge on writing the actual code which are using AWS software. The exam duration is approximately 80 minutes and the cost of this certification would be $150. |
| 2.         | | AWS Certified SysOps Administrator | This certification is completely relying on system administrators' concepts and prior experience on Windows and Linux would be an advantage. The exam duration is approximately 80 minutes and the cost of this certification would be $150. |
| 3.         | | AWS Certified Solutions Architect | Candidates who has experience in designing applications can take up this certification at the cost $150. The exam duration is approximately 130 minutes |
| 4.         | Professional | AWS Certified DevOps Engineer | Fundamentals of CD Methodologies, CD systems implementation are some of the concepts handled in this certification. The exam duration would be 170 minutes along with the cost of $300. |
| 5.         | | AWS Certified Solutions Architect | Candidates who are good in evaluating an organization's necessities and prepare architectural endorsements for applications AWS can take up this certification. AWS Certified Solutions Architect (Associate) is a pre-requisite to appear for this certification. The cost for this certification is approximately $300. |
| 6.         | Specialty | AWS Certified Big Data | You can get the knowledge on implementing core AWS big data services, data analysis, and big data designing. 170 minutes is the duration of this exam and $300 is the cost. |
| 7.         | | AWS Certified Advanced Networking | In this certification, you can design and maintain the network architecture, data analysis, and deployment of cloud-based solutions with the help of AWS. The cost is $300 and exam duration would be 170 minutes. |
| 8.         | | AWS Certified Security | On appearing for this exam, you can authenticate your AWS security concepts like incident response, infrastructure security, identity, data protection, and access management. Exam duration would be 170 minutes and the cost is approximately $300. |
New Features of AWS – Trending in 2021
Below are some of the new features of AWS which would be of great use in the year 2021for all your cloud business.
AWS CloudFormation stack update gets the support of AWS Managed Services
New Accelerators are introduced by Amazon Elastic Inference with a very good GPU memory. Users are facilitated to use this option on higher models or larger size inputs
With the help of AWS Management Console, you will be able to quickly access your AWS regions
AWS Elemental MediaLive is enabling the availability of Statistical Multiplexing
For the server-side encryption, customer-provided keys are acquiring the support of Amazon Kinesis Data Firehose. This specific feature is combined with KMS (Key Management Service), enabling to generally handle the keys that guard the other AWS resources.
User-Defined Functions are supported by Amazon Athena. This feature enables you to transcribe custom scalar functions and appeal those functions in SQL queries
You can get the support of Amazon VPC Traffic Mirroring for Amazon CloudWatch Metrics
There are four (4) new query related queries offered by Amazon Athena which are Query Planning Time, Service Processing Time, Query Queuing Times, and Total Execution time.
Two more regions are getting the service of AWS Global Accelerator which are Bahrain and Hong Kong
Users can get a feature called full-text search integration through Amazon Neptune. This feature comes with Elasticsearch clusters.
With the help of your own encryption keys, users will be able to encrypt the Amazon DynamoDB.
Sentiment Analysis is supported by Amazon Lex, which is helpful in examining the bot with a single click.
To get a true Omnichannel experience, there are few options launched by Amazon Connect which are Mobile Chat and Web.
To experience an enhanced identification and trace analysis of service disruption, AWS X-Ray is providing very good options.
Europe is now getting the access of Amazon CloudWatch Logs Insights
Users can get spatial data as Amazon Redshift is announcing to support this feature. By integrating spatial data into the analytical queries, you can easily boost your business.
The CloudWatch ServiceLens announced by Amazon helps to analyze the health and envision in a single pace.
Why Azure?
Azure is a tremendous cloud computing platform, created by Microsoft to meet the business challenges and help the organization. Azure is a cloud computing services used for deploying, testing, building, and managing applications. Cost, flexibility, disaster recovery, security, IAM, Hybrid Integration, compute, and applications are the major reasons for using Azure for the business. Azure can easily be combined with various Microsoft products. You can see different options for IaaS and PaaS in Azure. One point that needs more attention on using Azure is we need an expert for management. Also, the option called pay-as-you-go is a little expensive if opting Azure. Based on the research, there are more than 300, 000 companies adopting Azure technology every year.
To tell the fact, technical professionals are expected to learn both AWS and Azure to excel in the cloud computing domain. Retrieving certifications on these topics would really be a plus for the employees and for sure, AWS engineers and Azure Engineers are in great demand.
Azure Certification Level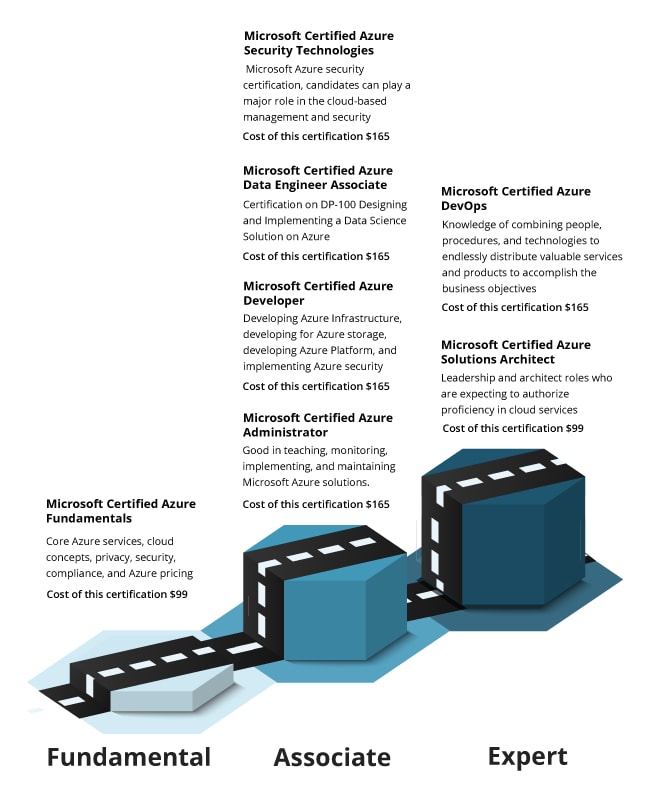 Azure Certification and Pricing Details
| S.NO | Certification category | Azure Certification name | Certification Details |
| --- | --- | --- | --- |
| 1.      | Fundamental | Microsoft Certified Azure Fundamentals | This certification is to measure the skill to recognize the concepts like core Azure services, cloud concepts, privacy, security, compliance, and Azure pricing. The cost for this exam is $99 and available languages are Chinese, English, Korean and Japanese. |
| 2.      | Associate | Microsoft Certified Azure Administrator | This certification is good in teaching the concepts like monitoring, implementing, and maintaining Microsoft Azure solutions. Administrative and technical roles need this certification to enhance the business. The cost of this exam is $165. |
| 3.      | | Microsoft Certified Azure Developer | This exam trains you in developing Azure Infrastructure, developing for Azure storage, developing Azure Platform, and implementing Azure security. The price to complete this exam would be $165. |
| 4.      | | Microsoft Certified Azure Data Engineer Associate | To complete this exam, acquire the certification on DP-100 Designing and Implementing a Data Science Solution on Azure. You will be able to learn the usage of full stack of Azure services. The price to complete this exam would be $165. |
| 5.      | | Microsoft Certified Azure Security Technologies | On completing this Microsoft Azure security certification, candidates can play a major role in the cloud-based management and security. The exam cost would be $165. |
| 6.      | Expert | Microsoft Certified Azure Solutions Architect | This certification is for the leadership and architect roles who are expecting to authorize proficiency in cloud services. You can get the certification at the cost of $99. |
| 7.      | | Microsoft Certified Azure DevOps | This exam is for the candidates who are eager to establish knowledge of combining people, procedures, and technologies to endlessly distribute valuable services and products to accomplish the business objectives at the cost of $165. |
New Features of Azure – Trending in 2021
Below are some of the new features of AZURE which would be of great use in the year 2021 for all your business.
Azure HDInsight- Supporting the service tags to shorten the incoming Network Security Group (NSG) rule management. Under a single user-friendly tag, grouping numerous IP addresses are possible by Azure Service Tags. Through this amazing manageability perfection, administrators who are handling Azure clusters are highly benefited.
Effective from 1st January 2021, the meter names of Data Box Edge and Azure Stack is surely expected to change.
Azure Monitor for containers is available to monitor and provide a report on Kubernetes cluster infrastructure health status.
Azure Media Services is affording a platform which is helpful to consume and encrypt the live video for the means of delivery. The new feature called Live Transcriptions is to improve the streams transported to the respective viewers through machine-generated text. These texts are derived from spoken words available in the audio format.
Azure is ready to manage the identities for the deployment of lab environments. Whenever the environment has an orientation to Azure resources which are external like network, and shared pictures, this feature is very helpful for the users.
You can easily encrypt the Azure VM disks using the feature Azure Disk Encryption.
Customer Lockbox is the one that affords customers with the skill to govern the access of Azure support engineers.
To protect the data and improve the cloud application performance, the Azure Key Vault will play a major role. This feature is used to handle secrets, policies, and cryptographic keys.
Azure Stream Analytics is ready to support identity-based verification along with Power BI.
Just go-ahead and understand the difference between AWS & Azure to get the entire benefits for your business and career.
AWS Vs AZURE
S. No.
Parameter
AWS
AZURE
1.     
Initiation (Year)
Initiated in the year 2006
Initiated in the year 2010
2.     
Open Source
AWS is open for all the open source communities. It always greets Linux users and affords various integrations for many open source applications.
Azure is not much open to the open source communities as the facility is available only for the enterprise users.
3.     
Storage
AWS is using Simple storage service (S3) for temporary storage. Storage gets allocated when an instance is initiated, and storage is destroyed when the same instance is ended.
Azure is using Storage Block blob for storage which is comprised of many blocks. To archive the existing data, storage archive and storage cool are used by Azure.
4.     
Database services
Oracle, MySql and DynamoDB are the Database services of AWS
SQL Sync and MS SQL are the two Database services of Azure.
5.     
Type of Connection
Type of connection for AWS is Direct Connect
Type of connection for AWS is ExpressRoute
6.     
Pricing models
One hour, free tier, Free trial for a minute
Free Trial per minute
7.     
Cloud Type
VPC (Virtual Private Cloud)
Virtual Network
8.     
Networking services
Route 53, Elastic IP, Virtual Private Cloud, Firewall
Balancing, Azure Connect, Automatic IP assignment, Load-balancing
9.     
Ecosystem
AWS has an extensive partner ecosystem
Azure do not have a big ecosystem
10.   
Mature environment
For Big Data, AWS has more mature cloud environment
For Big Data, Azure has less mature environment
11.   
Supporting Big Data
EBS Storage of AWS is perfect for managing Big Data
Standard storage of Azure has numerous problems for big data, and hence premium storage is required
12.   
Access to Machine
In AWS, you can access the machine individually
In Azure, machines are grouped and has a same domain name of different ports.
13.   
Deployment Services
Cloud Formation, Amazon Web Services, Elastic Beanstalk, Amazon Machine Instance
Uploading Zip file through portal or API through blob storage
14.   
Accessibility Zone
AWS is available in 61 Zones
Azure is available in 140 zones
15.   
Customers
Netflix, Yelp, Adobe, Nokia, Novartis, Airbnb
Serko, Pearson, NBC, 3M, Essar, Towers Watson
16.   
Crucial features
a.    Auto scaling
b. Zero Setups
c. Exhaustive Monitoring
a.    Low Cost
b. User-friendly start-up
c. High performance
17.   
Security
With defined roles and permission control, security is provided to the AWS users
Security by providing permissions on the whole account
18.   
Data Archiving
AWS is capable of archiving and retrieving long term data
Long term archive and retrieval of data options are not available in Azure
19.   
Size Limits of Object
5 TB
4.75 TB
20.   
Salary
As per the analysis of globalknowledge.com, the average Salary for AWS Engineer would be approximately $140,000 per year.
Average Salary for Microsoft Azure Engineer would be approximately $12,12,100 per year as per the review of Glassdoor.
Conclusion:
Though there are both advantages and disadvantages on both the services, it is good to check out the entire differences mentioned in the above table, its upcoming features, the advancement of AWS and Azure is going to give a breakthrough for all the freshers and experienced candidates. Just go ahead and proceed with the service which would very well suit your business and need. It is very simple for you to build an extensive, fruitful career and hold the fresh opportunities arising in the filed called cloud computing. AWS and Azure are the giant cloud computing with lots of merits that helps in various factors.
Related Blogs