AWS EC2 Instances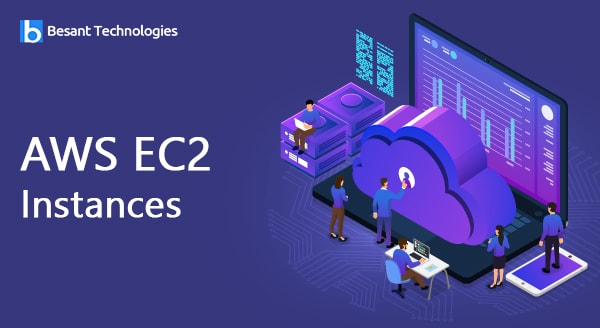 AWS EC2 – The instance types in Detail
This is very tough to decide how much computing power one need for an application to launch. There could be two scenarios either they are overestimated or underestimated in a few cases that may lead to application crash later. In this blog for AWS EC2 instance type, we will discuss the key concepts related to AWS and different type of instances related to the EC2. Let us first learn what is AWS EC2 before we actually discuss on instance types.
What is AWS EC2?
Amazon EC2 is a web service offered by the Amazon and it also gives resizable compute services in the cloud. You must be wondering how are they re-sizable actually? Well, they are considered re-sizable because this is possible scaling up or scaling down the total number of server instances that you are using whenever the computing requirement changes.
Click Here! → Get Prepared for Interviews!
What is an Instance?
An instance is taken as the virtual server helps to run apps on Amazon EC2. It can also be taken as the smaller part of large computer that has its own network connection, hard drive, operating system etc. But all these services are virtual only. Practically, you could have multiple tiny computers on a single machine all these machines are named as instances. How are they different from services, let us understand with an example below –
EC2 is a service with other Amazon web services like S3 or more.
When we use EC2 with any other services then it is taken as the instance.
Click Here! → Get AWS 100% Practical Training!
Why should you use AWS EC2?
Would you like to buy your own servers to work independently? If you are the developer then you will buy servers as needed but during scaling up you have to buy some extra storage space or computing resources that could be expensive.
Here, EC2 web service works wonderfully because you don't have to worry about these things and you could focus on development work only. So, a fraction of costs is included here to manage the app development and deployment. Doesn't it sound interesting?
Click Here! → To Get AWS Certification Training!
AWS EC2 Instance Type in Detail
Computing is not limited to a single word but it has the large potential than you can think of. Here, we will discuss the five popular AWS EC2 instance type in detail.
General Instances
These instances are suitable for applications that require a proper balance of cost and the performance. For example, email system where you need the prompt response and don't require much resources to respond.
Compute Instances
If there are some applications that require a lot of processing then we need compute instances in that case. For example, analyzing data from available stream like Twitter stream.
Memory Instances
If there is some application that is heavy in nature and require a lot of RAM space then we need memory instances in that case. For example, if you need multitasking features where a number of processes are running in the background.
Storage Instances
If there is some application heavy in size and need a lot of space for storage then we need storage instances in that case. For example, a data control app that is completely based on databases.
GPU Instances
If there is some application that requires heavy graphics rendering then we need GPU instances in that case. For example, 3D modeling or other similar projects.
With this tutorial, you have a clear idea of AWS EC2 basics and instance types in detail. Now you have to decide yourself which instance is suitable for your application and how to explore the maximum benefits from it.
Click Here! → Enroll now !
Related Blogs
//php comment_form(); ?>