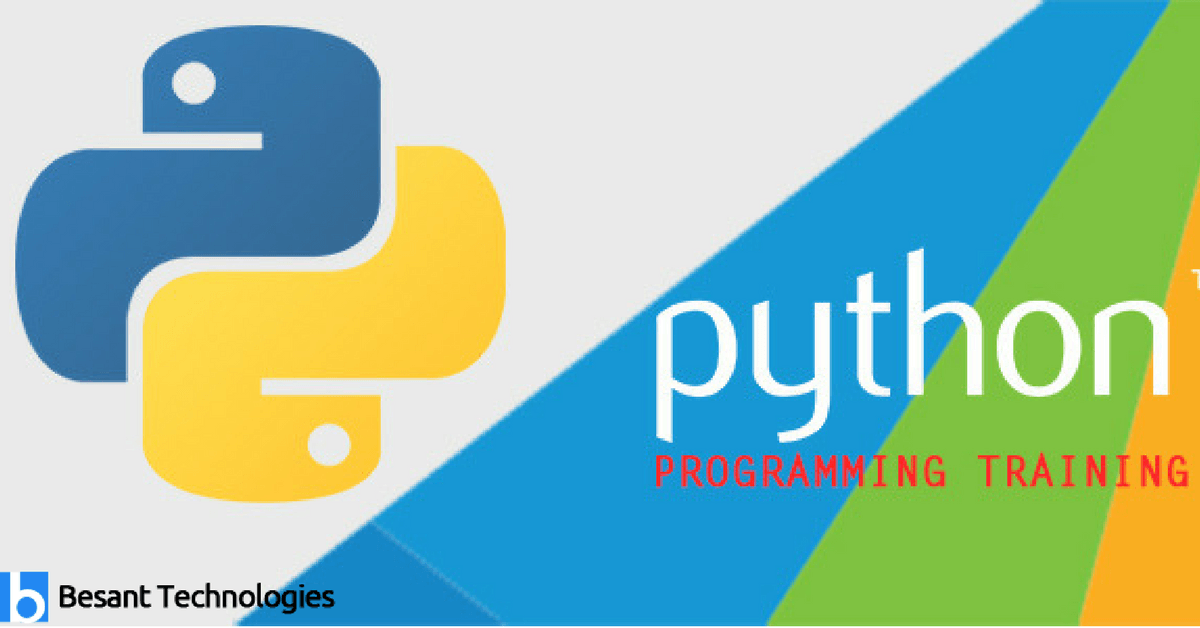 Besant Technologies Provides Best Python Training Courses in Marathahalli, BTM Layout , Rajajinagar & Jaya Nagar at Bangalore. We train the students from basic level to advanced concepts with real time environment.
Python Training in Bangalore
Everyone, these days, seems to be on a spree of learning python. The reason why it is so popular is that it uses a syntax which by virtue of its elegance makes all the programs one writes convenient and easy to read. But if you are thinking of taking python classes, then you must make sure you invest on the best python training in Bangalore. While there may not be any dearth of training institutes here, choosing to get enrolled with Besant Technologies has its own benefits. Besant happens to be an IT training institute imparting the best python training in Bangalore. So, you get guaranteed good learning outcomes.
Upcoming Batches
Weekdays

Wed, 04 Oct 2017

07:30 AM – 09:00 AM

09:30 AM – 10:30 AM

Bangalore

Python Classroom Training

Get real-time training with Python Certified Experts. Enroll now to become Python Developer and Professional.

Approx Duration: 35 Hours

Weekends

Sat, 07 Oct 2017

08:30 AM – 11:30 PM

02:00 PM – 05:00 PM

Bangalore

Python Classroom Training

Get real-time hands-on training with Python Certified Experts. Enroll now to become Python Developer and Professional.

Approx Duration: 35 Hours
What is Python?
Python is a user friendly programming language which helps you get surefire success with the programs you create. And that is probably the reason why it is considered one of the best tools for prototype development and other tasks linked to ad-hoc programming. This language is object –oriented and is extremely powerful. Besides, python boasts of a huge standard library.
Here, it would be valuable for you to know that python django training in Bangalore has received incredibly huge popularity in the recent times. Now, what is django? Django is a web application framework written in python. This framework, which is not only open source but also free, makes sophisticated web development faster and easier.
If you too think you have it in you to learn python then it's a must that you enroll with a good python training institute in Bangalore.
Why python?
There are innumerable python courses in Bangalore. All you need is to pick one to receive training and you are more than good to go. By learning this course, you will avail yourself of multiple benefits, some of which are as follows-
Testing short code snippets becomes easy with python's interactive mode. There is also an integrated development and learning environment (IDLE) for python.
New modules can be added to python for its extension.
To get a programmable interface, applications can be embedded with python.
A lot of operating systems including Unix, Mac OS and Linux support this programming language.
Python is also heavily used in the data analytics domain. Tasks like getting data from databases, XML files, from the web and from text files can easily be performed using python. And that is probably the reason why python training in data analytics in Bangalore is quite a rage.
How we, at Besant Technologies, help you?
Python training Bangalore at Besant Technologies can set your career on an upward move.
Our incessant efforts in comprehending the possibilities of Python in the world of IT have rendered us competent in helping interested people learn this skillset. Our trainers are some of the most able in the industry with profound empirical knowledge in addition to having an enviable proficiency in theories. By following a student- centric approach of teaching, they have been ensuring impeccable learning outcomes in students. What makes us more popular as an IT training institute are our courses, which are not just easy to grab but also extremely relevant as far as industry needs and standards are concerned. We endeavor to keep you abreast of all the latest programming innovations and make sure every bit of information we pass on makes sense to you.
What more? We offer amazing placement guidance and help you clinch your dream python job, almost effortlessly.
Do you need training in python?
Yes, you need training in Python if you believe you have it in you to be a great programmer. All you need is a graduation to be eligible to take up this course of python training Bangalore.
A lot of people are joining Besant Technologies for python coaching classes. And it's your turn now.
Job opportunities for python experts
A lot of professionals including Software Engineers, Data Scientists, Research Analysts, Software Developers and data analysts have benefited from python courses. And that is why innumerable institutes promising to impart quality python training are cropping up these days. However, for fruitful results, you must take up a good python certification course.
Python Training in Bangalore
Besant Technologies boasts of being the Best python training institute in Bangalore. And the syllabus for this course has been broken down below (not in any specific order) for your convenience-
Python Course Syllabus
Session 1: Introduction
Why do we need Python?
Program structure
Execution steps
Interactive Shell
Executable or script files
User Interface or IDE
Session 2: Memory management and Garbage collections
Object creation and deletion
Object properties
Data Types and Operations
Numbers
Strings
List
Tuple
Dictionary
Other Core Types
Session 3: Statements and Syntax
Assignments, Expressions and prints
If tests and Syntax Rules
While and For Loops
Iterations and Comprehensions
Session 4: File Operations
Opening a file
Using Files
Other File tools
Session 5: Functions
Function definition and call
Function Scope
Arguments
Function Objects
Anonymous Functions
Session 6: Modules and Packages
Module Creations and Usage
Module Search Path
Module Vs. Script
Package Creation and Importing
Session 7: Classes
Classes and instances
Classes method calls
Inheritance and Compositions
Static and Class Methods
Bound and Unbound Methods
Operator Overloading
Polymorphism
Session 8: Exception Handling
Default Exception Handler
Catching Exceptions
Raise an exception
User defined exception
Session 9: Advanced Concepts
Defining Panda
Pandas – Creating and Manipulating Data
How to Create Data Frames?
Importance of Grouping and Sorting
Plotting Data
Session 10: Django
Django overview
Creating a project
Apps life cycle
Admin interface
Creating views
URL Mapping
Template system
Models
Form details
Testing
Page redirection
Sending Emails
Deploying Django framework
Generic views
Form processing
File uploading
Cookie handling
Sessions,caching and comments
RSS,AJAX
Python Training Reviews
Besant Technologies Reviews given by our students already completed the training with us. Please give your feedback as well if you are a student.
Training in Other Cities