Big Data Masters Program

Big Data Masters Program to professionals who seek to dependant on their knowledge in the field of Big Data. It makes you proficient in tools and systems used by Big Data experts. It includes training on Hadoop and Spark, Java Essentials, and SQL. The program is customized based on current industry standards that comprise of major sub-modules as a part of the training process. This program is designed by the industry experts to provide hands-on training with tools that are used to speed up the training process.
This program follows a set structure with 4 core courses. It makes you an expert in key technologies related to Big Data. At the end of each core course, you will be working on a real-time project to gain hands-on expertise. By the end of the program, you will be ready for seasoned Big Data job roles.
Software Professionals working in outdated technologies, JAVA Professionals, Analytics Professionals, ETL Professionals, Data warehousing Professionals, Testing Professionals, Project Managers can undergo our Hadoop training in Chennai and make a career shift. Our Big Data Master Training will give hands-on experience to you to meet the demands of industry needs.
Batch Schedule for Big Data Masters Program
Besant Technologies provides flexible timings to all our students. Here are the Big Data Masters Program in our branches. If this schedule doesn't match please let us know. We will try to arrange appropriate timings based on your flexible timings.
Training will cover java architecture and make you expert in developing the code with various data types, conditions, and loops.It will also cover memory management is handled in java and help you create a java project in Eclipse and execute it.
Core Java Course Syllabus
Data types and operators
Control statements
Classes and objects
Constructors and methods
Interfaces and packages
Method overloading and overriding
Inheritance
Exception handling
Generics
Enumerations
Annotations
The enhanced for loop
Varargs (variable-length arguments)
Multithreading
The I/O classes
Networking
The Collections Framework
Our SQL Training aims to teach beginners how to use the SQL in RDBMS. SQL Training provided by real-time corporate experts. SQL Training by top industry professionals and standards are certified by Oracle Corporation.
Oracle SQL Training Syllabus
Introduction to Oracle Database
Retrieve Data using the SQL SELECT Statement
Learn to Restrict and Sort Data
Usage of Single-Row Functions to Customize Output
Invoke Conversion Functions and Conditional Expressions
Aggregate Data Using the Group Functions
Display Data From Multiple Tables Using Joins
Use Sub-queries to Solve Queries
The SET Operators
Data Manipulation Statements
Use of DDL Statements to Create and Manage Tables
Other Schema Objects
Control User Access
Management of Schema Objects
Manage Objects with Data Dictionary Views
Manipulate Large Data Sets
Data Management in Different Time Zones
Retrieve Data Using Sub-queries
Regular Expression Support
Learn how to use Hadoop from beginner level to advanced techniques which are taught by experienced working professionals. With our Hadoop Training, you'll learn concepts in expert level with practical manner.
Big Data – Challenges & Opportunities
Installation and Setup of Hadoop Cluster
Mastering HDFS (Hadoop Distributed File System)
MapReduce Hands-on using JAVA
Big Data Analytics using Pig and Hive
HBase and Hive Integration
Understanding of ZooKeeper
YARN Architecture
Understanding Hadoop framework
Linux Essentials for Hadoop
Mastering MapReduce
Using Java, Pig, and Hive
Mastering HBase
Data loading using Sqoop and Flume
Workflow Scheduler Using OoZie
Hands-on Real-time Project
Apache Spark is created for in-memory computing for lightning speed processing of applications. Apache Spark is basically a processing engine built with the objective of quicker processing, ease of use and better analytics.
Module 1: Getting Familiar with Spark
Apache Spark in Big Data Landscape and purpose of Spark
Apache Spark vs. Apache MapReduce
Components of Spark Stack
Downloading and installing Spark
Launch Spark
Module 2: Working with Resilient Distributed Dataset (RDD)
Transformations and Actions in RDD
Loading and Saving Data in RDD
Key-Value Pair RDD
MapReduce and Pair RDD Operations
Playing with Sequence Files
Using Partitioner and its impact on performance improvement
Module 3: Spark Application Programming
Master SparkContext
Initialize Spark with Java
Create and Run Real-time Project with Spark
Pass functions to Spark
Submit Spark applications to the cluster
Module 4: Spark Libraries
Module 5: Spark configuration, monitoring, and tuning
Understand various components of Spark cluster
Configure Spark to modify
Spark properties
environmental variables
logging properties
Visualizing Jobs and DAGs
Monitor Spark using the web UIs, metrics, and external instrumentation
Understand performance tuning requirements
Module 6: Spark Streaming
Understanding the Streaming Architecture – DStreams and RDD batches
Receivers
Common transformations and actions on DStreams
Module 7: MLlib and GraphX
A survey from FastCompany reveals that for every 100 open Big Data jobs, there are only two qualified candidates. Are you ready for the Shift?
Big Data Analytics job has become a trending one currently and it is believed to have a great scope in future as well. There is a survey which states Big Data Management and Analytics job opportunities has been increased in 2017 when compared to the past 2 years.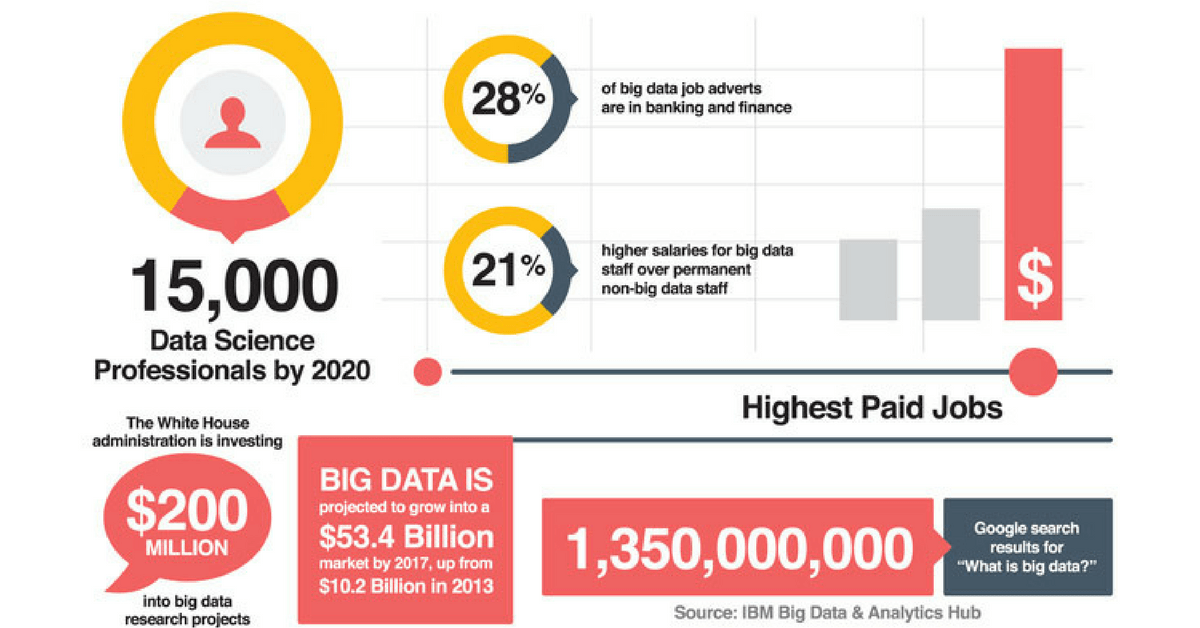 Frequently Asked Questions

Masters Program is a structured learning path recommended by leading industry experts and ensures that you transform into an expert Big Data Master.Being a Big Data Expert requires you to be a master of multitude skills, and this program aims at providing you an in-depth knowledge of the entire Big Data Ecosystem.

Individual courses at Besant Technologies focus on specialization in one or two specific skills, however, if you intend to become a master in Big Data, then this is the path for you to follow.

Our commitment to equip you with a 360-degree understanding of the Big Data means we cover a broad array of topics to ensure you build the best foundation for success, which includes: Java Essentials Hadoop, Spark, and SQL many more.

The recommended duration to complete this program is 60hours, however, it is up to the individual to complete this program as per their own pace.

Yes, We would be providing you with the certificate of completion for every course that is a part of the learning pathway, once you have successfully submitted the final assessment and it has been verified by our subject matter experts.