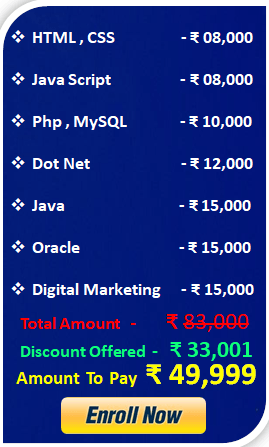 The career advancement programs set professionals on the path of continuous learning, helping them upgrade their skills on a consistent basis and build expertise in the technologies of tomorrow. At the same time, these Masters Program courses enable learners to acquire skills in specific industry segments, positioning them as domain specialists in these areas.
If you have graduated or fresher and you are looking for job assured training programs in IT then we have a uniquely carved training program based on industry requirements and is a blended course comprising of Technical, Communication,  and Projects.
Fresher Master Certification Training Course will prepare you for a career in the fast-growing field that bridges the gap between software developers and operations. You'll become an expert in the principles of continuous development and deployment, automation of configuration management, inter-team collaboration and IT service agility.
Overview of HTML
Formatting text with HTML
Adding local and remote links
Adding graphics
Creating lists in HTML
Creating tables in HTML
Setting Body and Background Attributes
Web Page Design Guidelines
Adding Links to other Internet Services
Types of Style Sheets
Inheritance and Cascading Order
Formatting Text and Fonts
Formatting Colors and Backgrounds
Exploring CSS Class and ID Attributes
Create Your Own HTML Tags
Positioning Block-Level Elements
Introducing The Document Object Model (DOM)
Introduction
Developer Essentials
Starting to Code
Interacting with Users
JavaScript Language Essentials
Creating Rollovers and More
Building Smarter Forms
Handling Events
Working with Cookies
The DOM, Nodes, and Objects
Working with Dates and Times
Real World Applications of JavaScript
Introduction of Web & PHP
First Steps
Exploring Data Types
Control Structures: Logical Expressions
Control Structures: Loops
User-Defined Functions
Debugging
Building Web Pages with PHP
Working with Forms and Form Data
Working with Cookies and Sessions
MySQL Basics
Using PHP to Access MySQL
Building a Content Management System (CMS)
Using Site Navigation to Choose Content
Application CRUD
Building the Public Area
Regulating Page Access
Advanced PHP Techniques
Introduction to Object-Oriented Programming (OOP)
OOP in Practice
Working with Files and Directories
Sending Emails
Theory, Terminology, and Concepts
Data Definition using SQL
Basic Data Manipulation using SQL
Advanced Data Manipulation using SQL
Transactions
Import/Export
VB.NET
C#.NET
ASP.NET
ADO.NET
Core Java
J2EE
Struts
Hibernate
Spring
AJAX
SQL
Introduction to SQL
Retrieving Data
Updating Data
Inserting Data
Deleting Data
Sorting and Filtering Data
Advanced Filtering
Summarizing Data
Grouping Data
Using Subqueries
Joining Tables
Managing Tables
Using Views
Stored Procedures
Using Cursors
Using Transactions
PLSQL
Basics of PL/SQL
PL/SQL structures
Error checking – exception handling
Boolean logic in PL/SQL
Cursors in PL/SQL
Iteration in PL/SQL
Bulking in PL/SQL
Basics Digital Marketing
Analysis and Keyword Research
On Page
Off Page
Seo Updates and Analysis
Local Business & Listing
Google Ad words Or Pay Per Click Marketing (Sem)
 Social Media Optimization (Smo)
Social Media Marketing (SMM)
Web Analytics
Web Master
Content Marketing
 Mobile Marketing
Video Marketing
WordPress Seo Concepts
Creating A New Simple Website
Email Marketing
Sms Marketing
Live Practicals
Interview Preparation
Fresher Master Program Jobs Out Look
These Fresher Master Program courses enable students to boost their career prospects and find placement in both IT and non-IT industries.
Frequently Asked Questions
The main language used for web-designing are
HTML: Base template
CSS: Styling
JavaScript: Functionality
PHP: Server side scripts

Responsive design is an approach to building sites to provide an optimal viewing and interaction experience. It focuses on easy navigation of site with a minimum of scrolling, panning and resizing across all devices.

To integrate CSS file with any number of HTML files, you have to integrate the file after thetag using "Link" property.

Digital marketing is a bit of a catch-all phrase to cover all the services we offer. There are likely all sorts of definitions, but in our particular case it covers anything based online. This includes:
SEO
PPC
Analytics and conversion rate optimisation
Content creation and marketing
Social media
Email marketing
Marketing automation

Content marketing has been around for decades, but more recently has been used in the digital marketing world to mean creating content for either on-site or off-site use in order to gain links, social shares and traffic.