Selenium Training in Tambaram Bangalore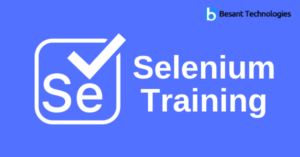 No: 1 Selenium Training Institute in Tambaram– Besant Technologies guarantees 100% placement. If you want to establish a strong career base in the highly competitive scenario, then enroll in the Selenium Training in Tambaram. Besant Technologies is strongly recommended for offering the best Selenium Course in Tambaram area. We follow a scientifically strategized course diagram followed by our certified instructor with over 15 years of working experience in diverse IT companies of international reputation. Our trainers are ready to offer Selenium Online training course, Selenium in Classroom training, and Selenium Corporate Training programs per from beginners to advanced course. Depending on the candidates' requirements we conduct the Selenium Course in Tambaram classes on weekdays and on weekends.
Best Selenium Training in Tambaram
Besant Technologies has earned the goodwill for offering high-end Selenium Course in Tambaram. We are reputed for ensuring provisions for group class Selenium course training besides One-on-One Selenium Training in Tambaram Chennai. We cover a long list of topics including Introduction to Automation, Automation Testing, Introduction and a detailed study on Selenium, Object Repository Recording Modes, Framework in Selenium, Virtual Object Debugging, Parameterization Actions, Checkpoints, Regular Expression Recovery Scenarios, Step Generator, Descriptive Programming Basics of VB Scripting besides, and a few real-time scenarios. Our trainer focuses more on practical based training more than concentrating into theory.
Our journey with the candidates doesn't end with offering them the Certificate. Besant Technologies, unlike other Selenium training institutes in Tambaram, stays connected with the candidates until they get recruited. We have a separate placement cell run by a team of expert professionals working rigorously to help the candidates to get placed at a reputed IT MNC company. Even being the No-1 Selenium Training Institute in Tambaram we have kept the fee affordable. Enjoy the best Selenium Training in Tambaram with Besant Technologies.
Different Modes of Selenium Training in Tambaram
Best Selenium Training in Tambaram Get enrolled for the most demanding skill in the world. Selenium training will make your career a new height. We at Besant technologies provide you an excellent platform to learn and explore the subject from industry experts. We help students to dream high and achieve it.
Batch Schedule for Selenium Training in Tambaram
Besant Technologies provides flexible timings to all our students. Here are the Selenium Training Classes in Tambaram Schedule in our branches. If this schedule doesn't match please let us know. We will try to arrange appropriate timings based on your flexible timings.
 Syllabus of Selenium Training in Tambaram
Web Driver 3.0 Training
Course Objective
Understand Oops /java concepts
Selenium IDE, RC
Selenium WebDriver tool in depth, it's features & components
Building a new Test Framework by using Web Driver, Test NG, and Maven
Selenium Introduction
Selenium Introduction
What is Selenium and Why Selenium
Use of Automation Testing?
Explanation of Selenium and its advantages
Differences between Selenium and QTP
Selenium Components
Introduction of selenium Components
OOPs concepts and Core Java Introduction
OOPs concepts
Setup Java environment – Download JDK and Setup eclipse
Java programming concepts
Class, Object, variables, methods, Packages
Conditions and loops
Access and non-access modifiers
Advanced Java Programming
Interfaces, Inheritance
Collections, Exceptions
Selenium IDE and RC Introduction
Installing Selenium IDE
"Selenese" – Selenium Commands
Actions, Asserts, Assessors.
Developing Test Cases & Test Suites with Selenium-IDE
Introduction to Selenium RC
Installations
eclipse-Oxygen
JDK 1.8
Firefox 47.0.1, firebug and file path
Set up TestNG, Maven and Selenium (2.53.1 &3.0 +) for eclipse
Selenium WebDriver 2.0 and 3.0 Introduction
Selenium WebDriver Introduction
WebDriver Vs RC
Download and Configure WebDriver with Eclipse
Simple Testcase
Open and Close Browser
Cross Browser Testing – Firefox, IE, Chrome, Edge.
UI elements Locators.
Identifying WebElement using id, name, link text,Partial LinkText class Name,
XPath, CssSelector and TagName.
Handling various WebElement using WebDriver
Handling Mouse movements and Keyboard Events
Gecko-Driver
Verification Commands
a.How to get Title
b.How to get Current Url
c.How to get PageScource
d.How to get WindowHandel
e.How to get WindowHandels
f.How to get Text
g.How to get Attributes2.Validation commands:
a.IsSelected
b.IsEnabled
c.IsDisplayed3.How to operate with WebTable4.How to Handel Alerts in webpage5.Switch Commands:
a.how to switch windows or Tabs.
b.how to switch Alerts.6.How to operate with calanders7.Synchronization Commands
a.Thread.sleep();
b.ImplicitWait
c.ExplisitWait
File uploading using Auto-It and Robot.
Testing Framework and Tools
Introduction of the Testing framework
Types of frameworks
Tools for developing Test Framework
TestNG introduction and Configuration with eclipse
TestNG Annotations and Data Providers
Creating Test Suit with TestNG
Framework
Moduler Frame work
POM
Data driven
paramitarization
Hybrid Framework
Develop Hybrid Framework
Developing Hybrid Framework for Web Application using WebDriver /TestNG and Maven
Use external Data for Testing (Excel sheet, XML files, Property file)
Reading and understanding reports
Screenshots of failed Test case
Configuration Management
Jenkins Installation
Maven Installation
Dependencies and configure Maven Project
Integrate Maven projects in Jenkins.
Available Selenium Certification after Selenium Training in Tamabram, Chennai
Once you take Selenium Training in Tambaram at Besant Technologies and clear it, you subject yourself to a course completion certificate, which we award you on time.
Related Course to Selenium
Students who were enrolled for this course most likely joins in any of these courses additionally to enhance their profile in IT industry.
Frequently Asked Questions
Students Reviews of Selenium Training in Tambaram
Selenium Training in Tambaram Reviews have given by our students already completed the Selenium training with us.
Initially, I had the interest of learning selenium. Hence I chose Besant Technologies to fulfill my interest in the subject. Mr.Manoj was my trainer who was friendly in nature and gave a detailed session about WebDriver tool ,framework etc in detail. I have completed my course successfully.    I also register that it is one among the best institution I have ever seen.
The course was sufficiently challenging. It enabled me to achieve my learning objectives. I had a clear idea of what I expected to do in this course. There was elaborated class on each objective by my trainer. All sorts of frameworks where thought practically by testing method. Thanks to Besant Technologies. /accordion_toggle] [accordion_toggle title="Rajendran ( Placed in Infosys )" Best environment to learn the desired course. Concepts of Oops, java, Selenium Web Driver tool were made easy by various test and training classes. A expand view on the new Test Framework using WebDriver, Test NG, and Maven were also given. I have completed my course with the best knowledge on selenium.
I am really happy to give my review about the best-reputed institution on selenium training. Mr.Manoj was my trainer who took over the class every interestingly like an interactive session. I also gained the detailed knowledge about selenium by undergoing various testing class.
Selenium is a tool in which we have control for our browser. It has various tools like Selenium IDE, Webdriver and Grid. These topics were taught completely. I felt really useful on learning these courses in Besant as it is widely required in industry. I salute my gratitude to the team of Besant Technologies.
Besant Technologies is a place where you can get enough gain of knowledge about plenty of courses. It is the best training institute with friendly management and good assisting staffs. I completed my course of selenium which made me feel that I should learn some other course too in the same institution. I whole heartedly thank Mr.Manoj for his well supportive training.
Please give your feedback as well if you are a student. For More Selenium Reviews and Testimonials Click Here!