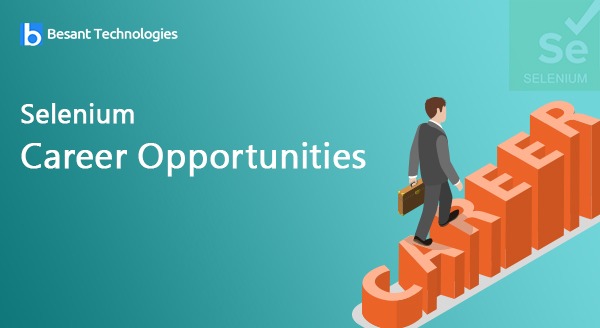 Selenium Career Opportunities
Selenium Career Opportunities
Are you suspicious about pursuing your career in web testing field? Well, landing on this page might just be the best co-incident as we are here to discuss about the various career opportunities as a tester. It has grown tremendously and has become one of the most integral parts of various businesses.  When it comes to web testing tools, Selenium has surely become one of the best in the industry to help you with automation testing services.
The rise in web components with the blocking of APIs by Mozilla, Chrome, and Edge has literally enhanced the use of testing tools. Being the poster boy, the use of Selenium has seen around 300% growth in terms of the job posting in the last 3 years.
Click Here! → Get Prepared for Interviews!
Let's Unveil Selenium Testing Tool In Detail
If you are looking for a tool to help you with results in a very precise way, then Selenium testing has to be the most preferred choice for you. It more expandable and flexible in its approach. So, if you are skilled and trained professional, you can surely have a big opportunity to work as Selenium tester all the time.
The written test cases will be modified to automation scripts by the respective testers. So, for conversion, one needs to have adequate know-how or understanding of programming languages like C, C#, Java, and Perl. Model-based testing is surely on the rise and testers are going to benefit from it big time.
The Rise Of Selenium WebDriver
There are many reasons which make Selenium WebDriver popular to help businesses attain the best results and few of them have been mentioned below, take a look:
With the help of selenium testing tool, you will be able to easily use and explore the world of API.
You will have no difficulty in the maintenance plus it is very easy to read.
Getting the results becomes much quicker and efficient with the help of Selenium testing application.
So, these benefits are literally helping Selenium WebDriver to be a very popular term in the world of testing where a number of people are gaining the understanding of it to avail jobs in various organizations. Yes, there is a big leap in the numbers of when it comes to jobs related to it and too with very attractive packages.
Click Here! → To Get Selenium Certification Training!
A Career In Selenium Automation Testing
As the number of companies has started to use web applications the need for Selenium is shooting up. You will find a number of vendor tool providers are making use of Selenium technology which can help with web application testing. Selenium has experienced good growth in a short period of time and this has boosted the market for test automation.
The clients will be able to receive ROI quicker as the testing cycles get lesser with the use of Selenium. So, as automation test expert, one must have a complete understanding of the domain on the specific application they are working upon. Below mentioned are some of the popular job roles you can consider to work as a Selenium WebDriver professional, take a look:
Automation Test Lead
Senior Test Engineer
Quality Engineer
Selenium Automation Analyst
QA Engineer
The most interesting part is the industry has experienced a humongous surge in creating job opportunities with very exciting packages. So, you must take the assistance of experts and get yourself qualified enough to make the best of the respective opportunities.
Conclusion
Selenium is one of the most preferred options when it comes to automated web testing. With the rise of Selenium, it is quite obvious that the job opportunities in the respective field will surely become bigger and better in the coming time. So, it is time for you to make the most of it!
Related Blogs