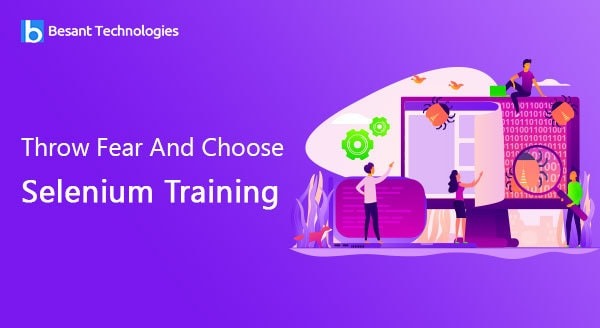 Throw Fear And Choose Selenium Training
With the growing trend of web components in this digital world, web testing becomes more important and continues to be popular. There are number of testing tools available in the market out of which selenium has a special place. The job opportunities for selenium testing work is also on rise. The main feature of selenium that makes it remarkable is the open source nature. Also it doesn't require much scripting knowledge to use this tool. It is evident that about 60% of job employment in testing industry has specific demand selenium talent. Owing to this the number of Selenium Training in Chennai keeps on increasing. Let us discuss more on selenium features that makes it spotlighted.
Esteem of Selenium Testing Tool
The most commonly used selenium testing tool is selenium web driver that provides a friendly API. This is much easy to understand and explore more. The job opening regarding this testing suite is always marching upwards across the world. The demand for selenium talent is high in countries like US and UK. The benefits of the tools that makes it more affordable are cost effectiveness, compatibility, speed and much more. Also most of the companies are preferring selenium for the testing purpose. Compared to manual testing, selenium testing process is far popular with features like reduced time and effort also cost effectiveness. A migration is always necessary in any field, in the same way a shift from manual testing to selenium usage is worth.
Click Here! → Get Prepared for Interviews!
Reasons behind Why Selenium is On Hot Seat
Almost free
Demand in adoption
Browser compatibility
Speed of migration
Ease of integration
No manual scripts needed
Early identification of migration risks.
Selenium Job Role
As mentioned earlier the job opportunity for selenium testing keeps on increasing and the job profile goes like this- quality engineer followed by test lead to QA engineer, selenium automation analyst and senior test engineer. If you have decided to explore your career in Selenium field then it is a wise decision as per the trend. A proper selenium training with certification will act as an evident for your selenium skill.

Selenium Salary Trend
It is expected that the median salary provided for selenium talent in US is about 94,000 USD. Based upon the experience the salary graph goes increasing. It is seen that the selenium job opportunities only continues to grow and the salary trend is almost the same as that of US across the nation.
Future of Selenium
There is no doubt in the growing popularity of operating systems like android and iOS. Till then the demand for selenium skill will also be growing. Increasing trend of these web application always paves way for a bright and potential career path in selenium industry.
Selenium Career Scope
The above mentioned points have the enough reason to pick up selenium as your career profile. Selenium training in Chennai has a special place in finding the best selenium talents. In Selenium Training centres the individuals are given opportunities to get real time and practical way of training to explore more.
Related Blogs