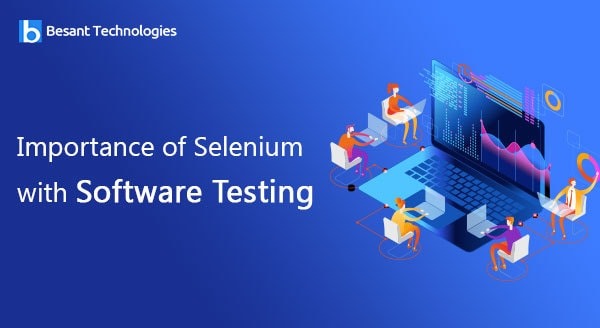 Importance of Selenium with Software Testing
Selenium is an important testing tool for software quality assurance. In recent days number of websites are increasing rapidly and it becomes essential to test the websites against various quality factors to make sure it meets the expected quality goals.
Selenium-An Introduction
Selenium is a freely available testing tool available in market to test web based applications to measure the performance. The main feature of the Selenium tool is the testing capability across different browsers and operating systems. The major four components of Selenium is Selenium IDE, Selenium RC, WebDriver and Selenium Grid.
What makes Selenium performs better than any other testing tool in the market, let's have a look at the reasons behind and history.
Click Here! → Get Prepared for Interviews!
Selenium-Origin
In the year 2004, Jason Huggins developed the Selenium testing tool. In order to perform the frequent and repetitive testing against web applications he developed a Java Script which is later named as Selenium. The former name of the program is "Java Script Test runner".

Why Selenium?
Several companies are spending a lot of bucks for the testing tool while Selenium is available completely free for the performance test. The open source tool is well known for its unlimited capabilities and unlimited reach.
If you are using a paid tool the actions are limited whereas the upgraded version could perform the desired action. Selenium stands out from the crowd in this aspect. Anyone could visit the Selenium website and download the latest version and use it. It is not only an open source but also highly modifiable. Testers could makes changes based upon their needs and requirements.
The above mentioned features makes it more feasible among the companies are they are looking out for skilled Selenium testers. Selenium Training in Chennai is becoming more prominent by this fact. Selenium training is also become common in the testing environment. If you are proficient in Selenium usage and for sure you can play around testing.
Selenium Testing Suite
Selenium IDE, Selenium RC, Selenium WebDriver and Selenium Grid are the Selenium testing Suite. These frameworks are simplest and easiest to learn in the Selenium testing suite. Knowing the benefits of the Selenium Testing Suites, Selenium has become the most popular and preferable testing tool in the Testing world. It has also become the first choice for the testers to test GUI and web applications. The Selenium Testing Suite also helps in reducing the time and cost to achieve the performance goals.
How can you learn Selenium
There are a number of Selenium Training centres available as per today's trend. Selenium Training in Chennai is getting a spotlight because of the demand. Get yourself joined in a reputed Selenium training centre to shine as a successful tester.
Related Blogs