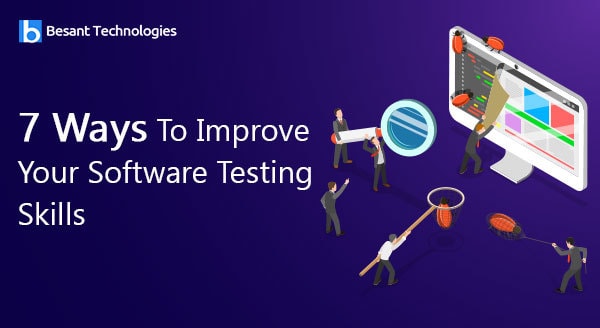 7 Ways To Improve Your Software Testing Skills
Software Testing is the best technology in recent days. The aim of this post is to provide you with the best practices that helps in improving your software testing skills. In any industry it is mandatory to update yourself with latest trends and changes that supports you to survive in the field. Even after years of experience if you are not able to find the bugs in the system testing then definitely you need to work on to build up your skill. With the growing trend in software testing industry the demand for testing skill is on rise. This leads to the emergence of many Software testing training in Chennai. In order to make your footprints stronger in testing sector learn more and keep yourself updated.
Learn Agile Methodology
The tester's efficiency is measured with the quality of work and meeting the deadlines. In order to meet the delivery deadlines testers should learn agile and DevOps methodology as it helps in promoting collaborative and iterative working models. Agile methodology supports in improvise the speed of the testing process and DevOps takes care of the cross function team work that includes development, analysis and QA process. These methodologies will yield high quality end product with reduction of time and let the techies to work on continues releases.
Click Here! → Get Prepared for Interviews!
Automation Process
With the evolution of modern technologies, it is not advisable to rely on manual testing process alone. Automation skill in fact helps the testers in work on browser compatibility, performance and integration layers. Testers with good automation skill can deliver the project with higher accuracy. There are number of testing tools available in market. Keep updated yourself with these automation tools with different testing type respectively. With the help of these automation tools testing process could be done quickly and effectively.
Web & Mobile Technologies
Nowadays every applications are released with both web and mobile compatibility. Every tester is expected to be familiar with both web and mobile technologies that helps them to understand the type of application and scalability. This also helps in choosing the right testing action. Testers are expected to keep an eye on both web and mobile technologies to deliver effective QA solutions.
Test Plan & Documentation
A good tester is expected to have test planning and documentation skill to identify the requirements of the testing process. This kind of skill helps in tracking the process easily and identifying any changes in the requirement and helps in reporting at right time. It not only stops by tracking the process but helps the enterprise to allocate budget as well. Every tester to learn about planning and documentation skill to explore more.

Different Stages of Software Development
It is suggested to have testers involved in all stages of software development. It helps the testers to gain more knowledge and better understanding about the application under test. If the involvement of testers is in the starting stage itself the number of bugs could be find out earlier. It results in reduction in time and is cost effective also. Early preparation of testing environment provides enough time to work on unknown risks as well. Also get in involved with decision taking meetings to understand better about the application.
Programming Skill
It is not necessary that testers must be proficient in programming but it is expected to understand the in and around working principle so that they can be able to locate the bugs in the programming level. Reduction of bugs in the application code level helps in reduction of time and effort and improves the application efficiency.
Reporting
Reporting skill is another pillar that support your testing career. This skill helps in provide an outlook on the project and the application working status. Overall better coordination about the test project could be maintained.
It is always a wise idea to go with software testing profile with the above mentioned skills. Walk in to software testing training institute for a kick start with testing training. Software testing training in Chennai has more exposure for testing talents in which their software testing training is more of practical way of approach.