Overview of Python Course in Chennai
What is Python?
Python is one popular and most crucial high-level programming language utilized for software development, web development, system scripting, and mathematics.
There are two primary factors why we have to use Python is software quality and developer productivity. It's commonly used in a variety of domains like Web programming, Internet Scripting, database, numeric and scientific programming, Gaming thus it also known as a general-purpose language.
The major technical strengths of this language are readability, easy to use, and learn, it's free and supported object-oriented, it is portable.
Python Training has dynamically typed language so every operation can be done on the fly. Python codes can be shipped or placed on the web more securely as it execution involves Python® Virtual Machine ( PVM ) and bytecode compilation which is platform-independent. Python is a high-level language with features of object-oriented programming.
Click Here to Know About → Top 12 Reasons to Learn Python
What can Python do?
Python can be utilized aside software to develop workflows and perform data analysis.
It can operate on servers to build web applications.
Database systems can be connected with Python to read and revise files.
Big data and complex mathematics can be handled using Python.
It is commonly used in a variety of domains like web programming, database, internet scripting, numeric and scientific programming, gaming. Thus it is known as a general-purpose language.
Why Python?
Clear syntax and expressive
Easy to use
Supports object-oriented and functional programming
Highly compact and manageable.
Employs machine-independent byte codes
Works on different platforms
Objectives of Python Training at Besant Technologies
The course structure delivers a detailed understanding of scripting elements like variables and flow control.
The Python training brings up basics to advanced levels of the language.
Regular expression, data type, Tuple, and array are other special features in the academic structure.
The standard library of Python and its object-oriented features are introduced.
Reasons to Choose Besant Technologies for Python Training in Chennai
We are the best python training institute in Chennai, delivering the best Python code training, covering all course modules during the python training classes. Students can also enroll for 100% python placement training.
Our team of trainers is working professionals having more than ten years of training expertise. An Industry Expert and working professional supports students in completing live projects and provides interview questions, preparation classes, and job placement assistance.
The Chennai training institute of Python Course at Besant Technologies is a meticulous learning journey that facilitates the participants to get well oriented with the essential Python concepts.
Under the supervision of expert Python professionals, this python program also provides hands-on classroom training in Advanced Python frameworks that includes Lambda Function, Exception Handling, Decorators, Collections, Generators, etc., Python Machine Learning, and Python Data Science.
Aspirants will gain the core abilities required by a software engineer to tackle real-world challenges after completing the Python programming certification course.
Students gain the ability to debug programs, construct various algorithms, and professionally execute python code.
Why Wait? Take a 100% Placement Assurance Python Course in Chennai to kickstart your career!
Click Here to Check Latest Updated – Python Interview Questions and Answers
Eligibility for Python Training
The Python programming course is open to all students. Students from any discipline can enroll in Python courses, whether they are graduates, postgraduates, or 12th graders. The Python course is heavily focused on teaching students the fundamentals of the language. Any Freshers, B.E./ Bsc Candidate, Any Engineers, Any Graduate, Any Postgraduate, Working Professionals can enroll in this course.
Prerequisites for Python Training
Willingness to learn is the foremost prerequisites
Additionally, basic knowledge of coding will help you understand things better.
Work experience in software is an additional benefit
Knowledge of C, C#, Java will make learning python easier.
Basic understanding of loops, arrays, and standard libraries is also beneficial.
Above all, the course has no complicated requirements. Still, students must be patient, attentive, and have a basic understanding of programming fundamentals. In order to be a great programmer, students must also have strong analytical skills.
Click Here to Check Latest Updated – Python Tutorials
Answer 3 Simple Questions
Get upto 30%* Discount in all courses. Limited Offer. T&c Apply.
Take Part
Python Training Course Syllabus
Module 1: An Introduction to Python
What can Python do?
Why Python?
Good to know
Python Syntax compared to other programming languages
Python Install
Module 2: Beginning Python Basics
The print statement
Comments
Python Data Structures & Data Types
String Operations in Python
Simple Input & Output
Simple Output Formatting
Operators in python
Module 3: Python Program Flow
Indentation
The If statement and its' related statement
An example with if and it's related statement
The while loop
The for loop
The range statement
Break &Continue
Assert
Examples for looping
Module 4: Functions & Modules
Create your own functions
Functions Parameters
Variable Arguments
Scope of a Function
Function Documentations
Lambda Functions& map
n Exercise with functions
Create a Module
Standard Modules
Module 5: Exceptions Handling
Errors
Exception handling with try
handling Multiple Exceptions
Writing your own Exception
Module 6: File Handling
File handling Modes
Reading Files
Writing& Appending to Files
Handling File Exceptions
The with statement
Module 7: Classes In Python
New Style Classes
Creating Classes
Instance Methods
Inheritance
Polymorphism
Exception Classes & Custom Exceptions
Module 8: Generators and iterators
Iterators
Generators
The Functions any and all
With Statement
Data Compression
Module 9: Data Structures
List Comprehensions
Nested List Comprehensions
Dictionary Comprehensions
Functions
Default Parameters
Variable Arguments
Specialized Sorts
Module 10: Collections
namedtuple()
deque
ChainMap
Counter
OrderedDict
defaultdict
UserDict
UserList
UserString
Module 11: Writing GUIs in Python (Tkinter)
Introduction
Components and Events
An Example GUI
The root Component
Adding a Button
Entry Widgets
Text Widgets
Check buttons
Module 12: Python SQL Database Access
Introduction
Installation
DB Connection
Creating DB Table
INSERT, READ, UPDATE, DELETE operations
COMMIT & ROLLBACK operation
handling Errors
Module 13:Network Programming
Introduction
A Daytime Server
Clients and Servers
The Client Program
The Server Program
Module 14: Date and Time
sleep
Program execution time
more methods on date/time
Module 15: Few more topics in-detailed
Filter
Map
Reduce
Decorators
Frozen set
Collections
Module 16: Regular Expression
Split
Working with special characters, date, emails
Quantifiers
Match and find all
character sequence and substitute
Search method
Module 17: Threads Essential
Class and threads
Multi-threading
Synchronization
Treads Life cycle
use cases
Module 18: Accessing API Essential
Introduction
Facebook Messenger
Openweather
Module 19: DJANGO Essential
Besant technologies Python Training Syllabus will Cover all the fundamental and Advanced Topics in Python 3. This Python Course is Mixed with 90% Practical & 10% Theory Classes for 60+ Hours and also covers 3+ Real-time Projects Explanation using Python Classes, Objects, Loops, Exceptions, Multi-threading and API Designs. You Can download our Python Training Syllabus for your reference. Also you can write an email to info@besanttechnologies.com for your questions on Fees, Timing, Batches, Certification, and Placements.
Looking for Master your Skills? Enroll Now on Triple Course Offer & Start Learning at 24,999!
Explore Now
Python Course Duration for Upcoming Batch
Besant Technologies provides flexible timings to all the students. Below is the python class schedule for the python training course.
04-12-2021

Sat (Sat - Sun)Weekend Batch11:00 AM (IST) (Class 3Hrs) / Per SessionGet Fees

Can't find a batch you were looking for?
Corporate Training
If you want to give the Trending technology experience to your esteemed employees, we are here to help you!
Python Training Trainer Profile
A Python trainer at Besant Technologies gives total freedom to their students to explore, examine and learn Python courses based on real-time examples.
They are certified and working professionals with outstanding grades.
They are currently working as Python professionals with the top MNC in Chennai city.
They are well connected with hiring H.R.s in multinational companies.
They have practical communication skills to deliver the course with suitable examples in each Python class.
They have strong practical and theoretical knowledge of essential Python and Python Machine learning concepts.
They have expert-level subject knowledge.
Our trainers are continuously updated on industry trends and expectations to include them in the python programming project and corporate training.
Our instructors are entirely committed to helping our trainees advance in their jobs and get internship opportunities.
They offer all available assistance to participants to achieve their Python language learning objective and prepare them to face their interviews confidently.
Build your resume to the latest trend, and get a chance to know our Tie-Up Companies
Placed Student's list
Become a Python Certified Professional
Besant Technologies Certification is Accredited by all major Global Companies around the world. We provide after completion of the theoretical and practical sessions to fresher's as well as corporate trainees.
Our certification at Besant Technologies is accredited worldwide. It increases the value of your resume and you can attain leading job posts with the help of this certification in leading MNC's of the world. The certification is only provided after successful completion of our training and practical based projects.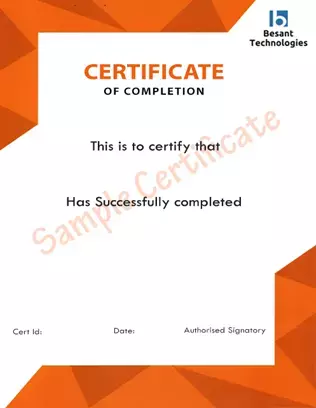 Besant Technologies Python Certificate will help you to boost your career. You Can Complete this certification within 3 months and is designed for 3 levels Beginner, intermediate and expert Levels which is Suitable for Freshers, seniors, and Project Managers respectively. 3000+ Certified Students on Besant technologies Chennai Branches.
This Certification Course will teach you Django and GitHub with Practical examples. By completing this certification you may get offers from top MNC like Google, Amazon, Flipkart, JPMorgan chase, and Infosys.
We recommended this Besant's Python Certification Course in Chennai for you to get a strong programming foundation and better career opportunity in the Software industry. Students can avail of this Course through Classroom or Online Classes.
Group Discount
If you have Three or more people in your training we will be delighted to offer you a group discount.
Key Features of Python Training in Chennai
30+ Hours Course Duration
100% Job Oriented Training
Industry Expert Faculties
Free Demo Class Available
Training Courses Reviews
One of my Friends recommended Besant technologies Python Course for me. I Enrolled Python Classroom Training in the Velachery Branch for Advanced Python Course. My Course was completed and also received my Certificate. From this Python 50+ Hours Course I learned a lot on Python Syntax and how to use Simple and easy Coding for web designing and also some basics on Django Framework for Game Development. 8/10 is My Rating for Python Course.
Sutha
Enrolled for Python Online Live Classes in Chennai at Besant technologies with Best Trainer Pandian. Currently My Trainer working in Banking Sectors he helps me to understand python libraries for finance and account. Since I am the B.Com Student this Course was very useful to implement the Real time Accounting Projects.9/10 is my Rating for this course.
Durai
Happy to Share my Python 3 Programming Training experienced in Chennai at Besant. The training went very well. I am happy about me in Python Skill. Recently I got Offer in Cognizant Chennai as a Python Developer with 6 Lacs Salary Package. Thanks to Besant Technologies & My Rating is 10/10.
Sharma
I got the confidence after taking the 1-month training on Python. Course structure, Trainer, Testimonials, Sessions, etc are very good and satisfactory. if you want to learn Python Course I will recommend going for the Besant Technologies. My trainer was Mohammed Yousuf Faasil, He is having great knowledge of Python and taught me the whole course structure in a very interactive and practical way.
Shabana
Frequently Asked Questions