What is Amazon Redshift?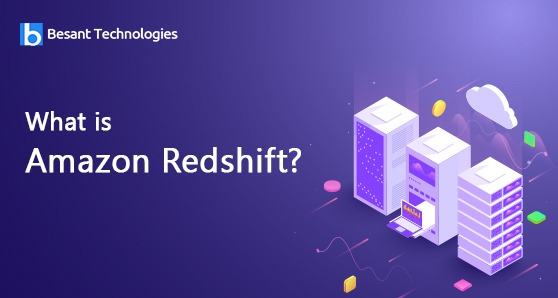 What is Amazon Redshift?
Amazon Redshift is a fully managed peta-byte scale data warehouse service by AWS where data generated by different sources is collected. This data is collected and stored for making the organization's decision. It is based on PostgreSQL and is also compatible with many of the third-party applications like Java Database Connectivity and Open Database Connectivity.
Many organizations have come up with challenges like setting up their own data warehouse. The first challenge is to set up a new data warehouse which takes a lot of time while implementing it according to necessity. The other challenge is that with the increase in the business growth of the organization the amount of data that needs to be stored may also increase, asking the organization to set up new hardware so that their performance will not be affected.
To solve such problems Amazon has come with a new cloud-based solution called redshift which is cost-efficient and fast-performing and is focused towards providing a reliable and scalable solution allowing the businesses to shift towards data-warehouse-as-a-service.
Amazon redshift knows that the organization doesn't need the same amount of space all the time to store its data. So it comes with an elastic resizing feature that helps the organization to add or remove nodes in the cluster as per requirement easily. It can be done in just a few clicks through AWS management console or by the simple API call.
Click Here -> Get Free AWS Tutorial
Types of nodes in redshift:
There are two types of nodes in redshift.
Leader node:
A leader node is one which receives the queries from the client application and then interprets the query and prepares the execution plan accordingly to process the queries. The leader node coordinates with the parallel execution of these plans with the computer nodes.
Computer node:
Computer node executes the plans specified in the execution plan and transmits data among the other nodes to serve the queries. These obtained results after execution are transmitted back to the leader node before they being sent back to the client applications.
Setting up a new a cluster using AWS console is very easy and it takes lesser time and there is no database admin tasks to routine perform as well, as the complete cluster is fully managed by Amazon web service itself. The server also performs a continuous backup to keep a check that organizations don't lose data under any situation.
Amazon Redshift cluster designed using massive parallel processing method. In this method instead of working on the whole datasheet altogether, the application will split it into multiple parts and processes those parts in parallel to get better results. Let us see the architecture of Amazon Redshift.
Click Here! -> Get Prepared for Interviews
Architecture of Amazon Redshift
The architecture hierarchy of amazon consists of many layers such as client applications, leader node, compute node, node slice. Every layer is interrelated and have specific task to do. Lets us see the function of each of these layer in brief.
Client applications:
Client applications are used to connect to Amazon Redshift cluster via JDBC or ODBC drivers.
Leader node:
Leader node is responsible for communicating with the client application and computer nodes.
Compute node:
Computer node performs functions such as loading data, taking backup and restoring the data.
Node slice:
Node slice is used for distributing the data within the node. Whenever the leader node assigns the operations to node slices they start working in parallel to complete the operation.
Some of the features of Amazon Redshift:
Supports VPC:
Amazon redshift supports VPC hence the users can launch Amazon Redshift within VPC and gain access to control the cluster with the help of virtual networking environment.
Encryption:
Amazon redshift helps the data stored to be encrypted and configured while creating tables in redshift.
SSL:
Here it uses SSL encryption method to encrypt connections between clients and Amazon Redshift.
It is scalable:
The most important of this Amazon shift is that it can easily scalable as per the requirements. Users can choose vertical scaling that is increasing the size instantly or either they can choose horizontal scaling meaning increasing computer nodes easily with just a few simple clicks.
Cost-effective:
Amazon redshift is very cost-effective compared to other service providers. Here no up-front costs are involved and there are no long-term commitments and it doesn't have any on-demand pricing structure.
MPP (Massive Parallel Processing):
One of the unique feature of Amazon Redshift is that it uses parallel processing to improve query performance. Massive parallel processing helps to reduce computing time and it also increases the query performance by utilizing a large number of processors to perform coordinated computations alongside.
Columnar storage:
Amazon Redshift used columnar database method in which it stores the data tables in columns rather than row to efficiently write and read data to and from hard disk storage to quickly return a query.
It uses advanced compression:
The other benefit of using Amazon Redshift is that it reduces the size of data which allows more data to be accumulated in storage space by compressing the data at column-level operation.
Great backup and restore:
Amazon Redshift attempts to keep at least 3 copies of data. It takes an automatic snapshot of cluster and user can also take snapshot manually.
Customized driver support:
Even though it is based on PostgreSQL it provides support to JDBC and ODBC drivers.

Conclusion:
Amazon redshift is one of the most talked and fastest growing service provided by Amazon in recent times. Its unique feature such as cost-effective, secured and flexibility in implementing has encouraged both small businesses and large enterprises to consider taking up this cloud-based service.
Click Here-> Are you Interested in AWS Course?
Related Blogs:
//php comment_form(); ?>