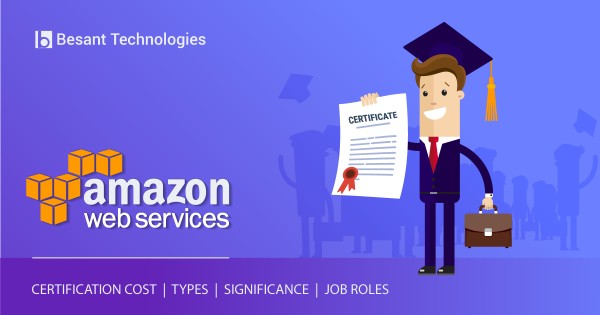 What is AWS Certification?
AWS Certification – Everything you need to know
You must have seen a number of people who are not sure about the AWS certificate value and they don't have the right information which certification is the right choice for their career. Well, the choice of AWS certification largely depends on the nature of work you are currently doing and it must be in-line with your career goals. The objective of this blog is to give you a clear idea of which certification entails you benefits. Let us start with a quick introduction to AWS first before we actually move to the blog AWS Certification.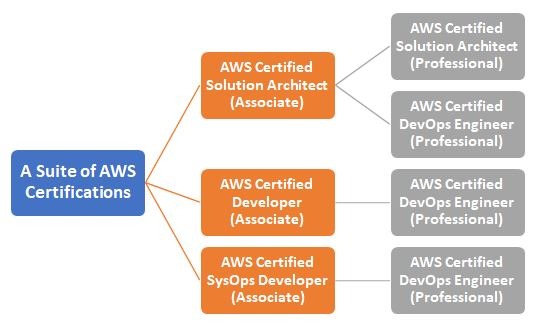 Amazon web services provide cloud computing platforms and web services to organizations, people, government, students etc., on a subscription or payment basis. Amazon web services are often referred to as "AWS" and it is a subsidy of Amazon.com. AWS is one of the public cloud computing service providers and he is the leader for public cloud. AWS offers around 90+ services spanning across different domains ranging from compute, storage, networking, application services, database services, analytics, IoT, Machine Learning security services and so on.,
There are five different certifications associated with AWS based on the specific domains that enhance your career opportunities to get more salary packages. Based on your career orientation or goals, you should choose the AWS certification path.
Each of the 5 AWS certifications come with salaries in excess of $100,000 – Forbes
A Suite of AWS Certifications
With AWS certification, you are always aligned to two broader streams. These are the AWS solution architects and DevOps Engineers.
To become a certified solution architect, you should first get the Associate – Solution Architect certification then the Professional – Solution Architect exams.
If you wanted to become an AWS engineer or DevOps certification then you should clear either Developer – Associate certification or the System Operations (SysOps) Administrator – Associate certifications.
Obviously, the final decision is always influenced by the stream of job or the nature of the work you are doing currently. Alternatively, the suite of AWS certifications is divided into three major blocks – Solution Architect, AWS engineer/Developer, SysOps Developer. While solution architect is an independent stream itself, the SysOps or developer certification could lead you to the DevOps engineer profession later.
The good news is that Associate – Solution Architect and the Associate – AWS Developer share the 50 percent content. So, when you are preparing one, other is learned by default. As per my experience, Associate – AWS Developer certification is easy to crack while Associate – Solution Architect teaches you about the basics of AWS services and all related concepts. If you are working as system administrator, managing virtual machines, or infrastructure then SysOps Developer – Associate certification is just the right choice to opt for.
Job prospects with AWS Certifications
According to research made by the Forbes, AWS certifications were ranked number one in 2016 with a global average salary $125,871.  AWS Certifications are ranked number one as "Highest Paid certifications". There are more than 4 Lac cloud computing jobs around the globe pervading into almost every business sector. Every Company needs qualified AWS professionals having hands-on expertize on their platforms. This is the main reason why AWS certified professionals are so popular worldwide.
Tips or Recommendations for the AWS Certifications
Here, I am giving you a cheat sheet to help you in preparing for the AWS certifications. However, each AWS certification has a different level of complexity, still, these tips will work for each of the certifications.
Exam registration fee for Associate level certification is $150.
Exam registration fee for Professional level certification is $300.
Practice exam registration fee is $20
There are usually Multiple-choice questions and Multiple-response
The associate level exam lasts for 130 minutes.
The AWS Certified Solutions Architect – Associate examination is a pass or fail the exam. Your results for the examination are reported as a score from 100-1000, with a minimum passing score of 720.
Get hands-on experience on different AWS tools and techniques that are taken an important part of certification and selection criteria for Companies as well.
Additionally, you should check exam blueprints or previous paper samples before you attempt for the final exam.
I hope this blog must have helped you to declutter your head about AWS certifications. In case, you have recently attempted any AWS certification then don't forget to share your experience with us. We would love to hear from you!
Related Blogs