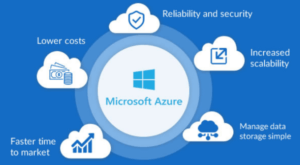 We, at Besant Technologies, offers the finest Microsoft Azure Training in Bangalore. We also work towards designing our Microsoft Azure Courses in Bangalore in such a way that employees are able to upgrade themselves without hampering their hour for the work day in the corporate industry.
Microsoft Azure provides working professionally with the boundless opportunities for scaling their career as a software developer. Thus we with this aim are here to provide you Azure Course in Bangalore. Moreover, syllabus as well as course outline at Besant Technologies are designed in such a way that it would definitely help you enhance your skill set trailed by a huge amount opportunities in the corporate world.
Microsoft Azure Training in Bangalore
Furthermore, we have highly skilled as well as proficient trainers in our institute who have experience of working in some of the top IT companies due to which, our institute is referred as one of the best Azure Training Institute in Bangalore.
After the completion of our Microsoft Azure Certification Training in Bangalore, you will definitely boost your expertise and acquire your dream job at your desired organization as you will proficient enough in Azure skill.
We can guarantee that our Azure Training Institute in Bangalore can enable you in becoming proficient in on-demand as well as highest paid exponentially growing IT skill along with IT skills wherein the professionals are earning good amount of salary in the industry.
We at Besant Technologies offer Fast-Track as well as One-on-One Microsoft Azure Training in Bangalore. Some of the key topics covered in our curriculum of Microsoft Azure Courses in Bangalore include Microsoft Azure Architecture, Cloud Computing, Microsoft Azure Service Bus, Azure Access Control Service, Microsoft Azure Administration, Microsoft Azure Features, Publishing Azure Solutions, Microsoft Azure Storage & queues, Microsoft Azure Caching, and Microsoft Azure Media Services. Moreover, a demonstration for all these topics will also be done with practical examples along with strong theoretical concepts.
If you're aspiring to attend a 100% job guaranteed program then a Cloud Computing course like Microsoft Azure training in Bangalore promises you a bright career ahead. The faculty is formed by a group of proficient experts working in the same domain for years.
By attending the 30-hour course, you can have a guaranteed placement which is a plus besides enjoying the flexibility of choosing study hours per your conveniences. The Microsoft classroom Training is strategically designed where you can either attend a one-on-one or a virtual classroom with many students. The Azure cloud training syllabus is also comprehensively designed.
Best Microsoft Azure Training in Bangalore
The best Microsoft Azure training center in Bangalore has proved their efficiency in building the careers of thousands of career aspirants by ensuring them proper training and guidance. By attending one of the best Microsoft Training courses in Bangalore, you can establish an excellent career for yourself. Choose the centers offering Microsoft training which become easier for working professionals as well as students to attend the course along with doing their own jobs.
When selecting the course- know about the course duration, syllabus, certification, and the guaranteed placement services. Microsoft azure training with certification will embark you to greater career ventures.
Different Modes Microsoft Azure Training
 Classroom Training
 One To One Training
 Online Training
 Customized Training
Get Quote for Free
Batch Schedule for Microsoft Azure Training in Bangalore
Besant Technologies provides flexible timings to all our students. Here is the Microsoft Azure Training in Bangalore Schedule in our branches. If this schedule doesn't match please let us know. We will try to arrange appropriate timings based on your flexible timings.
Microsoft Azure Certification Training in Bangalore
If you're eager to establish a strong career of yours with a handsome annual package, choose the best Microsoft Azure certification course in Bangalore. There are a few things to consider before you follow the next few steps of enrollment. Usually, the top Microsoft Azure training center in Bangalore strategically design the whole syllabus so that within the said time of 30 hours to 45Hours, the course can successfully cover all the significant areas
Know about the placement they provide on achieving the Microsoft Azure training with certification. Compare the rates and select the training center asking for an affordable fee cost with outstanding support.
What is Microsoft Azure?
Azure is the cloud computing platform of Microsoft, first released on February 1st, 2010. Azure cloud is adopted by many businesses globally from large to small as it ensures the privilege to build, deploy, manage and test their applications by selecting their favorite framework and tools on the global network.
Why should you enroll for Microsoft Azure Training?
By attending one of the best Microsoft Training courses like Azure- you can step ahead to establish a strong career in the upcoming days. With the growing interest of cloud computing- most IT companies are looking ahead to welcome onboard trained individuals on Azure cloud technologies.
Enroll for an Microsoft azure Certification training in Bangalore that stands by the students' side from teaching them theory to practical, guide them in doing the assignments and acquire the certification. With excellent faculty and support, they help the students in getting the placement by providing them suitable job interview questions on Microsoft Azure.
Microsoft Azure Training Syllabus
Cloud Computing
Microsoft Azure Architecture
Microsoft Azure Features
Installing the SDK
Creating the Cloud Solution
Emulating the Cloud
Microsoft Azure Web and Worker Roles
Input and Internal Endpoints
Publishing Azure Solutions
Azure Management Portal
Configuring Management Certificate
Preparing to Publish
Publishing from Visual Studio
Microsoft Azure Websites
Azure Websites Vs CloudServices
Creating a Website from Gallery
Publishing ASP.NET website to Azure Website using FTP
Hosting Models
Publishing through GIT
Using WebMatrix
Microsoft Azure Powershell
Microsoft Azure ServiceBus
Azure Service Bus Introduction
Service Bus Relay Service
Brokered Messaging
Topics and Subscriptions
Microsoft Azure Administration
Microsoft Azure Storage and queues
Microsoft Azure Caching
Caching Introduction
Role Based and Shared Caching
ASP.NET Support for Caching
Content Delivery Network
Azure Access Control Service
Introduction to Identity and fundamentals of ACS
Integration with ASP.NET
Microsoft Azure ACS integration with ADFS
Microsoft Azure Media Services
Introduction to Media Services
Building Workflows for creation, management and distribution of media
The prerequisites to get enrolled in Microsoft Azure is simple:
Knowledge of one or more supported development languages like .NET, Node.JS, PHP, etc.
The excitement and will to learn the Microsoft Azure technology
A free or a paid subscription to Microsoft Azure