What is AWS?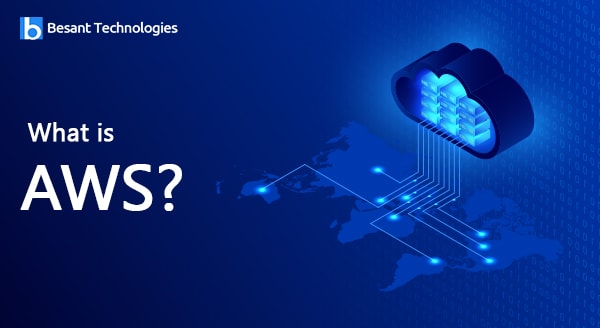 What is Amazon Web Service?
It was in the year of 2006 that Amazon started IT services to the market in the form of web services which got its name as cloud computing in the later years. In the usual scenarios we need to pay for the servers and other IT infrastructure, but in Amazon web service (AWS) we pay for what we use. In every single second thousand servers are spinning simultaneously which will deliver the results faster. Before going to the deeper sessions, we need to know the basics of cloud computing.
What is AWS?
AWS is a subsidiary of Amazon.com that offers cloud computing services at very reasonable prices that is suitable for small scale businesses like Pinterest that has only 5 employees and Gmail that has million of employees. Earlier when Companies were using their personal resources to store or compute instances, there was a need for global solution where you don't have to buy resources every time but still you can each them. Here, the role of cloud computing came into picture.
Now each Company has moved their data to the cloud to improve the performance and eliminating the backup issues too. In simple words, your data will never be lost even if you have not taken any backup. Since we need to adopt AWS in one or more ways, AWS being a major player in the industry here offering cloud services, so it makes sense to learn more about AWS and its related offerings too.
Click Here! → Get Prepared for Interviews!
Here are a few insights that will make you realize why adoption of AWS is so necessary by IT professionals worldwide.
The growth of cloud computing will reach up to $150 B by 2020 or more.
There are millions of jobs forecasted in the cloud computing field by experts.
The cloud adoption has increased the revenue up to 40 percent or more during the last few years.
Based on these stats taken from the Gartner or Forbes, this is clear that AWS is the latest trend in the IT industry and it is expected to grow surely in the near future as well.
Master the AWS Services
Compute – It helps in processing data on the cloud with the help of powerful processors where multiple instances can be executed together.
Networking – With this service, you could integrate the security or access features to your business application.
Database – It helps in managing relational or non-relational databased powered by the AWS.
Storage or Content Delivery – With this service, you could always store the data on the cloud anywhere but content delivery is used to cache data to the user with lower latency.
Management Tools – With the help of these tools, you could manage or check the progress of AWS instances.
Application Services – It includes the services like queuing, emailing or notifications etc.
Security – If you wanted to give access to a limited number of audiences then this is great using security features of AWS.
These all services are given under the AWS account. You just have to register yourself on AWS website and create a free account. Once an account is setup successfully then you can start using these services or instances in AWS based on your project needs. With this blog for What is AWS, now you have enough information about the topic and you can start using it for your next project immediately.
What is AWS? – Demystifying the Cloud Computing basics
This AWS tutorial is designed for professionals who are interested in learning cloud computing and wanted to become solution architects, AWS developers, engineers, or cloud experts in the near future. To learn AWS, you should know what is cloud computing first then we will discuss the AWS basics, its services, and price structure later.
What is Cloud Computing?
Cloud computing creates a web of remote servers that are worked on the internet basis having centralized data storage and the systems have got the chance to share the resources. It enables organizations to use the facilities rather than creating everything on their own. Clouds are of three types, public, private and hybrid. Regarding the service models, we have IaaS, PaaS, SaaS.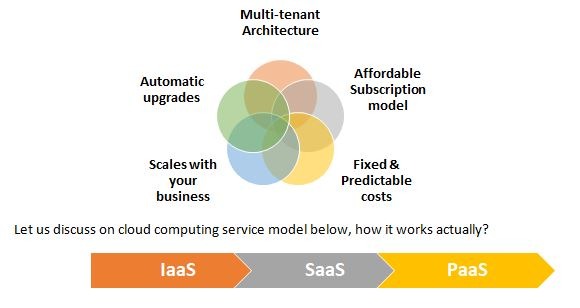 Cloud computing using resources from the web to store, manage, or process voluminous data instead of using your own servers. There are basically three major categories of cloud computing – SaaS, IaaS, and PaaS.
Some of the cloud computing attributes are given as below – Let us discuss on cloud computing service model below, how it works actually.
If we are talking about the AWS then it is more similar to the IaaS. Moving ahead we will discuss on AWS in detail and why it is actually needed by businesses?
Click Here! → Get AWS 100% Practical Training!
IaaS
IaaS stands for Infrastructure as a Service. It gives freedom to users to develop their own applications on the available resources. It means infrastructure as a service, if wanted to use infrastructure as a service for your next project then you could opt for this service model.
PaaS
PaaS stands for Platform as a Service. As the name indicates the service provider will provide services likes queues, workflow engines, databases etc. Using it, the customers can create their own applications. If you wanted to use platform as a service the you could opt for this service model where PaaS means platform as a service.
Saas
Saas stands for Software as a Service. Here the providers will give end-user applications to the customers with some administrative capability, which includes creating and managing the users. Customization is available here. It means software as a service, if you need software resources from the web for your application then you can opt for this service model.
Amazon Web Services (AWS) provides a mix of these three service models. AWS provides services from data centers that are located in different zones in the world. It is called Availability Zones (AZ). In each AZ, there will be multiple physical data centers. The AWS customer can sign up Virtual Machines (VMs) and can replicate the data.
The top services that are included in AWS are regarding the areas of computing, databases, application development, security, and infrastructure management.
Click Here! → To Get AWS Certification Training!
Amazon Elastic Compute Cloud (EC2)
Computing is done in AWS by means of Amazon Elastic Compute Cloud (EC2) which are virtual servers called instances having computing capacity. It provides an auto-scaling tool to dynamically scale the capacity. The usage of EC2 and EC2 Container registry helps the customers to work with the docker containers and images on the platform of AWS.
Amazon Simple Storage Service (S3)
Storage is enabled by Amazon Simple Storage Service (S3) which provides rigid storage for data backup and analytics. Every file is stored as objects in this S3. A professional can store up to the range of 3GB in these S3 plots to tack in the right way. In the case of business, we can use Amazon Glacier which can store the data for long-term resembles the cold storage. Amazon Elastic Block Store is another service that offers cloud-based file storage.
Databases and Data management
Databases and Data management is done through Amazon relational database service which includes SQL Server, Oracle, Postgre SQL, MYSQL, Maria DB along with a high-performance system called Amazon Aurora. Amazon offers the best services through Amazon Dynamo DB. For the data analysts to perform the business-related tasks, they can use data warehouse that is provided by the Amazon Redshift.
Application Services
Application Services is another great platform provided by AWS. The developer can take advantage of software development kit (SDK) and AWS command line tools to create and manage the applications. These SDKs are available for a number of programming platforms namely Java, PHP, Python, Node.js, Ruby, C++, Android, and ios. Amazon API gateway helps a developer to create and manage the applications easily. It has got the capability to manage thousands of concurrent APIs at once.
AWS Identity and Access Management (IAM)
Security is achieved by AWS by means of AWS Identity and Access Management (IAM) in which admins are deciding what should be accessed to the users. He can also create a user directory using the Amazon cloud collectively called as AWS Directory service. There are many other tools that inspect the security of other strict conditions. Amazon Inspector is one such tool that analyses the total environment. Another tool is Amazon Macie that uses machine learning technology to cover the data.
Internet of things (IoT)
Many other services are available through AWS which includes Internet of things (IoT) deployments, Amazon Appstream, Amazon Workspaces, Amazon Workdocs, Amazon simple Email services, Amazon Simple Queue Service, Amazon Pinpoint etc.
Related Blogs