About Selenium Training
What will you learn in this Online Selenium Training Course?
Efficient automation testing with multiple languages
Parallel Testing execution with Selenium Grid
Continuous Testing with DevOps Tools Like Jenkins & Maven
Testing  on Multiple Browsers and Operating Systems
TestNG & Junit Integration with Selenium for Reports
Find Bugs at initial Stage using automation testing and Improve ROI
Instance Testing on multiple mobile device
Writing Scripts for Sample Websites to test automate
Selenium with Python & JavaScript for better Performance
Cucumber for Web Application automation Testing
From this Live Instructor Online Selenium Course you will get Practical exposure on web & mobile automation Testing using Selenium & appium.  This Selenium course will make you understand how to handle real-time Projects using Selenium 3.0 in an efficient manner. Get 100+ Hours Hands-on Selenium Training Online with Industry Experts and Become Certified Selenium Tester. This course will be helpful for your Career to Boost your Skills and get new jobs in Selenium & Appium Automation Testing.
Besant technologies Selenium Online Course Syllabus is designed for both working Professionals and fresher's who want to start their career in Software testing field. This Course Syllabus contents both theory and Practical examples will complete in 70+ hours / One Month Course. You will get an assignment on live web site trail testing with writing Scripts with Java, Python using Selenium Framework.
Besant Technologies Selenium Certification Training Course is curated and designed by leading Selenium experts having 12+ years of substantial working experience in top MNCs. By choosing to sign up for our Selenium course, you will pick up every important concept of Selenium and its uses in different scenarios. Further, you will become proficient in Selenium applications, IDEs, WebDriver, frameworks, architecture, and its components. As an aspiring Selenium talent, you will find our courses to be project-based, pan-industry, up-to-date, and thorough. Therefore, do not let go of this opportunity and enroll in this online Selenium training now!
Live Instructor-Led Online Selenium Classes
World-Class Trainers for you
Learn Selenium from Basics to Advanced level
Resume Building & Mock Interviews for Students
Learn Python & Java to Become Expert in Selenium Automation
75+ Hours In-Depth Online Courses & Sample Projects
Job Oriented Practical Training & 100% Placement Training
The Complete 12+ Self-Paced Selenium Videos
Demo Web & Mobile Testing using Selenium and Appium Testing
Quality Course Content Prepared by Industry Experts
Selenium Certification Courses for Working Professionals & Fresher's
Unique Course Material for Selenium Training & Free Selenium Software
2000+ Happy Learners & 30+ Batches Completed with 100% Success Rate
Mixed Online & Classroom Selenium Training for Chennai & Bangalore Students
Best Training Institute for Selenium Testing Online Courses in India
Become Master in Java, Python, Selenium web driver, Appium, RC, IDE, Maven, Jenkins, GitHub TDD, Selenium Framework, TestNG, Sikuli and JaCoCo
Work on Real-Time Projects Using Selenium Automation which improves your Practical Knowledge
Enroll for Selenium Course & Get 50% Hike in your Career. Register Now for 1 Hour Demo Trail Session
This Selenium Course Designed as Purely Focus on Certification Training. Guaranteed on Certification.
Fast Track & Small Batches for Online Course. Pick up a Separate Trainer for your one to one Training.
Program USP:
Flexible pricing
12+ years experienced trainers
Instructor-led online sessions
Immersive course curriculum designed by SMEs
Practice tests and project work
Mock interview sessions
Job assistance
Python course completion certificate
24*7 learner support
About Besant Technologies Selenium Training Course
Our Selenium course is designed to help the testers/developers leverage the Selenium tool to fully automate web applications. Besides, each training course hosted by a live instructor begins with a refresher course on how to use Selenium and the role of automation. This way, you will able to learn various Selenium tools such as Auto IT, Maven; Selenium IDEs, Web Driver, Grid, and more. Moreover, we will put our extensive efforts in getting you placed with our job assistance program. Thus, by choosing to enroll for our Selenium online training, you will get immersive courseware as well as placement training, 24/7 real-time support, etc.
Introduction to Selenium
Various updates have come up related to Selenium owing to which it ranks first in importance in the market related to automation. In the latest released versions, functionalities have been added to support native events. Added support is provided for Internet Explorer by adding a set of Web driver bindings for Internet Explorer which is named Internet Explorer Driver.
Selenium 2.0, called the Selenium Webdriver API is the most predominant framework choice. Drivers were also used to write automation scripts by merely using the appropriate driver in the place. The next version Selenium 3.0 is waiting for due release.
Automation
The testing tool should be good in handling networking issues, providing high power of computing, consistent in monitoring data for the user and troubleshoot immediately to fix the bug. The importance of automation and the different automation tools are known through Selenium Training. There are many automation tools around the software industry to satisfy the multiple requirements of automation like Datadog, Ansible, Puppet, and Docker. Among all these selenium is very important as it a robust tool with high performance for web applications testing. Besant technologies Selenium Training cover Selenium 3.0 suite and provides insights about Selenium 4.0 Alpha version such as W3C standardization, improved grid with node and hub, UI changes, better observability, detailed documentation, and change in the architecture of API communication internally.
The value to the Certified Selenium Professional is high for the manual testers and beginners. Selenium Classes conducted through online and offline mode with quality standards to match the requirement of testing professionals in the industry. Selenium Course starts with the theory of manual testing and automation testing and then move onto the lab sessions with Selenium components, selenium tool, IDE, Dev scripts, and Selenium 3.0 web driver with Java. The introduction part is to understand the learning style of the learners and then accordingly the trainer drives the Selenium Training Certification Course to the interesting sessions to engage the learners. As Selenium is a process-oriented and functionalities oriented tool the domain knowledge or business knowledge is also essential to understand the client requirement. Selenium Web Driver Online Training provides a project from different business processes to make the learners use the input and output for a better understanding of real-world scenarios.
Answer 3 Simple Questions
Get upto 30%* Discount in all courses. Limited Offer. T&c Apply.
Register now
Syllabus of Selenium Online Training
Introduction
Introduction of selenium
Selenium components
How differs from other automation tools
Advantages of selenium
Overview of the Testing framework
Overview of Eclipse
Object-Oriented Programming
Creating Packages
Accessing Classes and Methods
Class, Object and Method
Concept of Inheritance
Overloading and Overriding Functions
Usage of Inheritance in Selenium
Good Features of the eclipse
Accessing modifiers – Public, Private, Default, Protected
Exception handling – try-catch block and throwable class
The need for exception handling in Selenium framework
Core Java Basics
Conditional and concatenation operators
Usage of loops – While Loop, For Loops
Data Types – String, Integer, Arrays, etc
Functions – Input Parameters, Return Types
Local, Global, Static and Non-Static Variables
Creating Objects and Object References
Call by reference and Value
Constructors
String class and functions
Concept of jar file
POI API in java
Selenium Architecture
Types of Selenium
Types of Webdriver
Selenium RC Architecture
Webdriver Architecture
Webdriver Vs Selenium RC
A brief explanation about the advantages of web driver
Locator Techniques
Introduction about locator concept
A brief explanation of different locator techniques
Xpath techniques explanation with different kind of real-time scenarios
Selenium IDE
Download and Installation
Record and playback techniques
Modifying the script using IDE
Convert the IDE script into RC script
Validate the locator value using IDE
Selenium setup
Explanation of step by step instructions for setup
Integration of eclipse and Testing
WebDriver
Configuring Webdriver with Eclipse
A detailed discussion about web driver commands
Handling different browsers
Create our own methods in web driver
Handling links and Dynamic links
Extracting and writing your own XPath
Handling Multiple Windows
Interacting with dynamic objects
Working with Alerts
Locating objects using different objects – ID, Name, CSS, Class, etc
Handling Frames on the web page
Taking Screenshots
Working with textbox and buttons
Working with a group of Objects
Test data management in Excel
Calling Dynamic values from Excel
TestNG
Brief about the Testing framework and TestNG
Annotation concept and different types
Testing Configuration
Suite execution from eclipse
Parallel script execution
Grouping the Test Cases
Parameter configurations
Suite creation methodology
Report generation
Assertions and Verifications
AutoIT
The need for AutoIT tool
Basics of AutoIT tool and create a simple script
Converting AU3 file to excel  file
Calling AutoIT script from selenium project
Selenium Grid
Introduction of Selenium Grid
Installation and setup of Hub and node
Script changes for Selenium grid execution
Simple script execution using grid
Parallel execution using grid
Configuration Management
Jenkins Installation
Maven Installation
Dependencies and configure Maven Project
Integrate Maven projects in Jenkins.
Looking for Master your Skills? Enroll Now on Triple Course Offer & Start Learning at 24,999!
Explore Now
Upcoming Batch Schedule
Besant Technologies provides flexible timings to all our students. Here are the Selenium Online Training Schedule. If this schedule doesn't match please let us know. We will try to arrange appropriate timings based on your flexible timings.
04-12-2023

Mon (Mon - Fri)Weekdays Batch 08:00 AM (IST)(Class 1Hr - 1:30Hrs) / Per Session Get Fees

30-11-2023

Thu (Mon - Fri)Weekdays Batch 08:00 AM (IST)(Class 1Hr - 1:30Hrs) / Per Session Get Fees

02-12-2023

Sat (Sat - Sun)Weekend Batch 11:00 AM (IST) (Class 3Hrs) / Per Session Get Fees

Can't find a batch you were looking for?
Corporate Training
If you want to give the Trending technology experience to your esteemed employees, we are here to help you!
Selenium Trainer Profile
Having expertise in Automation Testing like QTP, Selenium with Strong Hands-On Knowledge
Currently Working as Senior Selenium Tester with a Top MNC in Chennai City
Great Exposure of Software development life cycle, Scrum, Agile, and DevOps methodologies as Automation Tester.
Certified Scrum Master (CSM), Certified Tester (ISTQB), Certified Programmer for Java (SCJP 5.0) and DevOps Certified Engineer
Trained More than 2000+ Students in Selenium Testing with 100% Course Completion Record.
Strong Knowledge on Web Automation (Selenium with Java, Python, C#, and Ruby) and Mobile automation (Appium +Java).
10+ Hours Resume Building & Mock Interviews Classes for Students to get better Jobs
Starting from Manual Testing for non It Students to get a better idea on Software Testing Courses
Having Very Strong Communication Skills to deliver the Course with Proper Examples.
Awarded as "Best Selenium Trainer of 2019 & 2020" by Besant technologies.
Worked as a Selenium tester & Java Freelancer Developer for Small & Medium Companies
Build your resume to the latest trend, and get a chance to know our Tie-Up Companies
Placed Student's list
Selenium Exams & Certification
Besant Technologies Certification is Accredited by all major Global Companies around the world. We provide after completion of the theoretical and practical sessions to fresher's as well as corporate trainees.
Our certification at Besant Technologies is accredited worldwide. It increases the value of your resume and you can attain leading job posts with the help of this certification in leading MNC's of the world. The certification is only provided after successful completion of our training and practical based projects.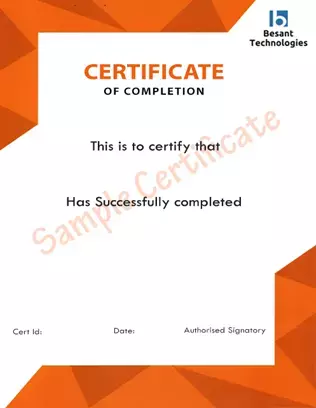 If you want to become a Certified in Selenium testing field enroll now with Besant technologies and Become QA Certified Expert in Just 6 Weeks. This Certification Training will make you Subject Matter Expert on Selenium 3.0. Get Online Selenium Certification Training with Besant Technologies and Get highly Paid Selenium Jobs.
Group Discount
If you have Three or more people in your training we will be delighted to offer you a group discount.
30+ Hours Course Duration
100% Job Oriented Training
Industry Expert Faculties
Free Demo Class Available
Completed 800+ Batches
Certification Guidance
Project of Selenium Online Training
At the end of our online course, you will be assigned to work on a real-time project. Once you complete the assigned projects with expected results we will verify and issue Selenium Automation Tester Certificate. If you are not able to deliver the expected results in a project we will support you by clarifying doubts and help you to re-attempt the project.
Project for Selenium Course
Project1: Automating Bank transactions
Functional areas of Testing:
Bank application requires test cases from different perspectives like user functionalities, manager functionalities, and administrator functionalities and all these test cases are created, executed with guidance during Selenium Online Training. The application module can be banks, customers, transactions, accounts, and branches. In the case of banking application security testing, integration testing, regression testing, and checking the governing policies of the government regarding the banking application are essential. Security testing is to check the exposed vulnerabilities to hackers. Hackers will try for different types of malicious attacks to penetrate the security and thus it is essential to remove the security risks. Broken authentication, injection, insecure object references, sensitive data handling, control the functional level access and handle CSRF are some of the security checks.
Data masking, testing system integration and synthetic test data are done through Selenium to check the security of the application. As banks offer different services for the same account number like mobile banking, internet banking, and direct banking it is essential to do the integration testing. And also banks offer different new schemes where regression testing is essential. Selenium Course will cover all the aspects of testing with the industry best trainer to make the learners acquaint with all types of dynamic circumstances in the organizations.
Skills learned:
After completing the live project from Besant technologies during Selenium Training the learners know about Database testing, functional testing and UI testing of bank applications which will ultimately improve the regression testing skills, integration testing skills, security testing skills, and improve the user experience. The high amount of transactions, user interaction through the browser, validation of input and output by the server and the secure transactions of bank applications give an idea about the characteristics of bank applications. Cucumber, Maven and TestNG frameworks can be used in this project to enhance the frameworks' knowledge of the learner.
Project 2: Flight ticket booking
Functional areas of Testing:
In airline application the process involves the flight searching with location, maintain the login details of the user and get the status of the booking. The admin will feed the new flight details, changes associated with the flight time is updated by the admin and check the records of the booking details. Security is a key point in the aviation industry to make safe travel to passengers. Invalid input test for the login of the user, cost calculation test and payment page test are some of the areas where it is essential to check the security. As flight booking is online it increases the digital sales where quality is very important. Selenium Online Training will give all the guidance in the form of examples and explanations to complete the project and get multifaceted knowledge as a tester.
Skills learned:
BDD is used to explain the behavior of the application in English, Test Runner is to automate the behavior test, set the proxy server settings with IDE and cucumber, .feature files help for adding the features or domain-specific behavior of the application and selenium Grid is used to check the test with different parallel testing and cross border testing. Frameworks, security testing, and regression testing are the skills learned with this project. Selenium Course will fortify the learners about all the challenges associated with the testing process using the Selenium tool.
Training Courses Reviews
Possibly, the best part of the entire Selenium course was the instructor-guided real-world projects. It helped channelize my learning's in the right direction. Now, I am well aware of the Selenium suite and can confidently work on all kinds of complex projects. Thanks!
Dhiya
Thank you so much Besant Technologies. Selenium training was really very helpful. All my Selenium trainers had very good technical knowledge and helped me finished my course in a very short period. 100% placement assistance was also provided which helped me get recruited in an MNC company. Thank you once again for Besant Technologies and their Selenium course.
Savitha
I learned Selenium Training in Besant Technologies. A friend of mine referred to this institute to me. My trainer was too good and was a very friendly person. He helped me at all times to clear my doubts. Now I am working in a Software Company. I am feeling very content by the change that has happened in my life after taking up the Selenium course in Besant Technologies. Thanks to my trainer and Besant Technologies.
Santhosh
Student's Testimonials
Frequently Asked Questions
Besant Technologies offers 250+ IT training courses in more than 20+ branches all over India with 10+ years of Experienced Expert level Trainers.
Fully hands-on training
30+ hours course duration
Industry expert faculties
Completed 1500+ batches
100% job oriented training
Certification guidance
Own course materials
Resume editing
Interview preparation
Affordable fees structure
Besant Technologies is the Legend in offering placement to the students. Please visit our Placed Students List on our website.
More than 2000+ students placed in last year.
We have a dedicated placement portal which caters to the needs of the students during placements.
Besant Technologies conducts development sessions including mock interviews, presentation skills to prepare students to face a challenging interview situation with ease.
92% percent placement record
1000+ interviews organized
Our trainers are more than 10+ years of experience in course relavent technologies.
Trainers are expert level and fully up-to-date in the subjects they teach because they continue to spend time working on real-world industry applications.
Trainers have experienced on multiple real-time projects in their industries.
Are working professionals working in multinational companies such as CTS, TCS, HCL Technologies, ZOHO, Birlasoft, IBM, Microsoft, HP, Scope, Philips Technologies, etc…
Trained more than 2000+ students in a year.
Strong theoretical & practical knowledge.
Are certified professionals with high grade.
Are well connected with hiring HRs in multinational companies.
No worries. Besant technologies assure that no one misses single lectures topics. We will reschedule the classes as per your convenience within the stipulated course duration with all such possibilities. If required you can even attend that topic with any other batches.
Besant Technologies provides many suitable modes of training to the students like
Classroom training
One to One training
Fast track training
Live Instructor LED Online training
Customized training
You will receive Besant Technologies globally recognized course completion certification.
Yes, Besant Technologies provides group discounts for its training programs. To get more details, visit our website and contact our support team via Call, Email, Live Chat option or drop a Quick Enquiry. Depending on the group size, we offer discounts as per the terms and conditions.
We accept all major kinds of payment options. Cash, Card (Master, Visa, and Maestro, etc), Net Banking and etc.
Please Contact our course advisor+91-9677 266 800. Or you can share your queries through info@besanttechnologies.com