Selenium Training in Chennai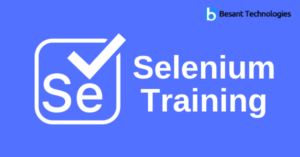 Besant technologies Offer Best Selenium Training in Chennai with Practical Classes. We at Besant technologies take pride in providing our students with top-most study material for Selenium training. Whether you're just a beginner in Selenium field or you're just acquainted with the basic knowledge of the course, from the basic theoretical concepts to advance and complex practical sessions, Besant technologies can cater to your entire requirements. Selenium Courses are run in our Chennai training centers Velachery, OMR, Tambaram, Porur, Anna Nagar, T.Nagar, Maraimalai Nagar, Siruseri, Adyar and Thiruvanmiyur.
Best Selenium Training in Chennai
Besant technologies is a leading training institute for Selenium Course in Chennai with Live Projects. We Rated as No.1 Selenium Training Institute in Chennai offers 100% job guarantee for Our Students. Get in-depth Practical knowledge on Selenium Testing Course in Chennai with 20+ Years experienced Selenium Trainers.  We designed Our Selenium Syllabus according to the industry expectation from an Automation Tester. Our Selenium Training teaches you how to develop test Scripts in different programming languages like Java, Python, C#, Perl, and Ruby.
 Classroom Training
 One To One Training
 Online Training
 Customized Training
Get Quote for Free
Batch Schedule for Selenium Training in Chennai
Besant Technologies provides flexible timings to all our students. Here is the Selenium Training in Chennai Schedule in our branches. If this schedule doesn't match please let us know. We will try to arrange appropriate timings based on your flexible timings.
Best Selenium Training Institute in Chennai
Looking to start your career in the IT field? Selenium is the best choice to opt for it. Take Selenium training in Chennai from basic to advanced level with our experts at Besant Technologies. We have Software Testing Selenium Courses with different Languages like Core Java, Python or C# for freshers and Professionals who are working in the Manual Testing field. We have a team of professional holds hands-on experience in the Selenium Testing Training with Java, Python & C#. Our Training Institute maintains Perfect syllabus with the same standard of coaching in all branches.
What is Selenium?
With more nations adopting globalization, the demand in the IT sector of our country is ramping up. A wide range of profession is developed in this sector and so the job opportunities for the IT experts are raised. There is no doubt to say that the IT sector is one of the leading fields that offer a decent pay to its workers. With diverse IT courses in today's era, Selenium tutorial is gaining a lot of popularity nowadays. As per the recent surveys, thousands of job aspirants are looking for selenium training to gain technical knowledge without actually interrupting their daily schedule. Selenium is a convenient software testing structure for specific web applications and platform.
Click Here to Check Latest Updated – Selenium Interview Questions and Answers
Why is Selenium testing tool used?
Selenium automation testing tool is used by most of the companies to their product. In addition to offering a test domain specific language, selenium is especially known for providing a playback implement scripting language to record tests in multiple famous and high-level programming languages such as Java, Perl, C, PHP, Python, Scala, Ruby, and Groovy. This test can further be executed alongside the latest web browsers.
Selenium Training with Java:
In this Selenium with Java Training Course, you will learn the following Topics, We will Start from Basic Core Java Concepts like Data types, Operators, Control Statements, Classes, and Objects. Once Java Concepts have done we will Start to teach you the Selenium 3.3 Components like Selenium IDE, Selenium Webdriver, Environment Setup, Selenium Grid and also we Cover the Module Driven, Data Driven, Keyword Driven, Hybrid Frameworks in this Selenium Syllabus.
Selenium Training with Python:
In this Selenium with Python Training Course, Starting with Basic Python like Data types, Operators, File Operators, Functions, and Classes. After the basic python Concepts over, we will start to teach the Selenium Concepts. End of this Selenium Course you will learn how to do automation Testing with Selenium framework for web and mobile applications. Our Selenium training focused on Project-based Learning rather than theory Classes. End of this Selenium training you can easily test your web and Mobile Applications using Selenium with Appium.
Click Here to Check Latest Updated – Selenium Tutorials
Key Features 
We Offer Selenium Training in Chennai in more than 15+ branches with 10+ years Experienced Expert level Trainers. 
A great number of real-life projects are worked upon under the mentorship of our expert faculty. The practical sessions boost the confidence of the trainees and enhance their skills
The classroom lectures are interactive in nature which helps greatly to grasp concepts better
The faculty is highly experienced and passionate in their fields. They believe in the quality teaching-learning process.
Our training programmes are also available for working professionals.
Mock interviews are conducted on one on one basis to prepare the trainees for job interviews
Small batch sizes help the trainers to concentrate on each trainee better.
We charge an ostensible amount for training in Selenium training. No trainee needs to shell out heavy fees to get quality training.
Besant technologies are appraised as the Best Selenium training institute in Chennai. What makes us unique is our specialized services provided to all our trainees. 
About Our Selenium Trainers
The trainers at Besant Technologies are a subject specialist and Industry professionals providing in-depth study in Selenium course in Chennai. Learn Selenium a user-friendly Open Source automation testing tool with jobs in Chennai at Besant technologies. 
We have a team of Automation Selenium Testing professionals holds enough experience to handle every segment of the Selenium Webdriver with a high level of expertise.
Our trainers are good at providing logical and practical explanations of the topics Selenium 3.0 & 3.3 and its various components such as Selenium IDE, Selenium WebDriver, and Selenium GRID rather than focusing more on theory.
Our trainers have good knowledge to handle the Selenium training using Java & Python at both the corporate and academic level.
They can help the students to explore the subjects by providing freedom to think in different ways at every level of implementations, which builds confidence in students.
They can get good exposure to the subject and became more innovative and dedicated to the subject. 
Syllabus of Selenium Courses in Chennai
Selenium Training with Java Course Syllabus
Web Driver 3.0 Training 
Course Objective
Understand Oops /java concepts
Selenium IDE, RC
Selenium WebDriver tool in depth, it's features & components
Building a new Test Framework by using Web Driver, Test NG, and Maven
Selenium Introduction   
Selenium Introduction
What is Selenium and Why Selenium
Use of Automation Testing?
Explanation of Selenium and its advantages
Differences between Selenium and QTP
Selenium Components
Introduction of selenium Components
OOPs concepts and Core Java Introduction   
OOPs concepts
Setup Java environment – Download JDK and Setup eclipse
Java programming concepts
Class, Object, variables, methods, Packages
Conditions and loops
Access and non-access modifiers
Advanced Java Programming
Interfaces, Inheritance
Collections, Exceptions
Selenium IDE and RC Introduction  
Installing Selenium IDE
"Selenese" – Selenium Commands
Actions, Asserts, Assessors.
Developing Test Cases & Test Suites with Selenium-IDE
Introduction to Selenium RC
Installations  
eclipse-Oxygen
JDK 1.8
Firefox 47.0.1, firebug and file path
Set up TestNG, Maven and Selenium (2.53.1 &3.0 +) for eclipse
 Selenium WebDriver 2.0 and 3.0 Introduction  
Selenium WebDriver Introduction
WebDriver Vs RC
Download and Configure WebDriver with Eclipse
Simple Testcase
Open and Close Browser
Cross Browser Testing – Firefox, IE, Chrome, Edge.
UI elements Locators.
Identifying WebElement using id, name, link text,Partial LinkText class Name,
XPath, CssSelector and TagName.
Handling various WebElement using WebDriver
Handling Mouse movements and Keyboard Events
Gecko-Driver
Verification Commands
a.How to get Title
b.How to get Current Url
c.How to get PageScource
d.How to get WindowHandel
e.How to get WindowHandels
f.How to get Text
g.How to get Attributes2.Validation commands:
a.IsSelected
b.IsEnabled
c.IsDisplayed3.How to operate with WebTable4.How to Handel Alerts in webpage5.Switch Commands:
a.how to switch windows or Tabs.
b.how to switch Alerts.6.How to operate with calanders7.Synchronization Commands
a.Thread.sleep();
b.ImplicitWait
c.ExplisitWait
File uploading using Auto-It and Robot.
Testing Framework and Tools  
Introduction of the Testing framework
Types of frameworks
Tools for developing Test Framework
TestNG introduction and Configuration with eclipse
TestNG Annotations and Data Providers
Creating Test Suit with TestNG
Framework
Moduler Frame work
POM
Data driven
paramitarization
Hybrid Framework
 Develop Hybrid Framework 
Developing Hybrid Framework for Web Application using WebDriver /TestNG and Maven
Use external Data for Testing (Excel sheet, XML files, Property file)
Reading and understanding reports
Screenshots of failed Test case
Configuration Management
Jenkins Installation
Maven Installation
Dependencies and configure Maven Project
Integrate Maven projects in Jenkins. 
Selenium Certification Training in Chennai
Besant technologies are providing a wide range of globally identified certification courses on diverse IT-related subjects. Be it the basic level selenium training course or a complex one, the selenium certification would undeniably aid the candidates to stand out from the crowd and have a perfect career in the IT field along with a good pay. The scope of this IT course isn't confined to offline companies rather you can also get fruitful jobs in the online market.
Selenium Training Related Courses
Students who were enrolled for this course most likely joins in any of these courses additionally to enhance their profile in IT industry.
Software Testing Master Program
Selenium Training with Python
Manual Testing Training
Students Reviews of 

Selenium Training in Chennai
Selenium Training in Chennai Reviehasave given by our students already completed the Selenium training with us. Please give your feedback as well if you are a student.
Radhika:
I did Selenium Training in Chennai at Besant technologies Velachery. Training was Really Good and Practical Manner .Mr.Prem Sir is our trainer who has very good knowledge of Selenium he helped us a lot of preparing our resume according to my domain. Overall I am very much satisfied with this Selenium Classroom training. Now I am having the confidence to attend any interview in Selenium Technology. Thanks to Besant technologies for providing wonderful hands-on Training in Selenium Course.
Suresh:
Currently, I am working as Manual Testing I came to know Besant technologies through one of My friends, I took Selenium Classroom Training in Tambaram Branch at Besant technologies. Yes, I am Satisfied with this Real-time Course. Now I Shifted my Skill to Selenium from Manual Testing.
ManiKandan:
One of the Advantage is Besant technologies also providing Online Classes, Corporate Training, One to One Training according to our requirements. The fees for Selenium Course in Chennai at Besant technologies is too low when compared to Other Training Institutes.
Anushya:
While Searching Selenium Course in Chennai near T.Nagar, I Came to Besant technologies is the Best Place to Learn Selenium Course with Placements. Besant technologies Teaching Methodology is completely different from Other Selenium Training Institutes in T.Nagar. Their Training is purely based on Practical Scenarios & Project based Training what industry needed rather than teaching boring theory Classes. Advantages on Taking Selenium Training at Besant technologies are they trained Students on Real-time Selenium Web Application Projects that make you Complete Master in Selenium WebDrive.
Karthick:
Learned Selenium Course in Tambaram at Besant technologies. I really recommend everyone to update selenium skills in Besant technologies which make you Expert in Mobile Automation Testing Tools, Appium, Selenium-grid, Selenium IDE, Selenium Remote Control RC, ANT, MAVEN, JENKINS, SVN, CUCUMBER, ANSIBLE and basic of DevOps Concepts.
RajeshKumar:
I completed automation testing with Selenium Training in Chennai at Besant Technologies. I am happy with the Selenium Practical Classes and now i got placed in Yume with 5.5 Lakh Salary per annum. Thank you Mr.prem for your excellent coaching on Selenium Concepts with Practical notes. Definitely Besant technologies one of the leading Selenium testing training Provider with good quality trainers.
Ismail :
From the  Manual testing background I want to Change my domain to automation testing so that i joined Selenium Training. I thank my Trainer Prem for providing best practical Classes and unique Study materials. I suggest my colleagues Besant technologies for Selenium Training in Chennai.
Arthi:
While Searching for Best Selenium Training Center in Chennai near Velachery i came to know about Besant technologies. I took Morning Selenium batch and my trainer was mohan working in HCL as QA lead . His training is focused on live Projects which later helped me to get a good job in CTS with high Salary.