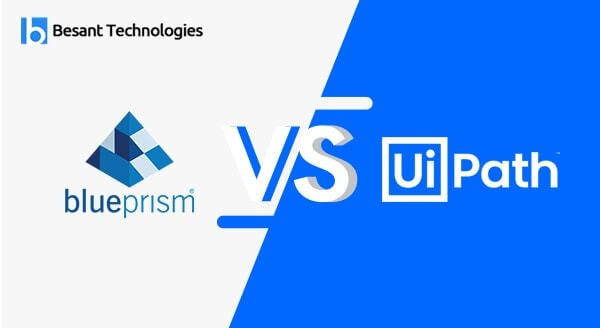 Blue Prism vs UiPath
Blue Prism vs UiPath
Humans are not a great fit for repetitive tasks (business operations that are repetitive). When a process is repetitive, humans tend to lose concentration. As they get used to the task, which gradually becomes muscle memory of sorts, the mind starts thinking about something else – the lunch you're going to eat, the loan you have to pay or the joke from yesterday's conversation. And this is a potential opening for a mistake to happen. Humans by design are a misfit for such tasks. And, it is a bigger mistake to not switch onto a better choice if there's one.
The repetitive tasks can be taken care of by robots! We are generally used to the notion of a robot that is physical and that can move. But, a software program that can automatically store a different copy of an important file at a different place is a good backup strategy. You don't need a person manually doing this job of copy pasting. Moreover, human force is capable of solving much more complex problems around – climate change, electric cars, strategies to improve profits, etc.
So, any process that is repetitive and taking up huge volumes of human time to complete is eligible for automation. Historically, the operations side of the businesses has been heavily repetitive. A peek into the general day to day happenings of most of the government offices would be enough to understand the level of repetitive work involved. Banks, Insurance Companies, Hospitals, logistic companies are some of the industries that heavily involve these categories of tasks. And what's more, these companies cannot tolerate any kind of mistakes in these tasks. Reliability is of the highest need.
Robotic Process Automation
Yes, the answer for the above-mentioned human to robot task handover in the business operations space is Robotic Process Automation (RDA). A quick and simple definition of RDA to digest .
The process of automating business operations with the help of robots to reduce human intervention is said to be Robotic Process Automation(RPA).
Click Here -> Get Free Blue Prism Tutorial
A few examples of the kinds of tasks that RPA helps in Automating
Website Scraping:
Financial investment sector requires them to be on top of the financial statements of all the companies they're aligned with, and they are thousands in number. Website scraping helps in identifying this information automatically for each of the company once the place where the information would be updated is constant.
Generating Premium Renewals:
Insurance companies are to provide premium receipts to every insured for the premium they pay, either offline or online. This process can be automated if the details of the policy and the premium are available. No human intervention required to cross-check and write it out to thousands of such cases every day.
Credit Card Applications:
The entire process of credit card applications can be automated if the necessary steps are designed to check and approve the various data points of information are provided and accurate. This end-to-end process can be taken care of the software solutions with little intervention from the employees.
There are multiple software tools available to provide such RPA solutions. To name a few – Blue Prism, UI Path, Automation Anywhere, Blackline, Datamatics, Edgeverve, help systems, Jacada. Let's dwell a little deeper into the two most popular of these lot – Blue Prism and UI Path.
Click Here – > Get Prepared for Blue Prism Interviews
What is Blue Prism?
Blue Prism is a software organization based in the UK and set up in 2010. A group of experts from the automation field have come together and founded the company to increase the effectiveness and efficiencies in the company functionalities.
They make use of Robotic process automation so that it can minimize high risk and low return processing and work and data entry job manually.
Click Here -> Get Blue Prism Training
What is UiPath?
This enterprise came into existence in 2005 and founded by Daniel Dines. UiPath strives to provide better productivity levels through its services that affect the cost of operations and the efficiency of IT resource usage.
UiPath is based on on-premise and cloud deployment method which helps to deploy and manage everything from one place. With the lock screen features available, security is given very high importance.
Comparison of Blue Prism and UiPath
Learning
Blue Prism: You can create objects and manage them from the control centre. Basic Programming skills would be needed to work on Blue Prism.
UiPath: UiPath enables visual cues to work on like drag and drop facilities. This makes the life of the user easier. Also, faster in implementation.
Platforms
Blue Prism: Automation available on Desktop, web and Citrix applications. For people who want to know – Citrix is a software used to remotely connect (virtually connect) to clients applications and networks. Any automation solution built using a virtual desktop or built to work in virtual desktops are called Citrix automation.
UiPath: Ui Path is primarily created for taking contracts from companies that want to outsource select business processes and functions (also called as Business Process Outsourcing). Thereby, UiPath shines at Citrix Automation.
Access & Perceptive/Cognitive Capability
Cognitive or perceptive technologies (which include natural language processing or voice recognition or Machine Learning algorithms) are used in automating perpetual and judgement-based tasks once reserved for humans.
Blue Prism:  Provides only application based access. Low capability towards perceptive/cognitive operations.
UiPath:  Both browser and mobile access available in UiPath. Low capability towards perceptive/cognitive operations.
Automation Anywhere (another firm) has a better run rate as a cognitive specialist in the market.
Click Here -> Get Prepared for Uipath Interviews
Recorders
Recorders or Process Recorders are functionality that captures users actions and imitates the process
Blue Prism: Not available. Blue Prism manages company objectives only through automation but does not use reusable scenarios.
UiPath: Available as an option. User actions can be recorded and work activities can be changed over them.
Architecture & Base Technology
Blue Prism: Provides Client-Server building architecture. Basics of C# is the base technology.
UiPath: Web-based orchestrator (hosted on the cloud). Basics of C# and dotNet (Microsoft).
Certification & Education
Blue Prism: There are three types of certifications like a. Delivery provider, b. Capability provider and c. Service provider.
UiPath: Free online training and certification programs are available. Study materials are available on the web.
Operational Scalability
Blue Prism: Excellent debugging allows you observe all the selected data during runtime. The speed of execution is very high. The capacity to manage large scale robot deployments is very good.
UiPath: While debugging highlights exist in UiPath, not as good as Blue Prism for bigger scales. Low-cost for developing makes it optimal for small and medium size businesses.
Re-Usability
Blue Prism: A library of Blue Prism business objects exists; these objectives can be reused across multiple methods.
UiPath: Developed modular automation can be used at the workflow level. Continued UiPath functionality can be maintained through system projects. It can be used for various synthesis services with several workflow modules, hence it is great at reusability.
Click Here -> Get Uipath Training
Related Blogs