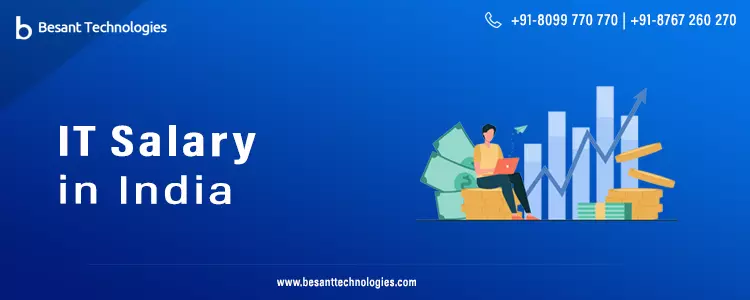 IT Salary in India
IT Salary In India 2022 – Besant Technologies
In India, an IT Engineer's average yearly salary is *4,89,600 (*45,800 per month), which is *1,32,100 (+27%) more than the federal average IT Salary in India. Generally, IT engineers earn between 2,17,800 and 3,55,00. The highest salaries can approach 1,27,000 per year.
In India, the average salary for a technical engineer is 32,700 INR per month. Salary ranges from 19,700 INR (lowest) to 57,200 INR (highest).
In addition to housing, transportation, and other benefits, this is the average monthly salary. The salaries of engineers can vary dramatically depending on their skills, experience, location, and even their gender. Below you will find a breakdown of salaries based on job profiles and locations.
IT Salary In India Per Month – Different Roles in India
Those working as a IT engineers start from Rs. 3,349,258 to Rs. 236,428 per year. Let's check out all the roles in the IT sector and discuss their salaries.
Project Manager
As a Project Manager, you are responsible for managing your tasks and bringing in new projects. In India, project managers typically earn between 7.5 lakhs and 15 lakhs per year. Your skills and practical experience should be exceptional.
Software Engineer
A software engineer can earn up to 8 lakhs in India. If you are a fresher software engineer then your average IT Salary in India is 23,000 per month. You salary also depends on your location and company where you work.
IT Manager
An IT manager's salary starts from 43,000 to 57,000 per month. An IT manager is also a demanding job in IT companies. If you have a valid experience and sharp skills then you can earn up to 9LPA in India.
Best Locations for High Pay Scale in India
It's highly regarded to work in software engineering. You can find IT jobs in India in these cities: Delhi, Bangalore, Gurgaon, Pune, Hyderabad, Chennai among others. Find out your IT engineer salary in India city-wise, and apply online today.
Delhi/Gurgaon:
Several IT companies are based in Delhi and Gurgaon, both of which are major hubs of IT employment in India. If you are looking to earn good money, you should look to live and work in these cities, as IT salary for freshers ranges from Rs.32,563 to 49,679 per month.
Hyderabad:
Hyderabad has been named one of the world's leading cyber cities. Freshers in Hyderabad earn an average salary of about 4-7 lakhs per year, and IT employees from Hyderabad also work from home.
Bangalore:
It is easy to find a job in Bangalore because a wide selection of startups and IT businesses are established. A computer operator with Wipro or another company can earn up to 45,000 rupees per month.
Chennai:
As Chennai's economy grows, it has become easier for people to earn and further their careers here. IT engineers in Chennai earn between Rs. 33,437 and Rs. 46,678, with salaries increasing as experience increases.
Mumbai
In Mumbai, for entry-level candidates, an annual salary of between 8 and 10 LPA is typical, while someone at the senior level can expect a salary of between 20 and 25 LPA. Also, Mumbai is known for its booming economy, making it the perfect place to start an IT career.
Conclusion
Pay for Software Engineers in India is one of the country's largest. The value a person values will depend on their abilities, their background, as well as their community.
In India, Software Engineers can earn as high of a CTC per annum as in other countries depending on many factors. Please check out this post to understand how many factors influence the Software Engineer salary in India.