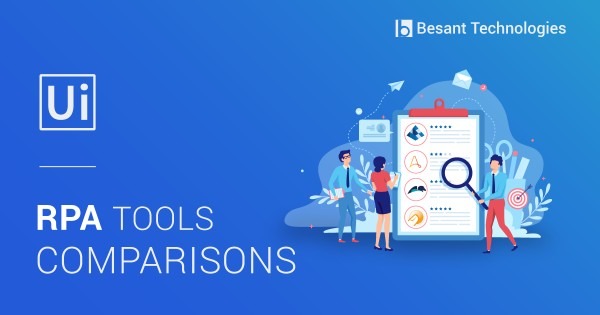 RPA Tools Comparisons
RPA Tools Comparison
Robotic process Automation or RPA is the latest technological advancement of our Era. With this skill, an expert can create programs and software that can do a lot of things on their own. All this and much more without any sort of human interaction in the picture. But what actually makes an RPA expert do such powerful work are the set of tools. As in order to implement RPA, the thing we need first is the tools for RPA. These tools are developed to make the work easier for the robotics process automation professionals.
RPA is the abbreviation of Robotic Process Automation. It is not difficult to see the essence of it: machine, process, automation, RPA is a robot as a virtual labor force that interact with existing user systems according to a preset program and complete the expected task. RPA tool is to easily develop the required automated business flow based on rule bases, macros, and scripts provided by various software vendors. Most of the RPA tools are a bit like Excel macros, recording mouse and keyboard operations, then controlling the flow with various controls of the rule base, and also providing a simple scripting language to customize some special services.
Some of the representative software vendors for RPA are: Automation Anywhere in the United States, Blue Prism in the United Kingdom, and UiPath in Romania. There are also WorkFusion, Pegasystems, NICE, Redwood Software, Kofax and many more.
Click Here! → Get RPA 100% Practical Training!
According to Forrester Wave:
Robotic Process Automation: Blue Prism, Automation Anywhere and UIPath are recognized as the leading providers of Robotic Process Automation (RPA) software. We will read about the elaborate comparison of these major RPA tools.
Automation Anywhere in the United States has the highest market share and runs on Windows systems. It records the job process that you want to automate in the task editor and then makes a script. For the business of crawling webpage data and transferring documents according to plan, dozens of templates are provided, and combinations of OCR, JAVA, etc. are also provided, but charges are made. Its process designer is script based which makes designing part little complex as compared to BluePrism and UIPath.
The UK's Blue Prism is built on top of Microsoft's .NET Framework. It provides a rich set of components and supports a wide range of fields. Using central management is too expensive. However, BluePrism platform is comprehensive and necessitate more effectively. Control Room is another startling feature for managing and controlling the automated executions. In addition, the scheduler feature is inclusive of its interface and that's how simple to manage. The process of automation using Blue Prism is well organized and comparatively easy to maintain than other RPA tools. One issue that most of the customers face is BluePrism's reporting capabilities because Blue Prism Dashboard / Analytics tiles are linked with other tools (Tableau, Power BI, Qlik). In order to build the dashboards and reports MS SQL Server is required.
UiPath is a tool recently seen. It is a Romanian company that says it is now operating in the United States. Tokyo, Hong Kong, and Singapore have offices. The tools provided are divided into three modules. A studio is a development tool that does not require writing code and provides a rich template for automated business records. The robot is a part of execution automation. Orchestrator is used for logging and resource management, machine management and management tools.
Let's make the more holistic comparison of these afore-mentioned RPA tools:
Click Here! → To Get RPA Certification Training!
What is an RPA tool and what are its functionalities?
RPA tools are the set of programs that are used by robotics process automation experts. With these by their side, the task of the developing a system and other things gets pretty easy. But the know-how to operate these tools is very important. As for someone without any particular knowledge about these tools, they will be wasted.
In order to get a better understanding of RPA tools, we should first know about their functionality. This will provide us with a better chance of grasping the information that we will discuss later in this article. These are the 3 functionalities that every Robotics Process Automation tool must have in it.
The Bot that carries the working shall be able to interact with other systems in a decent manner. They should be using the method of either screen scraping or API integrations for this task.
A tool should have optimization and technology that it can create another bot. this means that it should be able to make a replica of itself.
The Bot in the play should be well-integrated with the AI it uses. They should learn from all the actions they or their user take and use it to automate the process by self.
Types of Robotic Process Automation tools
RPA tools are categorized into 4 different categories. Implying that any RPA tool out there can somewhat fit into these 4 categories. These segments of RPA Tools are:
Hacks and Macros: these were simple automation tools that were used for small processing tasks. They were neither reliable nor scalable; all they were good for was the fact that they increased productivity.
Programmable Bots: these bots were easy to use as they follow the programming pattern. These programmable solution bots were used to interact with other systems and feed specific information for the user.
Self-learning Tools: The actual automation phase is believed to be started with the arrival of self-learning bots. These tools increase productivity by learning from their actions. They were great as they learnt from their mistakes and improved themselves without any human interaction.
Intelligence/Cognitive Automation Tools: Cognitive intelligence tools were a gem in the field and they can even handle random data. They can design things even when the information is complex and input makes no particular sense for a human eye.
Click Here! → Get Prepared for Interviews!
Factors for RPA Tools Comparison
There are numerous ways and aspects on which RPA tolls are compared. It can be anything from easy accessibility to free trial versions. There are several tools in the market when it comes to Robotic Process Automation tools. Some of them are as follows:
Another Monday
Arago
Antworks
Automation Anywhere
Contextor
Blue prism
Kryon Systems
NICE Systems
Jidoka
Pega
Redwood Software
UiPath
Visual Cron
WorkFusion
As we can see there are a lot of RPA tools out in the market. Among all of these, there is a Trio leading the market of Robotics process automation for years. This trio includes Blue Prism, UiPath and Automation Anywhere. Each one of them has their own set of pros and cons. In order to a comparison, we shall do it on equal terms. So, here is a comparison between this leading trio on several grounds.
Price: Blue Prism will cost the user as per the bots they use, as for Automation Anywhere the cost will be according to the number of processes whereas, UiPath also charges per Bot.
Usability: Automation Anywhere can be used for processes like Drag and Crop as well as Macro Recording. The same goes for UiPath, but Blue Prism can only be used for Drag and Drop.
Free versions: UiPath has an upper hand in this as it has a free edition with the title 'UiPath Community Edition'. The other two only have paid versions.
Now, all being said you should choose as per your needs and budget. All three of them are on the top of their league.
Holistic Comparison of these afore-mentioned RPA tools:
| | | | | |
| --- | --- | --- | --- | --- |
| | Features | Automation Anywhere | Blue prism | UIPath |
| 1 | Pricing | High | Moderate | High |
| 2 | Architecture | Client Server | Client Server. Faster than AA. | Web-basedd Orchestrator |
| 3 | Versions | Trial Version is available but expires after 30 days. | No trial version is available. Have to purchase it. | It haa s community edition/ free edition where you can use it for free. |
| 4 | Learning | Script based. Basic programming is required. | Visual Designer. Easy to use. | Visual Designer. Easy to use. |
| 5 | Macro Recorders | Present. | Absent. | Present. |
| 6 | Cognitive capability & Reusability | Very high. | High | High |
| 7 | Scalability | Limited | Good with excellent execution speed | Good with moderate execution speed |
Based on these comparisons you will be able to choose the appropriate RPA tools. The comprehensive assessment makes the candidates evaluate their choice of tool in relation to the problem of the organization they wish to solve with RPA. Choose the right RPA tool and get started with:-
Analyzing existing business processes and developing an RPA plan to improve the efficiency of a workflow.
Reducing operational costs and errors through automation, and
Diagnosing and solving problems during the development and implementation of RPA software robots.
Related Blogs