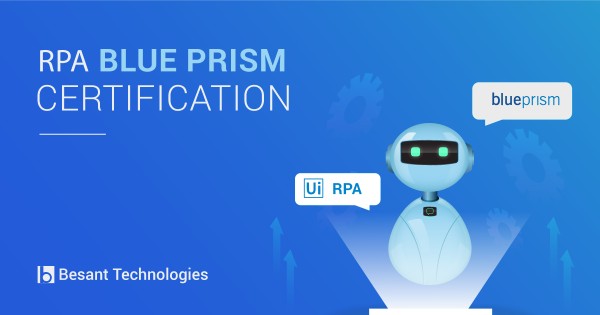 RPA Blue Prism Certification
RPA Blue-Prism Certification
Robotic Process Automation is a practice that combines machine learning and artificial intelligence to automate large-scale tasks. Automation has been bringing greater efficiency to the enterprise – there is a clear example in the field of customer service. The automated services are ever fulfilling the needs of customers but today's users are looking for more personalized and improved fast service solutions. The goal is to replace the manual operations in the workflow with software robots developed with RPA tools.
RPA tool development process is generally full graphical, drag and drop plus some configuration process; you can complete the development, basically no coding process. After the development is completed, it is displayed in the form of a flowchart, which corresponds to the steps in the actual manual operation process and is relatively intuitive.
Most popular RPA tools in the market are blue prism. As a pioneer, innovator and market leader in robotic process automation (RPA), Blue Prism delivers the world's most successful digital workforce. The company's robots automate repetitive administrative tasks while meeting the needs of the most demanding IT environments, where security, compliance and scalability are top priorities.
RPA has attracted the attention of people worldwide in a short time span only. The global RPA market is expected to be of $600 million by the end of the year 2020. It makes it clear that that the scope of RPA is on the rise today and demand for automation tools are also increasing across the world.  Today, a plenty of Companies are investing hugely in RPA. This is because of the endless benefits of RPA and its approach aims to replace the human workforce with robots in the near future.
This is expected that RPA will create millions of jobs in this domain in the next two years. It will give a quick recognition to your automation skills and simply let anyone transform their career to the next level. When it comes to automation, the Blue Prism is a popular name. Here, is all you should know about the Blue Prism certification.
Click Here! → Get RPA 100% Practical Training!
About BluePrism Certification:
Besant Technologies aims at providing high-quality training to students to achieve their desired future goals on automation. BluePrism is technology-driven and innovative RPA tool which offers efficient and cost-effective virtual workforce to organizations. Besant Technologies delivers the most advanced and prompt training courses in world-class technologies in India. BluePrism certification at Besant Technologies shares vision in promoting competitive change and organizational flexibility using this RPA tool.
Blue Prism in RPA is continuously changing business process automation and digital workforce solutions. Considering that RPA tools are featured automotive framework in Digital automation space and Artificial Intelligence, BluePrism is standing as a leader in providing the virtual workforce.  BluePrism counts companies from numerous vertical sectors such as automotive, manufacturing and sales as well as the reputed global banks are relying on BluePrism application to carry out its business processes.
Why Blue Prism Training and Certification is important?
The Blue Prism Training had become highly recognized today and more and more IT geeks are switching their jobs to the automation. The fat salaries and an excellent learning environment are reasons why automation has a wider future scope than you could imagine. With a proper Blue Prism Training program, you can always give more strengths to your overall skills.
When it comes to data analysis, distribution, or data management, there are a plenty of factors that are taken important for availing business profits. The efficiency cannot be achieved with traditional techniques but you need to enable automation to take more important decisions and analyzing tough situations too together. Here are some of the benefits of Blue Prism Training and certification for aspirants-
Developers will simply gain more potential and knowledge about different stages of the Blue prism technology and flow of different activities in the process.
One more important aspect to consider in automation is application modeling. Learners will get a chance to enhance their abilities on the same platform.
The Blue Prism Training had a certain debugging process and with the help of training program, the same can be strengthened quickly.
The Blue Prism Training or certification makes sure that they could manage blocks, stages or designs properly in the best possible manner. This is the way how can you improve the quality if outcomes significantly.
Certified professionals can quickly apply for different domains in the automation like data type or environmental variables etc.
Click Here! → To Get Blue Prism Certification Training!
Why are organizations seeking certified Blue Prism experts?
For every organization, data management is given utmost importance and quite essential too. Errors in data handling may rise to a plenty of problems and therefore organizations are always seeking certified and skilled Blue Prism experts to complete the data management tasks.
Blue Prism Trained experts can always handle data management tasks gracefully without getting too complex procedures.
Blue Prism experts had hands-on expertize on multiple data handling technologies that help in deriving the healthy results in the end.
They can also help in managing business processes and data well through the automation approach.
With hands-on expertize in real projects, RPA experts can always implement automation solutions in the best way.
Why Blue Prism? What is the eligibility criterion?
There are a plenty of reasons for considering Blue Prism when it comes to the automation. The multiple benefits given by Blue Prism tools are the biggest reason why organizations opt for this technology. Additionally, Blue Prism had the following advantages.
Blue Priam is recognized worldwide and experts can always secure some of the best available jobs from worldwide.
The certified professional can always earn more when compared to other technology experts parallel to the Blue Prism.
Click Here! → Get Prepared for Interviews!
The Eligibility Criterion for Blue Prism Certification
Anyone who is applying for the Blue Prism Certification needs to follow certain conditions. Anyone who has a non-IT background, Blue Prism training is essential. Today, there are a plenty of IT training organizations who help you get trained at the same platform. Even if you belong to IT background then you should have the basic knowledge of core concepts.
The eligibility criterion for Blue Prism certification is not tough and anyone meets this. For certified professionals, there should be minimum 3 months experience in Blue Prism technology before they are awarded the job.
Learning Experience at Besant Technologies:
Our centers are well known for BluePrism and other automation training courses. Our classroom programs are built to provide you hands-on experience in BluePrism software with the finest lab facility. Our training modules are prepared to give complete insights on the BluePrism tool in the most methodological manner. You will be able to:
Install and configure the BluePrism application.
Handle structured data.
Understand the components of BluePrism i.e. Object Studio and Visual Studio.
Design, build and test new processes
Understand built-in libraries and implement infrastructure and governance
Plan a process automation strategy.
Create bots to capture and repeat events on a website, desktop or terminal.
Click Here! → To Get Free Blue Prism Tutorial
Process Flow of Blue Prism:
What distinguishes BluePrism from traditional IT automation is the ability of this RPA software to adapt to changing circumstances, exceptions and new situations. As a pioneer, innovator and market leader in robotic process automation (RPA), Blue Prism delivers the world's most successful digital workforce. The company's robots automate repetitive administrative tasks while meeting the needs of the most demanding IT environments, where security, compliance, and scalability are top priorities.
The interface of BluePrism has 3 major components.
Studio
Control Room
Dashboard
BluePrism basically works on Process and Objects Studio. These two components are useful for the development of the process. In a nutshell, the studio is where we do design and modeling.  The Control component of BluePrism is to assign privileges to the user. The Dashboard component is where the outcome is shown.
Permissions will automatically get selected after giving certain roles to the processes. By using the Control feature, we can create new roles, modify the roles and manage users.
After completion of this certification, you will be skilled in using all these components and features with ease and you will be able to create your own bot.
Features of BluePrism:
BluePrism offers a scalable and robust execution platform for world-class AI and cognitive technologies.
Established itself as a proven and secure Fortune 500 RPA enterprise platform.
BluePrism is particularly useful for organizations that have many different and complicated systems that need to interact fluidly.
BluePrism is faster, reliable and simple to use. NO coding required. It is more market-driven, that's why more and more companies are recruiting BP professionals and analysts.
The popularity of artificial intelligence will promote relevant innovations in multiple industries and open up new economic growth opportunities. BluePrism emerges as the leader in AI and RPA tools. As the industries are enhancing its capital efficiency by facilitating the supplement and upgrading of existing labor and physical assets, BP certification makes you stand out from the crowd. BP certification allows you to achieve your goals to become master in automation by building yourself and maintain a leading position in the digital + intelligent era.
Click Here! → Enroll now!