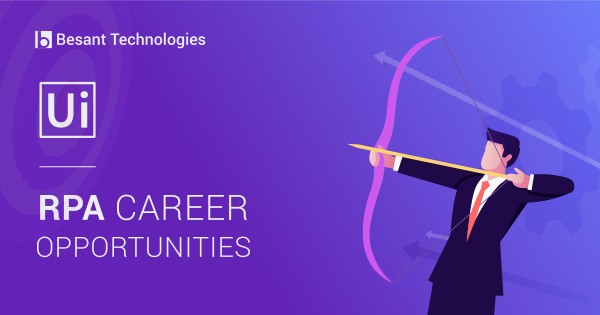 RPA Career Opportunities
Robotic Process Automation Career Scope
Robotic Process Automation is quite a new field which is getting popularized so much that the large organizations (mainly in US and Europe) have started investing in this technology and are really focusing on its career opportunities knowing it will do wonders in near future. This is a very fascinating field as something that we could have never imagined a decade back. It is now actually happening. Getting your work done through a robot, isn't it sounds amazing? Here, we make the use of Artificial Intelligence, this revolution will surely change the phase of the future world as For getting some more clarity over the topic we need to discuss "Why does Robotic Automation so relevant in today's world?"
Click Here! → Get RPA 100% Practical Training!
RELEVANCE: A robot can work in a smarter way.
It can do multitasking. Like a computer. Or, it can better manage the repeatable tasks.
It can exponentially increase the accuracy and minimize the chances of error.
Improves standardization.
It results in reducing the time taken to finish off the tasks.
There are many RPA service providers like UiPath, Blue prism, Redwood, Automation Anywhere etc which help these big firms by providing tools and technology so they can explore the feasibility more accurately. As the first challenges the companies face is selecting an initial RPA vendor. Almost all the large IT organizations (Infosys, TCS, Cognizant to name a few) have created specific RPA Cells to work on RPA Projects. We are lacking somewhere in resources but it will just create some temporary delays as initially, it happens with every new technology that comes in the market. It is said by experts that within a very short span of time this is going to crawl up in many fields as it has huge relevance in areas like medicine, banking, health, IT, Industries, Development etc. So, we can say that a career in Robotic Automation brings many perks in itself. It is considered to be very effective seeing the future scope of the field; one can easily expect a major share of opportunities in near future as there is no other field where the innovation and exploration is going on so enthusiastically. This is the field which is automatically attracting everybody towards it. People are actually keen to learn something which was never in pictures before.
Click Here! → To Get RPA Certification Training!
Why should you consider a career in RPA?
Automation has given a new definition to work how it was completed earlier and how it is completed today. Automation is a blended workforce of humans and digital efforts and it is named as software robots or bots ahead. This symbiotic relationship is expected to create a wider set of career opportunities for aspirants. Are you ready to seize opportunities that have been emerged in this automated era? This is a good time to start your career in RPA with the right training and certifications that will give you higher salary packages in the end.
RPA TOOLS:
There are a few primary tools for RPA. They are:
It is mainly used in business operations. By understanding this tool we can learn about how to create a virtual workforce to increase accuracy.
This is mainly used for software automation and application. It can be used for various integration services.
Using smart adapters- A product feature in AA, Reusable automation blocks can be created. With this, we learn to help organizations on how to manage workflows and achieve process consistency.
By this, we can understand the concept of desktop automation which is mainly focused on revenue growth and operational efficiency.
Why Robotic Process Automation?
We can by now predict the future scope of RPA (Robotic Process Automation). It is better to acquire the knowledge of RPA as its future seems to be very flashy and exciting. There are various roles available like RPA Developer, Process Consultant, RPA Implementation Manager, RPA Architect, RPA- VP etc. Because the growth for middle management in the Indian IT industry is stagnant for some time now, this is the best time to get into RPA. Few tasks like data entry of invoices, transaction maintenance of bank records are repetitive and voluminous. Automating them will enable efficiency, increase productivity and reduce cost and time. RPA employs technology that automates workflows, speed up business processes and most importantly, it will eliminate the human error. By means of algorithms, the day to day routine tasks can be automated. Sectors like Banking and Finance have begun to employ RPA to automate their financial transactions, addressing queries, improving customer experience through quick response and redressal thus reducing the waiting time for loan approvals, credit card processing.
The Magic of RPA has begun!
RPA or Robotics Process Automation is a software that is particularly designed for the automation of simple and repetitive tasks. It is taking up a large percentage of worker's time today and things like loan processing, claims processing, apps processing, or onboarding employees are just a few names today.
RPA is getting immense popularity in the modern IT marketplace. The presence of RPA can be felt almost everywhere like banking, finance, healthcare, insurance, or telecom industries etc. It will make the monotonous tasks more interesting by taking the advantage of uniquely human abilities.
Today, RPA is not just limited for task simplification but it can be coupled with AI or machine learning as well and making it immensely popular for automating complex tasks with the help of structured or unstructured data like supply chain management, payroll processing, or software programming etc.
Further, the benefits of RPA are reported widely like minimum errors, better compliance and improved customer experienced at dramatically lower costs. Its benefits are the biggest reason why adoption of RPA is increasing widely. The global market of RPA is expected to grow by $8.75 billions by 2024. Based on one new report and research, in the near future, most of the work that was completed by humans will be performed by bots soon.
Click Here! → Get Prepared for Interviews!
RPA Career Opportunities – A win-win in Jobs
There are a plenty of job options created by the RPA but it needs particular skills set and knowledge. Based on one survey, this is clear that when a plenty of tasks can be automated or completed by humans by 2025, the creation of new job opportunities will outweigh the displaced jobs.
When horse carriage was replaced by cars, means transportation was automated, a plenty of jobs were created in the automotive field. Soon, driverless cars will be created and job options will increase again. Moreover, all of these advancements need unique creativity and cognitive skills of the human brain, still, job options in RPA are immensely huge.
According to a research report 2017, automation will help 75 to 350 million people to switch their occupation and reskill themselves. There is no doubt that businesses still need humans with special expertize but automation will reduce physical efforts to a larger extent.
The salary packages for skilled RPA professionals is also very high when compared to other similar professionals. Today, salaries for RPA experts in the USA is almost 30 percent higher when compared to software programmers and engineers etc. Undoubtedly, the demand for people skills in RPA is set to the skyrocket.
The Significance of RPA certification Training in Career Growth
When you will check at the global level, a plenty of jobs are posted on job sites worldwide. We anticipate a boom in RPA jobs during the next few years as major of Companies will adopt the RPA as well. Before hiring, Companies will check that person should least minimum training to handle the basic things. If you are RPA certified then you will be given more importance as compared to others. So, getting trained and certified in RPA will always give the right boost to your career and help you stand ahead of the crowd.
Today, there are a plenty of IT training providers available worldwide offering RPA certification training. You should choose the best and start your training right away. Always choose the organizations having hands-on proficiency in best-selling RPA platforms. So, are you ready to land a job in RPA? If yes, then join us and leave a long-lasting impression on potential employers today.
The future looks bright for RPA careers. Get started now.
Conclusion:
It has to be mentioned that according to NASSCOM, there are 8 technologies that are going to revolutionize organizations and jobs in the coming decade and one of these technologies is RPA. As per the survey conducted by "CoSourcing Partners," the potential for salary advancement in the RPA profession is promising with 60% of the people surveyed recorded a salary increase up to 20%. It's not surprising that RPA positions are industry agnostic, and can be found in every industry like financial, healthcare, energy and utilities, communications, retail and many more. With RPA businesses can become more efficient. One can easily opt for RPA knowing its bright scope.
Related Blogs