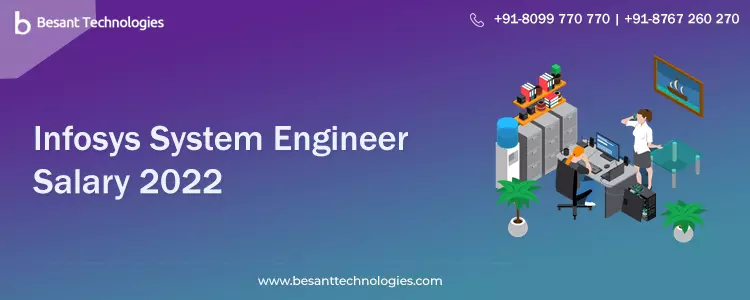 Infosys System Engineer Salary 2022 in India
In an era of financial difficulty, Infosys Pvt. Limited is providing decent salaries to all its employees. In this article, we put the right and updated Infosys system Engineer Salary 2022 data that Infosys provides to their employees in India. Maybe the number won't be exact due to business and employee confidentiality. Training (the bottom position in the company) goes to Trainee, and CEO is the top position, so salary structure also varies according to the various positions.
Infosys System Engineer Salary 2022
The company recruits fresher employees who have no experience in the Engineer sector to become assets for the company, so they pay them a decent salary of between 5 LPA and 8 LPA, which is around 45K/month on average. Upon successful completion of the 1-year probation period, fresher's at Infosys receive a promotional offer that will depend on how they perform in the probation period. We can expect the raise to be between 6% – 10% based on the individual's performance and the profit of the company.
A system engineer's responsibilities include monitoring all systems, configuring them, testing them, and maintaining operating systems. They are responsible for analyzing the performance of applications, maintaining backups, finding security issues, and ensuring that the system works efficiently. A senior system engineer salary in Infosys starts from 73000/month on average. If you have 5 to 10 years of experience then you can earn 9 LPA to 15 LPA. In Delhi, Mumbai and Chennai cities an Infosys senior system engineer salary is up to 10 LPA, which is the highest salary in India. An engineer on a senior level needs to possess strong leadership skills and have oversight over his or her employees to ensure they understand the tasks and follow them up.
Besides earning more, Infosys provides its employees with opportunities for equal opportunities, to grow, to explore new ideas, to spend more time with their families, to have fun on campus, to lead internationally. Infosys salaries packages vary based on degrees, years of experience, and qualifications.
Top Cities – Infosys System Engineer Salary 2022
Let's check out the top cities and find out the highest paying location in India for Infosys system engineer salary.
Bangalore
In Bangalore, a fresher in Infosys System Engineer salary package starts from 35k to 47k per month. Bangalore is the fastest and most growing city in India, so if you are living and plan to live in Bangalore then you must apply to Infosys Company.
Chennai
Chennai is the great and smart city in India. In Infosys 32% of employees are from Chennai, so it's a good thing or a plan to start a career in Chennai Infosys. An average for a fresher system engineer in Infosys starts from 42k per month.
Delhi
In Delhi, an Infosys senior system engineer salary starts from 72k per month. Infosys also gives you additional benefits like bonuses, family or single trips, relocation expenses and more. An average salary for an Infosys fresher system engineer is 38,000 per month.
Hyderabad
Hyderabad is another big and smart city in India. It has a huge IT sector and Infosys also preferred their employees from Hyderabad. A Senior System Engineer Salary in Infosys starts from 10 LPA to 20 LPA. If you want to achieve something and want to settle in life then you must apply for a system engineer job at Infosys.
Pune
Pune is a small and fast growing city in India. A senior and fresher system engineer can easily earn up to 10 LPA in Infosys Company. In 2022, an engineer employee gains all additional benefits and WFH options too.
In addition to Infosys System Engineer Salary package 2022, the following benefits are offered to Infosys employees:
Coverage of life insurance
Expenses of relocation
Access to a health club
Paid Holidays
Paid emergency leave
On site programs