RPA Training in Chennai
Learn RPA Training in Chennai at Besant Technologies and start your journey into the Automation industry. Besant Technologies is the most reputed RPA Training Institute in Chennai that delivers both Online and Classroom Robotics Training to gain theoretical and practical skills to face real-world challenges.
Besant Technologies is a leading provider of RPA Training in Chennai. Awarded as Best RPA Training institute in Chennai – We guarantee for your RPA Training & Certification Success in Chennai.
India's Top Rated Robotic Process Automation Training Institute offers real-time practical RPA tools (Blue Prism, Automation Anywhere, UI Path) Training with the Live project, job orientation, Back up Classes and certification guidance. Get RPA training in Chennai to have a challenging task in your career. RPA is the most demanding technology which is at rapid speed in the market. Get enroll for it and grab the exciting opportunities. Besant technologies provide a platform to learn.
RPA Courses are run in our Chennai training centers (Velachery, OMR, Tambaram, Porur, Anna Nagar, T.Nagar, Maraimalai Nagar, Siruseri, Adyar, and Thiruvanmiyur). If you are looking for Best RPA Training institutes in Chennai please contact 9962528293/4.
Robotic Process Automation Training in Chennai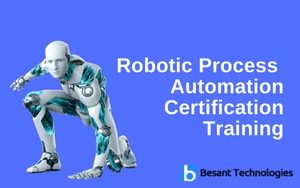 Accelerate your career graph in Automation Field by our RPA Course in Chennai and become a master in  RPA Tools-Automation anywhere, Blue Prism, WorkFusion, Openspan and Uipath with the help of our Certified RPA Working Professionals, who have more than 10 years of experience. Besant Technologies offers an in-depth, real-time and practical oriented Robotic Process Automation Training in Chennai.
The entire course content is designed by the Industry Experts as per the current IT needs. Participants will acquire skills in complete configuration of robots by making use of proven implementation tools and methods to enhance business development. In this world, RPA(Robotics Process Automation) is one of the most emerging fields that relate to advanced computer software to automate rule-based methods without any need for constant human supervision. Read More...
Batch Schedule for RPA Training in Chennai
Besant Technologies provides flexible timings to all our students. Here are the RPA Training in Chennai Schedule in our branches. If this schedule doesn't match please let us know. We will try to arrange appropriate timings based on your flexible timings.
Robotic Process Automation Tools
Automation Anywhere Training: In this training, the aspirants will acquire knowledge on how to help the organizations to achieve process consistency across the team, or else by automating and managing workflows in an efficient way.
Blue Prism Training: In this training, the audience will acquire knowledge in business operations to be cost effective and responsive through the rapid automation, and to improve accuracy by creating a virtual workforce.
 Open Span Training : In this training, the audience will leverage skills in desktop automation technologies. This training mainly focuses on driving revenue growth, operational efficiency, and customer lifetime growth.
UI Path Training: UI Path is simply a software automation and application integration expert. Our RReal-Time experts will leverage their subject knowledge in UI Path tool with real time scenarios and practice sessions.
RPA Training in Chennai with Experts: Most of Our RPA Trainers are working professionals having minimum 5+ Years of experienced in Robotic process automation field . Our RPA Syllabus is designed with an Advanced level which Contains a lot of real time automation programs using various Scripts.  Most of Our Students are placed in infosys, TCS, CTS  Companies with high Package from our Referal.
Click Here to Know about → RPA Tools Comparisons
About RPA Course
What is Robotic Process Automation?
Robotic Process Automation brings revolution in the market, and it was started early 2000's, and it's becoming the most demanding technology in the market. It's the use of a software system with machine learning capabilities and artificial intelligence to handle most frequently used tasks that conventionally need to perform by humans. It's evolved from three important technologies which include- workflow automation, screen, and artificial intelligence. This tasks may consist of- queries, calculations, and handling of records and transactions. RPA reduces most of the industry works in multifold by reducing the human errors and saves time. RPA doesn't reduce the workforce completely, but it provides opportunities to the workforce in different ways. Use of RPA minimizes the workforce, saves time and increases the productivity in multifold.
Click Here to Know More About → What is (RPA) Robotic Process Automation?
What is this RPA course about?
RPA is the application that enables employees in a company to configure a "robot" or computer software to capture and interpret existing application for processing a transaction, manipulating data, calculations, triggering and communicating with other digital systems. In simple words, RPA will automate rule-based, complex work using a tool or application as Human does.
It is used to automatize those business processes that are highly repetitive since robots do not get bored and can perform high-volume, massive repetitive work. RPA is well-known for its cost efficiency, quality, effectiveness and most essentially due to its user-friendly nature. It assists mainly in simplifying work, collecting valuable data on such works to drive continuous enhancement to boost business revenues.
This RPA Training in Chennai makes the intended audience to deliver cost-effective solutions to the enterprises in a short span of time. Today, due to its robust features, RPA is being adopted & implemented in several organizations, it is rapidly gaining its popularity in the market. Hence, it will be added a Career advantage by taking the Robotics Process Automation Training in Chennai.
Click Here to Check Latest Updated – RPA Interview Questions and Answers
What are the RPA course Objectives?
After completion RPA Training in Chennai, a candidate will be able to work on many RPA functionalities such as
Introduction to RPA
Design considerations for RPA solution
Capturing and interpreting existing applications
Workflow automation, debugging and exception handling
Understand business functionalities in RPA
Know how these RPA tools can be used across the Organizations
Implement RPA functionalities across the Organizations to boost revenues
Skills in cost efficiencies of various RPA solutions and ROI
Leverages knowledge in separating the myths from the facts and realize the actual benefits of RPA
Drive the tactical and strategic rollout of the RPA solution
Manage RPA solutions to ensure lasting results.
Who should do this RPA course?
RPA Training in Chennai can be taken by the following people:
Fresh Graduates
BI Professionals
Digital Marketing Professionals
Flowchart Designers
Executive Analysts
IT Professionals
Automation Learners
Anyone who wants to make a career in robotics.
What are the Prerequisites for this RPA course?
Anyone with basic programming knowledge can take up this course. Robotic Process Automation is a developer of robotic process automation (RPA) software. The company's product, Automation Anywhere Enterprise, caters to enterprises looking to deploy a digital workforce composed of software bots that complete business processes end-to-end. Automation Anywhere Enterprise combines traditional RPA with cognitive elements such as natural language processing and reading unstructured data.
Fresher graduates
Working professionals
Business intelligence professionals
Marketing professionals
All fresher engineers and professionals who are on the way to start a career in Robotic Process Automation can join this course.

Who wants to start a career in Robotic Process Automation can join and take up this path.

Prerequisite: There are no specific prerequisites for taking up this online Robotics training in Chennai. If you have a basic understanding of software coding and programming logic, then it will be beneficial.
Why should you learn Robotic Process Automation?
Robotic Process Automation (RPA) is an automation technology for making smart software by applying intelligence to do high volume and repeatable tasks that are time-consuming. RPA training is automating the tasks of the wide variety of industries, hence reducing the time and increasing the output.
Increasing Demand Day by Day rapidly for RPA.

More than 4+ Million jobs are available for next upcoming years for automation and robotics industry.

Everyone can learn Automation Anywhere without any coding knowledge. Because of its code free

Salary of RPA professional is very high.
Why to Choose Besant Technologies for RPA Training in Chennai?
Get enroll for RPA training in Chennai, we at Besant technologies offers this exciting platform to learn this course with real time projects with the assistance of industry experts. We have our presence in different areas of Chennai locations. All our branches are near to corporate areas aspirants, or professionals can easily reach us and saves their valuable time. We understand the needs of the industry and designed every course accordingly to build our students skills competitively. We don't regret our students at any point in time. We provide free access to hardware and software systems and even allow our students to install an advanced software system in their system.
We provide an excellent environment to learn and explore the subject. In every batch, we allow only single digit candidates so that students get the utmost attention from the trainers. We provide assignment at the end of every concept, which helps the students to clear their doubts at the same time. Our trainers and technical team is very supportive help students to get the complete subject knowledge according to industry needs, Even help students in preparing for interview questions and answers. We will provide training material and videos for reference in the future.
The presence of experts in RPA real time as the training faculty.

Provides the best learning environment.

Limited students per each batch.

Faculty's interaction with each and every student for the better subject retention.

Well, affordable Course Fee.
If you are looking for Best RPA Training institutes in Chennai with Placements please Contact us 9962528293/4. Attend one hour Demo session on RPA Tools at Besant technologies Chennai Branches.
RPA training in Besant Technologies
Monday – Friday: one hour per day (25 working days)

After completion of the course, you can get relevant materials for your future preparations.

Sample Project

Free Software Installation

Interview Questions 
RPA Exams and Certification
After the completion of RPA training in Chennai, a Globally recognized course completion certificate is provided to the participants that help to put a step forward in the job hunt. It would be a priority point for a student to acquire RPA Certification as the companies prefer those profiles that are arrayed with RPA certification.
RPA Certification Training in Chennai
The certification ensures that the participant has gained in-depth knowledge on features and technology based on prescribed automation principles and assists to secure a job in top MNCs. At Besant Technologies, we are prepared to deliver the ultimate learning experience for you: Our RPA training in Chennai consists of a comprehensive syllabus packed with tests and exercises aimed to accelerate learning, rich, self-explanatory demos, meticulous guides, and video support.
Our Trainers are working professionals and carry vast experience in different domains. We monitor and pick quality instructors so that they can provide a great learning experience. We provide real-time examples and projects during the course which is very helpful for the participants to hone their practical knowledge in Automation Industry. We Help you with Resume Preparation, Interview Preparation. We conduct Mock Exams, Mock Interviews.
RPA Training in Chennai with Placements
We are a certified training partner with some MNC's, and we even conduct a  job oriented professional exam to our test and provide certification that is globally valid. We have a separate portal for Besant technology students to apply to different companies in our tied up companies and companies of our training working companies. We update everything in job portal for our students to get benefit out of it. We help our students in all possible ways to get placed in a reputed organization by providing placement assistance and even prepare them for interviews by conducting mock interviews and tests.
Job Opportunity in RPA
RPA is being heralded as one of the booming industries in today's digitally-driven economy. It holds a bombastic career opportunity and is in high demand. Starting your journey with the RPA technology is becoming one of the most opportunity oriented platforms for the persons seeking promising job roles and good package. Taking up training in this RPA course is going to open doors to not just success, but a valuable addition in what type of job one performs.
RPA is the future of all medium and large scale industries. No doubt, in the future world the major employment opportunity will be created in the field of RPA. Besant Technologies is offering the comprehensive RPA Certification training in Chennai that is highly valued by the industry. We give 100% job assistance to our students. We have a separate job portal for our students to apply to different companies in our tied up companies.
Click Here to Know about → RPA Career Opportunities
Considering the following facts, the growth in the field of RPA is Guaranteed:
In the US alone, the jobs market has grown 254 percent in the last 15 months.
RPA  Market Will Reach $2.9 Billion By 2022 – Forrester Research
96% of customers are getting real value from RPA– Gartner Report
Robotic Process Automation Specialist can earn an average salary of $126,094 – Indeed.com
A McKinsey and Co., 2016 report predicts that the RPA market could be worth $6.7 trillion by 2025
Deloitte, Capgemini, Cognizant, Hexaware, Accenture, and many more top MNCs are now preferring and hiring people with RPA Certification.
Due to the skills shortage, Employers are looking for highly skilled, trained and certified RPA experts. They have high pay packages for RPA accredited individuals.
Impact of RPA on Employment
RPA is implemented in their projects by many prominent organizations for automating their business process. The companies like Blue Prism and Uipath are the most leading organizations which provide RPA automation to MNC's. RPA also called as bots or robots which acts as a human worker logging into applications, perform tasks and logging out. RPA does its work without changing the existing infrastructure and systems. Robotic process automation (RPA) is the use of software with Artificial intelligence (AI) and machine learning capabilities to handle high-volume, repeatable tasks that previously required humans to perform. These tasks can include queries, calculations, and maintenance of records and transactions.
About RPA Trainers in Besant Technologies
We have qualified trainers from the reputed organization, who provide this training to our students in their part-time. Our trainers are spread across the globe. Our trainers focus on individuals and provide them with the knowledge to reach their career goals according to their skills. Our trainer's experience helps our students to get the right knowledge and crack interviews easily. Our trainers help students to work on their real-time projects, which builds confidence in students and even help them to prepare for interview questions and answers. Our trainers have good patience they repeat every concept until students get satisfied and get that concept entirely.
Key Benefits Of RPA Training in Chennai
Noninvasive nature and compatibility with existing systems
Huge Cost Savings
Improves Customer Experience
Best Management Capabilities
Completely focus on quality
Code-free, which means it does not require programming skills.
Business user-friendly.
Increased Productivity as it can perform the work of thousands of software engineers
Saves the time of almost 80-90% in performing various tasks.
Reduces the human error syndrome and thereby raises the scalability, work quality, and competency 
Reviews of RPA Training in Chennai
Joining this institute I have got a chance to attain exposure to the industry oriented RPA training in Chennai. This has helped me a lot in my career in securing a job as an RPA professional."
Deciding to join Besant Technologies is so far the best choice I've made in my career. It helped me a lot in securing my future as an RPA professional. All my colleagues are shocked by the skills I possess with such a little experience I have. Really thankful for the awesome RPA training in Chennai that I've received from Besant Technologies."
This is the best RPA learning institute. The trainer is very knowledgeable. He knows all RPA tools thoroughly. He is also an excellent teacher, very responsive to participants' questions. Thanks to Besant Technologies for such a wonderful learning experience.
Besant Technologies has taught me all the RPA Concepts that took me to the next level. I truly thank this institute for making me an expert in RPA Training in Chennai.
Thanks to Besant Technologies for such an amazing RPA Training in Chennai and course materials. I got Placed in an MNC. Thank you.
Frequently Asked Questions