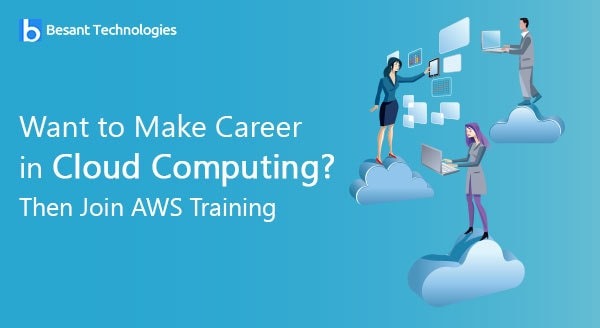 Want to Make Career in Cloud Computing? Then Join AWS Training
If anyone want to make your Career in Cloud Computing then it would be right if you choose Amazon web services. Let me brief you about AWS it is a part of amazon.com. It operates over several regions. It provides more than 70 services like AWS cloud formation, Auto scaling, AWS Application Discovery services, etc.
Why companies prefer Aws?
Allows application provider to host their applications
It is more flexible when compared to other cloud computing services
It is cost effective
It is more secured
Who can learn AWS?
AWS is suitable for IT professionals, System administrators and also suit for fresher who want to make career in cloud computing.
Click Here! → Get Prepared for Interviews!
Purpose of learning AWS
Once you completed the course you should able design the cloud architecture independently and you should able to provide solution to companies who are moving towards AWS.
Future for AWS trained professional
AWS is creating huge demand in cloud market. A recent survey says that many companies are moving towards AWS, so that there would be large demand for AWS trained professional for both freshers and experienced people. The only think companies look for is they need only well trained professional. Doesn't bother about you are a fresher, if you satisfy them they are ready to pay Good Package.
Best place to learn AWS
Besant Technologies provides best AWS Training in Chennai. We teach AWS from beginner level to advanced level. The trainings are provided by working professional who are expert in AWS. We give importance to real time training. We design syllabus based on current IT trends. We individually focus on each student. We provide best placement support for our students. So join us soon, Get more knowledge about Amazon Web Services.
You should think right in order to succeed in your life so think right and join us soon!