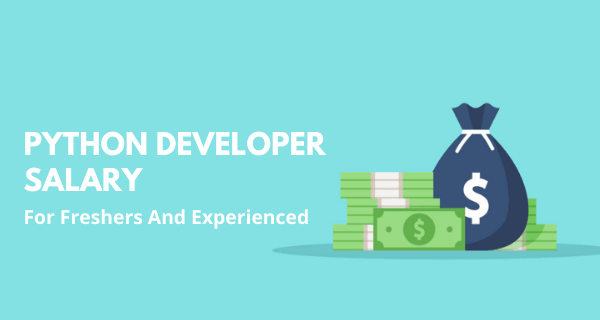 Python Developer Salary in India for Freshers & Experienced
Python Developer Salary in India for Freshers & Experienced
Python is a powerful component of the world of programming. Interestingly, its popularity is only growing with each passing year. Of note is the fact that Python is not a newly evolved programming language. But its clout in the IT world is easily surpassing the popularity of other traditional programming languages such as Java, PHP, and C#.
According to certain research studies and surveys, Python features second in the list of world's most popular programming languages. Now, that's impressive!
One of the most important reasons for its popularity is undoubtedly its versatility. And that is why it finds application in a wide variety of industries. This has understandably caused a rapid rise in the demand of Python professionals all across the globe. And with that, the Python Developer salary in India for freshers & experienced is also growing unabated.
By now, you must have become excessively intrigued by Python's potential with respect to employment opportunities. And you also probably want a deeper insight into the subject.
So, why wait? Let's learn more about Python as a programming language worth learning, as well as a field of work worth seriously considering for impressive compensations.
Python Developers, Who they are? And what they do?
Python Developers make use of the Python language to not just code for software applications but also design them. So, they basically write codes for backend, apart from debugging errors. Usually, Python Developers work on data analysis and web development. But with the advancement of machine learning, they now utilize the same for the purpose of developing applications.
Also, it's worth noting that Python programmer salary in India has significantly increased after the advent of data science.
Python Developer Salary in India for freshers & experienced- Ever wondered why it's so high?
Python is a high- level programming language which is object-oriented. That means, it proves extremely useful when it comes to sorting out complex problems. That is why a person highly skilled in Python is such an important asset for any business.
Now, let's compare it to Java. We know that Java has always been popular across the globe. Yet, now it fails to outdo Python. As per SlashData reports, around 7.6 million developers use Java, whereas the count is 8.2 million in the case of Python. And this number is only increasing with time.
Most biggies like Netflix, IBM, Facebook, Instagram, Amazon, YouTube, NASA, and Google make use of this programming language for their operations. And not much surprise, there has been a rapid increase even in the number of small companies reliant on Python. This explains why there is an incessant growth in the demand for Python Developers all over the world.
What roles Python Developers perform?
1. Data Scientists
Data Science involves gathering, processing, and interpreting data with the help of programming. It would be valuable for you to know that Python has been playing a major role in this area. In India, the scene is such that Python programmers who work in the field of Data Science make better earnings than DevOps programmers and software developers. After all, companies want more of such people who can make stray data appear more meaningful to them.
It's worth mentioning here that salaries of Python Developers that are associated with data science are higher in major metro cities such as Mumbai and Bangalore. The figures are also decent in certain other cities like Pune and Delhi.
Responsibilities that Data Scientists shoulder
They gather massive quantities of both structured and unstructured data and transform it into something useful and meaningful.
Hidden trends and patterns in data need to be uncovered. For that, data needs to be analyzed with analytical techniques like deep learning, machine learning, and text analytics. Data scientists are experts in that.
Data scientists easily solve complex business problems with a completely data-driven approach.
For better data efficacy and accuracy, they skillfully cleanse and validate data.
With the help of data visualization, they effectively communicate their findings and observations to their company.
The salary of Python experts engaged in Data Science
The mean salary of a Data Scientist in India having knowledge of Python is INR 708,012 a year. A professional with less than 1 year of experience can make an earning of INR 500,000 per annum. In case your experience range is between 1 and 4 years, then you can expect to earn somewhere about INR 610,811, on an average.
Further, Data Scientists having an experience of 5 to 9 years can expect to take home a salary of INR 1,004,082 pet year. One thing that you need to keep in mind here is that the salaries increase with an increase in the experience of employees. And this implies that you can earn above INR 1,700,000 annually, at senior level positions.
2. Artificial Intelligence/Machine Learning Engineer
Machine learning and artificial intelligence are two broad areas under which a lot of applications operate in different disciplines and technologies. They deal in Data analytics, robotics, chatbots, web development, intelligent application development, etc.TensorFlow, PyTorch, OpenCV are a few frameworks which most machine learning and artificial intelligence enthusiasts need to be familiar with.
To be honest, Machine Learning and Artificial Intelligence have together changed the face of the IT world.
Responsibilities that Machine Learning Engineers need to shoulder-
Data science prototypes are not just studied but also converted by them.
They are responsible for designing and developing machine learning schemes and systems.
They use test results to undertake statistical analysis and to fine-tune models.
They are also responsible for training and retraining machine learning systems whenever it is necessary to do so.
All existing machine learning libraries and frameworks are enriched by them.
They consider their clients' requirements and create suitable machine learning apps for them.
They don't just do experimentation but also undertake research and implementation of machine learning tools and algorithms.
They study machine learning algorithms by their problem-solving capacity.
How much does a Machine Learning Engineer in India earn?
The mean compensation that a Machine Learning Engineer earns per year in India is INR 671,548. If you are a Machine Learning Engineer with less than a year of experience, then you could make an earning of about INR 500,000 per year. At the entry-level, the salary can be as high as INR 672,106 on the basis of the employee's location of employment and skillset.
For mid-level engineers, the salary is close to INR 1,173,074 per year. At senior levels, it is even more impressive, as a senior-level Machine Learning Engineer can earn upto 2 million rupees annually against an experience of more than 10 years.
3. Python Developers involved in Web Development
Web development is a field that is never going to witness a dip in its demand or popularity. For high-level web development, one needs flexible and robust programming languages. And when it comes to such high flexibility and robustness, Python simply stands out. With the help of frameworks such as Flask and Django, web developers seamlessly create stunning web applications that are not just outstanding on the face of it but also functional enough to stand the test of time.
And that is why developers skilled in Django and Flask are in high demand in the field of web development. It's interesting to note here that developers are slowly switching their loyalty from PHP/.NET to Python.
As per a GlassDoor report, the mean compensation that a Python web developer is entitled to is close to INR 43, 504 a month. But then keep in mind that this figure might change from place to place.
Python Web Developer Salary in India
You can earn an average salary of INR 307,800 in India as a Web Developer, only if your experience is between 1 and 4 years.
If the experience is less than a year, then you can earn somewhere around INR 225,076 annually.
For someone having an experience of 10 to 19 years, the salary can be as high as INR 1,000,000 per year, or even more.
Now, let's discuss the main influencing agents that impact the salary
Python Developer Salary in India is determined by a lot of factors. Wondering what factors are we talking about? Well, we are talking about experience, location of employment, roles assumed by the candidate, and his skillset.
Python professionals hold different job positions in different organizations. And their salary range differs from industry to industry as well as company to company. Still, we can talk about a general average for the convenience of understanding the salary structure, and we will do that here. Let's begin by taking experience into consideration.
1. Experience
An entry-level Python Developer can earn an average salary of INR 427,293 in India per year. In case you are a mid-level professional, then you can expect to earn as much as INR 909,818 per annum. Seasoned Python Developers with a lot of experience, holding senior-level positions can earn an average salary of about INR 1,150,000 annually.
2. Location of employment
If you are a Python Developer looking for an impressive salary, then it would be wise of you to start hunting for a job in Gurgaon. Yes, Gurgaon offers the highest annual average salary of INR 700,717 in India. The next best location is Bangalore where an average annual compensation of INR 669, 787 is offered to Python Developers. Delhi follows suit with a mean annual compensation of INR 600, 000 earned by its Python professionals. The next in the list is Mumbai where Python Developers can expect to earn around INR 579,728 a year. After that comes Chennai and Pune, where you can earn around INR 540, 131 annually, with a good hold on Python. Hyderabad offers the least, that is INR 475000 year, on an average, to its Python Developers.
While Gurgaon pays 26% higher salaries than the rest of India to Python Developers, Bangalore pays 21% higher. One thing you need to keep in mind is that even the lowest is not too low here as compared to many other fields of work in the world of IT.
3. Roles handled
There are numerous roles that Python Developers can perform in the field of IT. While some professionals assume the role of Data Scientist, others serve as Machine Learning Engineers, DevOps Engineers, and Web Developers. All of these positions pay differently to Python experts, and here is the breakdown-
Software Engineers, having skills of Python can earn an annual average salary of INR 502,609 in India. Web Developers, on the other hand, make an earning of INR 307,800. If you are a Data Scientist, you can easily rake up about INR 708,012 a year. For DevOps Engineers, the payout would be around INR 658,143. Machine Learning Engineers, on the other hand, make somewhere around INT 671,548 annually, on an average.
4. Skillset
When you are a Python Developer, you are already exposed to amazing career opportunities. However, if you want better prospects, then it would be wise of you to develop some other skills as well. Some of the skills that could boost your Python career include AWS, Django, APIs, Docker, Linux, Cloud Computing, Machine Learning, JavaScript, Java, and Git. It's worth noting here that Python Django developer's salary in India is good. Salaries for Python experts having the other mentioned skills are also impressive.
Hence, with one or more of these skills in your kitty, you not just grow your demand in the job market but also your salary.
Why learn Python?
With its simple syntax, Python happens to be one of the easiest programming languages to learn.
Python simply ads to your efficiency as a programmer.
Python is slowly creeping into the field of academics. There are many schools and colleges where Python is being taught under computer science. This proves Python is the order of the day.
It is a flexible and extensible programming language.
It has got a library for the benefit of Python Developers.
Python can be used to undertake web development with a great deal of efficiency.
Python makes data visualization a breeze.
There are numerous testing frameworks under Python.
There is an active Python community you can join.
Python- A good and secure career choice
It's not just that the salary of a Python professional is high, even career opportunities in this field are varied and numerous. Since Python is a fast-growing programming language, the compensations earned by Python professionals all across the world are high. Meaning, you can expect to earn an impressive salary against your Python skills even in the US, UK, Canada, and other important places,
On average, the salary of a Python Developer in India, having an experience of 2 to 4 years is close to INR 5 lakhs. Note that Ruby is a tough competitor of Python. But Ruby Developers don't earn as much as Python professionals do. The average salary of a Ruby developer is around 4.48 lakhs which is definitely lower than that of Python.
A fact which surfaces here is that Python is a flourishing field. Hence, you can earn an impressive salary by being employed in this area of work. Also, a job in the field of Python is significantly stable. Hence, a good choice overall!
Conclusion
Whether you are into web development and use Django for it, or are a data scientist who uses pandas and NumPy, your knowledge in Python will help you make enviable earnings at the end of every month. Interestingly, even Python full stack developer salary in India is something to look forward to.
So, let's face the truth- The scope of python is ever increasing. And that is why it finds use in many applications and work areas. But with the growing popularity of python, the need for experienced Python professionals is also increasing. Hence, if you are in a programming job and you want to make it big, then there is no reason why you shouldn't enroll yourself with a Python certification course right away.
Note that all salary statistics presented above have been sourced from PayScale, and they act as a testament for Python's incredible potential as a generator of high-paying jobs. So, why have doubts in your mind? Learn Python from some reputed institute, and watch your career take a flight!
Related Blogs