Best iOS Swift Training in Pune
iOS Swift Training in Pune by Besant Technologies focuses on the new version of Swift which in the next level makes the learner capable of developing applications by themselves. In the usual programming languages, large classes are defined which cannot see in Swift. It contains the new programming patterns. It was in the year 2014 that the company released Swift and it is growing faster. Their main intention is making the coding easier as possible. Swift is the successor of C and Objective C which are now familiar. Swift is a rapid language with simplified syntax and semantics. It requires less code to do the same task compared to Objective C.  It is glorified with Automatic Reference Counting (ARC) which will manage all the memory-related issues that make the developer some free time.Get enrolled for the most demanding skill in the world. iOS Training in Pune will make your career a new height. We at Besant technologies provide you with an excellent platform to learn and explore the subject from industry experts. We help students to dream high and achieve it.
Swift Basics
In Swift, we declare a variable with var and constants with let keyword. The keyword let is used to store a value that won't change and var uses as the keyword that will change. For naming the variable and constant, we can use any characters and even the emoji. Another interesting feature of Swift is that we don't need to specify the variable type, but the compiler will deduce it automatically by examining the value that we give. This feature is called as Type inference. This makes the declaration part quite easy. We don't need the semicolon to put at the end of each code. In other programming languages if you don't do it, then the compilation error will occur. But in Swift, there is no need of the same. We can declare the string as 'String' here and can declare it as either constant or variable.
Here the String functions are also very easy. We can concatenate strings using '+' operator. String comparison can also be done by '==' operator. Regarding the array, we can store only one type of data in it and here also we don't need to declare the type. Swift will identify it automatically. The operations in the array are also done by using the mathematical operators. Swift has got three collection types. It is classified as arrays, dictionaries, and sets. iOS Swift Training in Pune is obsessed with the total version and detailing which makes the candidates easier to understand. The coaching will be started from the basics to clear all the doubts that may occur in you.
What is Swift Playground?
It is an interesting app for iPad which makes the Swift learning quite amazing. In order to work on it, you need not to know the coding skills, hence in the beginning candidates can try it out. Ios Training in Pune will be starting using the playground so that the learners will be able to solve the puzzles which in turn increase the knowledge in the Swift basics. This app is comprised of Apple-designed lessons which can be completed using the Swift fundamentals. The 3D world will make it more appealing. After that, you can go to the advanced level. In this app, you will be doing the same code that a professional is doing. But it is in the form of a playful type. There is a built-in library of lesson here and each time new challenges are added which will sharpen your skills.
Why should you take iOS Swift Certification?
While going through a certification course, you will attain the knowledge which you can't get by taking normal studies. iOS training in Pune is targeting the systematic learning process to cover the important portions from the base to the advancement. Also, the candidate should take an effort to polish his awareness on the topic. To get the certificate, the learner should pass the formal test under the controlled conditions and is valid only to a specific period of time. There are different types of Swift certifications which include:
Swift for Corporates Specialist
Swift for Corporates Advisor
Swift Certified Expert – RMA
Swift Certified Expert – Alliance Access Administrator
Swift Certified Expert – Alliance Access Operator
Swift Certified Expert – Payments
Answer 3 Simple Questions
Get upto 30%* Discount in all courses. Limited Offer. T&c Apply.
Register now
Syllabus of iOS Swift Training in Pune
Introduction to Development MAC OS, IDE – XCODE, Interface Builder
Mac versions –Features
iOS versions -Features
Introduction to Xcode tool and Compilers
Introduction to Objective-C
Creating Objective C classes and Methods
Creating Properties and methods
OOPS in Objective C
Inheritance ,Polymorphism,Dynamic Typing ,Dynamic Binding
Arrays,set,Dictionaries
Categories and protocols
Application Lifecycle
Xib,StoryBoard and Interface builder
Creating and building simple applications
UIState Preservation
View application sandbox and CrashLogs of Application
Cocoa Design patterns
What is MVC ?
Model ,View and Controller Classes
Delegate and Datasource
Singleton Pattern
Observer pattern
Target-Action
Cocoa coding standards
Memory Management
Introduction (alloc init,retain Release )
Auto release pool
Objective -C ARC
Migrating your application to ARC
Basic Interaction with UIControls
Button,label,Textfields
switch,slider,progress bar
Alerts ∧ Action sheet
Tableviews
Scrollview, Web view,maps
SearchBar,popovers
Picker,Date picker,Imageview, Image picker controller
Gestures , Mouse events
Mail,Message,Phone call
Orientation and iPhone sensors
The iPhone Accelerometer
Detecting shakes
Determining orientation
Responding to the accelerometer
WorkingWithTableView
UITableViewController
Working with multiple TableViews
UITableViewCell
TableView practices
CustomCell creation.
Multi View Applications
view to view (Present model view controller )
Navigation controller
Tabbar controller
Pageview controller
Split view controller
CoreGraphics and QuartzCore
UIKit and view lifeCycle
Draw lines and transforms.
Alphe ,Opaque ,hidden
Create PDF fiels
Merge Images
SplashView and Basic animation
Adding Views with animation
Maps SDK
Introduction to MapKit Framework
Showing a simple Map
Update User Location
Background location updates of user .
REST and SOAP services , XML and JSON Parsing
Asynchronous and synchronous request
Soap service
Rest service
Xml and JSON Parsing
KeyValue coding and Nested JSON objects
Error handling
Lazy loading
MultiTasking in iOS
NSThread and management of multiple threads
Synchronous and Asynchronous
Introduction to NSTimers
GCD in iOS
NSOperation and NSOperationQueue
Data Base Persistence
User Defaults
Plist
sqlite
Core Data
Media interaction
AVAudio player
MedaiPlayer
MPMovie player
Notifications
Local notifications
App level Notifications
Push Notifications
Social Network Integration
FaceBook
Twitter
Google +
Testing And Deployment
Debugging application in device.
iOS5,iOS6,iOS7 features and differences
App store Submission
Looking for Master your Skills? Enroll Now on Triple Course Offer & Start Learning at 24,999!
Explore Now
Upcoming Batch Schedule for iOS Swift Training in Pune
Besant Technologies provides flexible timings to all our students. Here are the iOS Training in Pune Schedule in our branches. If this schedule doesn't match please let us know. We will try to arrange appropriate timings based on your flexible timings
04-12-2023

Mon (Mon - Fri)Weekdays Batch 08:00 AM (IST)(Class 1Hr - 1:30Hrs) / Per Session Get Fees

07-12-2023

Thu (Mon - Fri)Weekdays Batch 08:00 AM (IST)(Class 1Hr - 1:30Hrs) / Per Session Get Fees

09-12-2023

Sat (Sat - Sun)Weekend Batch 11:00 AM (IST) (Class 3Hrs) / Per Session Get Fees

Can't find a batch you were looking for?
Corporate Training
If you want to give the Trending technology experience to your esteemed employees, we are here to help you!
Trainer Profile of iOS Swift Training in Pune
Our Trainers provide complete freedom to the students, to explore the subject and learn based on real-time examples. Our trainers help the candidates in completing their projects and even prepare them for interview questions and answers. Candidates are free to ask any questions at any time.
More than 7+ Years of Experience.
Trained more than 2000+ students in a year.
Strong Theoretical & Practical Knowledge.
Certified Professionals with High Grade.
Well connected with Hiring HRs in multinational companies.
Expert level Subject Knowledge and fully up-to-date on real-world industry applications.
Trainers have Experienced on multiple real-time projects in their Industries.
Our Trainers are working in multinational companies such as CTS, TCS, HCL Technologies, ZOHO, Birlasoft, IBM, Microsoft, HP, Scope, Philips Technologies etc
Build your resume to the latest trend, and get a chance to know our Tie-Up Companies
Placed Student's list
iOS Swift Exams & Certification
Besant Technologies Certification is Accredited by all major Global Companies around the world. We provide after completion of the theoretical and practical sessions to fresher's as well as corporate trainees.
Our certification at Besant Technologies is accredited worldwide. It increases the value of your resume and you can attain leading job posts with the help of this certification in leading MNC's of the world. The certification is only provided after successful completion of our training and practical based projects.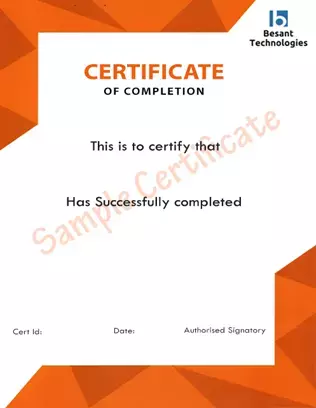 Group Discount
If you have Three or more people in your training we will be delighted to offer you a group discount.
Key Features of iOS Swift Training in Pune
30+ Hours Course Duration
100% Job Oriented Training
Industry Expert Faculties
Free Demo Class Available
Completed 800+ Batches
Certification Guidance
Training Courses Reviews
I would like to highlight a few points about my association with Besant Technologies. The faculty members out here are super supportive. They make you understand a concept till they are convinced you have gotten a good grip over it. The second upside is definitely the amount of friendliness in their approach. I and my fellow mates always felt welcome whenever we had doubts. Thirdly, Besant offers extra support to students with a weaker understanding of the field of IT.
Siva Kumar
When I joined Besant Technologies, I didn't really expect a lot from it, to be extremely honest. But as time went by, I realised I got from Besant Technologies exactly what I wanted- a healthy environment for learning. Cordial teachers and their valuable lectures make understanding things so much easy. I thank Besant for having been so supportive throughout the course.
Daniel
Frequently Asked Questions
Besant Technologies offers 250+ IT training courses in more than 20+ branches all over India with 10+ years of Experienced Expert level Trainers.
Fully hands-on training
30+ hours course duration
Industry expert faculties
Completed 1500+ batches
100% job oriented training
Certification guidance
Own course materials
Resume editing
Interview preparation
Affordable fees structure
Besant Technologies is the Legend in offering placement to the students. Please visit our Placed Students List on our website.
More than 2000+ students placed in last year.
We have a dedicated placement portal which caters to the needs of the students during placements.
Besant Technologies conducts development sessions including mock interviews, presentation skills to prepare students to face a challenging interview situation with ease.
92% percent placement record
1000+ interviews organized
Our trainers are more than 10+ years of experience in course relavent technologies.
Trainers are expert level and fully up-to-date in the subjects they teach because they continue to spend time working on real-world industry applications.
Trainers have experienced on multiple real-time projects in their industries.
Are working professionals working in multinational companies such as CTS, TCS, HCL Technologies, ZOHO, Birlasoft, IBM, Microsoft, HP, Scope, Philips Technologies, etc…
Trained more than 2000+ students in a year.
Strong theoretical & practical knowledge.
Are certified professionals with high grade.
Are well connected with hiring HRs in multinational companies.
No worries. Besant technologies assure that no one misses single lectures topics. We will reschedule the classes as per your convenience within the stipulated course duration with all such possibilities. If required you can even attend that topic with any other batches.
Besant Technologies provides many suitable modes of training to the students like
Classroom training
One to One training
Fast track training
Live Instructor LED Online training
Customized training
You will receive Besant Technologies globally recognized course completion certification.
Yes, Besant Technologies provides group discounts for its training programs. To get more details, visit our website and contact our support team via Call, Email, Live Chat option or drop a Quick Enquiry. Depending on the group size, we offer discounts as per the terms and conditions.
We accept all major kinds of payment options. Cash, Card (Master, Visa, and Maestro, etc), Net Banking and etc.
Please Contact our course advisor+91-9677 266 800. Or you can share your queries through info@besanttechnologies.com