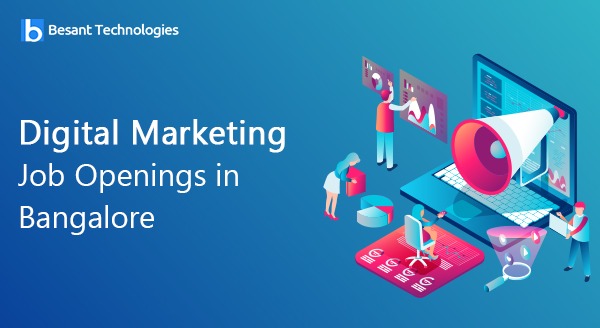 Digital Marketing Job Openings in Bangalore
Digital Marketing Job Openings in Bangalore- ( Sunrise Digital Media )     Posted:25-02-2019
Company Name: Sunrise Digital Media
Qualification: Any Graduate
Role: Professional Marketers
Experience: 0-1 year experience in Social Media Marketing, (should be Dynamic in communication and ability to interact with the clients)
Salary: 1-1.6L Per Year
Job Type: Full Time
Address: #673,17th cross, 6th phase, JP Nagar, Bangalore 560078
Phone: 080 485 44376
website: www.sunrisedigitalmedia.co.in
Digital Marketing Job Openings in Bangalore- ( Sunrise Digital Media )     Posted:25-02-2019
Company Name: Sunrise Digital Media
Qualification: Any Graduate
Role: Junior Content Writer
Experience: 0-1 year experience content writer both in English as well as Kannada, (proofreader and technical editor quality control for books and journals).
Salary: 1-1.5L Per Year
Job Type: Full Time
Address: #673,17th cross, 6th phase, JP Nagar, Bangalore 560078
Phone: 080 485 44376
website: www.sunrisedigitalmedia.co.in
Job Description:
A digital marketing executive plays a crucial and specific role as part of the Digital marketing and analytics team. The job description of a digital marketing executive includes:
Achieve Certain and specific objectives in the generation of potential clients, qualification of potential clients, marketing communication, brand image creation and conversion of potential clients.
 Digital Marketing products such as websites and mobile applications in both directions: online and offline. Includes ideas for printed materials such as brochures and posters as well as online marketing campaigns.
Use Digital Marketing strategies to market a product, digital or not. This includes online ads, viral YouTube videos, or any online marketing campaign.
Monitor campaign performance and other marketing efforts, evaluate them and take appropriate action to improve performance.
Responsibilities
Helps formulate strategies to build a lasting digital connection with consumers.
Plan and monitor the company's continued presence on social networks (Twitter, Facebook, etc.)
Launch optimized ads online through Google Adwords, Facebook, etc. increase knowledge of the company and the brand Participate actively in SEO efforts (keywords, image optimization, etc.)
Prepare online newsletters and promotional emails and organize your distribution across multiple channels.
Provide creative ideas for content marketing and refresh the site.
Collaborate with designers to enhance the user experience.
Measure the performance of digital marketing efforts using a variety of web analytics tools (Google Analytics, WebTrends, etc.)
Get information on online marketing trends and keep strategies up-to-date
Maintain partnerships with media agencies and suppliers
Key Skills
Editing and writing skills: You need to design and edit content for various digital platforms. Writing blog posts can be an integral part of the job.
Speech skills: These will be mainly implemented internally. You will need to be able to explain coherently to other people who may not be familiar with the medium, how digital technologies work, and what your marketing application is.
Video Editing Skills: The site and content of social networks will not only be text but also often visual
Web Development Skills: A digital marketing executive is not a software developer but will need a solid knowledge of HTML, a solid knowledge of search engine optimization and advanced Word and Powerpoint skills
Project Management Skills: Digital marketing executives should also be good at dealing with projects that require time and within the established deadlines
For getting expert level training for Digital Marketing Training in your location –Digital Marketing Training in Bangalore | Digital Marketing Training in BTM Layout | Digital Marketing Training in Rajaji Nagar | Digital Marketing Training in HSR Layout |For getting online training  Digital Marketing Online Training