Online Big data Hadoop Training Course in Bangalore
Besant technologies' Hadoop Training will make you master in Creating MapReduce Jobs on Hadoop Cluster using Python language, Amazon elastics MapReduce with real time data sets. This Online Big data Hadoop Training Makes you Strong in working with Apache Hive for Querying Data faster from different large datasets.
This Comprehensive Hadoop developer and Hadoop Administrator Course will Covers Mahout, NoSQL, Oozie, Flume, Storm, Avro, Spark, Sqoop, Cloudera, MongoDB, Spark and Scala Programming languages from the basic to advanced level with Hands-on Demo Classes.
Get Live Instructor Led Online Big data Hadoop developer and Hadoop Admin Course and Self-paced Recorded Videos with High Quality Content by Hadoop Experts.  We are having 9+ Branches in Bangalore to Provide Classroom training also on Big data Hadoop Courses with Placements and Project Support.
Big Data Hadoop training course in Bangalore provides in-depth knowledge on Hadoop Ecosystem tools and Big Data. Here you learn HDFS, MapReduce, Hbase, Hive, Pig, Oozie, Flume and Sqoop by working on real-world Big Data Hadoop Projects. Big data Hadoop Courses in Bangalore Branches at BTM Layout, Marathahalli, Jayanagar, Rajaji Nagar, Kalyan Nagar, Indira Nagar, HSR Layout, Koramangala and electronic city. With this Hadoop training conducted by experienced trainers in our institute, you can easily learn the components of the Hadoop ecosystem, such as Hadoop 2.7, HDFS, Yarn, MapReduce, Pig, Impala, Flume, HBase, Apache Spark, and more. Designed by reputed industry experts, this best Hadoop certification training in Bangalore provides in-depth knowledge on Hadoop Ecosystem tools and Big Data. We also offer real-time training with case study based projects that provide hands-on experience of the subject.
Big Data Training in Bangalore
Big data is a term applied to technologies that facilitate handling substantially large datasets. These datasets are so large that they can't be processed using conventional or traditional data processing tools. To work these gigantic sets of data, there are dedicated platforms like Hadoop which have especially been designed to handle all kinds of massive data. And because data is everything in the present-day context, enrolling in the best Big Data Hadoop training in Bangalore would be your wisest move.
Hadoop Training in Bangalore
Besant Technologies is also in liaison with Pearson VUE and PSI to offer Global Certifications through our institute. Enrolling in this certification training can help professionals like you to make a stable career in a rising technology domain and get placement assistance for the highest paid jobs in reputed companies. Meticulously crafted, our strategic and well-knit modules with smooth transition offer a clear understanding of the subject to stand out from the rest in the market. Although there is no dearth of training centers in Bangalore imparting classes in Big Data Hadoop, choosing Besant technologies for the purpose has innumerable benefits.
So, what makes you wait? Contact Besant Technologies today and learn more about the courses on offer.
What is Big Data Hadoop?
Big data is a word used to indicate large volumes of data- both structured and unstructured. More often than not, these data sets are so large that they either belittle the current data processing capacity of an enterprise or move too fast to be handled by ordinary data handling tools.
Big data facilitates companies in bettering their operations and make speedy and more pertinent decisions. Big data, when formatted, maneuvered, stored, captured and examined properly, can help companies multiply their revenues. Not just that, with big data, companies can improve their functioning in addition to attracting new customers while retaining the existing ones.
As a matter of fact, handling big data becomes considerably easy with the Hadoop framework. In fact, Hadoop has changed the way big data, especially the unstructured lot, is handled. Hadoop helps streamline excess data for any distributed processing system over computer clusters with the use of programming models that are out-and-out simplistic in nature.
Big data Hadoop is an open-source software framework that is used for running applications and storing data on clusters of commodity hardware. Hadoop offers a powerful processing ability with a vast storage of data. It is also able to manage virtually limitless concurrent tasks or jobs.
Modules of Hadoop
Hadoop comprises a number of modules. Each of them performs a particular task for a computer system that is designed for Big Data analytics.
Distributed File-System: This module allows the data to be stored in an easy-to-access format that is suitable for a number of linked storage devices.
MapReduce: It provides the basic tools to indulge in that data. Tagged after two basic operations, this module reads data from the database and put them into a format recognized for analysis.
Hadoop Common: This module helps Windows, Unix, and other computer systems by providing the Java tools required to read the data stored under the Hadoop file system.
YARN: This module manages system resources by storing the data and running the analysis.
Why learn big data handling with the help of Hadoop?
People, who wish to build a career in big data handling, must learn Hadoop, which is one of the most popular tools known today for processing big data. And to learn the nuts and bolts of this software framework, you must take Big Data Hadoop coaching classes. There are numerous benefits of learning this software tool, some of which have been dished out here-
The first and most important aspect to consider is that Hadoop yields scalable results. Nodes of new data can be incorporated into the computer cluster whenever such a need arises. And the good news is- this can be done without any data format change or modification in the process of loading.
Hadoop is extremely cost-effective. With Hadoop, large volumes of data can be stored on huge computer clusters. As a result of which, the price per terabyte of storage gets reduced considerably. So, modeling all your data becomes incredibly affordable with Hadoop.
Hadoop also offers amazing flexibility. It allows data of different types and from different sources to be joined or aggregated, which in turn enables a deeper analysis of the same.
There are occasions when you might lose a node. In such a scenario, Hadoop enables the system to forward work to a separate location of the data so that the work of processing can be continued unhindered. And that is probably the reason why Hadoop is considered one of the most fault tolerant data handling tools available in the market today.
Hadoop helps businesses in their day-to-day operations.
It also helps generate new product ideas.
Companies also use it to carry out marketing analysis apart from conducting research and development.
Processing text and images become easy.
It makes the entire data handling business agile.
Network monitoring has been made feasible by hadoop.
Hadoop paves your way to a successful career.
Why is Hadoop important?
It can easily and quickly save store and process a good amount of data. It is a matter to consider as the data volumes and varieties are constantly increasing due to an Internet of Things and Social Media.
It possesses great computing power. The distributed computing model of Hadoop can process Big Data in less amount of time. We tend to get more processing power by using more computing nodes.
It is equipped with fault tolerance. Hadoop provides protection against hardware failure during data and application processing. In case a node fails, jobs are diverted towards other nodes to ensure the accomplishment of the distributed computing. It can store a number of copies of all data.
It is flexible enough to allow you to store and use as much data you need without preprocessing. This data includes text, images, and videos.
It is economic. This open-source framework is cost effective as it uses commodity hardware to store a huge number of data.
It also offers scalability. We can easily process our system to handle more data by adding nodes, but it requires a little administration.
Prerequisites to Learn Hadoop
Big Data professionals are in demand and Hadoop is becoming a must-know technology for them. This training course is suitable for IT, data management, and analytics professionals who seek to get hands-on experience on Big Data. Hadoop training is suitable for:
Software Developers and Architects
Analytics Professionals
Senior IT professionals
Testing and Mainframe Professionals
Data Management Professionals
Business Intelligence Professionals
Project Managers
Aspiring Data Scientists
Graduates looking to build a career in Big Data Analytics
Why Should you take Hadoop Training?
Being a part of the Big Data Hadoop Training course offered by Besant Technologies, you will be able to carry on industry-based projects using CloudLab in the domains of Telecom, Social Media, Banking, Insurance, and E-commerce. Some other objectives of this course are
Complete knowledge of Big Data and Hadoop with HDFS, MapReduce, and YARN
In-depth knowledge of a range of tools in Hadoop Ecosystem, such as Hive, Sqoop, Pig, Oozie, Flume, and HBase
Acquiring the capability of absorbing data in HDFS, using Flume & Sqoop along with analyzing the vast database stored in the HDFS
Chances to accomplish many real-world industry-based projects in CloudLab
Get a good hand on the Projects covering multiple data sets from various domains such as telecommunication, social media, banking, insurance, and e-commerce
Learning industry standards and best practices throughout the Big Data Hadoop Training
Hadoop skills are in demand. It is the need of the moment for the IT professionals to keep themselves updated with Big Data and Hadoop technologies. Big Data and its technologies are here to stay. Big Data Hadoop has all the potentials to improve job prospects whether you are an experienced professional or a fresher.
Answer 3 Simple Questions
Get upto 30%* Discount in all courses. Limited Offer. T&c Apply.
Take Part
Syllabus of Big Data Hadoop Course in Bangalore
INTRODUCTION
Big Data
3Vs
Role of Hadoop in Big data
Hadoop and its ecosystem
Overview of other Big Data Systems
Requirements in Hadoop
UseCases of Hadoop
HDFS
Design
Architecture
Data Flow
CLI Commands
Java API
Data Flow Archives
Data Integrity
WebHDFS
Compression
MapReduce
Theory
Data Flow (Map – Shuffle – Reduce)
Programming [Mapper, Reducer, Combiner, Partitioner]
Writables
InputFormat
Output format
Streaming API
ADVANCED MAPREDUCE PROGRAMMING
Counters
custom input format
Distributed Cache
Side Data Distribution
Joins
Sorting
ToolRunner
Debugging
Performance Fine tuning
ADMINISTRATION – Information required at the Developer level
Hardware Considerations – Tips and Tricks
Schedulers
Balancers
NameNode Failure and Recovery
HBase
NoSQL vs SQL
CAP Theorem
Architecture
Configuration
Role of Zookeeper
Java Based APIs
MapReduce Integration
Performance Tuning
HIVE
Architecture
Tables
DDL – DML – UDF – UDAF
Partitioning
Bucketing
Hive-Hbase Integration
Hive Web Interface
Hive Server
OTHER HADOOP ECOSYSTEMS
Pig (Pig Latin, Programming)
Sqoop (Need – Architecture, Examples)
Introduction to Components (Flume, Oozie,ambari)
Looking for Master your Skills? Enroll Now on Triple Course Offer & Start Learning at 24,999!
Explore Now
Upcoming Batch Schedule for Big Data Hadoop Training in Bangalore
Besant Technologies provides flexible timings to all our students. Here are the Big Data Hadoop Classes in Bangalore Schedule in our branches. If this schedule doesn't match please let us know. We will try to arrange appropriate timings based on your flexible timings.
04-12-2021

Sat (Sat - Sun)Weekend Batch11:00 AM (IST) (Class 3Hrs) / Per SessionGet Fees

Can't find a batch you were looking for?
Corporate Training
If you want to give the Trending technology experience to your esteemed employees, we are here to help you!
Trainer Profile of Big Data Hadoops Training in Bangalore
Our Trainers provide complete freedom to the students, to explore the subject and learn based on real-time examples. Our trainers help the candidates in completing their projects and even prepare them for interview questions and answers. Candidates are free to ask any questions at any time.
More than 7+ Years of Experience.
Trained more than 2000+ students in a year.
Strong Theoretical & Practical Knowledge.
Certified Professionals with High Grade.
Well connected with Hiring HRs in multinational companies.
Expert level Subject Knowledge and fully up-to-date on real-world industry applications.
Trainers have Experienced on multiple real-time projects in their Industries.
Our Trainers are working in multinational companies such as CTS, TCS, HCL Technologies, ZOHO, Birlasoft, IBM, Microsoft, HP, Scope, Philips Technologies etc
Build your resume to the latest trend, and get a chance to know our Tie-Up Companies
Placed Student's list
Big data Hadoop Certification Training
Besant Technologies Certification is Accredited by all major Global Companies around the world. We provide after completion of the theoretical and practical sessions to fresher's as well as corporate trainees.
Our certification at Besant Technologies is accredited worldwide. It increases the value of your resume and you can attain leading job posts with the help of this certification in leading MNC's of the world. The certification is only provided after successful completion of our training and practical based projects.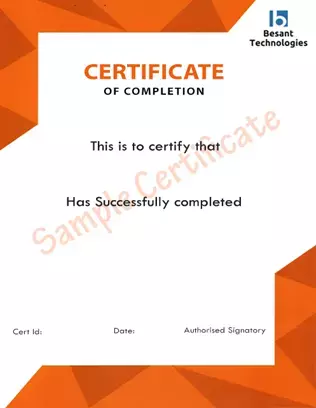 By enrolling in this Hadoop Certification Online & Classroom Training you will become Cloudera Certified Associate (CCA) in Just 2 months with Placements.  Boost your Career from this Online and Classroom Hadoop Training in Bangalore from the leading training institute.
Group Discount
If you have Three or more people in your training we will be delighted to offer you a group discount.
Key Features of Big Data Hadoop Training in Bangalore
30+ Hours Course Duration
100% Job Oriented Training
Industry Expert Faculties
Free Demo Class Available
Training Courses Reviews
I found this Hadoop course in Bangalore, Besant Technologies to be the best value for money with so many features packed into one single course. I would surely recommend this to anyone looking for a real-time big data and Hadoop course.
Kannan
  Taking up Big Data and Hadoop Training in Bangalore from Besant Technologies was one of the best career decisions I have made. Their Hadoop course curriculum starts with the basics of big data and covers all the advanced aspects of the Hadoop ecosystem. I received proper guidance and placement assistance in this institute. They played a key factor in my professional success.
Deepa
They have very good and helpful teachers. All my queries were regularly attended in the class and solved on time. I received proper guidance and assistance to bag a well-paid job in Big Data analytics.
Sri Devi
The flow of the course is excellent. The Big Data course in Bangalore is effectively designed with a smooth transition from topic to topic. The best thing about the Hadoop course is that I can refresh all the topics and clear any doubts with the trainer whenever I want without paying any additional fee.
Priya
For the professionals like me looking to step up the big data career, this course is just the right choice, as the course curriculum is just on par with the industry trends. It was a great learning experience at Besant Technologies as the trainer was well versed in the latest advancements of Hadoop technology.
Jeyanthi
Frequently Asked Questions
Besant Technologies offers 250+ IT training courses in more than 20+ branches all over India with 10+ years of Experienced Expert level Trainers.
Fully hands-on training
30+ hours course duration
Industry expert faculties
Completed 1500+ batches
100% job oriented training
Certification guidance
Own course materials
Resume editing
Interview preparation
Affordable fees structure
Besant Technologies is the Legend in offering placement to the students. Please visit our Placed Students List on our website.
More than 2000+ students placed in last year.
We have a dedicated placement portal which caters to the needs of the students during placements.
Besant Technologies conducts development sessions including mock interviews, presentation skills to prepare students to face a challenging interview situation with ease.
92% percent placement record
1000+ interviews organized
Our trainers are more than 10+ years of experience in course relavent technologies.
Trainers are expert level and fully up-to-date in the subjects they teach because they continue to spend time working on real-world industry applications.
Trainers have experienced on multiple real-time projects in their industries.
Are working professionals working in multinational companies such as CTS, TCS, HCL Technologies, ZOHO, Birlasoft, IBM, Microsoft, HP, Scope, Philips Technologies, etc…
Trained more than 2000+ students in a year.
Strong theoretical & practical knowledge.
Are certified professionals with high grade.
Are well connected with hiring HRs in multinational companies.
No worries. Besant technologies assure that no one misses single lectures topics. We will reschedule the classes as per your convenience within the stipulated course duration with all such possibilities. If required you can even attend that topic with any other batches.
Besant Technologies provides many suitable modes of training to the students like
Classroom training
One to One training
Fast track training
Live Instructor LED Online training
Customized training
You will receive Besant Technologies globally recognized course completion certification.
Yes, Besant Technologies provides group discounts for its training programs. To get more details, visit our website and contact our support team via Call, Email, Live Chat option or drop a Quick Enquiry. Depending on the group size, we offer discounts as per the terms and conditions.
We accept all major kinds of payment options. Cash, Card (Master, Visa, and Maestro, etc), Net Banking and etc.
Please Contact our course advisor+91-8767 260 270. Or you can share your queries through info@besanttechnologies.com