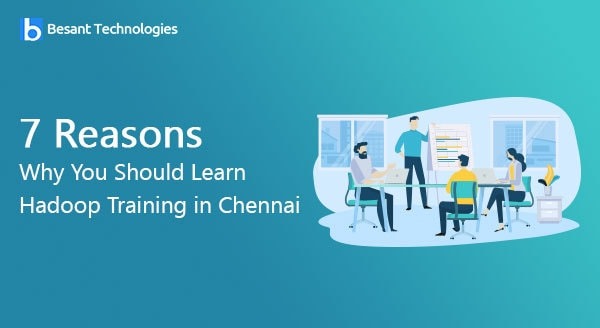 7 Reasons Why You Should Learn Hadoop Training in Chennai
We are in the era of digital world where data manipulation plays an important role. On that note Big Data has a massive hold which has the power to transform your business. In simple, when there is Big Data there is space for Hadoop.
Here are the seven reasons why you should start learning Hadoop in Chennai
Why Hadoop?
Hadoop has changed the way of data storage, processing, and analysis. There is no doubt that Hadoop is a strong upholder in the industry. It is wise to get certified in this background and enrich your knowledge.
Click Here! → Get Prepared for Interviews!
Build Your Career with Hadoop
In todays' business trend most of the successful organizations are engaging themselves in Big Data and Hadoop, which is an undeniable fact. Hadoop has become the preferable tool in order to handle large amount of data. Ramp up your career by Hadoop knowledge with us. We provide you the best Hadoop Training in Chennai and make you shine in the IT world.
Job Opportunities
Big Data and Hadoop market forecast shows that there is an upward growth in the IT sector which in turn increases the job opportunities. No matter if you re fresher or experienced, Hadoop knowledge will take you long way in IT world. We give you the perfect opportunity to get trained in Hadoop technology and reap the benefits.
Get trained from the experts
We provide you the best Hadoop Training in Chennai by the industry experts with ample teaching experience. We also make sure that you gain hands on experience to meet the industry requirements.
Growing & Highest Paid IT Skill
It is evident that Big Data and Hadoop tool are the ruling factors in IT world. It is growing exponentially as the time proceeds. Also it is becoming the highest paid IT skills wherein the professionals are earning big bucks.
On-Demand Hadoop training
As mentioned earlier, Hadoop is the key for data manipulation that involves data storage, processing and analysis. With no doubt, Hadoop becomes the on-demand IT skill.
Develop Your Technical Skills
Our experts provide you the best Hadoop Training with real time work samples and examples. Building up the technical skill with on-going examples will let you explore better.
Be a Certified Professional
Learning about the tool and getting certification on the same adds feather to your hat. Also a certification makes you stand out in the crowd.