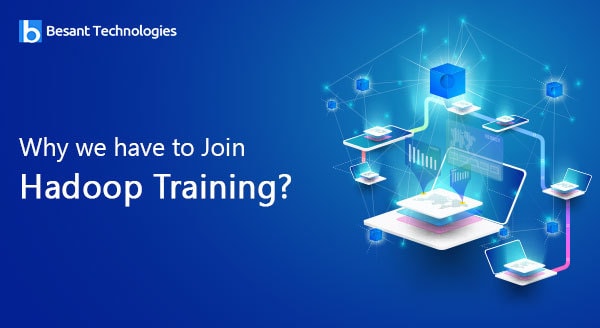 Why we have to Join Hadoop Training?
Hadoop Training
"In pioneer days they used oxen for heavy pulling, and when one ox couldn't budge a log, they didn't try to grow a larger ox. We shouldn't be trying for bigger computers, but for more systems of computers. — Grace Hopper"
Organizations nowadays can store all the information or data's generated by them throughout the course of the year at a cheap and affordable rate. This is all possible due to Hadoop, an open-source software framework. It is used for storing and processing big data in an organized manner. It is because of this that Hadoop makes the most confusing and troublesome things look inconsequential. An increasing number of companies are now using Hadoop, as they are able to find out about their customer buying behavior, provide custom and personalized recommendations, effectively use their marketing money, etc. But, the question remains concerning "Why should you learn Hadoop?"
Click Here! → Get Prepared for Interviews!
Why learn Hadoop?
Hadoop refers to an open source and Java-based framework that supports the storage and processing of huge loads of data in an organized computing environment.
The need for processing and storing yottabytes of big unstructured data has generated a huge demand in the corporate world for the use of Hadoop skills. Employees are looking for professionals with Hadoop skills who have the ability to work with unconstructed data. Learning this course may be a quite complex and challenging task but thanks to various training institutes and online facilities, Hadoop learning has become a lot easier for individuals. There are so many professional Hadoop training courses which provide certifications upon completion. Whether it is Hadoop Training in Chennai or anywhere else, there should be a sense of urgency in learning this course. Hadoop is well on its way to becoming a must have skill in every big data companies, which makes learning this course even more important to ramp up on the big data technology.


Career Opportunities
Opportunities for Hadoop professionals are emerging thick and fast from various industries, from the financial firms to agriculture sectors, health and medical care industry to retailers, etc. Once you complete your certification course for Hadoop Training, you immediately become eligible to apply for various positions like Big Data Architect, Data Analyst, Hadoop Administrator and Data Scientist. With a huge number of Hadoop jobs being available in the job market, it is highly important that professionals realize the potential of this course and dive into this lucrative career opportunity by enrolling for Hadoop training from the experts in the industry.
Big Money with Big Data
According to various employment oriented websites, Hadoop skill is one of the most sought-after skills among organizations who are looking for professionals who can leverage analytics through big data. Companies are willing to pay a high rate of salary to retain or find Hadoop trained talents to make sense out of their big data.
Pace up with the higher rate of adoption of Hadoop
The increasing trend of organizations opting to use Hadoop to process and store their big data is predicted to continue in the coming years, unsurprisingly. Big companies like Yahoo, IBM, Amazon, Dell, and many others have already shifted base. Learning Hadoop creates the opportunity to work in the biggest technology companies.