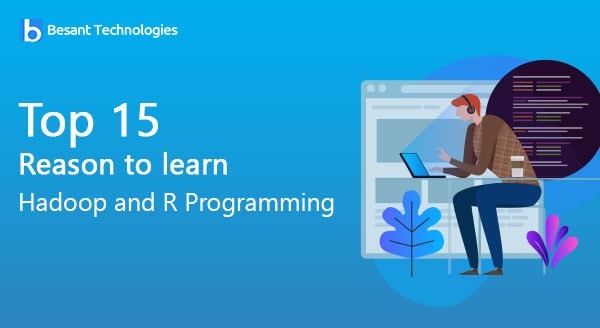 Top 15 Reason to learn Hadoop and R Programming
If you are wondering what your next, big, career move should possibly be, you should surely give big data Analytics a shot. If you are a beginner hoping to make a mark in this field, you should certainly get trained in R and Hadoop to kick start your career. Read on to know more about it.
Enormous job opportunities- Every company has an ever-increasing pile of data which just keeps multiplying every second. They hire qualified professionals to maintain and keep a track of their data.
High-paying- It not only offers a world of opportunities, but also promises incredibly, satisfying salary benefits. R and Hadoop experts are guaranteed fat pay checks and diverse roles.
Easy to Learn- with a little interest and effort, you can effectively master these technologies.
Easy Access- If you are hoping to become a statistician, R is the best programming language to suit your purpose. A well-versed R statistician gets roped in by all the big names around the world. Unlike some other applications, R is easily accessible. It can be installed, updated, modified and used without much difficulty. It is highly compatible and can be run on several platforms, including windows and Linux.
High Potential – R is certainly known for its high capacity to store and manage large files of data. It can efficiently compute Big Data and has the unbelievable potential of handling high power processors.
Innovations- When it comes to statistics, R is highly innovative and offers suitable packages. If you are an R skilled professional, you can do wonders for your company, thereby carving your path for a brilliant future ahead.
Enhanced Performance- Hadoop is another excellent software that you should equip yourself with. It promises enhanced performance and has the ability to store and process incredibly large amounts of data.
Marketing Benefits- Several companies use Hadoop for the purpose of retail analysis. It gathers adequate information about customer patterns and preferences through the web and offers possible solutions and recommendations.
Career Growth- Hadoop has been recognized as one of the fastest growing technologies. If you are well-versed in it, you can undoubtedly climb the ladder of success in a short span of time.
Several Roles- Hadoop Online Training is very useful. You can choose whether you wish to be; a technical architect, developer, technical scientist or a programme administrator. The possibilities for growth are umpteen.
Promising Future- Hadoop professionals are in high demand and companies are willing to pay the big bucks to avail their services. In the future, these requirements will multiply beyond imagination.
Recognition- Since all companies rely heavily on their data, as a data analysist and specialist, you will be an integral part of the decision-making process of the company.
High-Demand- These skills are highly valuable and you will never have a low point in your career. Companies will always require your services, which ensure a steady flow of projects and income.
Freelance Options- You don't have to spend all your time working hard. Several companies are seeking freelance services. This will enable you to strike the right balance between work and life.
The Next Big Thing-Data Analytics is surely gaining momentum and would certainly be the next big thing in the near future. You can generate multiple revenues and subsequently enhance the quality of your life.
In recent times Many people are moving to the Hadoop market. We besant technologies provide the best Hadoop Training in Chennai. Many people are getting benefit day by day.