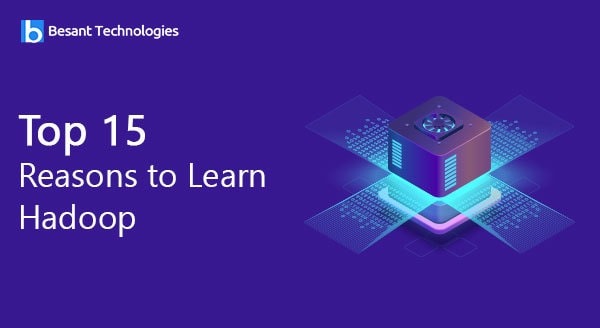 Top 15 Reasons to Learn Hadoop
In this digital age, every digital entity is creating huge piles of data which can be stored and processed for various benefits. However the current technology-in-use is not sophisticated for both storing and processing such large amounts of data. This large volume of complex data, both structured and unstructured, is called Big Data. And Hadoop is one of the best tools available to efficiently handle this large volume of data. Thus Hadoop Training in Chennai with Besant technologies is one of the most important options to be considered for a promising career in the future years of IT world.
Now we will glance about the reasons why you must learn Hadoop for a promising career.
High Demand for Hadoop
Since the exponential increase in the generation of data, storing and processing this data is becoming difficult and tough. Hadoop is the most preferred tool available for efficiently handling this much data. So demand for data analysts with Hadoop knowledge is high and increasing continuously.
Hadoop is an Open source tool
Hadoop is an open source software framework which is available at practically no cost. This makes Hadoop the most affordable data analysis tool for Big Data.
Scalability of Hadoop
Hadoop can be scaled easily to any proportions based on the requirement by simply adding the nodes available. Very little administration is required for such addition.
Hadoop is independent of platform
Hadoop is a cross platform application based on Java. Since it is not dependent on any platforms, Hadoop can be used in a wide range of systems. Thus makes Hadoop the most preferred data analysis tool.
Storing Raw data
Hadoop can store raw data like text and images which are not stored in relational databases. This raw data will provide new insights for data analysts.
Flexibility of Hadoop
Hadoop can store both the structured and unstructured data unlike the traditional databases which can store only structured data. No pre-processing of unstructured data is needed for storing data in Hadoop.
Data Agility
Hadoop can modify the schema itself to store the data efficiently than traditional databases. Traditional RDBMS require a strict schema definition before storing any data.
Simplicity
Hadoop is written mostly on Java with some native code in C. Thus making Hadoop a simple to understand software framework.
Distributed workload
Hadoop efficiently distribute the workload to all the available resources which makes it best suitable for parallel processing.
Fault tolerance
Since Hadoop performs distributed computing, any node failure will be identified soon and the work allotted to that particular node will be distributed. Thus making Hadoop to handle node failures efficiently.
High end employers
Hadoop is used mostly by government agencies and multinational corporations which makes the career lucrative.
Talent Gap
Since Hadoop is relatively new in the field, there is a widely acknowledged talent gap. This also provides a golden opportunity for a rewarding career in IT world.
Improving Machine learning
Machine learning algorithms need more data for better results. Till today, providing huge amount of data was not possible. But Hadoop can store all the data and provide it for machine learning algorithms which in turn will provide the most accurate results.
More Accurate data predictions
Hadoop can run various analytical algorithms which can generate a complete user profile both by observing the choices of user and by questioning the user. This will help in predicting more accurate recommendations for the user.
Gain Useful Insights
Apart from individuals, many software programs also create data in form of logs. Hadoop will store and process these logs for useful insights.
Click Here! → Get Prepared for Interviews!
These examples highlight the importance of Hadoop in the future generations. So, Hadoop Online Training with Besant technologies is a preferred option to ensure a bright career in the IT field.