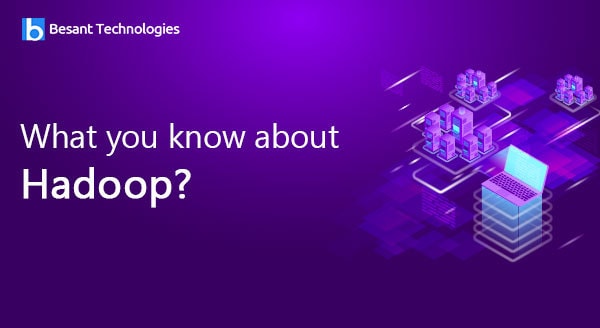 What you know about Hadoop
Unless you've been hiding under a rock completely detached from the world of computing, you have come across the term Hadoop. Hadoop, also known as Apache Hadoop, is an open source platform. It is used for the purpose of data processing and analysis. Created as part of the Apache project, Hadoop shouts out that data is wealth. When data is rightly analyzed, a lot of information and trends can be retrieved from the same. This way, businesses can come up with intelligent solutions for their future.
More and more companies are relying on the Big Data solutions to analyze, manipulate, arrange and synthesize huge volumes of business data. Hadoop is a Java-based platform that allows users to create fragments of data that can help users to process and analyze them. It is used for both production and research purposes. strong>Hadoop Training in Chennai is expanding the number of users having this skillset.
Hadoop has radically remolded data processing and data warehousing of companies. But this rising growth has also come up with many other limitations. There has been a large amount of doubt, hype, and confusion surrounding Hadoop. Whether you are a businessman, owner, aspiring to learn Hadoop, programming employee or anyone else – You ought to know the following things about Hadoop.
Click Here! → Get Prepared for Interviews!
How Hadoop works
Hadoop grew out from the GFS (Google File System) and the cross-platform program was developed in Java. It comprises of four main components
Hadoop Common – It is a reference plus storage module that holds the library and utilities for the use of other modules.
Hadoop File System – Stores files on all the cluster systems.
Hadoop MapReduce – It handles the processing.
Hadoop YARN – It manages the computer systems and the user accessibility.
Hadoop works by dividing the files into blocks and distributing them in a cluster. It then processes the data which makes this form of data analysis much quicker than other means.
Hadoop Distributed File System
Sitting at the core of Hadoop operations is HDFS. It is designed in a way that is readable and portable. It can store data files having the size of terabyte across multiple platforms. HDFS is designed for its portability nature across various platforms and OS. It also works with other file systems like Amazon S3 and Microsoft Azure.
Cloud
Other than the traditional data storage centers, Hadoop is also frequently deployed in the cloud. Major cloud vendors offer some sort of Hadoop offering. It is much more cost and time effective.
Adoption and the future
Since it's inceptions in 2011, Hadoop has steadily climbed the stairs. Until recently, there was a tentative approach from businesses to adopt this technology. The reason for this being it's high cost, unknown benefits and lack of skills.
This has changed as large and small enterprises are investing on Hadoop more willingly. A survey conducted by Allied Market Research estimated that by the year 2021 the Hadoop market value will be over $84 billion.
Taking up Hadoop training in institutes like Besant Technologies can help improve the career prospect of individuals. Knowing the above points gives you a heads up idea about the world of Hadoop. Hadoop Training in Chennai and other locations in India have made it a better possibility to land a better job, what are you waiting for?