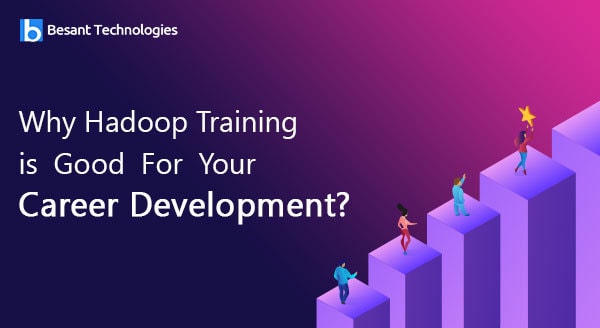 Why Hadoop Training is Good For Your Career Development
Starting a new career is of course an interesting and challenging role. At the same time it is not easy as well. A lot of analysis has to be done before choosing a new career path. The main purpose of this article is to provide you with the solid reasons that helps you decide on choosing hadoop as your career path. To start with as a Hadoop developer it doesn't necessary that you need to be a technical savvy. In fact about 50% of hadoop developers these days are not from technical background. Individuals from mathematics, statistics, electronics and business analytics are exploring their career in hadoop sector.
In simple people from any educational background can be a successful hadoop developer. All industrial sectors are willing to hire hadoop professionals for big data purposes. There is in fact shortage for hadoop developers and there is a huge demand for hadoop talent. This leads to the emergence of hadoop training centres with real time training sessions. It is expected that the hadoop developers should have a basic knowledge of Java. However core knowledge on Java is not necessary. People who master in Java can play well with hadoop.
Hadoop Deployment is On Rise
Big Data Analysis has become a non-replacement choice for small and large scale companies. Most of the data we are using today were created in the last years alone. The roles and responsibilities involved in hadoop domain is wide. Hence the job recruitment in hadoop domain is always abundant. Hence a switch over from any job to hadoop will take you long way.
Click Here! → Get Prepared for Interviews!
Hadoop for Java Developers
Hadoop acts as a natural career progression for Java developers. In order to meet many business needs and to create multiple applications, Java is being used widely. Hadoop is the new framework for big data analysis with the base knowledge of Java. Hence for Java developers' hadoop domain is the natural career progression. Hence hadoop acts as a natural and logical career extension.


Java Developers are Better Hadoop Developers
With the above mentioned logical reasons, it is evident that Java developers will be a better hadoop developers. They will be able to understand the hadoop framework easily. Java developers will be able to reduce the functions better using java scripts. In addition to this advanced features of hadoop is available with Java API only that could be easily understood by the developers.
Industry is Hiring Hadoop Talent
The job opportunities for hadoop developers always go on rising as there is high demand for them in the industry. But keep in mind hadoop developers are expected to have java knowledge and individuals get it benefitted from reputed hadoop training centres. In the past years the number of hadoop training in Chennai is increasing more and they are well known for the best hadoop training with real time training session. Apart from job opportunities getting proper guidance from hadoop training in Chennai