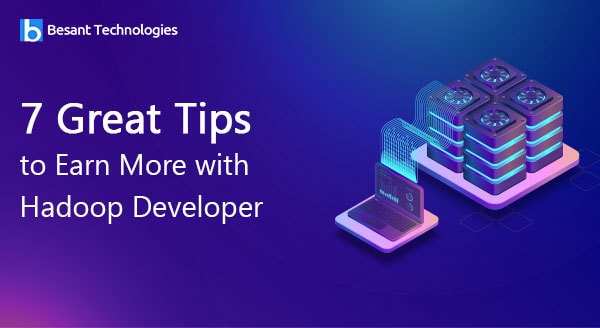 7 Great Tips to Earn More with Hadoop Developer
"In pioneer days they used oxen for heavy pulling, and when one ox couldn't budge a log, they didn't try to grow a larger ox. We shouldn't be trying for bigger computers, but for more systems of computers."
— Grace Hopper
Considering the amount of data generating each data on or by internet, the above quote might be the motivation behind the invention of Hadoop. We are living in a data age where everything runs around data only. Data is flooding to internet from several different sources – like Facebook captures more than 250 billion images per month, 4-5 terabytes of data per day generated from New York Stock Exchange, and so is the case with each big and short name on internet. Sheer volume of data is what Internet has to bear each day, each moment!
We, at Besant Technologies in Chennai, acknowledge this power of data very well. All sort of aspects are very-well embraced in our Hadoop Developer Training. Let's have a look at the 7 great tips and reasons that will compel you to have a good Hadoop Developer Training and earn more bucks: –
Market demand – First and the foremost point is the market requirement. Keeping the latest trend of marketit is true beyond any doubt that the IT data graph is shooting up on daily basis. Thus market is in great need to have a ni, ce grasp over this growing data. Hadoop came to the rescue of IT in this alarming situation. So market is keeping a bull-eye over good hadoop developers.
Career Growth – Hadoop Developer training gives a boost to your career for sure! There are, of course, other options, other technologies as well but none of these matches the altitude of Hadoop. As the data rises on internet, so is the demand of hadoop experts to proficiently collect and arrange this huge amount of data, and with this increasing demand, ballooning of your career is also assured.
Hadoop certification – Though market is in need to hire more and more Hadoop developers, yet they are being a bit partial and turns up to the ones with certification. Taking a fresher into a project would be a backbreaker, so experienced are given a healthy chance. And when it comes to Hadoop, the emphasis is on pulling the certified employees in! It is sort of a proof that you must have hands-on experience on Hadoop and that thus have the caliber to handle a Hadoop project with proficiency. In the wordings of market analyst and experts, certification actually authenticates your potential.

Hike/Promotion in the already existing position – Getting a good Hadoop training is not only beneficial for the ones who are new to this Hadoop world, but it is equally healthful for the professionals who are already into Hadoop. Having a Hadoop certification and a proper Hadoop training gives a surety to your senior authorities about you that you are burnishing your skills on regular basis.
Salary – This must be the cardinal and star point for many of the employees to switch into Hadoop developers! Take for an example the Hadoop developer's average salary in San Francisco is $139000! This is really an eye-popping figure for many of us. Such type of salary is only achievable in Hadoop field only.
Be flexible enough – One should be open enough to opt for the most recent changes and developments. This is one of the main tips for any prevailing technology. Technologies come with time, and these needs to be develop even more so as to stand firmly in this quickly changing business world. Thus we are able to see different versions of a single technology or language. Similarly, getting a good training and certification in Hadoop will let you stay in market for long. It is like a confirmation of you being mindful about the most recent changes and elements in Hadoop.
Never ending scope – Today and in the coming future, many other technologies will come and will ease our life for sure, what that doesn't fade is DATA! In fact, it is only going to swell with time. So Hadoop and Big data comes with a 'never-ending scope' stamp on them!
Click Here! → Get Prepared for Interviews!
Besant Technologies in Chennai will give you a fruitful Hadoop Training in Chennai. We have professionals who are into Hadoop field since the very beginning of Hadoop. Thus they have seen each small and big fluctuation in Hadoop, its trend and demand very closely. This way, they will train you as a full-fledged Hadoop expert and gives you enough space to have a hands-on training rather than the humdrum theoretical ones!